4 Things I Do to Help My Son With a Chronic Disease
---
When a child is diagnosed with a chronic disease, it feels more than unfair. Their childhood is interrupted by hospitalizations; their innocence is stolen by fear of the future and they carry the weight of the world on their very small, young shoulders.
When my kindergartner was diagnosed with ulcerative colitis, I quickly realized how powerless we are when it comes to this disease — we didn't make this happen, our choices are limited when it comes to treatment and we surely cannot control the outcome. How do I raise the heart of this young child who is faced with such a challenge? How should I talk to him about why he has this disease? How can I protect his innocence and how do I instill in him a "survivor" mentality instead of a "victim" mentality?
First, we make it normal. Since our son will be dealing with this disease for the rest of his life, it had to become our normal. So we dove headfirst into making it an everyday part of our conversations. We talk about it often and we talk about it casually. We don't try to hide it, which can foster an atmosphere of shame. We encourage him to talk to his friends, teachers and classmates about what it's like to have a chronic disease, and we made a cute little book on Shutterfly for him so that he has an easy tool for sharing with others.
Second, we educate to empower. My sweet 6-year-old hasn't mastered the art of tying his shoes, but he is well versed in the location and function of his colon. We created a journal for him called "My Chart" to help him learn more about his body, the process of getting an IV and the names and specialties of the doctors he sees. Knowledge is a powerful tool to help rationalize scary situations. The more he knows, the better prepared he can be.
Third, we suit up. Kids fighting illnesses are brave and strong, and nothing makes you feel more like a superhero than a cape. My son loves wearing his custom "Colitis Fighter" outfit when he has appointments, treatment days, or is in the mood for a good jump off the couch.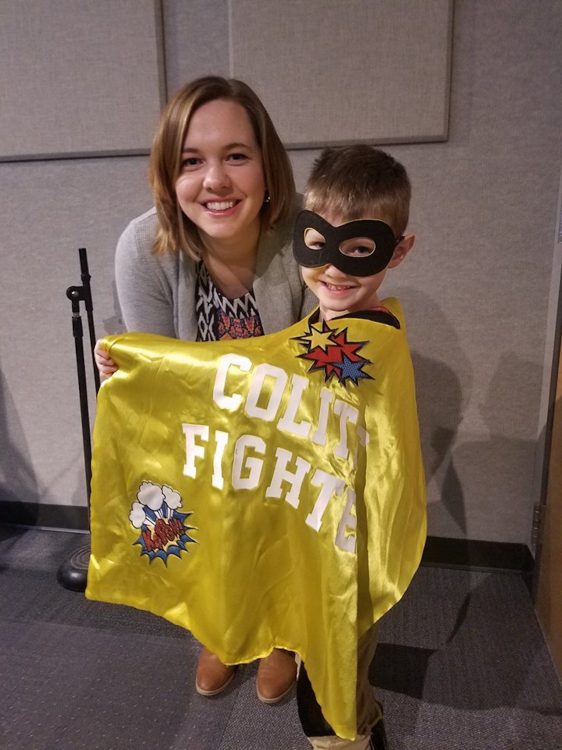 Fourth, we make a difference. Like a true superhero, when he's on duty fighting colitis he also spreads joy to others by delivering flowers in the hospital or making Christmas cards for other patients. Intentionally thinking of ways to serve others, even amid our own struggles, helps take the focus off our fear and pain. The Colitis Fighter also uses his power to make a difference by raising money to find a cure for his own disease and as a spokesperson for our children's hospital. Making a difference for others gives meaning to our experience, even when it's hard.
In the words of Christopher Reeve, a true Superman: "A hero is an ordinary individual who finds the strength to persevere and endure in spite of overwhelming obstacles."
Originally published: March 22, 2018