The Halsey Lyrics That Give Me Strength When I Feel Like a 'Broken' Person
---
Most of us have that one song or specific lyric that sets off a storm in our hearts, whether it be benevolent or malicious inside of us. For someone with multiple chronic health issues, I have found many songs and lyrics that have reverberated with every inch of my being, however, there is one specific lyric I have decided to forever have on my body as a constant reminder of its meaning with my life.
I believe it has been about two years since I found out about the recording artist named Ashley Frangipane, otherwise known as Halsey. She's a 23-year-old alternative/pop musician now probably best known for her songs such as "Bad at Love" and "Strangers," featuring Lauren Jauregui, from her second studio album titled "Hopeless Fountain Kingdom;" and the hit single "Closer" with the Chainsmokers. Halsey has shot to fame and has become pretty well known for her unique voice, captivating lyrics, eye-catching style, and more. She, like myself, also has health issues and has been quite vocal about her struggles with things such as her endometriosis. During 2015, Halsey released her debut studio album,"Badlands," and subsequently the song "Colors." The song could undoubtedly be about a tumultuous relationship (as seen through much speculation and debate online and some interviews with Halsey), but relationships mimic life and vice versa. The whole song, to me, is wonderfully written in a lyrical and musical sense. I will not lie, there has always been something about this song that hits me hard, and I still don't know why for the most part. However, there is one lyric, the one I have tattooed, that hits home more than any lyric I have heard and/or read before. During the pre-chorus, Halsey sings: "You're dripping like a saturated sunrise/You're spilling like an overflowing sink/You're ripped at every edge, but you're a masterpiece…"(for the record, it is the last part of this lyric I have tattooed). To me, these lyrics are extremely important.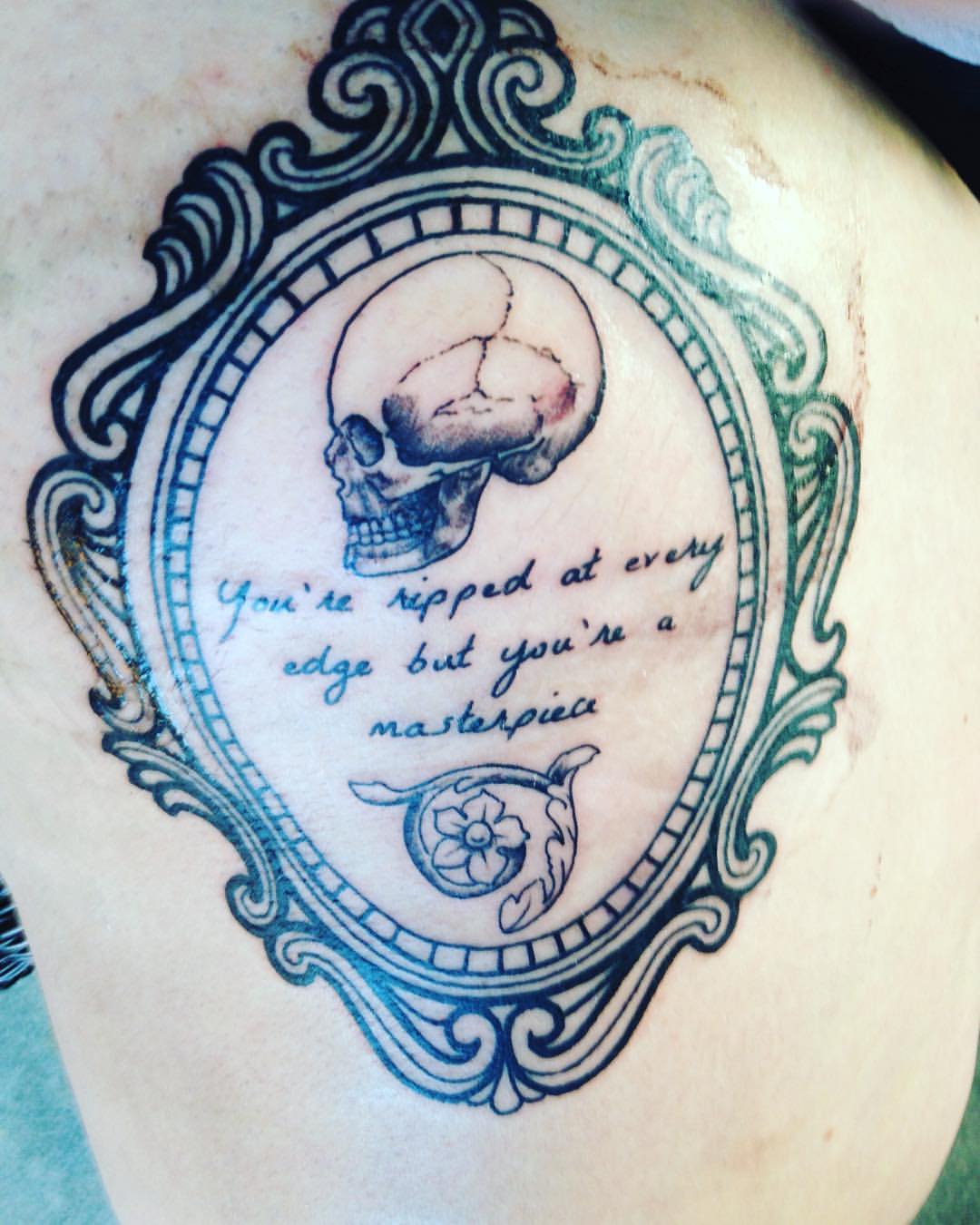 In short, I was born with a rare and undiagnosed genetic condition that caused my right leg and foot to become extremely deformed with hard fatty tissue and masses, which possibly led to me having other conditions like arthritis, an inoperable herniated disk, etc. I spend most of my time at home on a recliner because the majority of physical things we do as humans are too hard on my body. As long as I can remember, along with my physical issues, I have struggled mentally as well with depression, anxiety, bipolar disorder, PTSD, etc. For the longest time I have seen myself as a broken person, an alien almost. I struggle immensely with not feeling human, especially when I sometimes see so much wrong with myself. Yet, as soon as I heard that lyric for the first time, something in me changed. Hearing someone you look up to say the words, "You're ripped at every edge, but you're a masterpiece," (even if they are not specifically saying it to you), in some strange sense, helps you love yourself more.
I haven't the slightest clue of how many times I have listened to "Colors" over the years.  There are times I have the song on repeat just to hear that one line during the pre-chorus because it makes me value my life so much more. I listen to it when I'm sad, when I'm happy, when I'm driving or even working on my art. All around, the song evokes many emotions within me.
Around the time I heard the song a year after the album's release I've had that special lyric  permanently placed on my right thigh, my "deformed" leg to be exact, in a piece I designed myself. I am very particular about what I have tattooed on my body. In total, I have eight tattoos, and only one of them was not designed by me. Each one acts as a permanent reminder of things that happen/ed in my life or that are important parts of me that can be easily seen. They almost act as some of my battle wounds, except a little more artistic. I see myself as ripped at every edge but a masterpiece because I'm the way I am for a reason, but then again, aren't we all?
We all have those special lyrics. These just happen to be mine. My advice is this: hold onto them, and keep them special because lyrics and music can save lives, enlighten souls and mend hearts. I, for one, believe my special lyric from "Colors" did all of the previous things for me. Who knew that such a small few words could do such great things inside of a person? I never did until I was touched by words I would've never thought of on my own in my entire lifetime. Lastly, to those of you reading this piece, I want you to keep your favorite lyrics close and never give up on yourself. In your eyes, you may be ripped at every edge, and feel so down, and believe you're not worth it, but I believe we are all our own masterpiece, and we are here to make changes not only in ourselves but those all around us.
Originally published: May 12, 2018