Why I'm Letting Go of the Need for a Diagnosis for My Daughter
---
In the past year and half, our daughter, Elizabeth, has been hospitalized seven times, seen numerous doctors and specialists, had several surgeries and has had too many procedures to keep track of. In her short life, she has also dealt with the following diagnoses:
Severe GERD
Laryngomalacia
Failure to Thrive
Aspiration
Swallowing difficulties
Central and Obstructive apnea
Multiple Infections: Cellulitis
Failure to Gain Weight
Feet bent at ankles, leading to having to wear orthotics
Sinusitis
Mild Hypotonia
Hyptonic Muscles
Sensory Processing Disorder
While we have these many diagnoses, we've never been able to find the main cause of all her health issues – the main diagnosis. We've traveled to Boston, seen doctors all of the country, and she has been tested for numerous genetic diseases. We still have yet to find an answer.
Most doctors assume she's a preemie due to her many symptoms, but she wasn't. The doctors tell me she is a mystery, and sometimes not knowing is harder then having an answer or a diagnosis. It's hard to know what direction to go in and how to treat what we do know is wrong when we don't have a cause.
What many do not understand is that I was obsessed with finding the answers. I would never give up, I claimed; I would find the cause, the reason why she went through everything she did. But I did not realize the toll it was taking on our family. The search for the next specialist, all the testing, the stress and worry each time the doctors thought they knew what was wrong. I wanted to find answers and get help for my baby girl, but at what cost?
We recently got word that the most recent testing she had done came back normal. She has been officially cleared and does not have cystic fibrosis. And this is a good thing. Shortly after, the immunologist dismissed her from his care, as there was nothing else he could find and nothing else to test her for. Her orthopedic doctor says she definitely has problems, but she doesn't think they're bad enough to do more testing for at this time. She's also done having to wear orthotics, which is great!
Are there still issues? Yes. Currently, the concern is there's not enough weight gain, even with the feeding tube; she has lower muscle tone on the right side of her body over the left; she has balance and falling issues, and feeding issues. Her pediatrician says we can see an endocrinologist if we want to do more testing for the weight gain issues, but we're not sure if we want to pursue that at this time. Her orthopedic doctor has talked about possibly doing another MRI in the future but doesn't want to push it right now. She says she's going to need a lot of therapy to get her to where she needs to be.
But as for answers? There are none, at least not at this time. And I've realized my need for finding a diagnosis needs to be put aside. Though I thought I was helping her by pursuing a diagnosis, I was really putting a toll on our marriage and our family.
Does that mean we're done searching? Yes and no. If other problems arise, we're not going to stand by and do nothing, but at the same time we're not going to be actively pursuing a diagnosis anymore. She still has a feeding tube, and she will still be in many hours of therapy per week, but she is working hard to get to where she needs to be.
It's hard for me. I want answers. I want to know why all of this happened, and maybe someday I will. But meanwhile, I need to learn to be just mommy. Not a doctor or a specialist or a therapist, just mommy.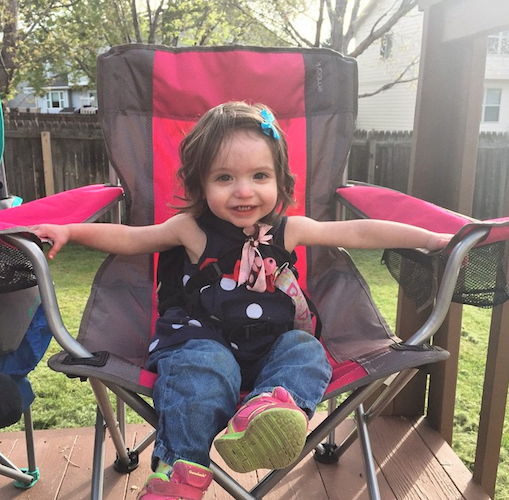 Follow this journey at Singing Through the Rain.
The Mighty is asking its readers the following: Describe the moment someone changed the way you think about disability and/or illness. If you'd like to participate, please send a blog post to community@themighty.com. Please include a photo for the piece, a photo of yourself and 1-2 sentence bio. Check out our "Share Your Story" page for more about our submission guidelines.
Originally published: July 13, 2015