Why People With Chronic Illnesses Need Protections in New York's Mid-Year Formulary Bill
---
For most of my life, I was an overachiever: I excelled in school, worked multiple jobs and volunteered to help others as often as possible. But in my early 30s, I was forced to slow down. I began to experience a mysterious combination of symptoms that no one could explain: pain from head to toe, debilitating fatigue, weakness, dizziness, nausea and later, severe joint swelling and a variety of skin reactions. It took eight years for doctors to figure out what was going on, with countless tests, misdiagnoses and treatments that did not work along the way. Eventually I was diagnosed with a rare inflammatory disease called sarcoidosis.
At its worst, this condition left me completely incapacitated: the arthritis in my hands, elbows, back, hips, knees, ankles and feet was so severe that I could hardly move. I needed support to stand, shower and dress; at times I couldn't even hold a phone in my hand to ask for help. When we finally found the right treatment, my world changed. Literally overnight, there was a noticeable difference, and I continued to improve for weeks and months. There is no cure for sarcoidosis, but thanks to my miracle drug, I'm able to participate in, and contribute to, my life and my community.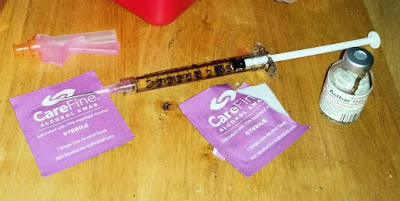 While I am incredibly grateful to have this treatment, I live in fear every day that my insurance company will suddenly decide to stop covering it, and I'll go back to the way I was. For millions of New Yorkers living with many forms of arthritis, diabetes, multiple sclerosis and more, this fear is very real. It's reported that more than 25 percent of New Yorkers live with at least one chronic illness, and 24 percent live with two or more. These diseases are often treated with injections or infusions, medications that can cost thousands of dollars per month. We are therefore very thorough when choosing health insurance plans each year, to ensure that our doctors and our treatments are covered. However, the law currently allows insurance companies to drop these medications from their formularies in the middle of a plan year, or to change the details so that we must pay more for them than we had agreed to. When this happens, families are left to choose between medication and food or rent, or take drastic and dangerous measures like rationing medication (not taking as much or as often as prescribed). Without adequate medication, these diseases progress, leading to permanent damage, and even death.
Patients need to be protected, and the plan contracts that we enter into must be honored. Earlier this year, legislation was introduced to do just that. Patient advocates and health professionals from across the state traveled to Albany to meet directly with our State Senators and Assembly Members to discuss this bill (S2849A), which would protect patients from losing coverage of already approved medications or suddenly having to pay more for those medications in the middle of a contract year; it would also ensure that we are notified of any upcoming changes in advance of the open enrollment period, so that we can again do our research and choose the best plan available to meet our health needs for the coming year.  We participated in letter writing campaigns, and shared our stories via social media — anything we could do to get this important message across. As a result, we received overwhelming support from our elected representatives, with the bill passing 56/6 in the State Senate and 146/1 in the State Assembly.
That's why I'm calling on Governor Cuomo to do what should be a very easy thing. This legislation has the vast support of patients, caregivers, medical professionals and the politicians we've elected to represent us. Passing this bill will save lives, reduce suffering and improve quality of life. It will even lead to cost savings, as these treatments can prevent more severe disease progression and disability. And insurance companies could still make changes each plan year — they'd just have to honor the contracts that we are all bound to already. With all that in mind, I implore Governor Cuomo to sign S2849A, to prohibit mid-year formulary changes.
Follow this journey on Float Like a Buttahfly.