Struggling With My Sense of Self Amid Grief and a Pandemic
---
It has been seven years since I was last able to hug my son, when I held him as life support was removed, and felt the essence of who he was leave his body. I find the passage of time an unbelievable challenge; in so many ways I am still just a mother, holding her child in her arms. At the same time, I am suicide bereaved, and although the broken parts of my heart have been cushioned with the passage of time, the pain of loss is still very much a part of who I am.
It feels sometimes, that remembering Harry's illness and death is all that remains of him. The joy of who he was has been dissipated over the years, in my longing to know who he would have become, on the other side of his illness…if only he could have survived.
2020 has been a challenge, and that I am not alone in that statement has somehow stolen my words. Writing has always been my release, the way I make sense of the noise inside of my head. 2020 somehow changed that for me; as the worldwide pandemic has treaded lightly in my part of the world, leaving us free to live a "normal" existence behind our closed boarders, I have become a stranger inside of my own skin, and my words have been trapped behind a sense of survivor's guilt.
In March 2020, when COVID-19 was an imminent threat, I allowed myself to feel the fear, and I even wrote about that fear. I worked from home for endless months, I avoided places where people gathered, and I became more and more introspective. When our lockdown was lifted, I struggled to find my sense of self again, and the stranger inside of me confused me and silenced me. As I pondered the worst I seemed to have forgotten the possibility that "the worst" was only one of many outcomes, and the future is not something I will ever be able to predict. All I can do is stand grounded in who I am right now.
And when one "worst" happened, my job was disestablished in part due to the COVID economy, the stranger inside of my skin seems to have been silenced. That doesn't mean I'm not concerned about my family's economic future, if I don't manage to find another job. It doesn't mean I'm not struggling with the separation of my sense of self, the way my life has been defined for so many years.
I saw a meme recently, that really resonated with me "life isn't all about paying bills and losing weight"; it made me really think about whether living in this little island in the South Pacific and losing my job are both actually blessings? What if the lesson that 2020 is here to show me has nothing to do with mortgages and the size of my butt? If I no longer have to define who I am by squishing my sense of self into the sharp edges that my job seemed to require, surely that allows me the opportunity to simply be me?
I remember having the same conversation with my son seven years ago. He was hospitalized for severe depression and suicidal thoughts, and I would say to him that it was OK, just to be Harry. He didn't need to hide who he was under a false sense of bravado, he didn't need to drink alway his sense of self. He could simply be my beautiful boy, the one I had adored from the moment he was born. Nothing more, just Harry. I didn't understand back then, how impossible it was for Harry to just be Harry. He had lost all sense of self, and never managed to recover that. Really, what I was asking him to be was my version of who he was.
The pain of Harry's death still clings to me, I don't think a parent ever fully recovers from the loss of a child, we just learn to function through that sense of loss. My challenge in today, seven years on, is clearly to hold on to the sense of who he was, and who I believe I am, and not let the stranger inside of my skin take over (even in a worldwide pandemic).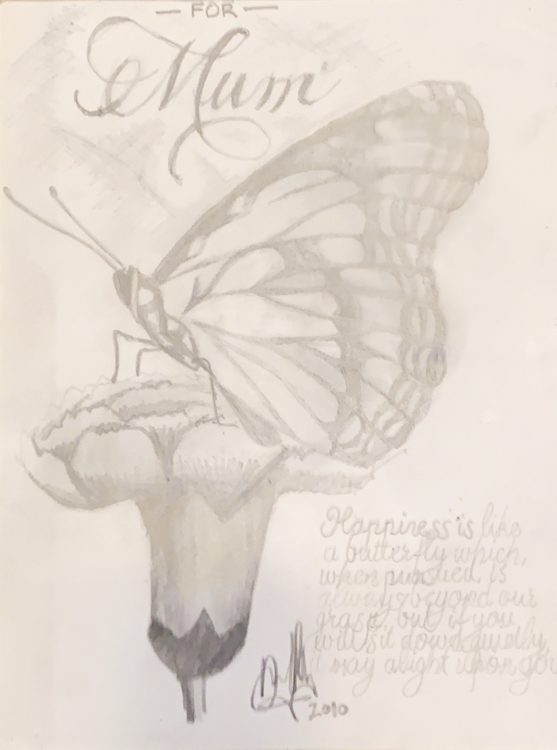 I have a picture Harry drew for me 10 years ago; it includes the words written by Henry Thoreau: "Happiness is like a butterfly which, when pursued, is always beyond our grasp, but if you will sit down quietly, it may alight upon you." Today, as I remember the tragic loss of my son, in a year of unimaginable tragedy, I will sit quietly, and await my butterfly.
I will love you forever, sunshine boy x
Getty image by Victor_Tongdee