To Demi (and Those of Us Like Her)
---
As I write this, tears immediately form in my eyes, and first of all, I want you to know that so, so many people in the mental health community are sending you their love.
I have always identified with Demi. I remember watching her come up on the Disney Channel's "As the Bell Rings," and felt an instant connection. We looked alike. We both loved music and songwriting. And I still remember the first things I noticed that said, she is too much like me.
I remember seeing a photo of you with your friends, hips protruding. It worried me. Don't tell me she's like me, I thought. Then you posted the title of a song I knew all too well. It was on Twitter, and you took it down quickly. "Courage" by Superchick. That's when I knew we were really alike.
I met you backstage at a concert during your Neon Lights tour. I remember that day so well because it was soon after I found out you went to treatment for your struggles, like bulimia, bipolar disorder and addiction. But standing next to you in that photo was a ghost of myself. I couldn't even stand through the whole concert, I was running on so little. When that photo was sent to me, I knew I needed to follow your example and get help.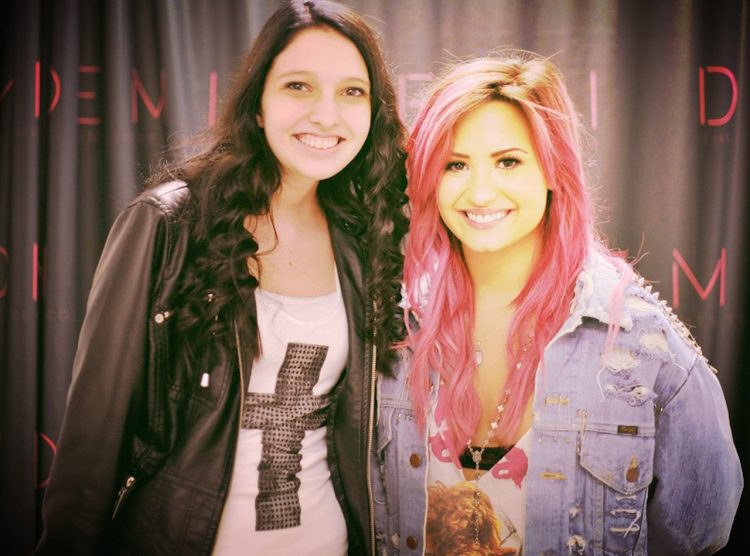 For the next three years, I was in and out of hospitals and treatment centers. Before I went, I had your infamous "stay strong" with the exact tracing of your heart that was on your tattoo, tattooed on me. If you could do this, so could I, right?
Today my cousin sent me the article about what happened. That you may have overdosed at your home. I was stunned. I was silent. I wanted to cry. I knew you were struggling, but I didn't know how much.
"I want to be a role model, but I'm only human."
The most important thing today, other than letting you know how much I was praying for you, was to reach out to my friends from treatment. I was actually surprised, some people felt the same way as me about what had happened. "Well if she has a slip up, I can too." Destructive thoughts swirled around my mind until I contacted a friend from treatment and explained my thought process. She felt the exact same way upon hearing the news about you.
So I posted on Facebook, for all of my friends. Stay strong, warriors. Demi wouldn't want us to follow her footsteps on this. It's so tempting to slip because someone else did; I've experienced that almost jealousy with friends I met in treatment. If they weren't doing well, why should I? Like it's some kind of competition.
It's not. Demi, they are saying you're awake and responsive. I pray that's the case. I know you used to look up to people like Amy Winehouse, just like your fans look up to you. Amy wouldn't want you to follow the same road as she did, just like you don't want us to have an excuse to not try.
We want you to stay, Demi. You are an amazing advocate for mental health. Please make time for yourself. Therapy, psychiatry, self-care; we don't expect you to be a perfect superstar. As you said, you're only human. So treat yourself as such first.
Stay strong, Demi. We are all rooting for you.
We want to hear your story. Become a Mighty contributor here.