27 Tattoos Inspired by Living With Anxiety
---
Editor's Note
If you experience suicidal thoughts or have lost someone to suicide, the following post could be potentially triggering. If you need support right now, you can call, text, or chat the Suicide & Crisis Lifeline at 988, or text HOME to 741-741 to reach the Crisis Text Line if you are in the U.S. A list of crisis centers around the world can be found here.
If you live with an "invisible" condition like an anxiety disorder, (a condition characterized by persistent feelings of fear, as well as physical symptoms like panic attacks and heart palpitations), it's easy to feel invalidated when your symptoms aren't outwardly present for people to see. What appears to be "high-functioning" to others may feel like debilitating panic attacks, racing thoughts, and struggling to get through the day.
For many people who live with mental illness, having a tattoo can be a visible reminder of not only their struggle, but of the hope they have from all they have overcome. We wanted to know what tattoos people have that are inspired by living with anxiety, so we asked our mental health community to share photos of their own tattoos that represent their anxiety journeys.
Here's what they shared with us:
1. "This is my tattoo… it's lyrics from a song called, 'Everything That Means Nothing,' and basically it's to remind me that insecurities are normal but they're evil and to try not to listen to any of my insecurities. Also the lace design is partly for decoration, but also it reminds me there's beautiful things out there, and beauty can come out of something bad." — Cloud S.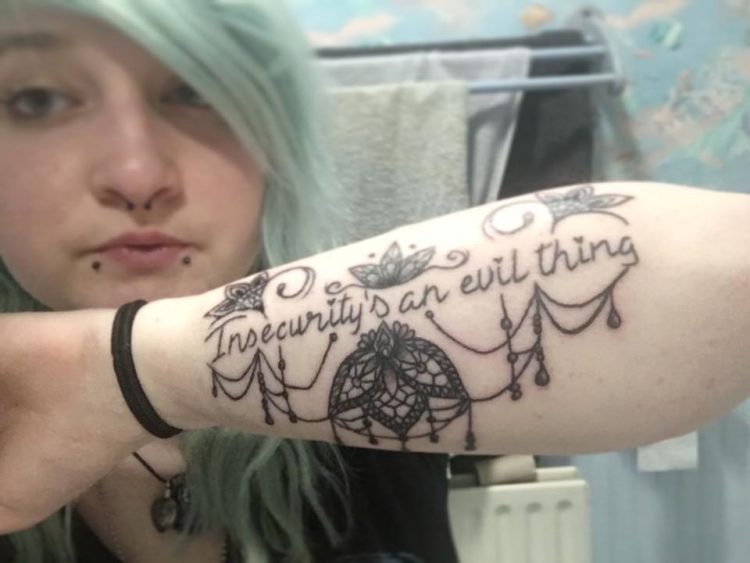 2. "My dad died suddenly in February of 2014 when I was overseas in Japan with the Navy. I was able to to fly home for the funeral, but had to go back to Japan 10 days later. I have always had anxiety, but it has gotten 10 times worse after his death, and the three deaths in the following two years after his. This is my little reminder to ground myself and remember what my dad would always tell me: be strong."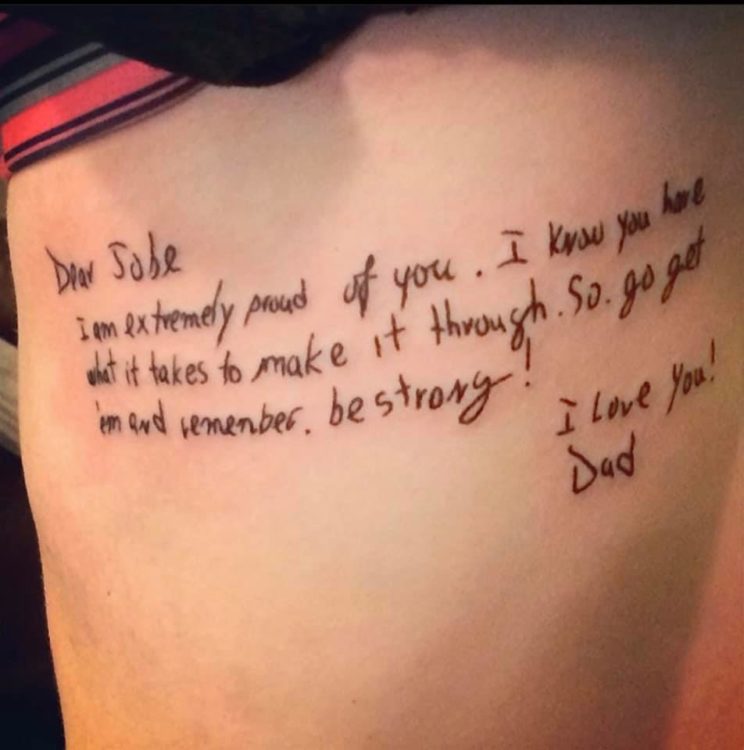 3. "I got this tattoo just a few weeks after Carrie Fisher passed away. As an avid Star Wars fan and lover of her advocacy for depression and anxiety, I wanted to have a tribute of her inked into my skin. Every time I turn around I see this tattoo, it makes me feel safe and happy and it makes me think of Carrie. I think everyone deserves to have their own hero (whether or not they're a hero in the traditional sense). She helped to show the world that depression and anxiety does not define who you are. Such a strong female influence in my life that proves to me that no matter how I'm feeling inside, I can do anything." — Charlotte H.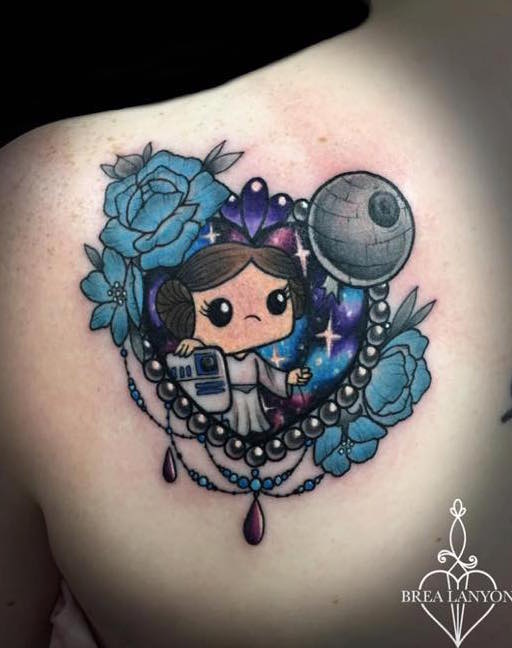 4. "I have depression and anxiety. 'Be here now' is a reminder to slow down when I start to spiral and worry. The flower head is to remind me that I'm constantly growing." — Rachel L.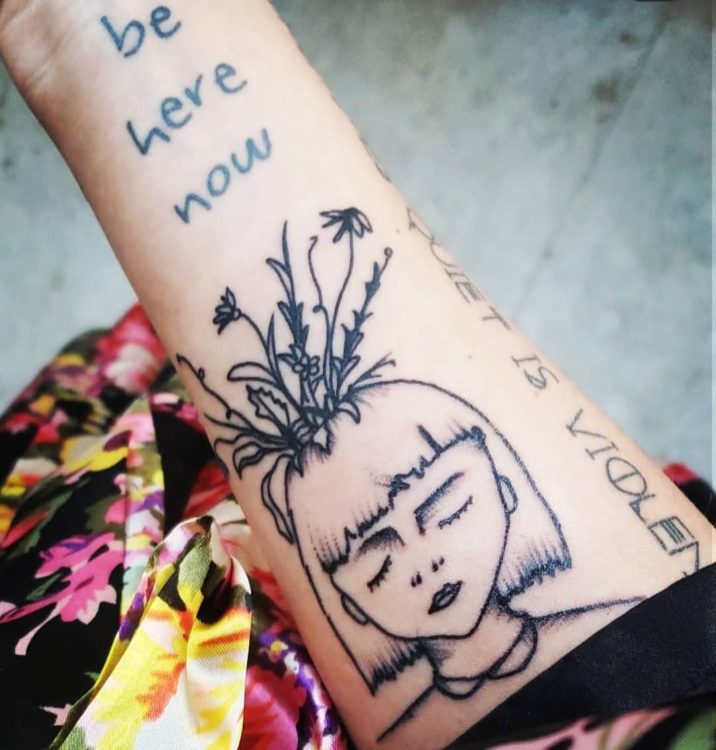 5. "I got this tattoo two weeks ago to help remind me to breathe when I'm having a panic attack." — Jeannie B.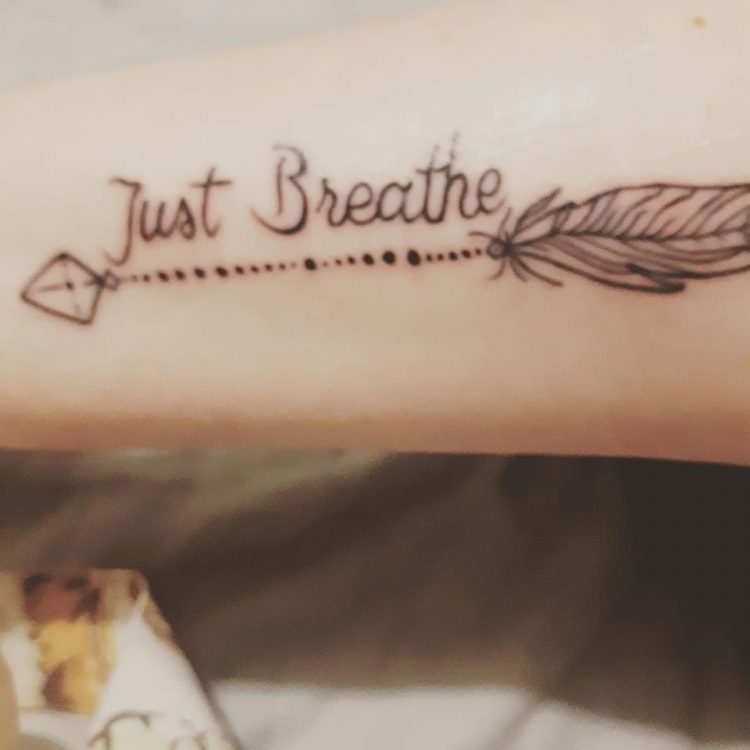 6. "The dragonfly symbolizes change, transformation, adaptability and self-realization. The change that is often referred to has its source in mental and emotional maturity and understanding the deeper meaning of life. Life is good." — Jasmin C.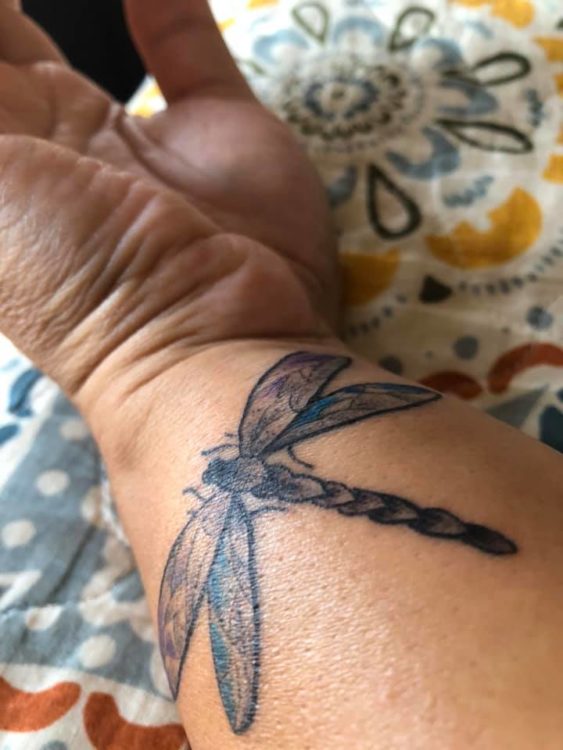 7. "So this is the eating disorder symbol colored teal for my anxiety. Every day I live with my anxiety about food, being social and just about everything around me. I got the semicolon in the middle of it to remind myself my story will never be over. There have been times I've almost given up on life but I calmed myself down and took the necessary steps to get the help I needed." — Nicole Z.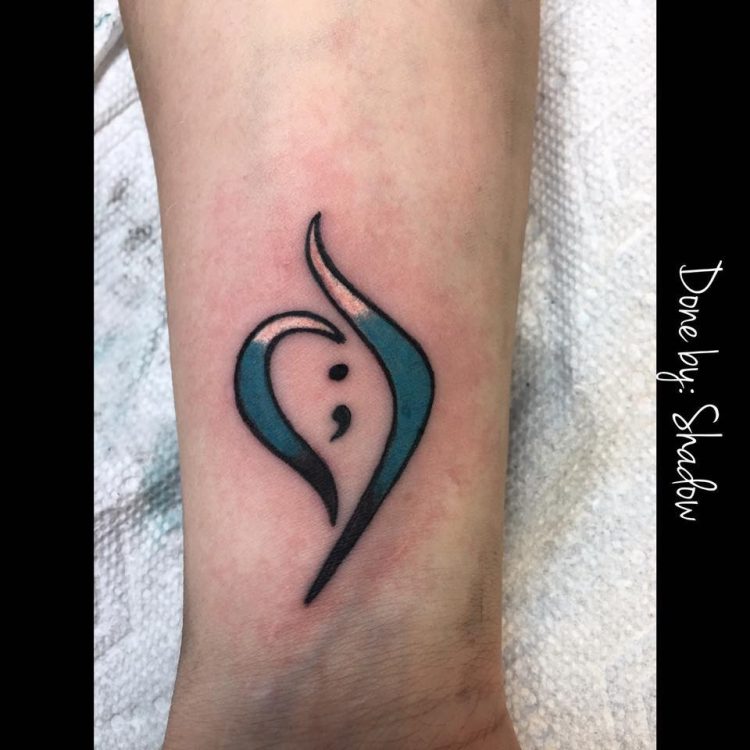 8. "It's still new but it was about having a mind that likes to 'take me other places.'" — Alicia B.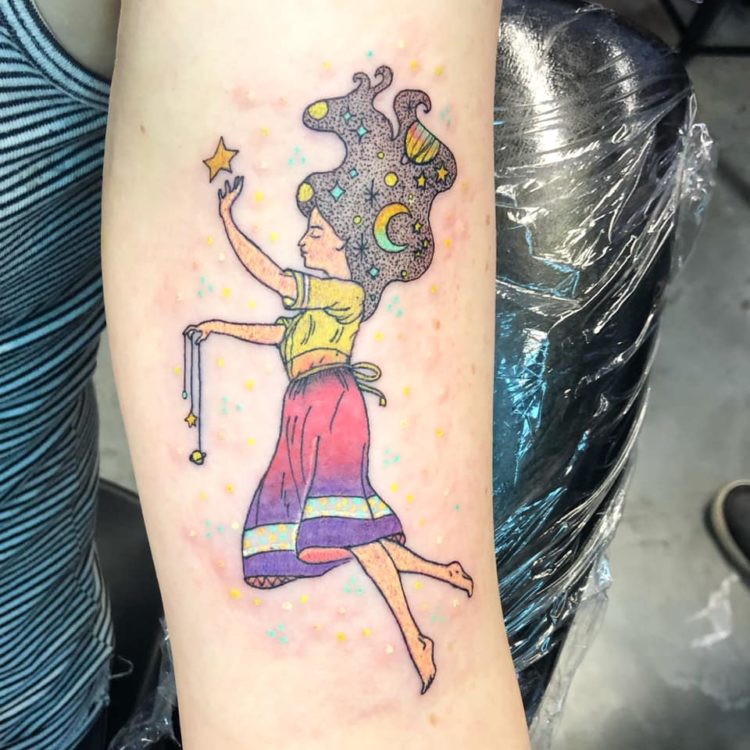 9. "When my best friend from junior high suddenly died, it was like my grip on life snapped. I had panic attacks all the time, I had awful nightmares that woke me up in panic, I struggled with thoughts of suicide because I wasn't sure if it even mattered anymore. I got a goose, because it is the nickname my parents had for me since I was a child, and it was also the nickname her parents had for her. We were both 'Goose.' I needed to remind myself that I'm OK, it's OK to feel what I'm feeling, it will pass and things are going to be OK even if in that moment it feels like my world died with her." — Erin W.
10. "Just got this lion skull after a traumatic incident to remind me I'm stronger than my anxiety and depression. They won't have their way with me." — Katrina N.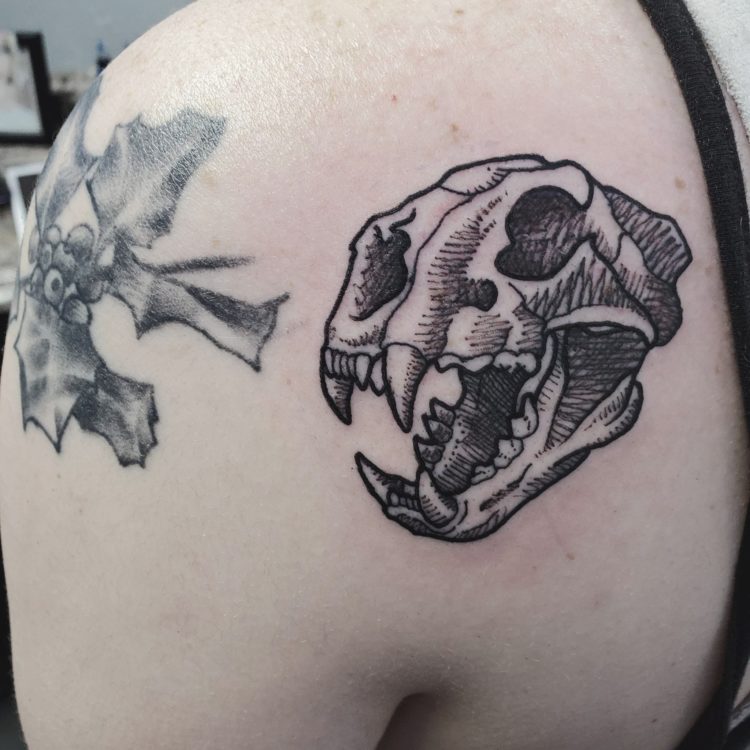 11. "I got this because my anxiety often causes me to worry too much about the future and the 'what-ifs.' This is a reminder to keep myself in the present moment and stay grounded. After all, you can only control what's happening in the now." — Izzy C.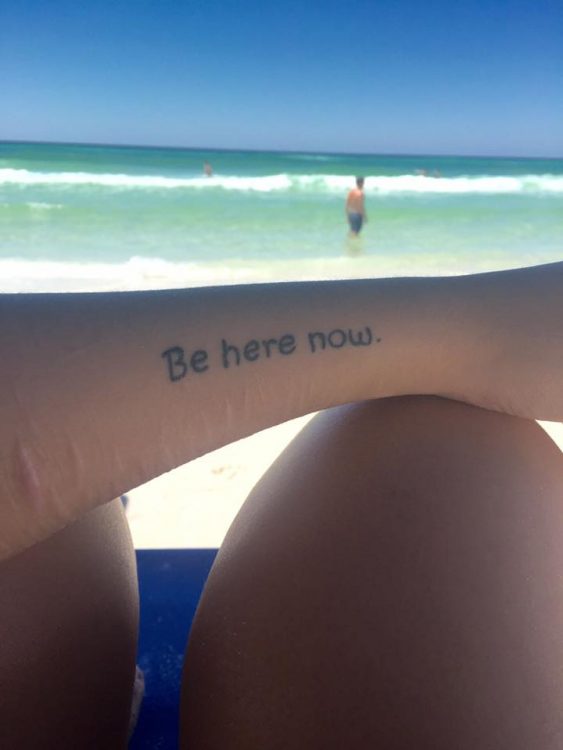 12. "My husband and I got matching tattoos: cross and semi colon. This was after I was hospitalized for depression, anxiety and suicidal ideations. It's a reminder to me to keep my faith and to remember my story isn't over. I'm also reminded I don't fight alone." — Jennifer S.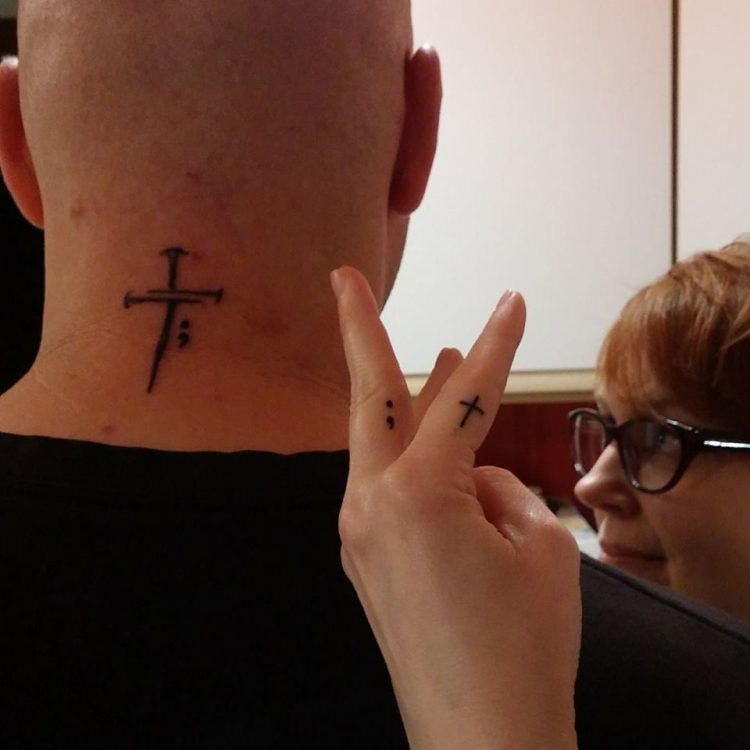 13. "Tomorrow is the one year anniversary of giving birth to my fourth child. I had an Amniotic Fluid Embolism, a very rare and almost deadly maternal condition. After organ failure, hemorrhaging and a stroke, my medical team was able to revive me, since then, my life hasn't been the same. I struggle with depression, anxiety and PTSD along with a myriad of other health conditions as a result to this event, including short-term memory loss. I was jokingly given the nickname 'Dory' while in the hospital and it just stuck with me. Every time things would get bleak, my kids would say, 'Dory would keep swimming, Mom!' So a few weeks ago I got my Dory tattoo with two semi-colons to represent the two darkest periods where I thought very seriously about ending my life. This means the world to me." — Sara S.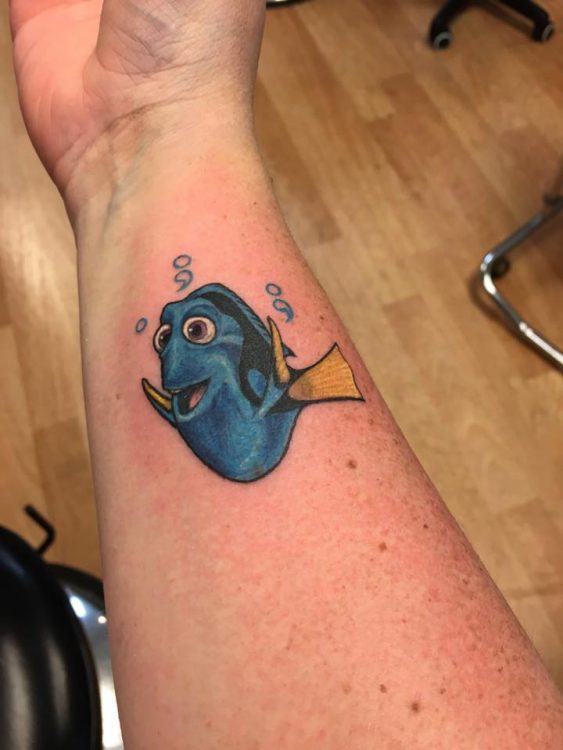 14. "I have a really hard time shutting my anxiety off and enjoying new places. This tattoo reminds me to let go and enjoy the adventure." — Katie R.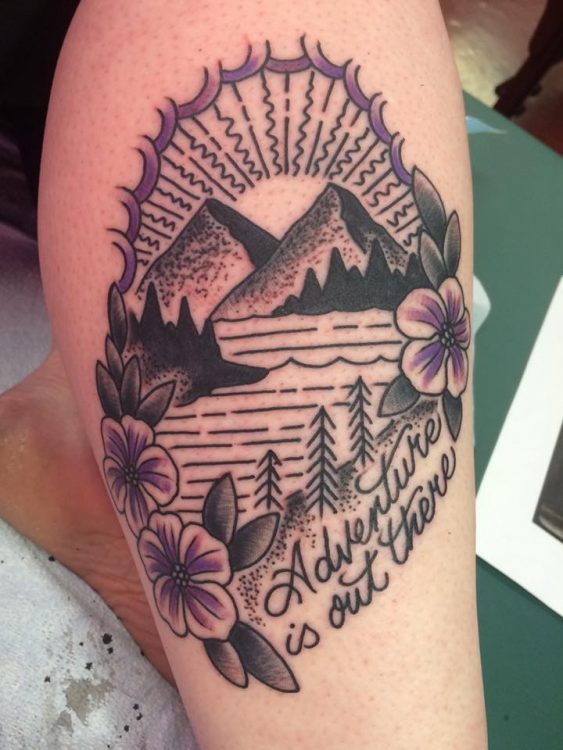 15. "It says: 'I got you' and [has] a semicolon. My husband (boyfriend at the time I got the tattoo) tells me this all the time when I am having a 'moment' as we like to put it. It reminds me I'm not alone in my struggle, even when he's not physically with me." — Laura N.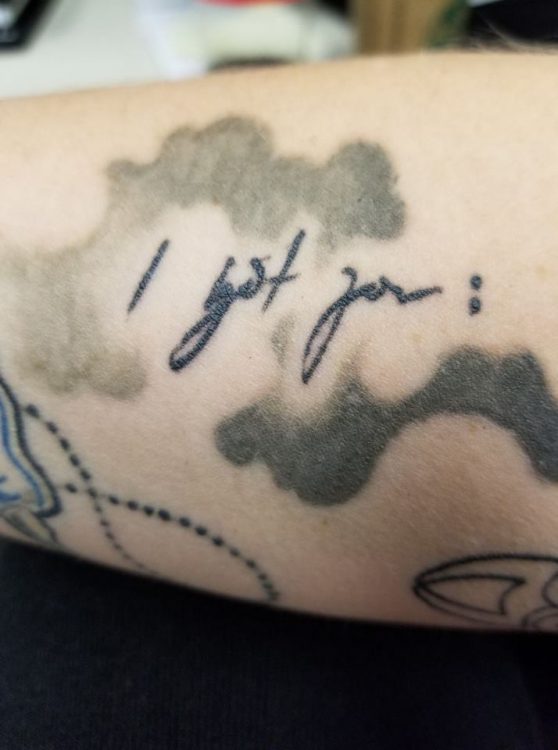 16. "The queen protea flower that represents transformation and a reminder to do things I'm terrified of doing in an attempt to lessen my fears and anxiety about certain things." — Ashlee H.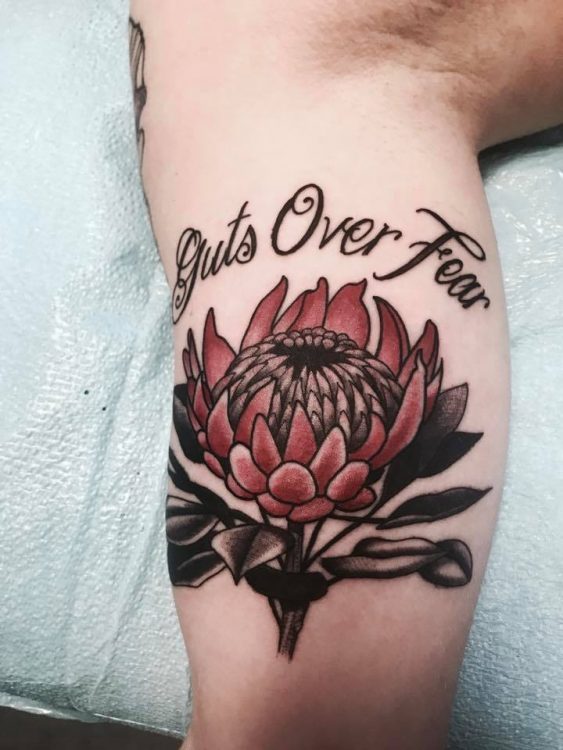 17. "'Worthy' in my mom's handwriting. On the days when anxiety overwhelms me, I have a reminder from the person who gave me life that everything will be OK." — Mae L.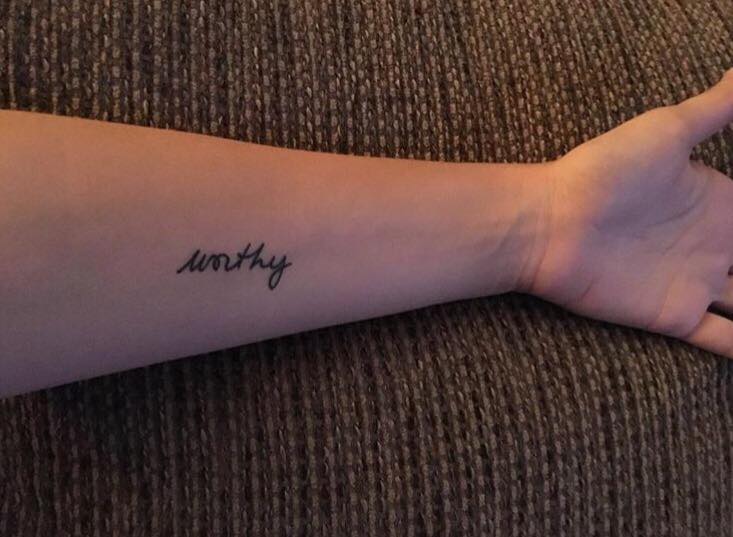 18. "I survived a very serious suicide attempt in December of 2016. This reminds me of everything I need to know. I also have the words 'I am' on my inner right forearm, to easily turn over to 'Awake,' with 'Alive' being on the opposite arm." — Josh D.
19. "My best friend inspired me to get my Stitch tattoo (he's obsessed with Stitch). He's always been here for me, helping me and listening to me when I have an anxiety attack. I got this tattoo to remind me that I have at least one person here for me. One person who cares." — Ashleigh T.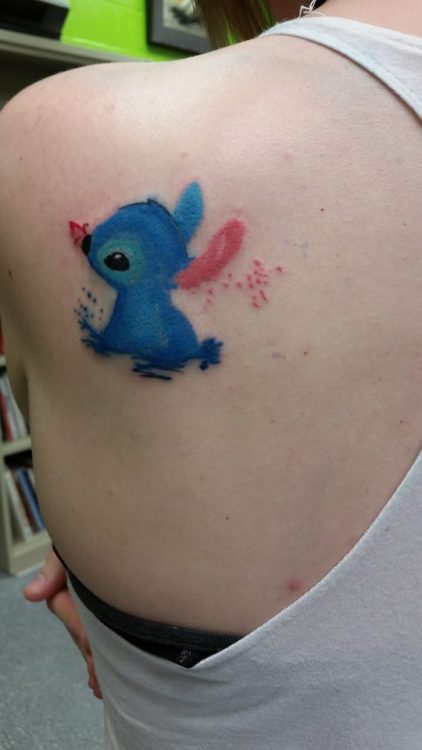 20. "This is my very first tattoo. I got it a few months ago when I realized I was (and still am) on a consistent uphill climb with my treatment. Disney is very near and dear to my heart, so the 'Hakuna Matata' reminds me not only to refrain from worrying about things I can't change, but also of the joy that Disney never fails to bring me. The chemical compounds for Serotonin and Dopamine remind me that my depression and anxiety are not my fault." — Amanda K.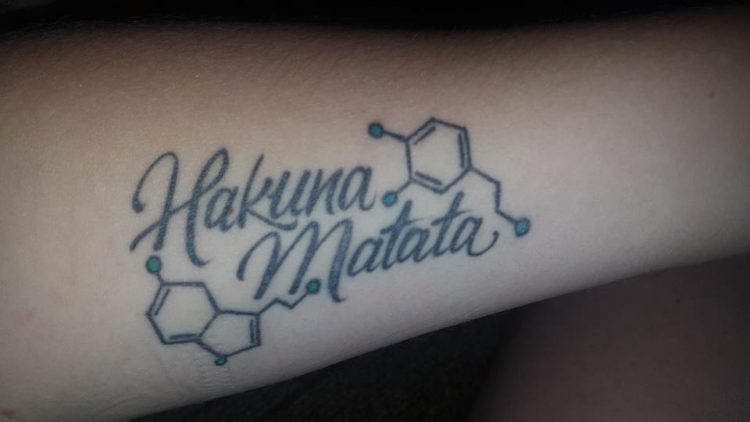 21. "I got one of the simplest and yet still most meaningful tattoos on the day I turned 18 as a reminder to keep smiling and when things seem to be too much. [When] I feel like the weight of the world is on my shoulders, I look it and remind myself to smile because it'll be OK in the end. It's a constant reminder to push through, to keep going, that my story is not over." — Joseph O.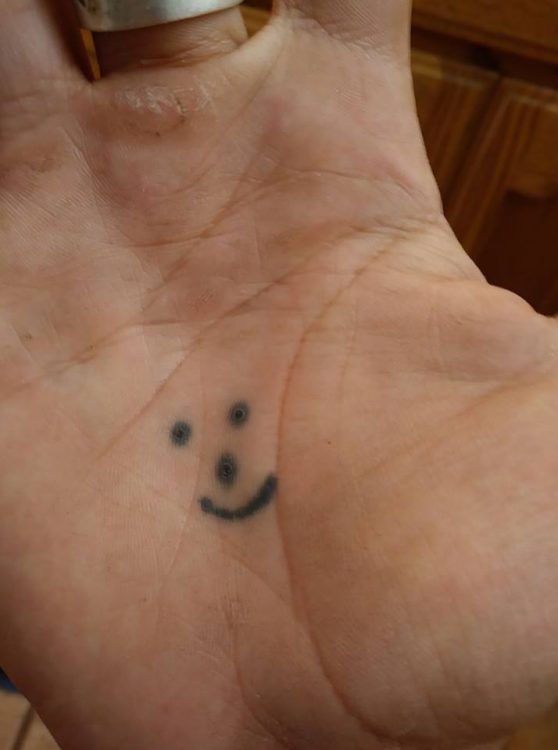 22. "I got, 'This too shall pass' right over my scars. There is still a daily struggle, but it has really worked miracles. It's like having a voice whisper to you that it's going to be OK, only the voice is there on [my] skin. Keep fighting the good fight everybody, it does get better." — Nancy M.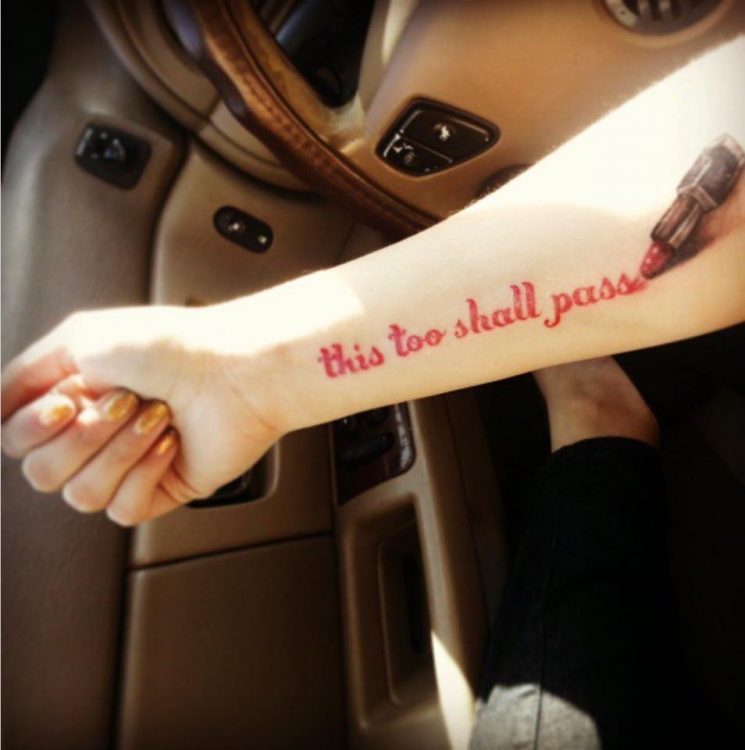 23. "I wanted to get a semicolon, but I wanted something unique to me, so I designed my own with peonies on the inside. I got it after I took a big step forward in my life, and to remind myself, 'In my wounds are seeds waiting to grow beautiful flowers.'" — Karina W.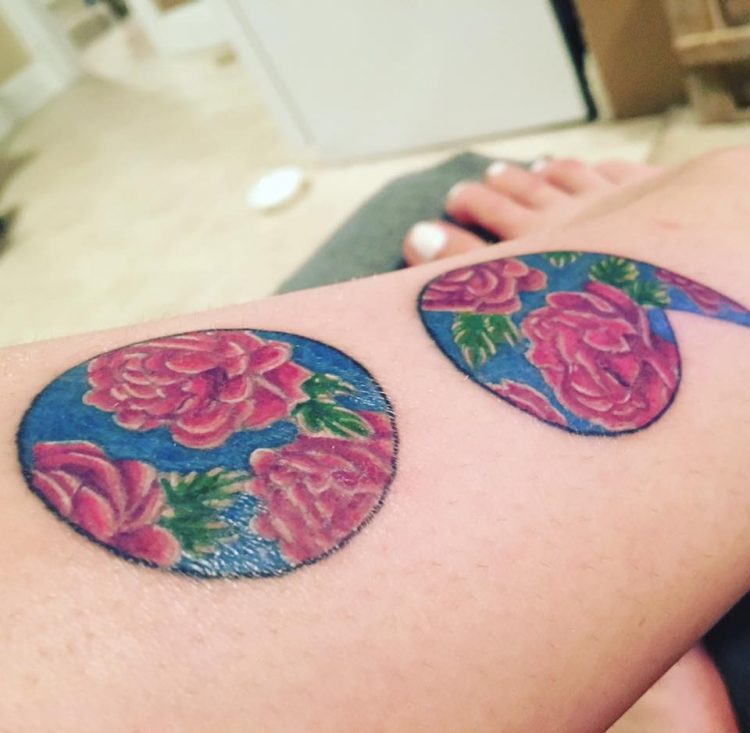 24. "I got this because every day was an uphill climb. It was when I dropped out of college for having so many mental health issues." — Abigail M.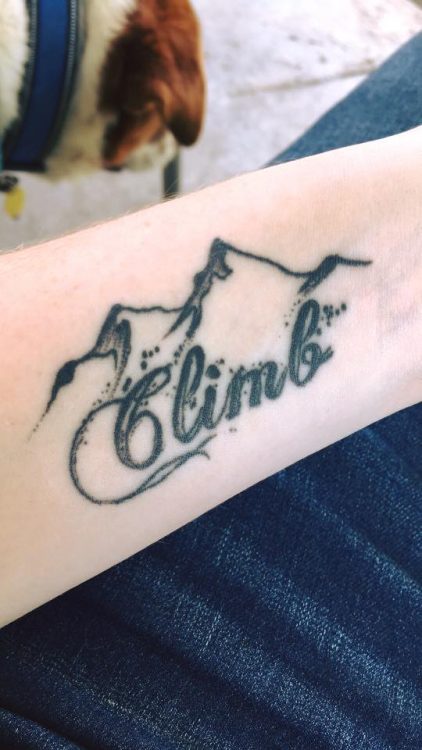 25. "I got this tattoo last year. It's from 'A Clash of Kings' the second book in the Song of Ice and Fire series. Arya says it and after I read that line, it stuck with me and made me realize that no matter how bad my anxiety/depression gets, I am stronger than it will ever be. 'I am a wolf and will not be afraid.'" — Tiana E.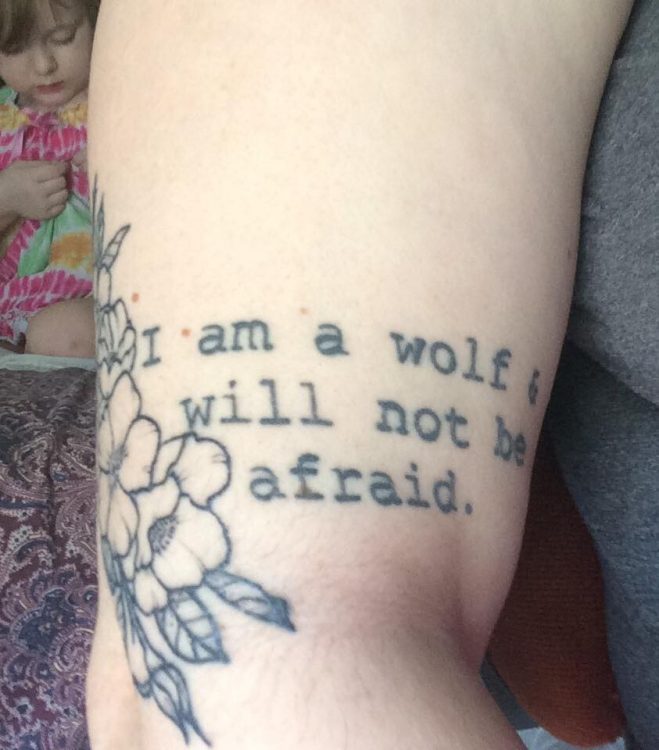 26. "42 is 'the answer to the ultimate question of life, the universe and everything' according to 'The Hitchhiker's Guide to the Galaxy.' In my struggles with anxiety it reminds me no one knows any more than I do and we're all kinda in the same boat when it comes to the big questions." — Erica S.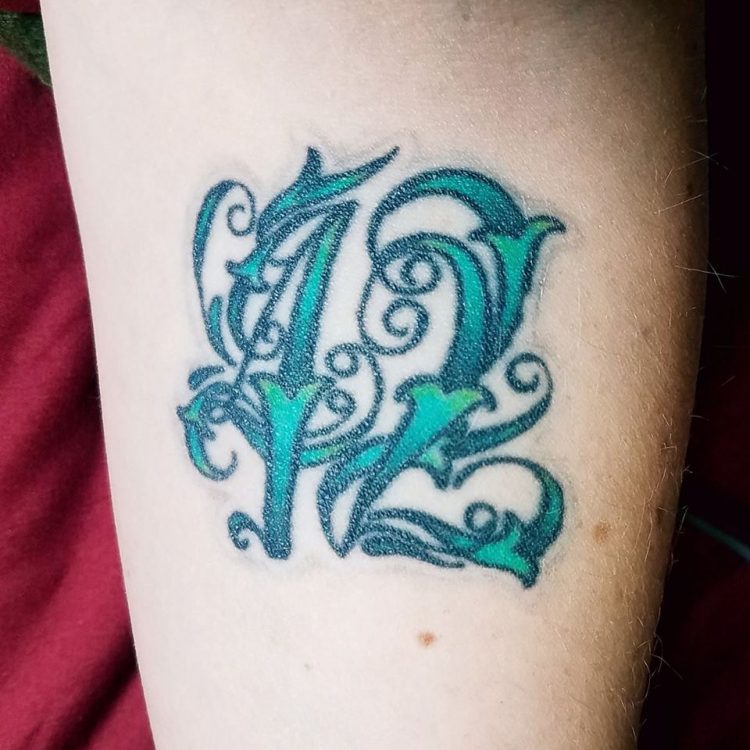 27. "I keep one right on my collar bone. 'Still I Rise' because no matter how depressed, overwhelmed, unsuccessful or defeated I feel, I know I can rise and overcome what life throws at me. I kept it in a visible place because I can look in the mirror daily and be reminded of what I have already overcome." — Brittany R.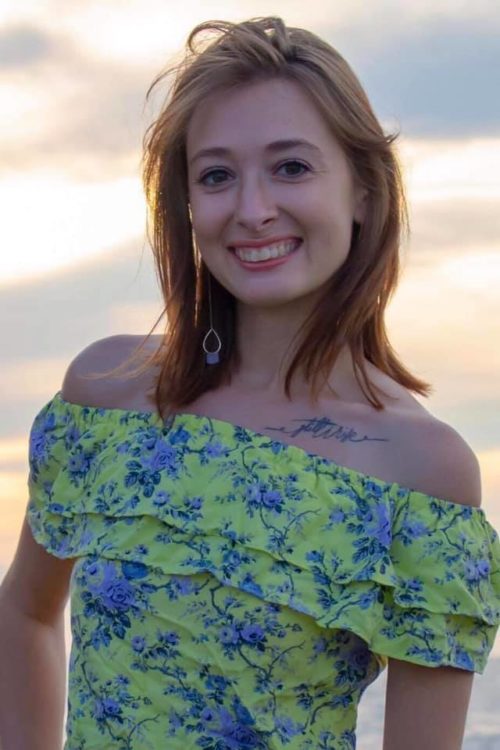 Originally published: July 31, 2017