4 Types of Therapy for Anxiety (That Involve More Than Talking About It)
---
Talking about anxiety is good for you. I know it's good for me to get things out of my head, and when I'm in therapy, I blah blah blah about everything that's on my mind. Sometimes I even get self-conscious about how much I talk, but I usually leave the room feeling a little refreshed, a little lighter and a little less burdened by all the silly thoughts circling around in my head.
As important as talking can be — sometimes it's not enough. Sometimes we need skills to face our anxiety beyond the therapist's office. This doesn't mean you can just "snap out" of it. This doesn't mean a specific kind of therapy will make all of your problems go away. But learning skills can help you deal with anxiety when it strikes. Just as much as anxiety isn't our fault, with support and understanding, we're also not powerless against it.
Below, I'll go through some of the more popular types of therapies for anxiety, what it's used for and even some options for learning it on your own. If you've had good (or bad!) experiences with any of these methods, let us know in the comments below. Of course, not every type of therapy is for everyone, but if you've struggled tackling anxiety with counseling alone, learning a few of these skills might help.
1. Cognitive Behavioral Therapy (CBT)
How you would use it: Cognitive behavioral therapy, or CBT, helps you identify "cognitive errors" — and then gives you tools to restructure them. Examples of cognitive errors include:
Black and white thinking ("If I don't pass this test, I'm a complete and total failure.")
Hyper-responsibility ("Whenever something bad happens, it's my fault.")
Selective abstraction ("Despite getting consistently high performance reviews at work, this one typo in my email means I'm incapable of doing anything right.")
Emotional reasoning ("Because I had a mean thought about my mom, I'm a mean and horrible person.")
Sound familiar? Thinking this way generally makes us unhappy, and some of the thoughts anxiety throws us when we're anxious can be traced back to these "errors." Recognizing them is a good first step. When we recognize a thought for what it is (There you are again, black and white thinking!), we can politely talk back to it and say, "Thought, I hear you, but I'm not sure if that's true." This process is called cognitive restructuring.
Obviously, practicing CBT doesn't mean you'll never have negative thoughts again — but understanding can give you back some of your power.
Online resources:
Options for learning CBT at home: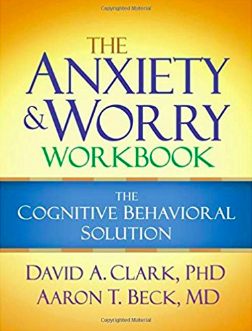 The Anxiety and Worry Workbook: The Cognitive Behavioral Solution, $15.49
2. Exposure and Response Prevention (ERP)
How you would use it: Exposure and response prevention (ERP) is actually a type of cognitive behavioral therapy, and like exposure therapy in general, is pretty much what it sounds like. You expose yourself to something that makes you anxious, and then resist responding in the way your anxiety wants you to.
It makes a lot of sense when you think about obsessive compulsive disorder (OCD). Someone with OCD will perform compulsions as a response to anxiety-induced fears and obsessions — and these compulsions can take over a person's life. So in ERP, the person actually exposes themselves to whatever usually sparks their compulsions, and has to deal with the anxiety without doing compulsions.
Someone who has fears around contamination and germs, for example, might expose themselves to a dirty public bathroom. While there, they're not allowed to do the compulsions they would normally do to make them feel safe. If this sounds hard, that's because it is. Taking away someone's compulsions can make it feel like the world is ending. But that's the thing… the world doesn't end. And when the world doesn't end (i.e. the worst case scenario doesn't come true), the connection in your brain that made you perform the compulsions in the first place slowly comes undone.
Of course, this is a gradual process. Lots of people find it helpful to have a coach or therapist help them resist their compulsions, and others skills (like mindfulness and cognitive restructuring) can help someone get through these moments.
This kind of exposure therapy can help people with specific phobias, too. Even if you don't technically have OCD, avoiding a fear can be a response that affects your life in a negative way. Just by exposing yourself to something (slowly!) and learning skills to get through it, you can become less controlled by your fears.
Online resources:
Options for learning ERP at home: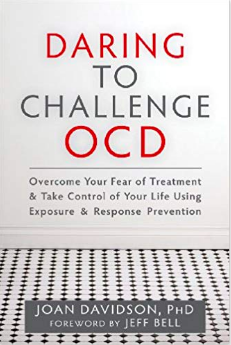 Daring to Challenge OCD: Overcome Your Fear of Treatment and Take Control of Your Life Using Exposure and Response Prevention, $16.95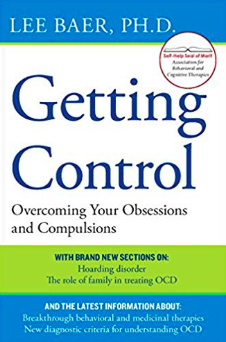 Getting Control: Overcoming Your Obsessions and Compulsions, $13.47
3. Acceptance and Commitment Therapy (ACT)
How you would use it: Instead of challenging and changing your negative thoughts,  acceptance and commitment therapy (ACT) is about accepting them. This doesn't mean you let them control you though — ACT is all about living a life according to your values despite what's going on in your head. This means being mindful and being psychologically flexible, living life with a deeper appreciation for who you are with your thoughts — without defining yourself by your thoughts.
ACT does not attempt to directly change or stop unwanted thoughts or feelings (as cognitive behavioral therapy does) but instead encourages people to develop a new and compassionate relationship with those experiences. This shift can free people from difficulties attempting to control their experiences and help them become more open to actions consistent with their values, values clarification and the definition of values-based goals also being key components of ACT.
P.S. The creator ACT, Steven Hayes, actually wrote for The Mighty!
Online resources: 
Options for learning ACT at home: 
Get Out of Your Mind and Into Your Life: The New Acceptance and Commitment Therapy, $16.89
4. Mindfulness Based Stress Reduction (MBSR)
How you would use it: Mindfulness based stress reduction is actually a program you can take that teaches you… mindfulness based ways to reduce your stress. (The name cuts right to the point, huh?) You can find a session in your area or use the workbook (featured below). MBSR is supposed to be a flexible and customizable approach to stress and anxiety reduction.
Basically, it teaches you how to handle life in a more mindful and thoughtful way. According to University of Massachusetts's Center for Mindfulness, the key principles of MBSR include: An emphasis on the importance of individual effort and motivation, the importance of making each moment count and treating the method like an educational rather than a therapeutic intervention. You're learning skills that will help you face life's challenges — what you do with the skills is up to you.
Online resources: 
Options for learning MBSR at home: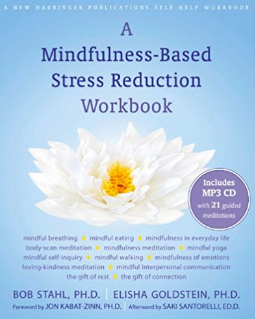 A Mindfulness-Based Stress Reduction Workbook, $16.65
Have you tried any of these types of therapy? Let us know in the comments.