What Rock Climbing in the Aussie Outback Taught Me About My Anxiety
---
My earliest experiences in outdoor rock climbing began in the Blue Mountains, Australia. A stunning range of forest, canyons, gullies and cliffs that stretch across the western horizon line of Sydney. The views you get from hiking along the bush trails or canyoning through the nooks and crannies of the blue gum forests are just breathtaking in so many different ways. The place is littered with waterfalls, wildlife and cliffs that drop into enormous valleys. Sydney-siders are lucky to have such a magical place to call their backyard. As a city-sleek millennial, the outdoors always seemed like such a foreign and intimidating concept. Especially in the Aussie outback where everyone learns that nearly everything can kill you. So with that in mind, trekking out into bushland to climb some cliffs was an idea that both terrified and excited me. Mind you, for my first time, when I say cliff, it's not those 80-meter walls you see in photos online but more a 10-meter step ladder, and when I say trek, it was more a light stroll and scramble down a well-established walking track fitted with railings and concrete steps. I was also accompanied by my friends who knew more than enough about the sport to guide me through such a "treacherous" ordeal. Despite my over-exaggerating details of this memory, what still remains most vivid is the anxiety I felt well before I was even strapped in and remotely close to the wall. That day was the start of a seven-year adventure that has led me to where I am today — someone actually ready and competent enough to pursue an 80-meter wall like you see in photos.
When you set out to climb a route, there is a puzzle to solve in order to achieve that objective. You equip yourself with all the safety equipment, and have someone beneath you belaying as a lifeline. As you ascend, your mind is automatically made to think in the moment, to calculate every move and every step. The sensations bring you into complete awareness of limb, breath, muscle and that trail of weird bugs near your fingers. Looking down makes you dizzy and perspective becomes a strange blur. Looking behind isn't much better either when instinct tells you this is not normal to be off the ground in such a manner. The struggle of exposure can be so real. Just hold on to dear life and do not let go. However, the self-talk here is counter-intuitive. Falling is inevitable. Falling safely and trusting your fall is an art form. It is almost like a rite of passage for climbers, no matter how experienced you are. Trust in your gear, in your abilities and in your partner. The adrenaline and fear can choke you up, but your acquired ability to remain headstrong and think clearly is how you will get to the top.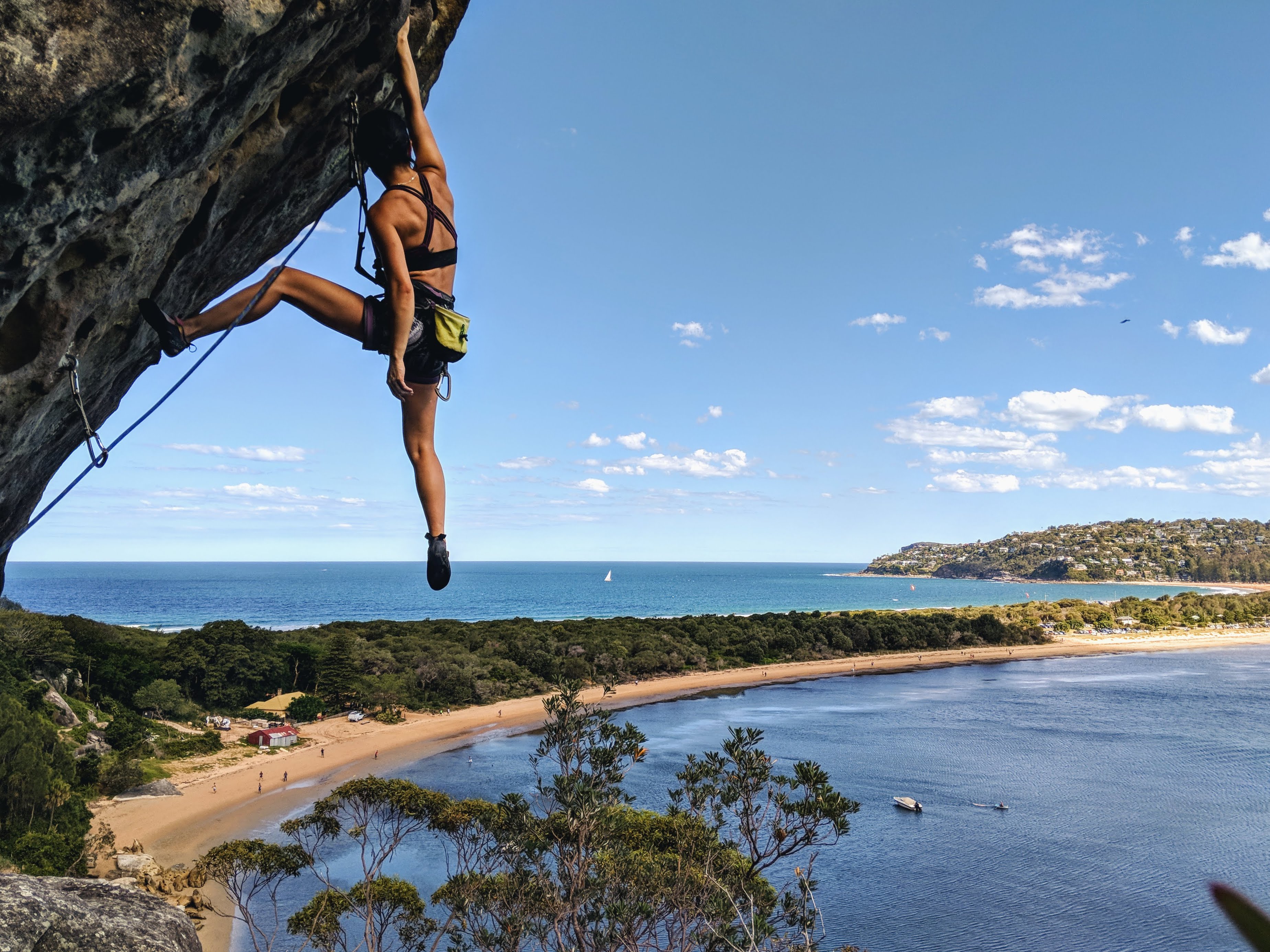 At times, a climb might seem too difficult and not achievable, but that is OK too. I know my own limitations, but in knowing what I cannot do, I begin to learn and explore the different techniques I can do. I am fine-tuning what my body knows best in order to achieve my objective. I do not climb the same way as anyone else. What works for some people might not work for me and vice versa. In the end, I push myself to solve the puzzle with the only ways I know how. When I get to the top, there is no better feeling. Climbing has now become something I just do because I love the feeling. It does not solve any of my problems in life, but when I am climbing, I have the chance to live in the moment. It is a symbol, a metaphor for everything I am trying to achieve for myself in life.
Rock climbing promotes all the right attitudes and perspectives that are essential to my own management strategies with depression and anxiety. I am now addicted to this experience, possibly because I am addicted to finding my way up my 80-meter ascent that is mental illness. It is in moments of thrill-inducing encounters where we can learn a great deal about ourselves. We tune into our own bodies, mindful of all our senses. We learn about how we respond to fear, anxiety and potential dangers ahead of us. These calculated risks push our boundaries, but we reap the benefits of the fun and feeling of achievement. These small positive moments can help someone learn new attitudes and approaches when dealing with life's greater challenges.
I reflect on this with the metaphor of climbing because I have learned and continue to learn so much with this sport. My struggle with depression and anxiety is one I live with every day. It has landed me in struggles and adversities that no one deserves to experience at any point in life. I am a survivor of suicide, and a daily fighter against these problems. Through the years, I am learning to understand my mental illnesses. I am learning it the hard way, for there is no easy way about it. From there, my support network has expanded, my coping strategies have improved, and effectively, my world and life have flourished. Outdoor adventure is now a part of my growing inventory of tools that bring me happiness and satisfaction.
If you or someone you know needs help, visit our suicide prevention resources page.
If you need support right now, call the National Suicide Prevention Lifeline at 1-800-273-8255, the Trevor Project at 1-866-488-7386 or reach the Crisis Text Line by texting "START" to 741741.
We want to hear your story. Become a Mighty contributor here.
Image via contributor
Originally published: February 26, 2018