My Journey Through Bipolar Disorder Mania, Depression and Stability
---
Editor's Note
Please see a doctor before starting or stopping a medication.
Think of a moment where you had pure joy — that moment you never wanted to end, when all was right with the world, and life is completely perfect.
Now imagine that moment continued on for 24 hours a day, for days at a time, and you don't even realize you are in that state. Mania is pure euphoria, so much gets done, and it seems like nothing could ever go wrong.
Until it does. One day, one moment even, and something changes so quickly and you're spiraling toward an abyss, unsure of where it will end, or if it will ever end. Depression covers you like a warm and familiar blanket, and you wrap it around yourself like a long-lost friend. Moments turn into hours, hours turn into days, and days… well, sometimes they never end. Eating becomes a luxury you can no longer afford because it takes too much effort to get out of bed or off the couch. And forget cooking; scaling a mountain would be easier. Sleep seems like it would be a welcome escape, except it never lasts long enough, and yet seems like it lasts forever.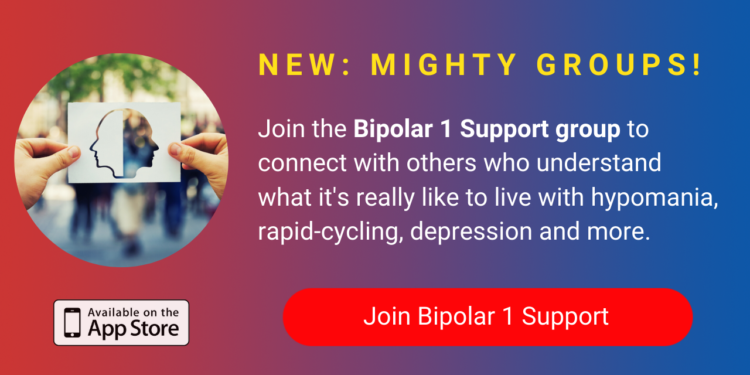 You open your mental toolbox and try hard to find something to grasp that will ease your suffering, even for a moment.  Rifling through strategies that have helped construct your stability in the past, you contemplate and discard each one: phone a friend? No, they are probably tired of hearing of my woes. Journal? Perhaps. But where did I put my notebook? When I find it, I'll write a note. Or an essay. There's so much pent up inside, it will need to get out, somehow, eventually. What about a nice, hot bath? Hmm, possibly, but the dark thoughts swirling around in my head may not make it safe. What about music? Something slightly upbeat that may tug a small smile from me. That might work, so long as the smile stays and that ever-present fog of depression stays at bay. And at the bottom of your toolbox you find something that you forgot you created, something obscure and small, that is so personal to you: your coping cards.
"What are coping cards?" Your friends and family will have asked. They're little sayings, moments of encouragement even, that you created when you were in that in-between state they call stability. Notes to tell you that you are liked, you are loved, to breathe through it all, to know this too shall pass.
And slowly, sometimes so slow you don't even notice, you start to feel well enough to take that shower, to eat some cheese and crackers or something just as easy to prepare, and you write to purge your system of the multitude of words that have been plaguing your mind throughout this seemingly unending ordeal.
And then it's over. You don't really notice it's over until one day you realize you're not ecstatic and over the moon, but you're not in that dark fissure of despair anymore, either. Stability means your moods are stable, that there are no more extremes one way or the other. Sometimes, you miss the highs and, yes, even the lows. They remind you that you do have feelings because the medication you so desperately require to keep you going dulls those feelings until sometimes all you have is a memory, the knowledge that you should be feeling something, even if you don't.
Hold tight to all those memories — the highs, the lows, the in-between. Sometimes it's all you have to get by, the knowledge that you should be happy, and sometimes, that's enough to keep you going.
Photo by Daniel Silva Gaxiola on Unsplash