We Asked 12 People With Bipolar Disorder What Treatment Is Like
---
Bipolar disorder is one of the most common mental health conditions, but it often doesn't receive the same amount of attention as mental illnesses like anxiety and depression. To shed light on real-life experiences with bipolar disorder, we asked our bipolar disorder community what their experiences with bipolar disorder treatment have been like. Here's what they shared with us.
1. Treatment for bipolar disorder takes time.
"My experience with bipolar treatment is ongoing."
2. It can be hard to find the right bipolar medication cocktail.
"Finding the right treatment has been a tough road … I've been hypomanic two times and extremely depressed and have done electroconvulsive therapy (ECT). After all these years, I'm finally taking the correct [medication] cocktail."
3. Bipolar disorder medication may be a "catch-22."
"Antidepressants worked well for me until I was hypomanic. I finally had a doctor who put me on a medication to treat bipolar disorder and an antidepressant, and it works really well for my moods. But I have a hard time getting things done since I'm no longer hypomanic … It's a catch-22."
4. Medication and therapy can work well together to treat bipolar disorder.
"I have done cognitive behavioral therapy (CBT) with a psychologist and have also done group CBT. It worked really well for me. I am also on medication."
5. Electroconvulsive therapy (ECT) can be helpful in treating bipolar depression.
"I have treatment-resistant depression and am suicidal. I recently started ECT treatments, which seem to be helping me."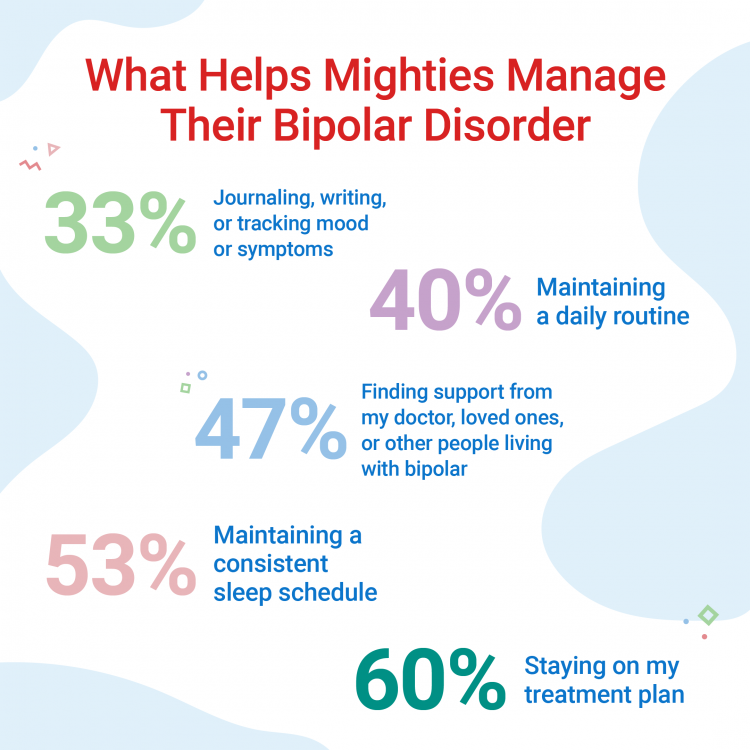 6. Professionals may not fully discuss treatment for bipolar disorder.
"I was put on medication, given a bipolar disorder diagnosis and told nothing about bipolar disorder."
7. Bipolar disorder treatment isn't "one size fits all."
"Unfortunately, bipolar disorder isn't like a health condition where one 'treatment' fits everybody … I am on medication for both bipolar disorder and PTSD, and I have a therapist. I also meditate and do breathing exercises, but that is still often not enough."
"When the psychiatrist and I were trying to find the right cocktail of bipolar disorder medications, I was in a zombie-like state. Now that we've found what works for me, everything is great."
9. Fatphobia can influence treatment for bipolar disorder.
"In my first year of bipolar disorder treatment, the psychiatrist seemed more interested in keeping me from gaining weight than in focusing on the medications that would stabilize my moods. I was on five different mood stabilizers in under a year."
10. Bipolar disorder treatment can reduce manic episodes.
"I was finally prescribed medication to help with my depression, and it works for me. It helps with all my symptoms, and I have very few manic episodes now."
11. Mania can disappear for months or even years with proper treatment.
"I take an antidepressant and a mood stabilizer, which works really well for me. I have been stable (no mania or depression) for 18 months. It still feels too good to be true."
12. The right providers make all the difference in treating bipolar disorder.
"I have been extremely fortunate to have a very good psychiatrist and … wonderful psychologists. I don't know what I would have done without them."
If you're living with bipolar disorder and want to connect with others with similar experiences, join our Bipolar 1 Support community or follow #BipolarQuestionOfTheWeek.
Lead photo by Priscilla Du Preez on Unsplash. Statistics graphic by The Mighty.