The 'Color Chart' I Didn't Know I Needed to Explain My Mood to Others
---
Editor's Note
If you experience suicidal thoughts, the following post could be potentially triggering. You can contact the Crisis Text Line by texting "START" to 741741.
I have always had a hard time explaining my mood to others. Sometimes it was because they just didn't "get" it, and other times it was because I simply didn't know how to describe it to them. It can be hard trying to put a label on how you feel, especially when you live with a mental health condition such as bipolar disorder.
For those who aren't familiar, bipolar disorder is a mood disorder characterized by high-energy manic phases and emotional, depressive lows. It can be exhausting at times dealing with these shifts in mood, making it 10 times harder to explain these changes to someone who doesn't experience them.
What exactly are manic episodes and depressive episodes, anyway?
Manic episode symptoms include a decreased need for sleep; racing thoughts; poor decision-making such as impulsivity and engaging in risky behaviors; feeling unusually upbeat, "wired" or overly talkative; and experiencing euphoria. You have to be experiencing at least three or more manic symptoms in order for it to be considered a manic episode, according to Mental Health America.
On the flip side, depressive episode symptoms include feeling empty or hopeless, feeling either restless or "slowed down," experiencing insomnia or sleeping way too much without feeling rested and feeling utterly drained. People who experience depressive episodes may also deal with suicidal thoughts and ideation. Irritability and agitation can show up in both manic and depressive episodes.
I was scrolling through social media when I noticed a friend post the word "orange," which received a lot of "heart" and "sad" reactions. I reached out to them about what it meant and they said they were having a bad mental health day. My friend uses a color system as a way to check in about their current mood without going into too much detail if they don't want to.
When I learned about this color system — and noticed more of my friends using it to express their mood — I thought it might be a great way to describe my own mental health struggles.
Although I found color charts similar to my friend's, I couldn't find one tailored to bipolar disorder. I wanted to be able to let someone know when I'm sliding headfirst into a manic episode or if I need medical attention because things are pretty serious on either end of the mood spectrum.
I created the chart below to explain what I'm currently going through due to bipolar disorder. Because I wanted to share it with The Mighty community, I didn't include what others can do to help, since that will vary from person to person. If you struggle with bipolar disorder, I hope that this chart will help begin a conversation where you can express those needs to others.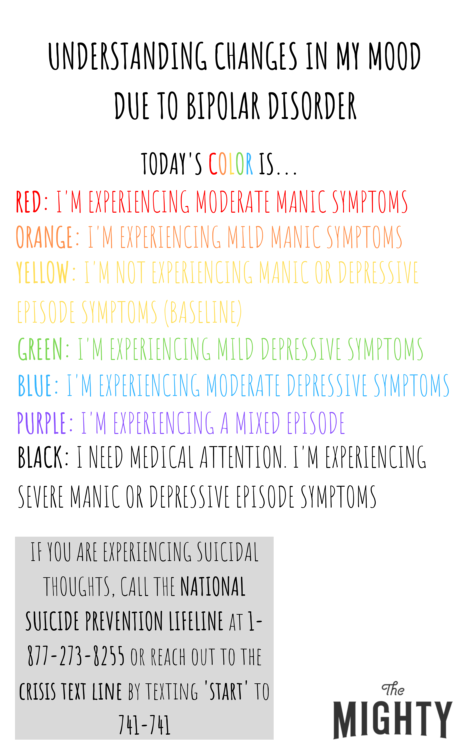 You can download this color chart as a PDF here.
You might be wondering what I mean when I say "mild" or "moderate" manic and depressive episode symptoms. In this case, "mild" means that you might be starting to slip into an episode while "moderate" means you're in the middle of an episode and it's about an average episode for you in terms of severity. A severe manic or depressive episode would be one that impacts your life significantly. A person experiencing severe mania may also be dealing with a break from reality, known as psychosis. A person experiencing a severe depressive episode may be battling suicidal thoughts and actions. If you are experiencing either of these, it's important to talk to someone right away.
Another thing I wanted to create was a personal mood tracker. I currently see my therapist once every two weeks, and my doctor once a month. A lot can happen between those visits and it's not always easy to remember them. I have tried keeping a mood journal, where I wrote down my thoughts for the day, but I was never able to follow through with it for more than a few days here and there.
That's why I came up with this mood tracker to go with my color chart. I have seen similar mood trackers for bullet journals, but I prefer to have a bigger sheet of paper to work with so I can annotate things as they come up. For example, I might experience "mild" depressive episode symptoms on the 21st of the month and note that I had a terrible argument with a loved one that day that brought on those feelings.
Below is a recreation of my mood tracker. You can use it as a companion to the color chart or as a standalone tracker and create your own "mood key."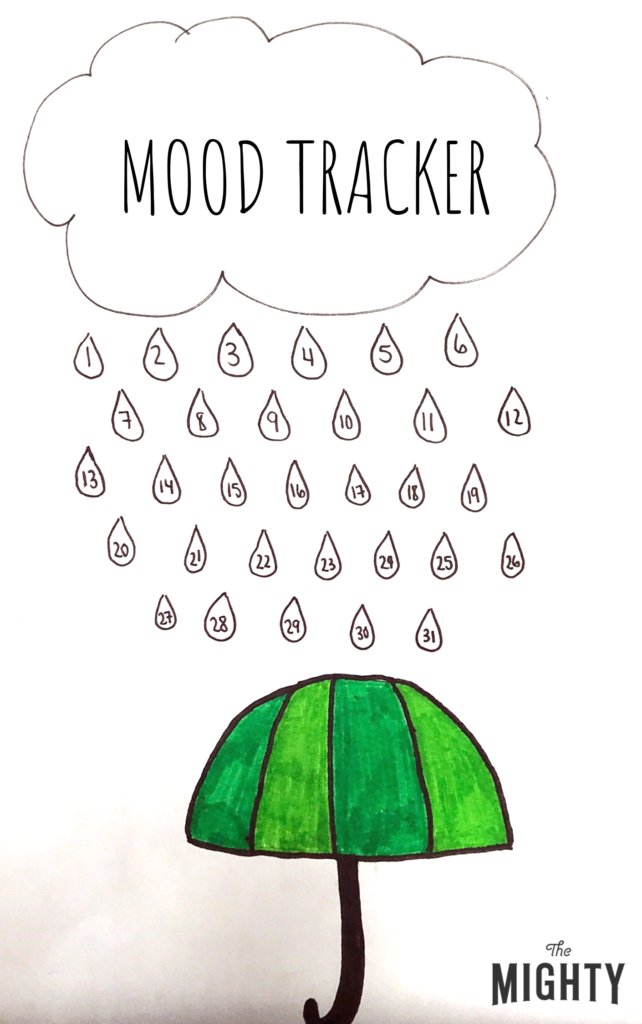 This chart and mood tracker are two things I will definitely keep in my bipolar disorder toolkit for years to come. You can download a PDF version of this mood tracker here.
If this works for you, that's great and I'm glad to have helped. If you find that another technique works for you, I would love to hear all about it.
For now, what color is your day today?
For more charts that have helped others explain how they're feeling to others, check out these following stories: