14 People Share Their Real Experiences Taking Lithium for Bipolar Disorder
---
Editor's Note
Any medical information included is based on a personal experience. For questions or concerns regarding health, please consult a doctor or medical professional.
Please see a doctor before starting or stopping a medication.
Lithium is one of the most widely used medications for bipolar disorder, so it's important that we know, from real people with lived experience, how the drug has actually affected them. Has it helped their bipolar disorder, or made their cycling worse? Have they experienced negative side effects that others should look out for?
That's why we asked our bipolar disorder community to share their experiences taking lithium. Overall, their experiences were extremely varied and nuanced. As with other psychiatric medications, it's important that we take everything into consideration — the positive with the negative, and the relative chances that medication will either help or hinder those taking it. If you're worried about anything discussed here, please talk to your doctor.
Here's what our community told us:
"I took lithium as well as an antidepressant for 20 years, which managed my manic side well, but four years ago I had to stop due to renal problems. I came off both quickly. I didn't have a manic episode (until later) but I was very fragile and irritable and overall felt like sh** for months. Come summer, I had hypomania which I didn't want treated 'just yet.'" — @tota
"I am on lithium. My psychiatrist is having a hard time with the dose since either I'm too low or I get depressed as a side effect. She added an SSRI and now it's more workable. The lithium damaged my thyroid in less than four months. Now I have hypothyroidism and take levothyroxine. What I wish I would have known when I started taking the lithium is that ibuprofen is contradicted. Lithium slows the removal of ibuprofen so by taking the maximum amount listed on the box, I landed up with a 'functional overdose' which damaged my hearing." — @tgngyg
"It was very late in my journey before anyone figured out I had bipolar 2 disorder. I was prescribed lithium but in a very short period of time, it started to literally make my skin crawl. I was switched to another medication and have been on that successfully now for 20 years." — @luckycat1709
"I love lithium. It's stopped the mania almost completely with no detectable side effects. It doesn't do much for depression, but it's a good, stable drug that I can count on to handle part of the problem." — @kilianchris
"I was on lithium for four years and it gave me a condition called nephrogenic diabetes insipidus (NDI), which means if I drank two liters of water a day, I would urinate between 3 to 4.5 liters. This would be most horrible during the night. I would wake up three to seven times a night. No one would listen to me and they thought I didn't want to sleep. It took a physiotherapist to ask me to do a simple test for them to realize. I'm off it and now on a mood stabilizer. I need to take an atypical antipsychotic to help me sleep and I did back when I had NDI last year, not for my mental health but so I could be sleepy enough to fall back to sleep after waking up each time." — @lilynicole23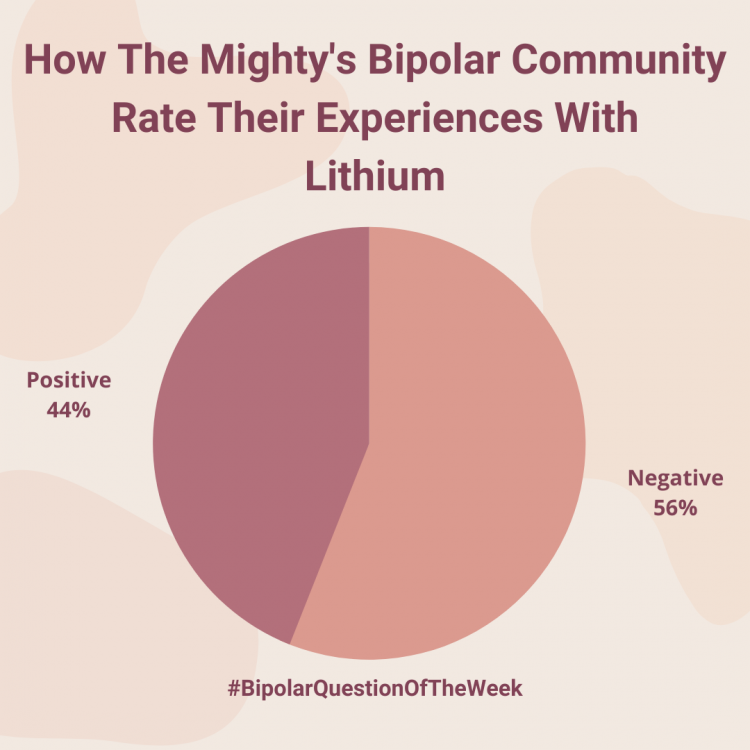 Negative experiences with lithium included: severe side effects, drug interactions (such as ibuprofen), and allergic reactions. Positive experiences on lithium included: managing symptoms of mania including manic or hypomanic episodes, experiencing a few "manageable" side effects or none at all, and providing feelings of "stability."
Reported side effects include frequent urination, increased thirst, vomiting or nausea, weight gain, confusion or memory problems, hypothyroidism, and renal issues (such as nephrogenic diabetes insipidus).
"I decided to take lithium somewhere around 2003. I was stable for years. My only side effect was being thirsty. Around 2010, my eye doctor noticed an issue with my optic nerves. I had something called pseudotumor cerebri, which is increased intracranial pressure. It affects your optic nerves and can cause headaches and eye problems. My only symptom was my eyes weren't focusing properly and it was bad enough that I would have noticed it if my doctor hadn't noticed it. They stopped the lithium immediately. I struggled with other mood stabilizers and had repeated hospitalizations until 2015. Luckily, there is a doctor who specializes in bipolar disorder. When I told my doctor I wanted to go back on lithium, he consulted with her and said it was a good idea to try again. I went back on it and was doing pretty well for a while. The pseudotumor cerebri came back but I manage it with a neuro-ophthalmologist and I don't have any issues." — @catm0387
"I've been on lithium for a long time in conjunction with other psychiatric medication. These meds all work together very well at keeping me balanced. I have never had a problem with it. My oldest son, however, used to get a pretty strong reaction to it. He couldn't stand still, which he called 'the lithium shuffle' and he got stiff muscles from it." — @zelda33
"Lithium has changed my life. However, it is not for the faint-hearted; it took me a year to find the right dose. I'm now on a low dose of it and a mood stabilizer. It was a hard year, but when it worked, it was like rocket fuel. I felt it was retraining my bipolar brain's thought patterns, which brought with it a lot of emotions. How I was living before was not healthy. My consultant's lithium motto is, 'respect lithium, and lithium will respect you.' I think once I let go and let it take over, that's when I found my dose." — @mammyinteruppted
"It was a nightmare for me and my family. It gave me seizures." — @sjbarto
"I am allergic. Anyone prescribed lithium needs to be very careful and pay very close attention to your body and self." — @alexismarkham
"I developed hypothyroidism after six months of taking lithium. Coincidence? I'm not sure. It never helped me anyway. I ended up in the hospital six months later with deep depression." — @delicatecourage
"Lithium has been a wonder drug. It works great. I do periodically go off of it, and yes, I get manic within a week and a 'motor mouth' with paranoia soon after. But it extracts a price. I drink a lot of water and pee frequently. My creative gifts are greatly diminished, barely playing a few songs on the piano and wondering why my art is 'pathetic.' My hands shake and I feel rather removed from my feelings. I rarely cry. When I take breaks from lithium, I find my emotions to be overwhelming from 13 years of not learning to deal with them. But compared to the horrific life-altering manic attacks before lithium, I chose compliance." — @chelfish
We also asked what our community wished someone had told them before their first dose. They recommended discussing dosage, potential side effects, and interactions with other medications and health conditions with their health care provider.
"I have bipolar 1 and have been taking lithium since 2009. I am fairly stable now, though I do have small mood swings every now and then. My experience is that I absolutely hate how well the lithium works for me because I really don't like the side effects. The side effects that bother me the most are extremely low energy, weight gain, hand tremors, and having my hair falling out. These things bothered me so much that back in 2015, I talked to my then-psychiatrist about taking me off the lithium. For a while, I thought it was great. I had more energy. Unfortunately, I was in and out of manic episodes the entire year and a half I was off it, including my worst manic episode ever in which I almost lost my marriage. I would say that I will take the lithium and its side effects over being that dangerously manic." — @claraizz
"I was super stable for about a year on a low dose. I'm having an episode now though, so not too sure?" — @sarahj8
Are your experiences with lithium similar, or different? Would you still try lithium for your bipolar disorder after reading this article? Let us know in the comments below.
Getty Images photo via Vasil Dimitrov