The Line From 'Crazy Ex-Girlfriend' That Perfectly Explained My Issues With Validation
---
I was late to the show "Crazy Ex-Girlfriend." It began in 2015 and ran for four seasons. I started watching it a couple of years ago, and only finished watching season 4 recently. Soon after I received my diagnosis of borderline personality disorder (BPD), a friend told me she had been watching "Crazy Ex-Girlfriend" and that the main character had just been told she had BPD. I was intrigued and asked my friend if she saw any similarities between the portrayal of the illness and what she knew of my struggles. She said there were several things that reminded her of me, the main one being the fixation on a certain person, something I had struggled with for years.
Rebecca, the main character in the show, becomes obsessed with Josh, a guy she had a fling with at summer camp years before, when she randomly runs into him one day, uprooting her whole life to move to the small town, West Covina, where he now lives. The whole of the first series is about Rebecca's attempts to try and win Josh back, but throughout the four seasons there are also obsessions with two other men, Greg and Nathaniel.
The portrayal of Rebecca's obsessions is much more over the top than my own behavior — the show is, after all, a comedy, interrupted at various moments with characters breaking out into peculiar songs — but I did tend to fixate on people emotionally and think they would be the ones to "fix" me, so  I certainly relate to her thoughts and feelings around this.
Rebecca was not diagnosed with BPD until relatively late in the show — towards the end of season 3. As I watched the program knowing from the start that she had BPD, it was interesting for me, as someone with the disorder, to see the events that led up to this diagnosis, and compare them with my own experiences. Like her, I struggled through many years of mental health problems before realizing I had BPD, and it was my diagnosis that led to the start of my recovery.
The standout line for me in the show, the one that really resonated deeply with me, came quite early on — in Season 1, Episode 5,  "Josh and I Are Good People!" Rebecca tells Stacy Whitefeather, the ex-wife of her boss Darryl (who she is trying to help with his custody battle to prove she is a good person): "Because of that lack of paternal validation, I always seek outside validation from others." When she said this, it made an immediate impact on me. It was like someone had reached into my head and summarized my life in one sentence.
BPD is usually caused by problems during childhood, and those problems often stem from the way we were treated by our caregivers. My parents are not bad people, and I firmly believe they did their best for me. However, it was a traumatic time for the family. When I was nearly 3 years old, my brother Andrew was born. I've seen happy photos of the family, buried away in boxes at my parents' house. Mum and Dad, me and Andrew. Yet these photos only show a brief happy snapshot of my life, and it wasn't to last. Three months later, Andrew was no longer with us, having succumbed to what was then known as cot death, and now as SIDS (sudden infant death syndrome).
Everything I have read about BPD suggests that the crucial time in a child's life is between the ages of 2 and 4. Trauma experienced at that time has a big impact on the development of the child's personality. As I was so young, I can't actually remember that time. I don't remember Andrew, and I don't remember his death, even though I have been aware of the event for most of my life. Thinking back, it must have been really confusing for me as such a young child to have a little brother who was around for a few months and then disappeared suddenly. I wonder whether I was there when he was found not breathing, and what my parents told me about what had happened.
I was seeing a private therapist for a long time before I started group therapy, and I talked about Andrew a lot. She firmly believes that his death was at the root of most of my problems. As well as the death itself, there was the issue of how it affected my parents. Obviously, they were grieving. My mum carried a son inside her for nine months, and he was only with us for three months before we lost him. I think of the hopes and dreams they must have had for him, the pride they must have had when showing him off to family and friends and how hard it must have been when all that was taken away from them. It was bound to affect them, and in turn that affected me.
My parents are very much the kind of people who keep things to themselves. They don't like to talk about their problems. I suspect they've never fully come to terms with Andrew's death. They hardly ever talk about him, and only then if I bring him up. I wonder if they distanced themselves from me because they were afraid to lose me too, or whether the distance was due to them being so caught up in their grief. Either way, I never really felt like they were emotionally there for me. I was an emotional child, and I was made to feel that showing those emotions was wrong. I remember one particular instance as a child when I was having something done to my teeth. I was really scared about the procedure, and I cried. I was told that I was being naughty, and as a punishment, I wasn't allowed to go swimming. When I became a teenager and began to struggle more with my mental health, I wasn't encouraged to talk about how I was feeling. My feelings were never validated. I was expected to struggle alone.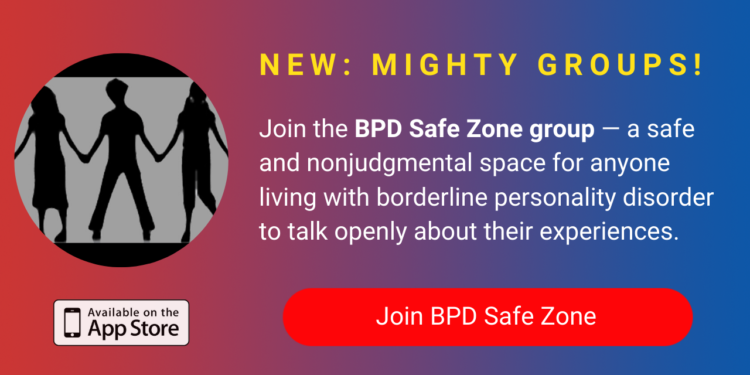 Even now, as an adult, I talk to pretty much everyone except my parents about my mental health. They know I have problems and that I am in therapy. When I told them I had BPD, and explained what it was, over text, they just changed the subject, and it was never mentioned again, apart from the time Dad made a disparaging comment about me talking about my mental health on Facebook. I was made to feel ashamed of talking about my feelings. Even when I took a small overdose once and told them about it a few days later, they couldn't change the subject quickly enough.
All my life, I have searched for that validation I lacked from them growing up. I've become attached to friends several times, only to have them end the friendship because it was too much for them. I was treating them like a parent. I wanted them to take care of me, to "fix" me. Growing up, children rely on their caregivers and as they get older, they learn to rely on themselves instead. If that process is interrupted, as it was with me, the person will, even as an adult, not know how to relate to people in a healthy way. I became addicted to people's sympathy and attention, wanting their validation to make up for the validation I lacked from my parents. I hadn't learned self-validation. I needed someone to show me how to be OK.
Like Rebecca, therapy is teaching me to have my own boundaries, to realize that I am enough. I still find myself drawn to people when they start to give me sympathy, but I can now recognize and manage it in a healthier way. I now have better and more sustainable friendships, and my marriage is also healthier.
Have you seen the show "Crazy Ex-Girlfriend"? What lines or lyrics from the show resonate with you?
Lead image via "Crazy Ex-Girlfriend" Facebook page
Originally published: July 25, 2020