5 'Necessary Evils' That Are Harder When You Have a Disability
---
A necessary evil is something that must be done or accepted in order to achieve a better outcome. Basically, it's a scary and/or unenjoyable act that sucks in the moment, but the consequences of not doing it can suck way more than the act itself.
Necessary evils for all of us include things like going to the dentist and filing taxes. They are non-negotiable. Sure, you can procrastinate them for a little while — file for an extension, put off going to the dentist until you feel pain — but eventually you do the deed because you know you have to.
While necessary evils are inherently unenjoyable for everyone, some can be extremely challenging and frightening for people with disabilities. What follows are five common necessary evils we face and tips for making them a bit more palatable.
1. Exercise
There are people who actually enjoy working out, like my husband who runs eight miles in the morning before lifting weights for another hour. Not me! On the contrary, exercise is a chore I have to do because as the saying goes, "move it or lose it!" And with my 48-year-old metabolism, exercise allows me to eat an occasional carb and drink wine without immediately gaining five pounds.
Since my neuromuscular disorder has no cure or treatment, the only thing I can do to try to maintain my muscle strength and slow down the progression of my symptoms is exercise. On occasion, I've used at-home fitness apps, but since I'm not that self-motivated, I've found the only way I can actually stick to a workout routine is by pre-scheduling group fitness classes.
It can be scary and humbling to attend group fitness classes when you have an invisible disability. Even though I've been doing Pilates for more than 20 years, I still find it unnerving to have to explain to each newbie instructor why I'm in an advanced Pilates class but cannot do planks with bare feet or stand on top of the machines without holding onto something.
A few weeks ago I decided I needed to step up my cardio game and tried an indoor cycling class. How hard can it be, I thought? After all, there are handles and you don't have to stand up on the bike. Well, it was a disaster. Let's just say one of my leg braces slipped out of its clipped shoe and the shoe took the rest of the class without my foot's participation. Even though it was embarrassing and I probably won't be going back to that studio, I was proud of myself for at least trying. In retrospect, I should have been more proactive and spoken to a manager (not just the seemingly self-absorbed instructor) beforehand about my limitations. It might have been a different and better experience. Maybe I'll try kickboxing next time? Not!
2. Getting a mammogram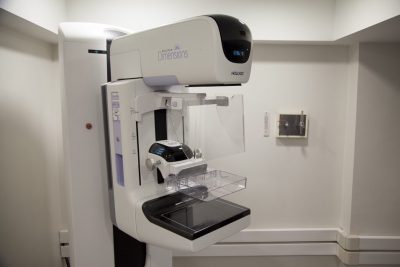 I don't know anyone who likes getting a mammogram. There is just nothing enjoyable about having to hold your breath while standing half naked in various awkward positions while a total stranger grabs and maneuvers your breasts, sandwiching them between two cold metal plates like mushy flat pancakes. Add to this having physical challenges like poor balance and fine motor weakness (hospital gowns really should have Velcro closures instead of ties), and the typical stress of getting a mammogram is quadrupled. Yep, not fun — but you don't need me to tell you that if you're a woman over 40 (or younger if you have a family history of breast cancer). But you've got to get a yearly mammogram because the temporary stress is worth early cancer detection.
One way to lessen the stress of getting a mammogram is with good communication. If you require the use of a wheelchair or scooter, you might want to ask the phone scheduler if the machines can be adjusted in order for you to remain seated. If your disability is not visible, be proactive and inform the radiology tech about your limitations before beginning. You might say something like, "I have difficulty balancing when I'm not holding onto something," or, "I have a neuromuscular condition that makes it hard for me to stand unsupported and/or lift my arms unassisted." If dressing and undressing is challenging, you might want to ask about wearing a shirt that opens easily in the front so you don't have to change.
3. Wearing a bra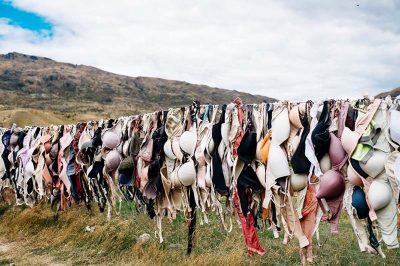 Another necessary evil that goes hand in hand with getting a mammogram is wearing a bra. Unless you've had implants, or you have young, perky, never-nursed-a-kid kind of breasts, then like me you probably don't want to  leave your house without a bra. In an unofficial survey I conducted on Trend-Able's Facebook and Instagram Pages, the act of putting on a bra is one of my followers' greatest pain-points when it comes to getting dressed. Although you can buy bra fastening aids, magnetic bra attachments, and adaptive front closure bras, I've found this pretty, over-the-head bralette to be not only easy to put on, but also comfortable and supportive.
4. Airport security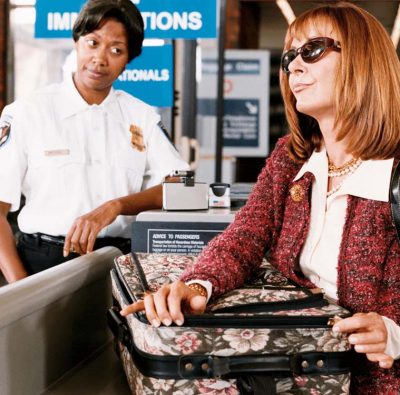 I know I'm dating myself, but there was a time when going to the airport was actually fun and something many travelers looked forward to. Back then airlines didn't nickel and dime you for every little thing (seriously Spirit? Even carry-ons?) and we didn't even know to worry about things like hidden explosives in shoes. Heck, you could smoke cigarettes in airports and even on planes in my time. Of course, those days are long gone.
Today, going through airport security when you wear AFOs (leg braces) or have other types of obvious or not-so-obvious physical challenges can be nightmarish. Since my husband and I fly several times a year, I've found that getting TSA pre-screened (five years is about $80) has saved me a ton of aggravation as you're not required to stand with your hands behind your head in 3D machines or take off your shoes. If you are not TSA pre-screened, communication with the TSA officer before going through the machine is necessary. A simple statement like, "I have a disability and cannot take off my shoes to walk through" is sufficient. The officer will then signal to another officer that you require a pat down.
This is the time to ask for a chair (if they don't offer one) and take a few deep breaths. If people are looking at you, ignore them and tell yourself it doesn't matter. Next, a same sex TSA officer will likely pat your whole body down and swab your shoes, orthosis, and hands for explosive materials. It's uncomfortable, but it will be over quickly.
5. Shaving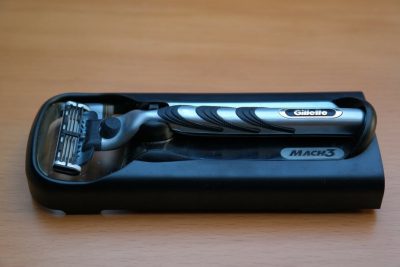 The last necessary evil on this list is shaving. If it wasn't so expensive and time-consuming, I would definitely have laser hair removal done on my entire body. In college I experimented with the whole feminist, hippy dippy, why should women have to shave thing. I went two weeks without shaving both my legs and armpits. I quickly discovered the au natural look for me was unnatural. I looked and felt like a poser and never again went more than a few days (other than in winter) without shaving.
With a slowly progressive neuromuscular disorder that affects my hand grip and fine motor skills, my post-shave showers can double as crime scenes for an episode of CSI. I have found a few products to make shaving easier when you have a disability. This long handled razor is awesome for people who have difficulty bending. Also  If you don't have already have a shower ledge or seat, this bamboo one is attractive and non-medical looking. Finally, if you're like me and discover random chin hairs (a lovely reality of aging), while putting on makeup using a magnifier mirror, I've found this electric facial and bikini hair remover to be indispensable.
The End