How to Adapt Your Favorite Crafts If Your Mobility Is Limited
---
Editor's Note
We hope the products below, all recommended by our Mighty community members, help you or a loved one in your health journeys. Just so you know, The Mighty may collect a share of sales from the Amazon links on this page. Prices and product availability are accurate as of publication.
There's so much joy in creating something from scratch — painting with every color of the rainbow, turning old objects into something new and watching your vision come to life. Not to mention, crafting is good for your health. Several studies have found art and creative projects can improve your mood, reduce anxiety, help you express emotions and so much more.
But sometimes those videos on how to cross stitch that cute cat toy, sculpt a beautiful piece of pottery or bead an amazing new necklace don't take into account the challenges of crafting with limited mobility. The goods news is with some adaptation and supportive tools, you still have plenty of ways to get your creative on.
We asked The Mighty community about their go-to creative projects and how they've adapted them for their needs and added a few suggestions of our own. See if you can find some inspiration in this list, and share with us other ideas you've found helpful!
Here's what we learned from the community:
1. Knitting and Crochet
"I loom knit, crochet and even latch hook! There are days when I can create for hours and days when I can only manage a few minutes," Mighty community member Samantha Stiles told us. "I have a holder for my knitting looms so on days when my neck and shoulder hurt I am still able to hold my looms one-handed!"
These yarn crafts require a lot of fine movement skills in the hands. To adapt these craft, consider larger or smaller knitting needles and crochet hooks or a knitting loom, which allows you to wrap yarn instead of maneuver needles. You can even knit and crochet one-handed.
Tools such as the Knitting Aid may also be helpful if it's difficult to hold the needles. The lightweight device fits in your lap to keep your work steady. You insert your knitting needles at each end of the tool and get to work without needing to hold the needles — the Knitting Aid holds them for you.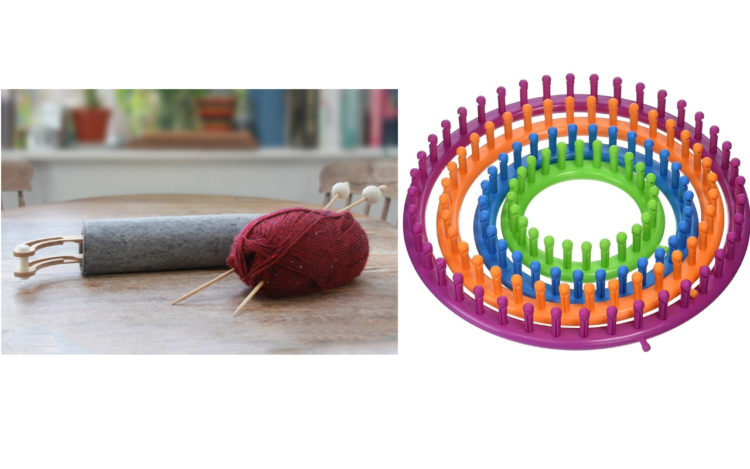 Buy the Knitting Aid Lite featured above for $99.99 at KnittingAid.com and the Knitting Loom Set for $13 on Amazon.
2. Photography
"I love photography and editing my pics," said Tonya Mae Wilson. "On days when I'm feeling decent, I can walk along mild, picturesque trails, or visit a lake or someplace up in the mountains. It's almost always a low-key activity. Then I'll download them onto my computer once I'm back home and edit them another time, like when I am really limited on my 'down' days."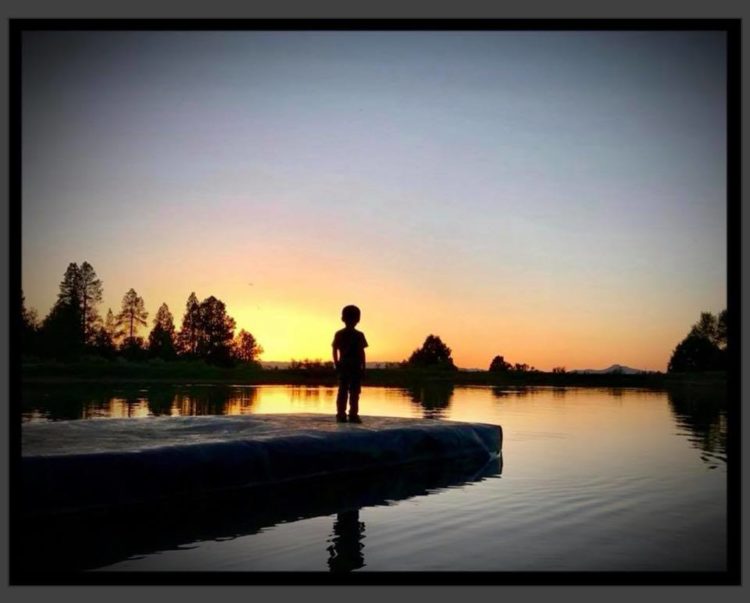 "Photography! For most of my work, I sit in a moving car and capture images of landscapes and plants as we go by," said Mighty community member Clara McGuire. "I can use minimal movement and energy to create work that makes me/my soul happy, and that's necessary for me these days."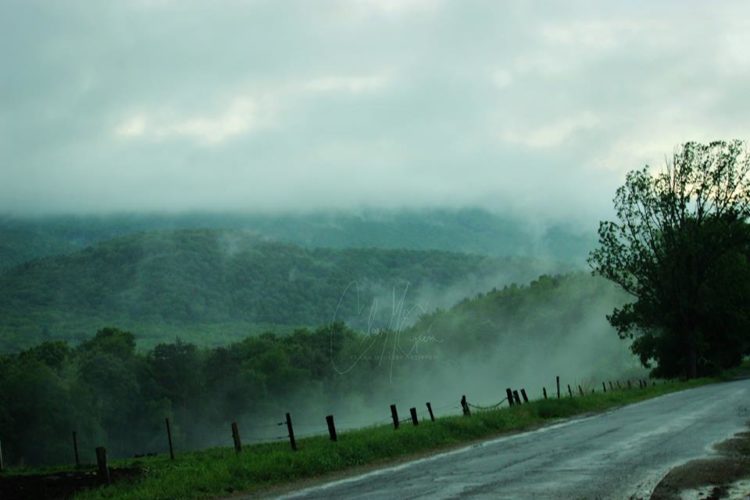 There are a variety of ways to adapt photography. The use of radio triggers lets you remotely control power levels and flashes. A joystick-operated camera also provides an alternative way to position and capture the perfect shot with your camera. If you're a wheelchair user, a wheelchair camera mount can make photography more comfortable and provide a great way to stabilize your shot.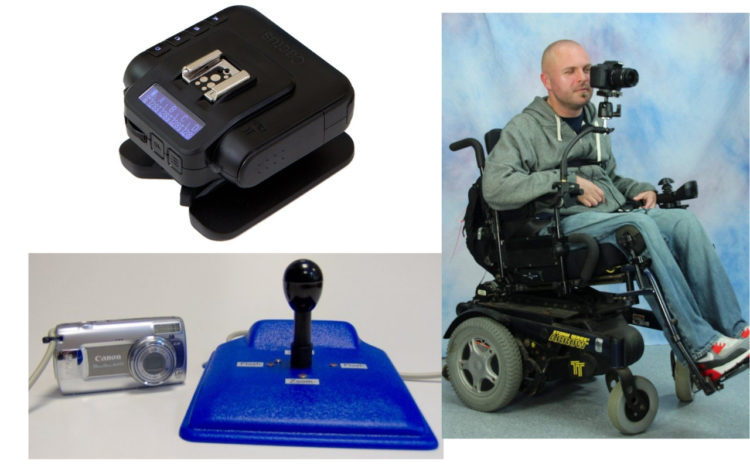 Buy the Cactus V6ll V6 Flash Remote featured above for $69.99 on Amazon, the Wheelchair Camera Mount for $168.15 on Amazon and the Switch Adapted Joystick Camera for £330 from Living Made Easy.
Want more ideas for adapting your favorite crafts? Download our app now to connect with others right on your phone.
3. Digital Artwork
"Drawing pictures on the iPad is also a good way if you're not able to hold pens or pencils because you can use a finger," advised Leigh Baylis. "So many people get caught up in trying to make a masterpiece but the most important things is to have fun!"
In addition to using a tablet, many of which are sensitive to light touch, Mac computers offer VoiceOver technology that allows you to control your computer with your voice and supports braille in addition to other screen readers.
If you need assistance operating the keyboard commands, a typing aid that slips onto your hand or in your mouth can be helpful. You can also purchase rollerball or joystick mouses and adapted keyboards that give you more flexibility to design and draw to your heart's content. If your hand mobility is limited, a sip and puff system can be connected to your computer, giving you complete control of your design.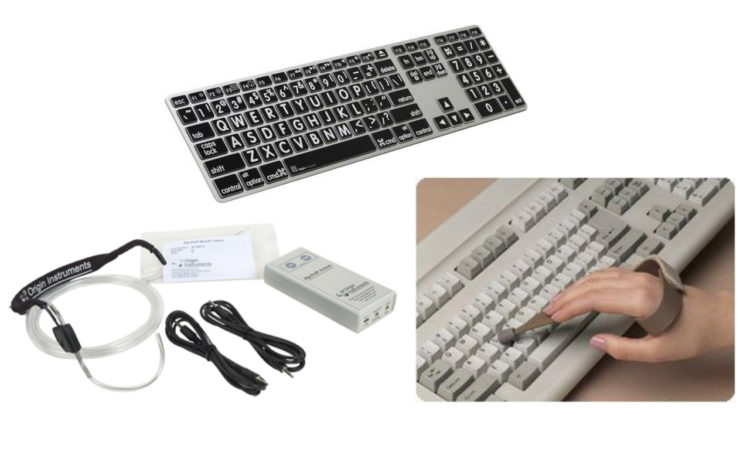 Buy the Slip-On Typing Aid featured above for $25 on Amazon, the Large Print Keyboard for $76.52 on Health Products for You and the Sip/Puff Switch with Headset for $295 on Enable Mart.
4. Drawing
"I paint and draw mandalas," said Danielle Portwine. "I can sit down for hours and work on them and it's easy to set down if I have to do anything. The repeated patterns are really relaxing to help calm down and the fine line detail work is a nice distraction from pain."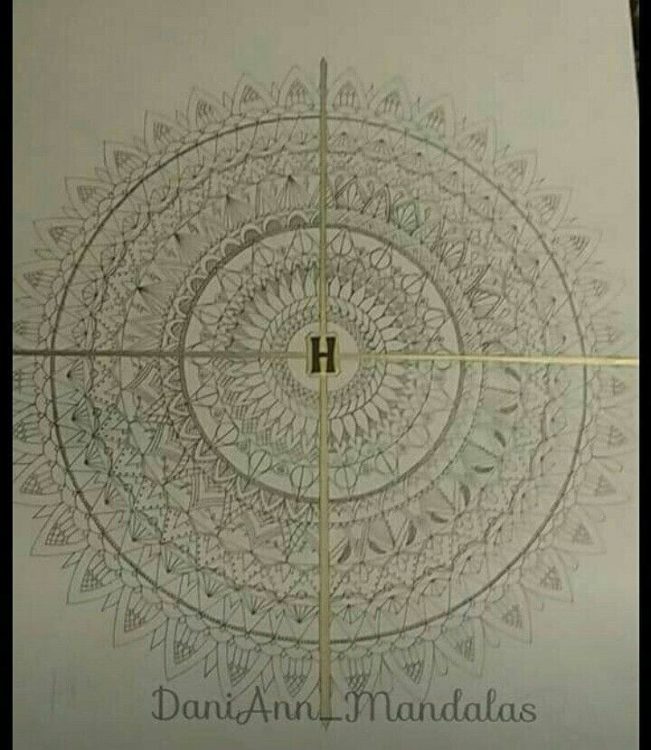 Whether you're doing fine detail or broad-stroked masterpieces, you can make the drawing process more comfortable with crafting gloves. If it's difficult to grip a thin pencil, a hand aid — such as a ball that fits in your palm and holds a pencil — might be easier and more comfortable to hold. You can try various braces as well. Add an easel you can roll your wheelchair right up to and you'll be creating your own masterpiece in no time.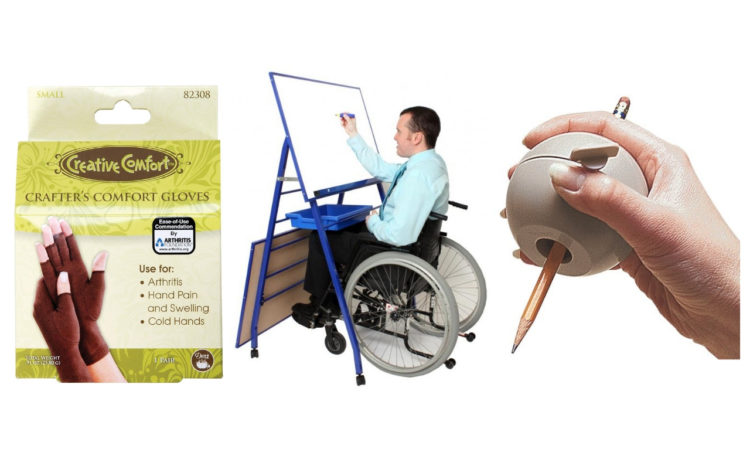 Buy the Crafter's Comfort Gloves featured above for $16.65 on Amazon, the Arthwriter Hand Aid for $10.02 on Amazon and the Double Boarded Mobile Easel for £341.50 from E4E.
5. Painting
"I like to paint but also collage art and draw with marker and pens. I've fought really hard to be able to do art," said Naomi Leora, who demonstrated how she adapts crafts in the below video. "Taking breaks is important, also posture support, pillows even under my arms. Doing things on a flat top table also. Or in my wheelchair with a portable wood easel."
Some of Leora's favorite supportive products include heat and cooling wraps, support sleeves, a lap desk and a support cushion that allows her to work on projects no matter where she sits. A universal art tool that holds everything from a paintbrush to a pencil and wraps snugly around your hand may help if you have limited hand mobility. Paintbrushes with egg-shaped handles may also be more comfortable to grip. Illuminate and enlarge your workspace with a magnified lamp for better visibility.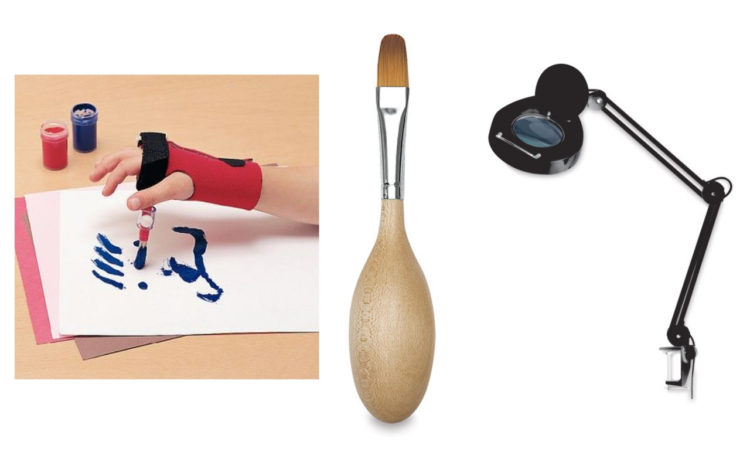 Buy the Universal Art Tool Holder for $24.50 from 4MD Medical, the Egg-Handled Paint Brush for $9.65 from Dick Blick and the Magnified Lamp for $108.32 from Dick Blick.
6. Working With Clay
There's no limit to what you can create with clay. It can be a colorful sculpture that's then hardened in the oven or an abstract design that starts white and you paint to perfection later. Dig your hands right into the clay or use adapted modeling tools with the universal tool holder or a hand aid for fine detail.
And if you want to throw down on the pottery wheel, you can invest in an adaptive pottery wheel. It accommodates your wheelchair and you can adjust the height of the table and electronically control the speed of the pottery wheel. It's not cheap, so you may want to ask your local community center to make the investment or partner with a few friends who've always wanted to give pottery a spin.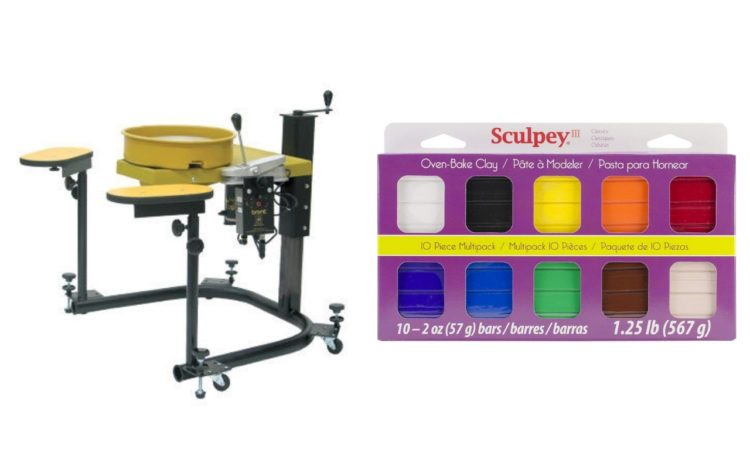 Buy the Sculpey Modeling Clay featured above for $14.99 from Amazon and the Adaptive Pottery Wheel for $2,695 from Sheffield Pottery.
7. Memory Keeping
"Loving doing scrapbooking," said Mighty community member Amber Fowler. "It helps me to remember even though I am unwell there are good moments in between all the rough times."
Similarly, Mighty community member Liz Taylor shared how she preserved some of her most cherished memories in shadow boxes:
Last March, my life changed forever when I was hit by a car and … was in a coma for a month and in the hospital for three months. My husband proposed and when I was out of the hospital, I was ready to plan a wedding! I had my heart set on a real bouquet, and after the wedding I dried it out. I wasn't sure how, but I wanted to save it! I've been into shadow boxes to preserve those wedding memories, and so I used a shadow box to preserve my bouquet! … I had to work so hard to walk down the aisle and get married. Now with this keepsake, I can look at my bouquet and reflect on how strong I/we are!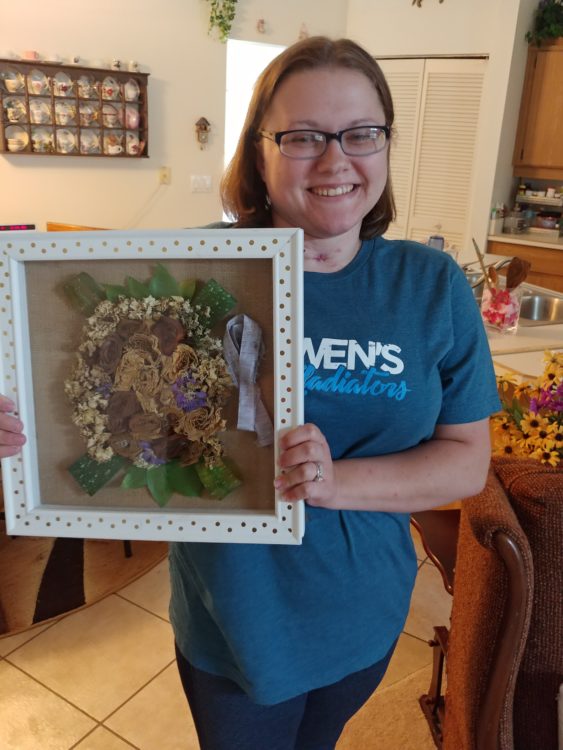 Whether you want to collect your memories in a scrapbook, shadow box or another creative keepsake, it may be helpful to have a few tools handy. Easy-grip scissors with a loop make cutting out photos and shapes easier and require less hand pressure. Keep all your supplies contained and easy to reach with a mobile activity tray, which can be used for all your crafts and wheeled to the exact place you need it.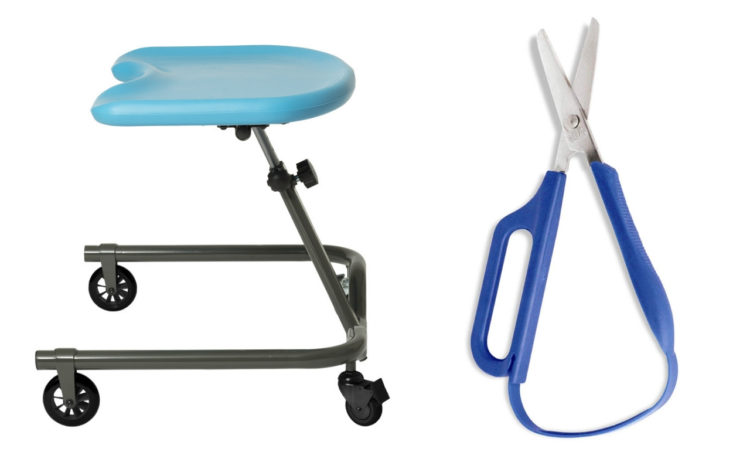 Buy the Easi Grip Scissors featured above for $13.92 from Amazon and the Mobile Activity Tray for $599.99 from Adaptive Mall.
Looking for other creative projects you can try? Put your green thumb to work with "10 Tips for Gardening With an Illness or Disability."
Additional reporting by Lexi Fields.