8 Businesses Owned By People With Chronic Illnesses You Can Support
---
Editor's Note
We hope the products below help you or a loved one in your health journeys. Just so you know, The Mighty may collect a share of sales from the affiliate links on this page.
Starting a business is never easy, and when you're dealing with the complexities of building a company in between doctors' appointments, flare-ups, and other demands of chronic illness, it's even more challenging.
Still, some chronically ill entrepreneurs have founded their own companies — in fact, for many chronically ill business owners, their inspiration was their illness. The world isn't exactly made for people who have chronic health challenges and disabilities, so some business-minded warriors have taken it upon themselves to create products for our community that no one else is making. Other "spoonie" business owners got started when they found that being their own boss actually works better for their illness than a traditional job.
Below are 11 businesses created by people with chronic illnesses that you can support. Some offer products made for fellow chronic warriors, while others have found ways to turn their passions into a business anyone can enjoy.
The idea for Mighty Well came to Emily Levy out of necessity. Levy was diagnosed with chronic neurological Lyme disease during her sophomore year of college, and was horrified when a nurse suggested she protect her PICC line by covering it with a sock. "I'm sorry…what? A sock? On my arm? In public? Like…on dates?" Levy thought. Realizing there actually weren't more fashionable options out there, she created her own line of PICC line covers that are feature fun patterns and are specially designed to protect your insertion site. Mighty Well now also offers T-shirts as well.
Shop on the Mighty Well website.
Charlotte Jones had already experienced health challenges (she had a heart operation at 16) when she first got the idea to start her own handbag line. She attended a business training at age 19 to learn the basics, but two weeks later collapsed with a mysterious illness. She was eventually learned she had postural orthostatic tachycardia syndrome and myalgic encephalomyelitis/chronic fatigue syndrome, essentially losing the ability to move.
However, a few months after her illness began, she started slowly sketching out her designs and working to find manufacturers and suppliers. She launched her online store in 2016 and told The Untold she hopes to make Charlotte Elizabeth a company that supports those who find it hard to secure a job due to their health or history.
"I thought if I can create something through all of this I can do anything," she told The Telegraph. "That's why my business is so special to me as it started at the absolute rock bottom. It has been with me through my worst moments."
Shop for bags on the Charlotte Elizabeth website.

Those who can't drink alcohol due to their illness may identify with founder Ted Fleming's story. In 2005, he was diagnosed with Crohn's disease and needed to eliminate alcohol from his diet. But the non-alcoholic beers offered in supermarkets and grocery stores were disappointing. "That's when I became determined to find premium quality non-alcoholic beer with great taste and in a variety of styles," Fleming explained on his website. And so Fleming developed his own non-alcoholic beer, now available in several varieties.
"People just want to participate and share in socializing and drinking with their friends," Fleming said. "When I started the business, I didn't understand that was what we were doing, but as we went on, that became an important part."
Shop for non-alcoholic beer at Partake Brewing.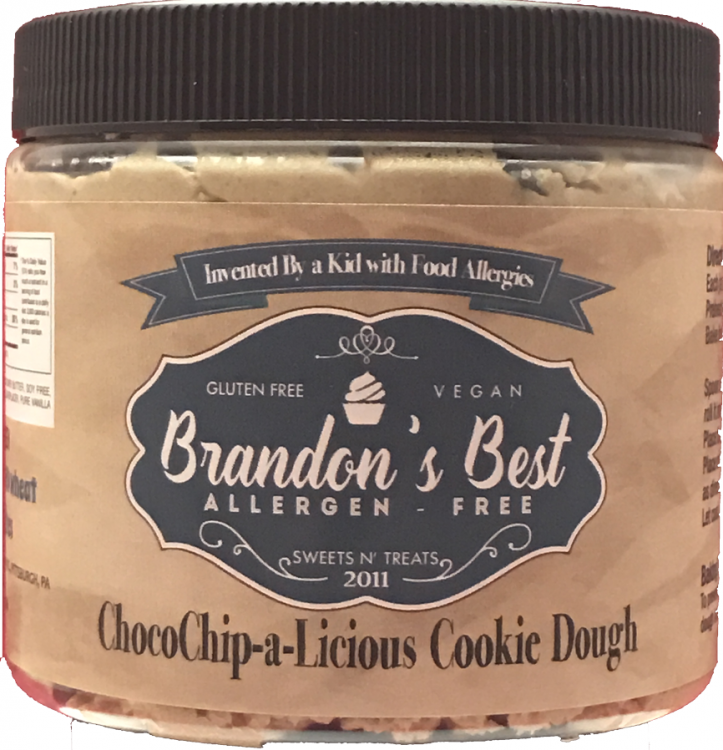 Brandon's Best offers donuts, cookies, pizza crust and cookie dough that is free of the USDA's top 10 allergens as well as their derivatives. The recipes were developed by Brandon Negri, a high schooler who has lived with severe food allergies his entire life. He told Food Allergy Buzz he first started cooking when he was 9 years old, to create a pizza crust he could actually eat and tasted good.
He also runs an annual event called Allergen-Free Donuts With Santa at a health-food store in Pennsylvania, so kids with allergies can enjoy a holiday event, too.
"Just because you have food allergies doesn't mean you are not cool. We get to eat special stuff every day and that makes us cooler than you," he said.
Buy allergen-free cookies from Brandon's.
Emily McDowell is a designer known for her humorous and honest cards. When she was 24, she was diagnosed with non-Hodgkin's lymphoma, which opened her eyes to the fact that few people seem to know the right thing to say to a friend going through illness. She created a line called Empathy Cards, which say what chronically ill people want to hear during difficult health challenges.
"I created this collection of empathy cards for serious illness because I believe we need some better, more authentic ways to communicate about sickness and suffering," McDowell wrote on her website.
She also offers an entire range of cards for all occasions, as well as pins, pouches, magnets, tote bags, notebooks and more.
Buy Empathy Cards.
Faye Savory began to notice a gradual decline in her health in her early 20s, eventually learning her symptoms were due to Lyme disease and becoming unable to leave home. After receiving a thoughtful package from a friend, she was inspired to create BearHugs, a company that curates care packages for occasions like birthdays, Christmas, illness, congratulations and births. Or, you can create your own by selecting each item you'd like to add.
"When you can't leave the house very often, anything arriving through the post takes on greater significance," Savory wrote on her website.
Items featured in boxes include candles, cards, chocolate, sleep masks, socks, pencil sets, coffee, hand cream, soap and more.
Buy a BearHug box.
7. Stickman Communications
Stickman Communications founder Hannah Ensor uses stickman drawings to educate others about various chronic illnesses (she herself lives with POTS and Ehlers-Danlos syndrome). She makes laminated cards that explain various medical needs and illnesses, leaflets with more detailed information, badges and buttons that notify others of your disability and children's books.
According to the website, Stickman Communication's mission is to "challenge the view that disability is a negative and scary thing, and to create a better understanding and acceptance of disability as a different normal instead."
Shop at Stickman Communications.
View this post on Instagram
Thessy Kouzoukas, co-owner of Sabo Skirt, an Australian fashion label, lives with endometriosis. She earned viral fame earlier this year when she posted photos of her stomach after a ruptured cyst, next to a photo of how her stomach looked five weeks later after she began taking a drug that stopped her hormones and sent her into early menopause.
"Please, spread the word about endo. And if you know anyone with bad period pain PLEASE tell them to get checked for this. And to my girls with endo.. you're not alone," she wrote on Instagram.
Sabo Skirt features a collection of womenswear, as well as Sabo Mini for kids, Sabo Swim, and Sabo Formal.
Shop at Sabo.
Know a business run by someone with a chronic illness? Let us know in the comments below.