How My 'M.V.P. Wheel' Helps Me Manage My Chronic Illness Symptoms
---
You may have seen pain charts, sleepiness scales, and maybe even a fatigue scale. My virtual pressure wheel or "M.V.P. Wheel" puts all of the charts and scales in one place. It is made with patients in mind, and you can choose what each wheel represents for you.
If I can help one person by having this tool available to patients, parents, caregivers, and doctors we can cut out some of the questions that patients often receive and maybe even move towards better quality of life. The end goal is to advocate for the patient and their family sooner.
When someone expresses that they have a chronic illness, the first thing that many people believe is that the person is in pain. While this may be true, many of us with chronic illness have other debilitating symptoms.
Here are some symptoms of chronic illness. This may give you an idea of how hard it may be for a patient to express what is going on in their body to a doctor or loved one.
Pain – Pain is physical discomfort caused by illness or
injury.
Fatigue – This may be a feeling of exhaustion or lethargy, a lack of energy, or a feeling of "depletion." Fatigue can be either physical or mental. I often describe
fatigue as having weights around my body and trying to walk against an undertow.
Weakness – Weakness is a lack of physical or muscular strength. We may
associate weakness with "overdoing" activities. You may feel it in your joints and muscles after a workout or a full day at an amusement park. People with chronic
illness may feel weakness after a minimal amount of activity.
Sleepiness – Sleepiness is the state of being drowsy, tired, and sluggish.
You may think sleepiness self-explanatory, but the word can feel so overused
today. For a person with chronic illness, sleepiness can be so extreme that a person could feel like they need to sleep anywhere. It is slightly different from fatigue — which is a need to rest but not necessarily a need to sleep.
Numbness – Numbness is being deprived of physical sensation or the ability to move because of that lack of sensation.
Dysesthesia – Dysesthesia is sensations like burning, shock, or
tightening around the body. For people with chronic illness, this generally happens in the feet and hands — but it can happen in other parts of the body too.
You can use my M.V.P. Wheel to gauge which symptoms you experience most and where you experience them on a day-to-day basis. With chronic illness, your symptoms may change slightly each day or each week, so having the wheel with your frequent symptoms is a way to gauge where you are daily, weekly, and monthly.
The M.V.P. Wheel can be used by anyone with any condition from mental illness to autism to autoimmune conditions to cancer.
I use my wheel in my own life and took it to my doctor along with notes on changes in my health, and it helped us determine when I should call the doctor. Like many other people, I was waiting too long to see the doctor, so using the M.V.P. Wheel was a big eye-opener.
You can print out these wheels, make a hole in the middle of each, and number them from zero to 10. You can also use emoji stickers that reflect your symptoms or moods if that is easier for you and your family to understand.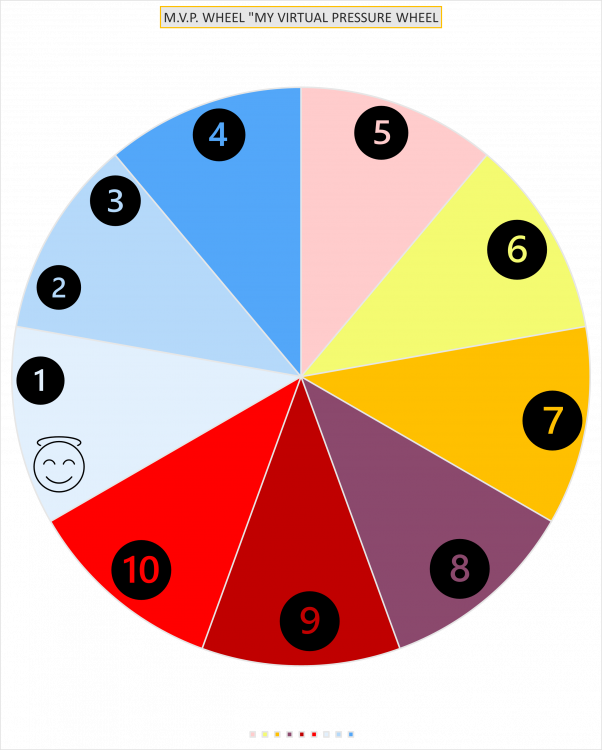 There are nine sections on the wheel, and you will want to start with the whitish-blue section and number it "zero to one." You'll then label the next section (which is light blue) "two to three" Then, move clockwise, and put the numbers four, five, six, seven, eight, and 10 on the respective remaining sections. Make sure to put your 10 on the bright red section to indicate a flare day.
The M.V.P. Wheel has helped me stay in charge of my health, and I hope it helps you do the same. I would love for you to try it out!