24 Products That Can Make Cleaning Easier If You Have a Chronic Illness or Disability
---
Editor's Note
We hope the products below help you or a loved one in your health journeys. Just so you know, The Mighty may collect a share of sales from the affiliate links on this page. As an Amazon associate, we earn from qualifying purchases.
For the average healthy person, cleaning your home can require quite a bit of time and effort. But if you have a chronic illness and struggle with pain, fatigue, or mobility, spending several hours scrubbing, vacuuming, mopping, and washing isn't always doable.
Some like to break up their cleaning into small chunks spread out over a day or week, and others have found certain hacks or products that help minimize effort and strain so as not to trigger a chronic illness flare-up.
To help you maintain your home while battling various chronic illness symptoms, we asked our Mighty community which products they use to make cleaning easier. Here are their recommendations.
1. Mr. Clean Magic Eraser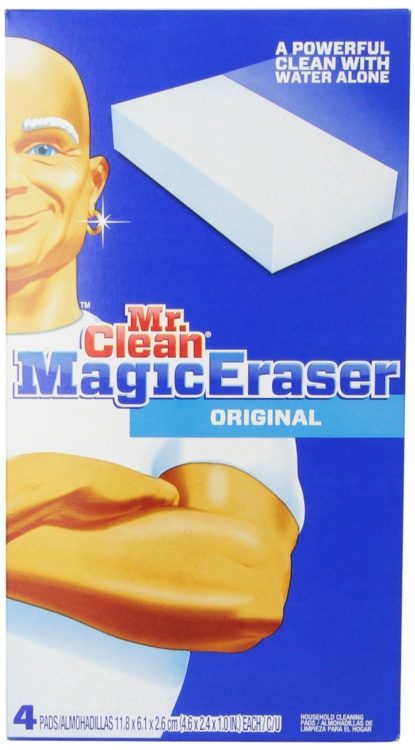 The Magic Eraser is great for people with a chronic illness who struggle with claeaning. It looks like a sponge, but it can be used to clean a number of surfaces in your bathroom, kitchen or living room. You don't even need soap – just get it wet and you're good to go.
Sheryl Fleming told us, "Mr. Clean Magic Erasers are great. Saves my hands and wrists from scrubbing when cleaning surfaces. Works great for cleaning the sink and ceramic stovetop."
"I keep a Magic Eraser in the bathroom and wipe down my tub and shower while I'm taking a shower," said Cassie Greeley.
Christine Melcher added that there's no chemical smell, and all you have to do is get a wipe and wipe in circles. "It's actually magic," said Jill Nicole Zeigler.
Buy Magic Erasers from Amazon.
2. Cleaning Gloves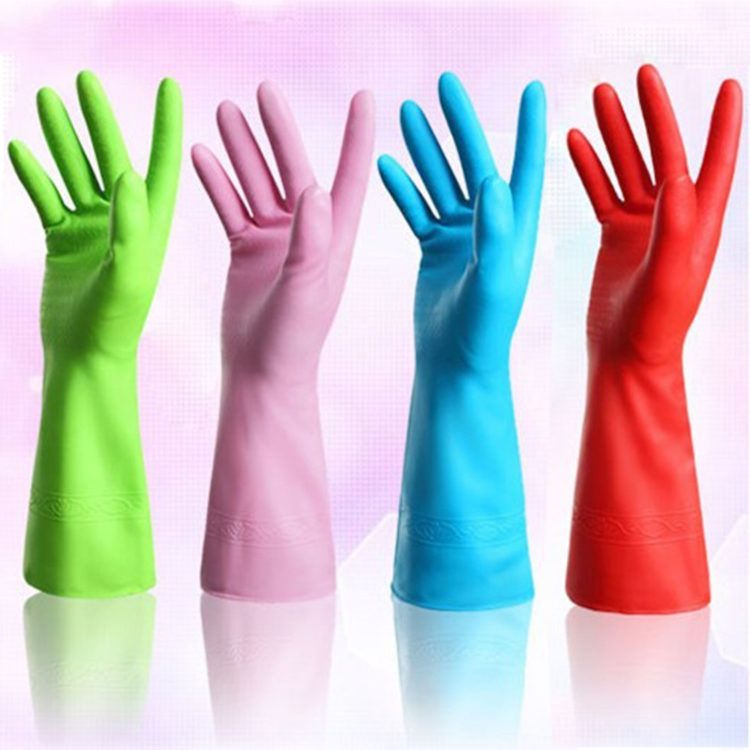 Rubber gloves can be helpful for avoiding contact with various cleaning products if you are sensitive to chemicals due to your chronic illness.
Rox Tisch wrote, "My skin is far too sensitive to chemicals, natural or not, and disinfectant has to be used in the house. I couldn't do anything without gloves. I have separate pairs for different tasks… nobody wants dishes washed with bathroom cleaning gloves!"
Buy rubber gloves from Amazon.
3. Grabber Tool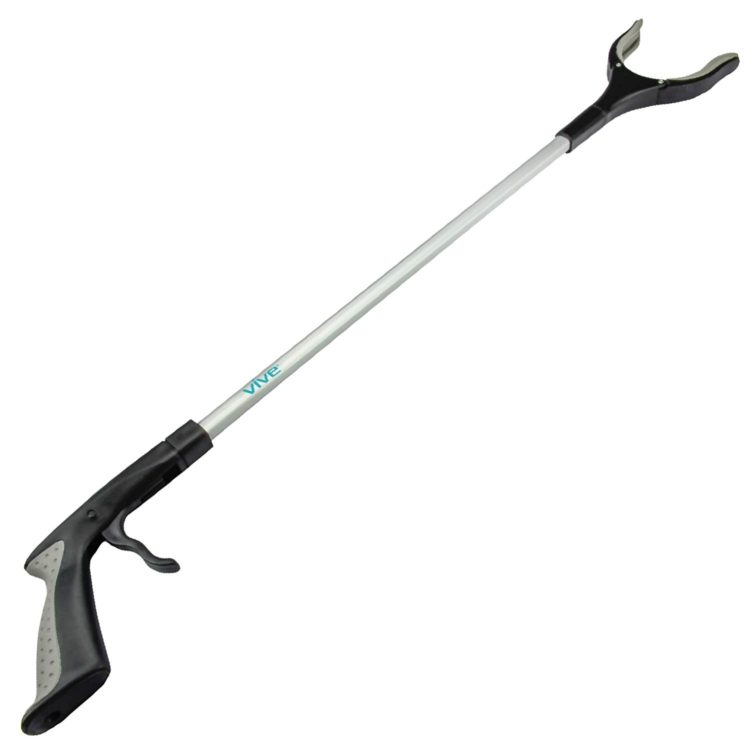 This tool isn't just for grabbing things that are out of reach – it can also be helpful for picking up items off the floor so you don't have to bend over, which can cause pain or dizziness for many of those with chronic illness.
Kelliann Gomez said, "[I use] a grabber for picking stuff (i.e. cat toys, cat toys and more cat toys) up off the floor before vacuuming without flaring up my postural orthostatic tachycardia syndrome (POTS)."
Nancy Richards recommended, "Keep one in various areas – it's worth having multiples of this tool. Put Velcro on one side and Velcro it to your washer or dryer. I find laundry is one of the most difficult tasks (painful to bend)."
Buy the grabber above from Amazon.
4. Shark Lightweight Vacuum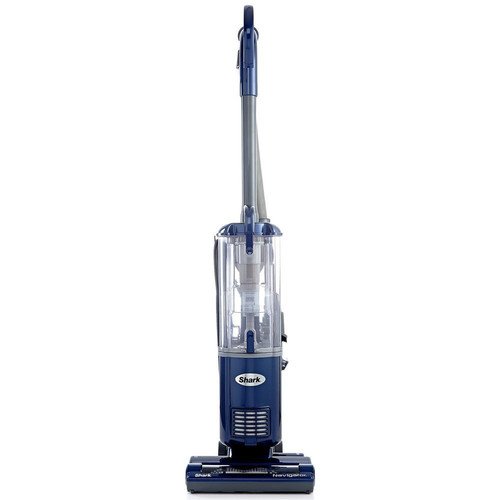 Shark offers a range of vacuums as well as steam mops so you can choose the size and functions that best suit your needs. There are several upright, deluxe vacuums for more heavy-duty cleaning, but many in our community recommend the stick and cordless vacuums as they are smaller, lightweight and easier to manage.
"One of the best products I've used is my Shark vacuum. It can be used on carpet and flat surfaces, and the hose is extra long. It is very powerful and self propels. I don't need to put much effort into pushing it, it's easier than sweeping and I don't have to lift it every time I need to reach a corner with the hose. It's saved me energy and strength," Sarah Langer told us.
Samm Davidson wrote, "My Shark electric sweeper is a lifesaver! It's the single most useful thing in my home and is constantly being put to work."
Buy the Shark vacuum above from Amazon.
5. Seventh Generation Disinfecting Wipes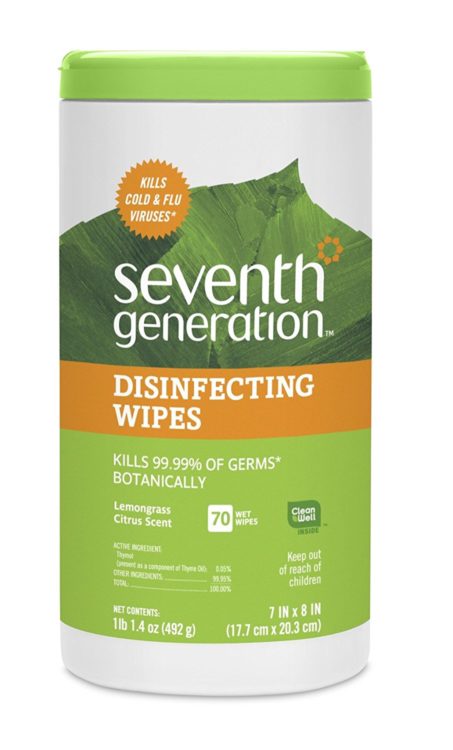 Seventh Generation is a botanical disinfectant made with essential oils. It is a natural product that can be used on a variety of surfaces in your home.
Michelle Mariano said, "[I like] Seventh Generation disinfecting wipes. They can be used on multiple surfaces and since they're natural they don't give off any chemical fumes that can cause symptoms to flare."
Buy the wipes above from Amazon.
6. Dehumidifier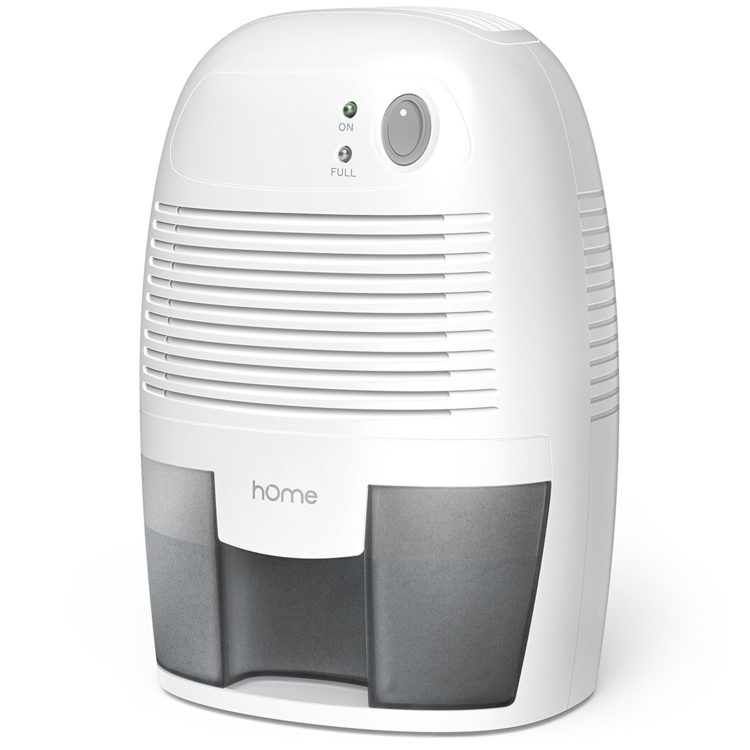 A dehumidifier can be helpful in keeping your home free of moisture, bacteria and mold so you don't have to worry about cleaning as often.
Marnie Dickson wrote, "My asthma flares really badly due to humidity so we have a dehumidifier. Not only does it strip the moisture from the air, it also kills bacteria and purifies the air! I keep it in the bathroom and it helps the clothes dry quicker and also helps to prevent damp and mold which make me really unwell. Not to mention helping to avoid having to use the cleaning products you have to use to get rid of damp and mold. They make me really wheezy so I love my dehumidifier!"
Buy the dehumidifier above from Amazon.
7. Scrubbing Bubbles Toilet Cleaning Gel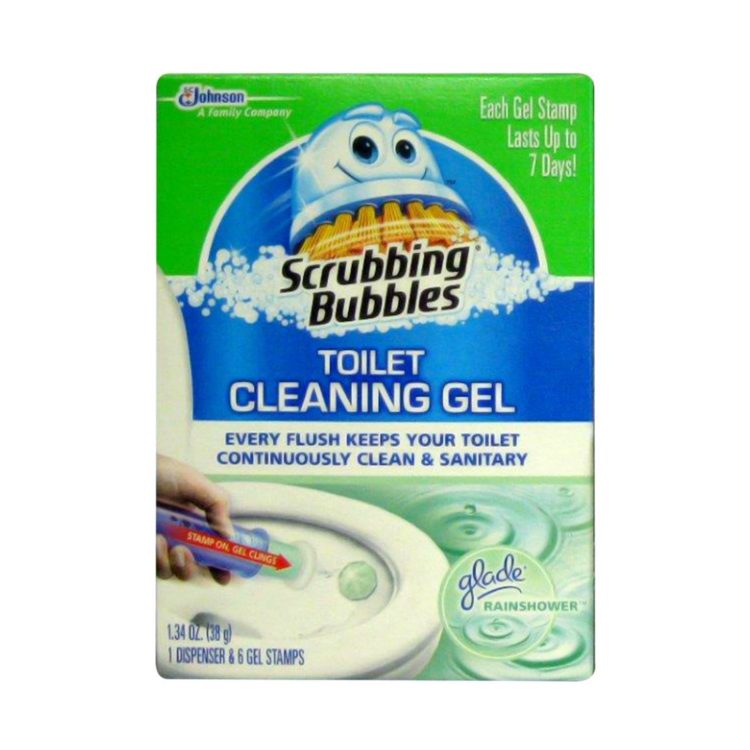 Scrubbing Bubbles is an easy way to clean your toilet – after all, their slogan is "we work hard so you don't have to." You simply use the dispenser to stamp a gel disc on the inside of your toilet bowl, which then gradually dissolves (and cleans) with each flush.
Mandy Jo Hubbard wrote, "[I use] Scrubbing Bubbles toilet cleaner that you stick inside the toilet bowl after cleaning to keep it clean longer."
Buy the toilet cleaner above from Amazon.
8. Steam Mop

Regular mops can be heavy and uncomfortable to haul around, but scrubbing your floor on your hands and knees isn't exactly ideal either. A steam mop is an easy way to scrub and clean your floor with minimal effort.
"Steam mops. I can't recommend them enough," said Erin Haley. "Fast, easy and much cleaner results than a Swiffer."
Brittany J. Navarre wrote, "Best money I've ever spent! Gets the floor super clean really fast and with minimal effort!"
Niqi Larch noted that steam cleaners are helpful because things dried on are much harder to clean off.
Buy the steam mop above from Amazon.
9. Rolling Laundry Cart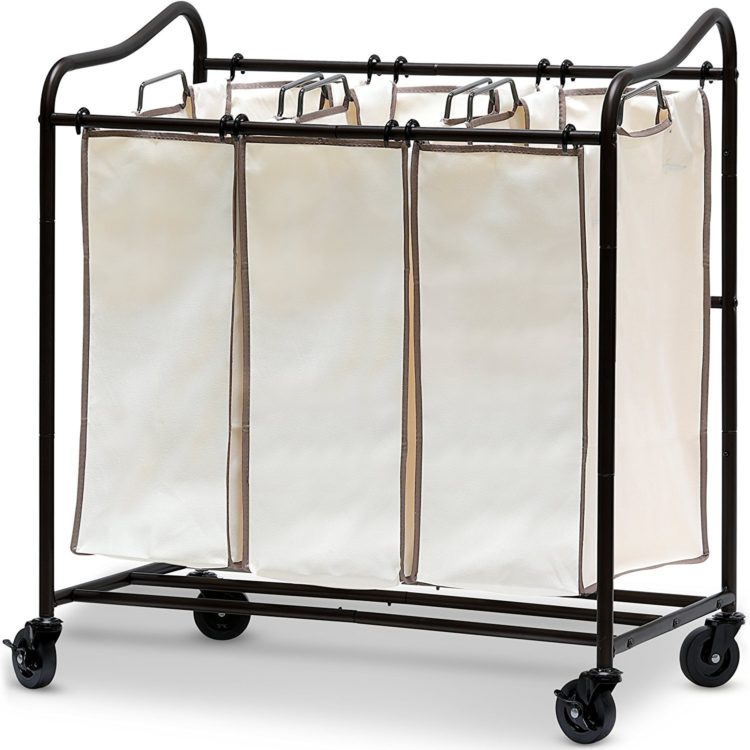 Many laundry baskets are large and bulky to carry around – especially for those who struggle with chronic pain and fatigue. A rolling laundry basket can save you some energy, and be used to carry any number of items around your home, not just laundry.
Nikki Collett Smith wrote, "I bought a rolling laundry cart so I don't have to try and carry heavy laundry baskets. It's also handy when I'm picking up around the house because I can transport things to their proper places without having to carry anything. I attach a plastic garbage bag to it so it's easy to throw stuff away as I'm picking up. It's the best thing I ever bought!"
Buy the laundry cart above from Amazon.
10. Norwex Enviro Cloth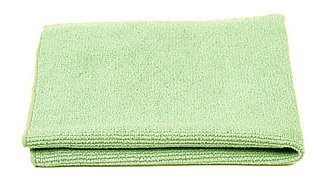 Norwex sells a variety of products that are free of harmful chemicals – including bath items, personal care items and cleaning items for your home.
Janine Trala told us, "I love my Norwex mop and enviro cloth! They don't use any cleaners at all and disinfect with just water. The cloth is such a tight woven microfiber that I barely have to use pressure to get up any mess. With my arthritis my hands hardly work so the simplicity of just water to clean and disinfect along with an amazing handle on the mop make cleaning things up quick and without any chemical irritants."
Nicole Ludwig added, "Their UPP laundry soap works for everything, plus works with the enviro cloth and doesn't damage the Bacloc technology. I can simply wet envirocloth, spray UPP, wipe and rinse cloth. Done and sanitized! Works same for their mop system. Their body cloths are amazing, especially for those no-shower days."
Buy the cloth above from Amazon.
11. Paper Plates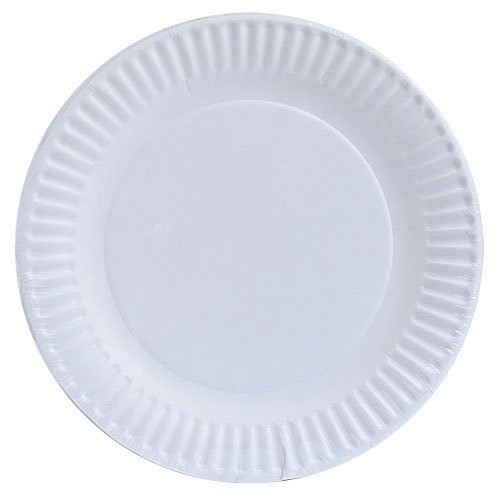 If you struggle with cleaning dishes due to pain or fatigue, paper plates are an easy alternative. No dishes, no cleaning.
Rebecca Nodland said, "More of a cleaning avoidance technique. But we use paper plates for nearly everything. By the time I cook a meal (which is really only two to three times a week), I just don't have the energy to clean everything up, too. My husband hates doing the dishes so it became our unspoken 'fine china.'"
Buy the paper plates above from Amazon.
12. Vinegar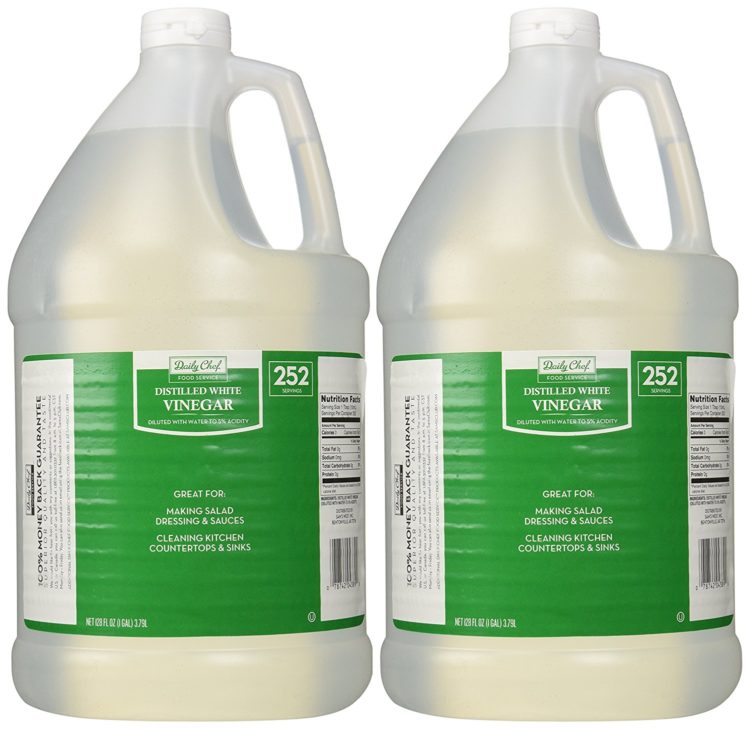 Distilled white vinegar is extremely versatile, as it can be used for cooking, cleaning or sanitization. For those who are sensitive to harsh chemicals, this could be a good option – and you may even have it in your pantry already.
Jen Fendley said, "All-time greatest tool… white vinegar. Cleanses everything, even diluted. It leaves no residues. It's is easy, inexpensive and hypoallergenic."
"Vinegar has lots of uses," said Jen Vann. "My son recently mopped the kitchen floor with a little vinegar in hot water, and it can be used as a fabric softener without leaving any odor or breaking the fabric down."
Charmaine Patricia Watters added, "After showering I spray the shower cubicle walls and floor with white vinegar. The next shower rinses it off."
Buy the white vinegar jugs above from Amazon.
13. Step Stool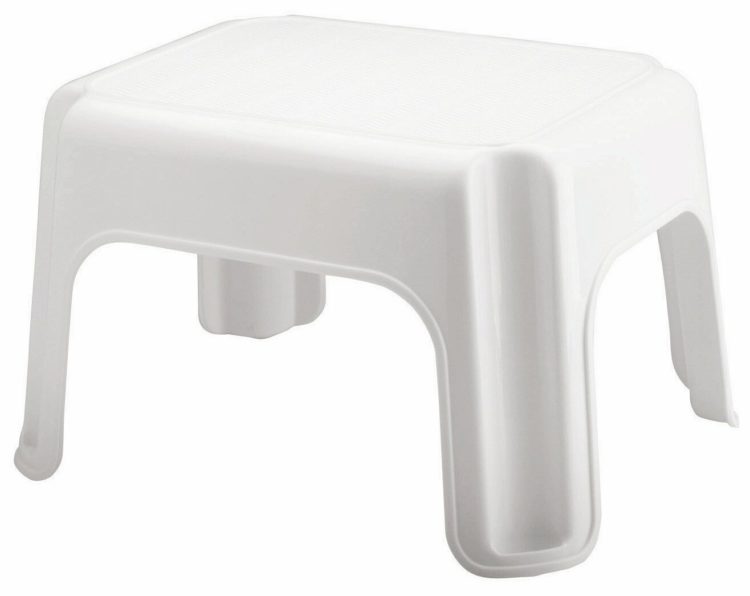 Bending over, squatting, kneeling and sitting on the ground are a no-go for many with chronic pain or disabilities. If you need to reach lower spots while cleaning, such as a baseboard, bathtub or the bottom shelf of a cabinet, sitting on a small stool might be helpful.
"I sit on a plastic foot stool for cleaning the toilet and in front of stove/dishwasher/fridge so I don't have to bend over," wrote Stacey Irving.
Buy the step stool above from Amazon.
14. Laundry Detergent Pods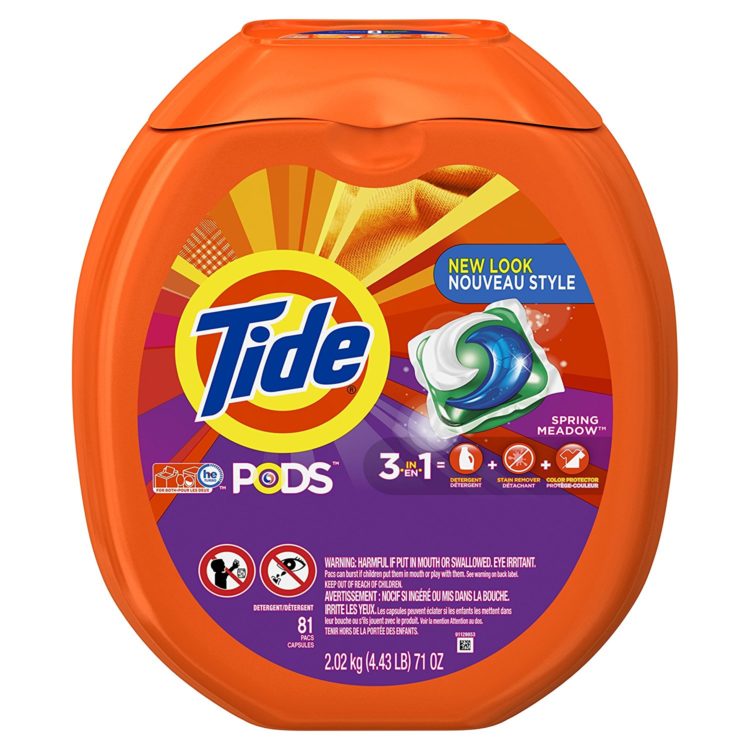 If you struggle with chronic pain or fatigue, lifting a big bottle of laundry detergent just might not be in the cards some days. Instead of hauling around a giant container just to pour out a little bit, consider trying out some detergent pods – they're small, lightweight and much easier to manage.
Kathy A. Zabliski said, "It is so much easier to just reach in, grab a pod and throw it in the laundry! I can't handle lifting those heavy detergent jugs."
Buy the pods above from Amazon.
15. Roomba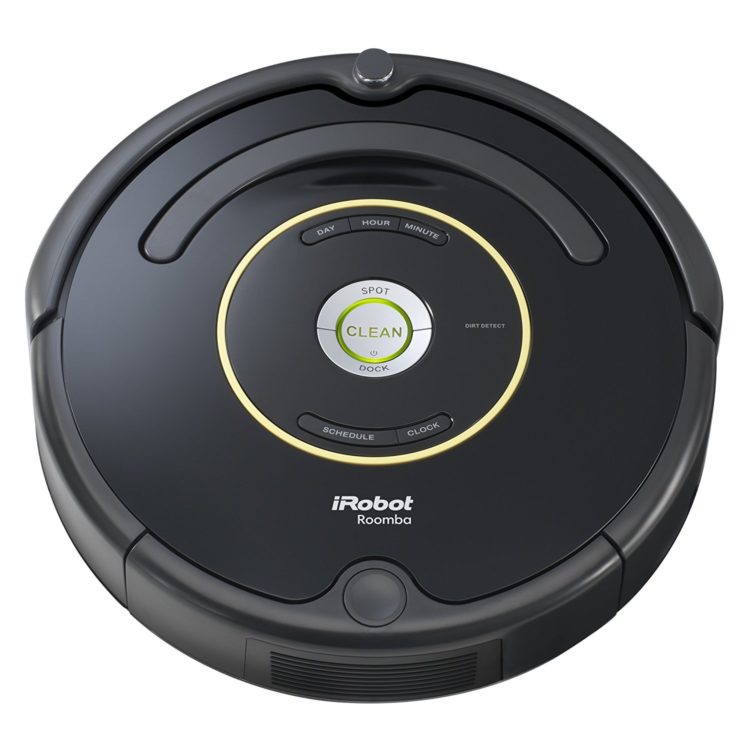 Although they're a bit pricey, Roombas require minimal effort. You can either schedule it to run at a certain time each day or just press "clean," and off it will go. It works on hardwood, carpet, tile, laminate, etc. and will dock to recharge automatically.
Luna Service Dogs Inc. wrote, "I invested in a Roomba. Using a regular vacuum flares my pain and fatigue for days, so the Roomba has been a huge help."
Shyanne Rayne added, "It may be a tad expensive but it does so much for me… Some days I barely have energy for my feet to hit the floor and vacuuming is a pain. Plus there's a toddler in the house most days which we all know means crumbs. I use it almost every day or so. Very much worth the investment."
Buy a Roomba from Amazon.
16. Zep Cleaning Products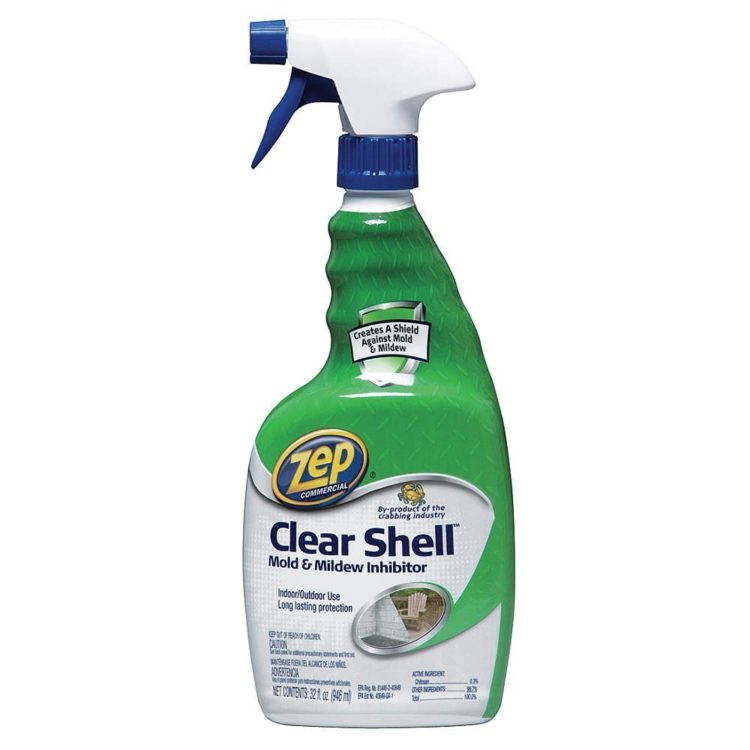 Zep is a brand of industrial-grade cleaning products with a solution meant for just about any surface, indoor or outdoor. Zep has products specially tailored to washing counters, carpets, and driveways.
"Zep products from Home Depot are the bomb, especially the mold/mildew spray for bathroom [featured above] – it needs little to no scrubbing. Zep is an industrial product so they work harder," said Lyra S. Miller.
Buy the mold and mildew spray above from Amazon.
17. Soap Dispensing Dish Brush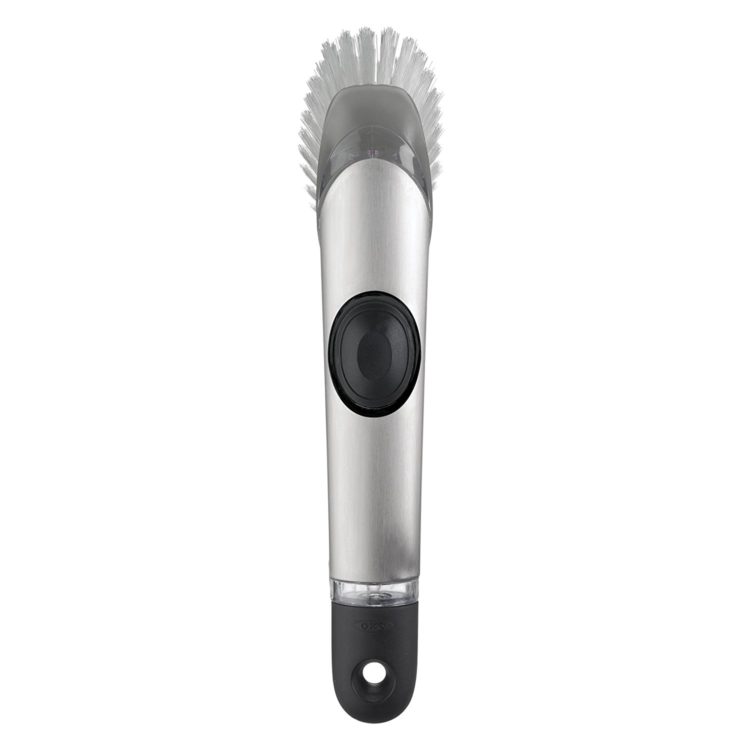 Some dish soaps come in massive containers – which is great if you like to buy in bulk, but can be difficult to handle if you struggle with pain or limited mobility in your hands and arms. Using a brush that can hold dish soap allows you to get much more cleaning done in between times you have to deal with the container.
Malorie Anderson wrote, "[I use] dish brushes that you fill the handle with soap. I don't have enough upper body strength to hold onto a regular sponge and scrub. The brushes are so much easier to hold and press down on. Plus I don't have to try to hold the soap bottle for very long, except to fill the brush once a day or so."
Buy the dish brush above from Amazon.
18. Thieves Household Cleaner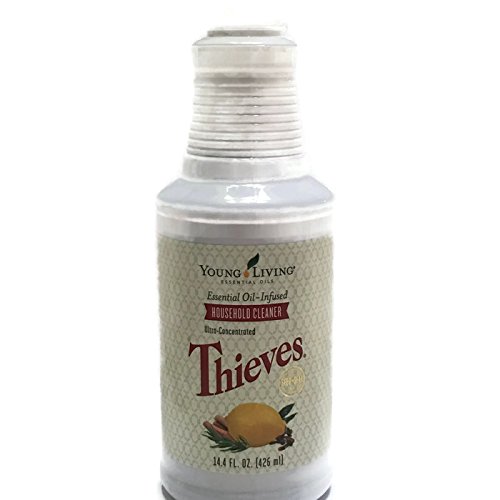 Thieves Household Cleaner is made by Young Living Essential Oils, which means this product does indeed contain various essential oils. It is all-natural rather than made from synthetic cleaners, which is perfect for those who are sensitive to chemicals or strong smells. Several of the scents in this cleaner include eucalyptus, lemon, cloves, cinnamon and rosemary.
Kari Prince wrote, "I have the all-purpose Thieves Cleaner from Young Living. It works on almost every surface so I don't need to lug around a basket full of different cleaners. And it is non-toxic and chemical free so I am not making my illnesses worse."
Michelle Bobb Chartier added, "I use Young Living Thieves Household Cleaner. It is amazing. You can use it for everything, even cleaning glass."
Buy the cleaner above from Amazon.
19. Lightweight Mop
Although many mops tend to be heavy and clunky to haul around, there are some smaller, lightweight mops available such as the one above from Bissell. Rather than using it on the floor though, many in our community use mops for cleaning bathrooms so they can avoid bending or reaching.
Janet Allsopp told us, "I use a mop to clean the bath. It's heavy but easier than bending with a cloth."
"I use a mop to clean my showers, bath and skirting boards," added Dorothy Samantha Robertson.
Buy a mop from Amazon.
20. Clorox Disinfecting Wipes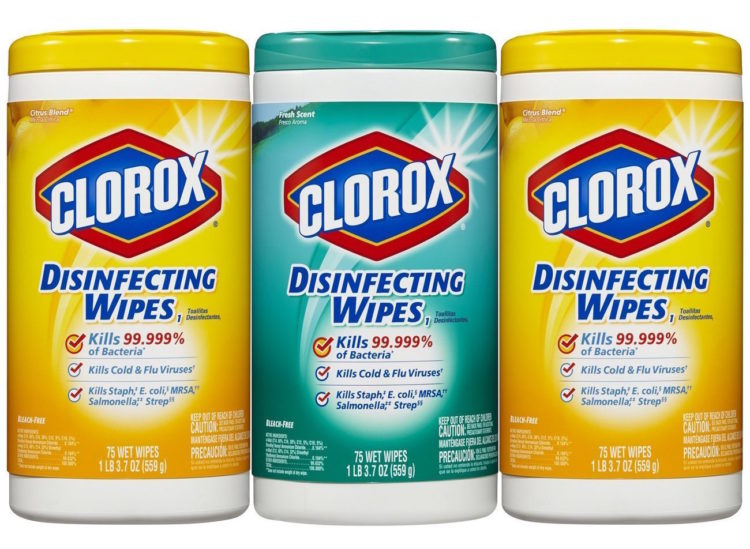 Clorox disinfectant wipes are extremely versatile. They can remove germs and grease from just about any surface and are even able to kill dangerous bacteria such as staph, strep or E. coli – which is especially important for those whose chronic illness or medication has weakened or suppressed their immune system.
"Clorox disinfectant wipes. Like on everything. The sink, countertops, cabinets, high chair, stove top, desks, tables, fridge, the tablet screens, I even throw them on the floor and move them around with my foot then just scoot it by the trash until I'm able to pick them up," wrote Shaina McCourry.
Tina Reese said, "Clorox cleaning wipes are a lifesaver for me…especially for cleaning the bathroom."
Buy disinfecting wipes from Amazon.
21. Office Stool or Chair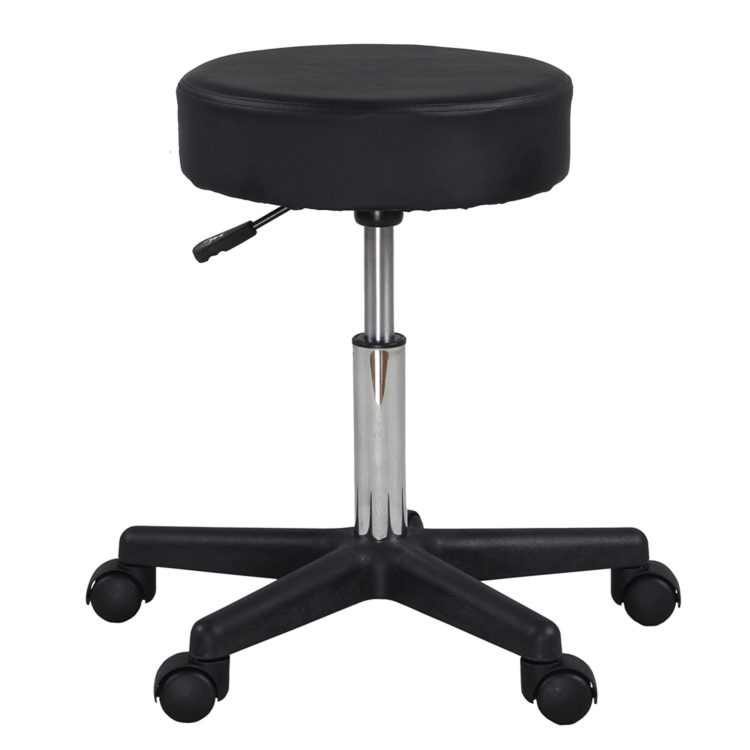 Cleaning can require a surprising amount of physical activity – even if it's just being on your feet for an extended period of time. For those with chronic illness, that can get exhausting and painful quickly. If you have an office stool or chair with wheels at home, sitting on it and rolling around while doing your chores may be a way to save some precious energy.
Sue Jahantab wrote, "I bought an office stool on wheels for the kitchen. I can roll quickly from one side to the other and back, on the tile floors, keeping my hands free, for cooking, etc. I can adjust it high enough so I can sit to do dishes."
Nancy Richards added, "[I use] an office chair. Most are ergonomically correct, they have wheels, so moving from space to space is easier. Obviously only good on a one-level home, though."
Kathleen Brockway said she sits in her office chair to vacuum so she can scoot around.
Buy the office stool above from Amazon.
22. Microfiber Duster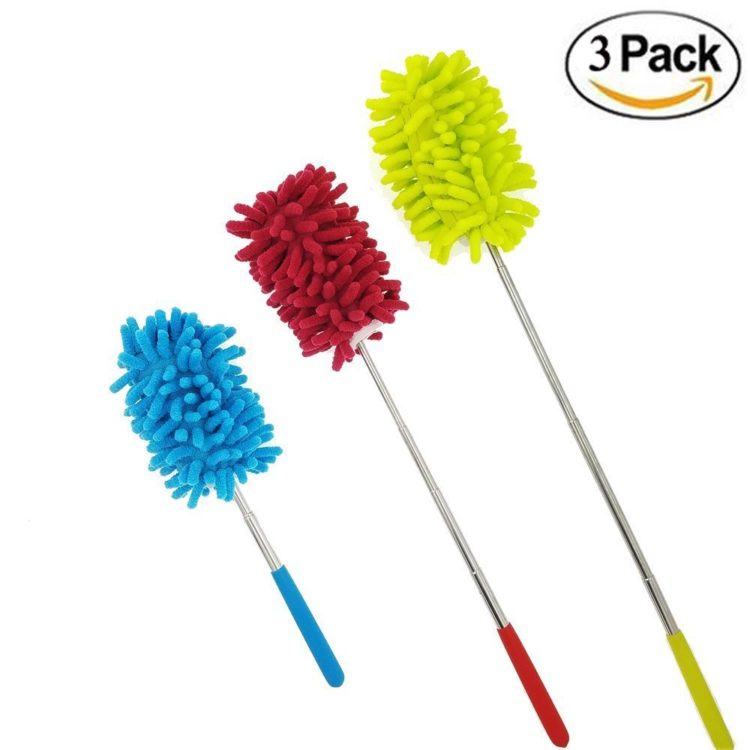 This set includes three microfiber dusters that all have retractable poles to help you reach tall shelves or blinds. Microfiber is great at trapping dust and can be easily washed and reused.
Marnie Dickson told us, "I love microfiber dusters. I'm [very] allergic to dust mites and it makes my asthma really bad. Many dusters actually just make the dust go into the air and don't actually trap it. But the microfiber traps the dust so I don't have a bad reaction to it."
Buy the dusters above from Amazon.
23. Dawn Dish Soap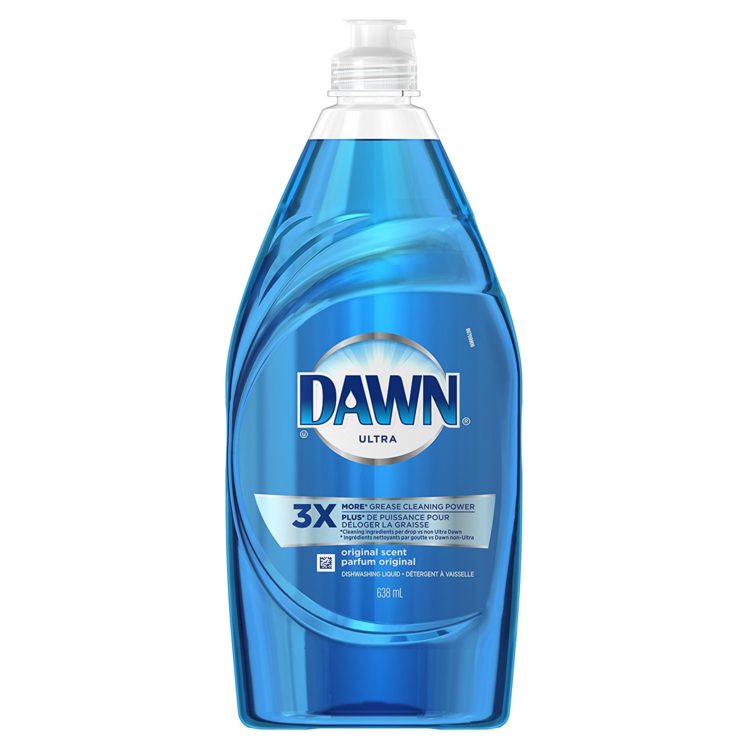 Dawn is known for its effectiveness in removing grease, which means less scrubbing when it comes to dirty dishes. The dish soap also comes in a variety of scents and forms so you can choose the type that works best for you.
Kim Bigelow Taylor wrote, "I use Dawn dish soap with white vinegar and water to clean my bathrooms. Shower, tub, toilets, sinks. Works great and I don't get sick from the it because there are no chemicals in it."
Buy Dawn dish soap from Amazon.
24. Swiffer Wet Jet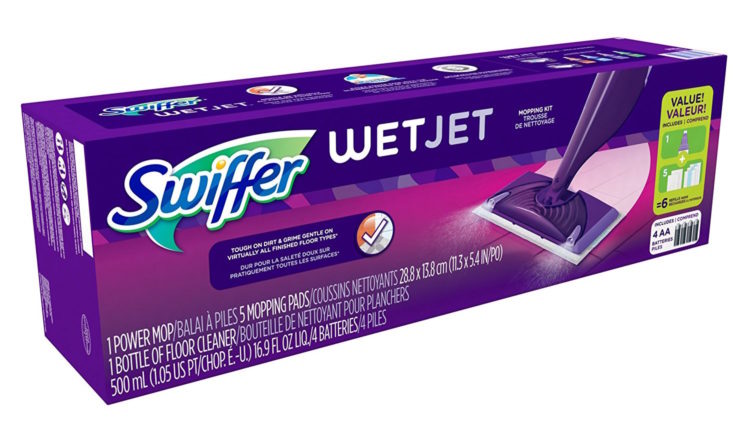 This Swiffer Wet Jet package comes with a mop, five pads and cleaner solution. It's lightweight and easy to manage – perfect for cleaning up hard floors quickly with minimum effort.
Sophie Vera wrote, "Can I get a holla for a Swiffer Wet Jet? Between my POTS/brain mass and two autistic children, I had to suck up my crunchy mama hippie ideals and realize I cannot always do things that way for the sake of my exhaustion. The Swiffer Wet Jet seriously saved me from being exhausted as well as my rollator to get around my house. I can sit and scoot or rest while cooking."
Jennifer Herring added, "My Swiffer has literally saved my life. It's easy, lightweight and has throwaway pads."
Buy the Swiffer pack above from Amazon.
Have a cleaning product you'd recommend? Share in the comments below.
Originally published: September 21, 2017