The 2018 Grammy Nominees Include 11 People With Illnesses and Disabilities
---
At the Grammy Awards on Sunday, January 28, the group of musicians vying for the industry's top honors will include several who have opened up about living with illnesses and disabilities.
Some have turned their struggles into inspiration for their music, while others have used their celebrity power to connect with others dealing with the same condition and advocate for greater acceptance and awareness. Perhaps their music has helped you feel less alone in your own health journey or taught you about a health condition you didn't know much about.
Below, discover 11 2018 Grammy nominees who live with health conditions. Several will be performing at the awards show on Sunday, so keep an eye out for these members of our health community.
1. Lady Gaga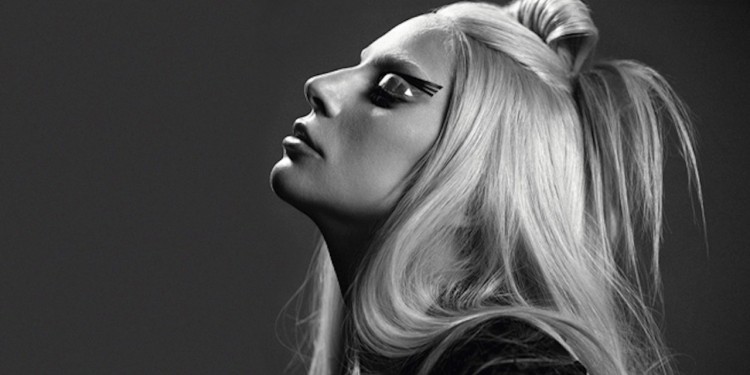 Lady Gaga is nominated for Best Pop Solo Performance for "Million Reasons" and Best Pop Vocal Album for "Joanne." Her album is named for, and inspired by, her aunt Joanne, who died from complications of lupus at 19 years old.
She's spoken up for years about her own health issues, both physical and mental. She's talked about testing "borderline positive" for lupus, having chronic pain from breaking her hip, anxiety, and in September revealed she has fibromyalgia (which caused her to cancel several shows last fall). She also released a Netflix documentary called "Gaga: Five Foot Two," which included scenes of her doctor's appointment and a fibromyalgia flare.
While promoting her Netflix film, Gaga said she wants her fans to know she struggles with pain like they do and that she doesn't have to hide it for fear of seeming "weak."
"My pain does me no good unless I transform it into something that is. So I hope people watching it who do struggle with chronic pain know that they're not alone. It's freeing for me… and I want people that struggle with it to hear me," she said.
2. Dan Reynolds of Imagine Dragons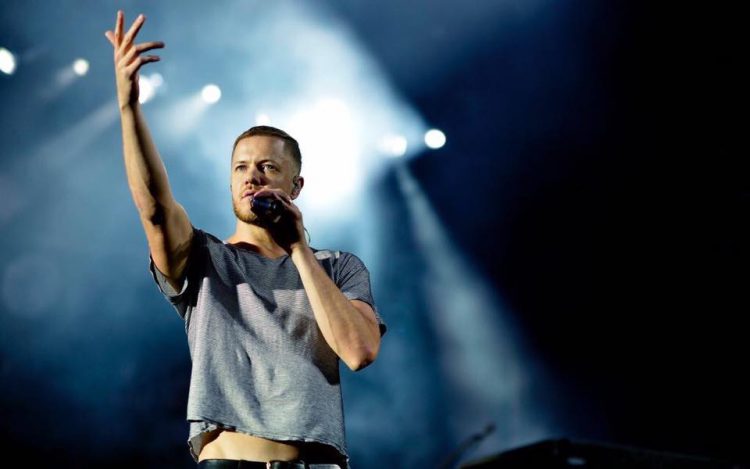 Imagine Dragons' nominations include Best Pop Duo/Group Performance for "Thunder" and Best Pop Vocal Album for "Evolve." Lead singer Dan Reynolds was diagnosed with ankylosing spondylitis, an inflammatory arthritis that affects the spine and large joints, when he was 24. He partnered with the Spondylitis Association of America to connect others with the disease through a series of webisodes called "This AS Life Live!"
He told the OC Register that his fans have been "incredibly supportive" and he's inspired by hearing stories of other people living with AS, though he had trouble accepting the seriousness of his condition at first.
I was stubborn. I didn't want to believe I had a disease. I was embarrassed because the word disease isn't something anyone wants to have associated with themselves. I kept it to myself for years and during 'Smoke + Mirrors,' it got really dark in a lot of ways because I was in a dark place. I was dealing with depression and the disease because I didn't have it under control, so speaking out about it helped me realize that I didn't have to let it rule my life or to be ashamed about it. I needed to be an advocate and use this platform that I've been given to raise awareness so that people aren't getting misdiagnosed time and time again.
3. Carrie Fisher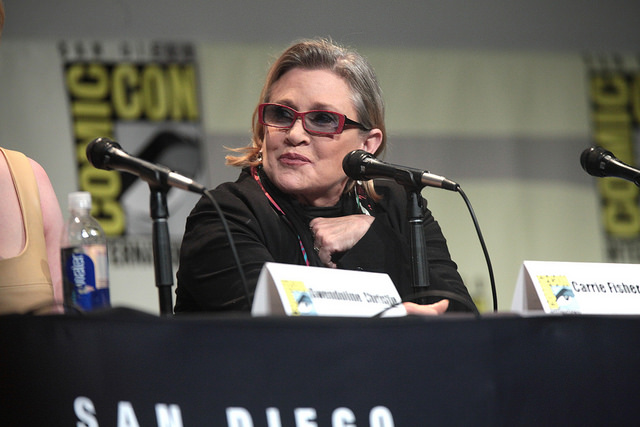 Carrie Fisher is nominated for Best Spoken Word Album, for her audiobook of her memoir "The Princess Diarist." The book focuses on her life at the time she was filming the first "Star Wars."
Fisher was a staunch mental health advocate before her death in December 2016, openly discussing her struggles with bipolar disorder and addiction in interviews and in her memoir and one-woman show, "Wishful Drinking." After her death, she is remembered for her support of others with mental illness and her sense of humor about her challenges (her urn was famously shaped like a giant Prozac pill).
She says in "Wishful Drinking":
One of the things that baffles me (and there are quite a few) is how there can be so much lingering stigma with regards to mental illness, specifically bipolar disorder. In my opinion, living with manic depression takes a tremendous amount of balls… At times, being bipolar can be an all-consuming challenge, requiring a lot of stamina and even more courage. So if you're living with this illness and functioning at all, it's something to be proud of, not ashamed of. They should issue medals along with the steady stream of medication.
4. Khalid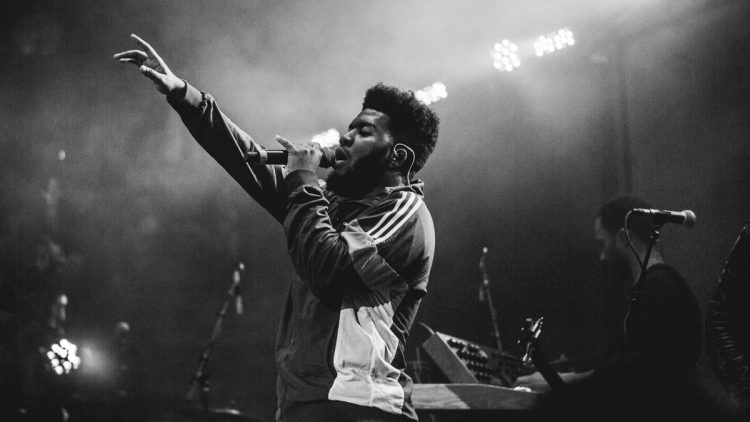 Khalid's nominations include Song of the Year and Best Music Video for his work on suicide prevention song "1-800-273-8255;" Best New Artist; Best R&B Song for "Location;" and Best Urban Contemporary Album for "American Teen." During his rise to fame, he's spoken about his struggle with anxiety. He tweeted in December that he was "not feeling the best" and his anxiety was "super bad" right now.
"For the past few days I've been feeling very down about a lot of shit, and I just wanna let [you] know that if you struggle with any illness, I feel you. It gets better," he tweeted.
He described what anxiety and panic attacks feel like in an interview on Viceland's The Feed.
Anxiety is definitely being alone in a crowded room. Let's say I'm one person, I'm in the center of the room, everyone's around me but no one's touching me, everyone's around me, they're all engaging with each other but I'm alone, I'm claustrophobic, I'm stuck, and I'm trying to break out. I feel like it's about not having complete control over your actions even though you're conscious at the same time… I just remind myself you got it, you're strong.
5. Kesha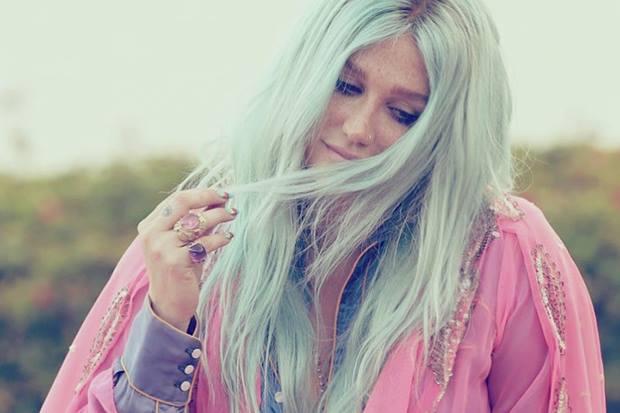 Kesha's song "Praying" was nominated for Best Pop Solo Performance, and her album "Rainbow" was nominated for Best Pop Vocal Album. The song and album were her first to be released in four years, due to a legal battle with producer Dr. Luke over her contract and his alleged sexual and verbal abuse towards her.
In an essay published on Lenny Letter, she wrote about how her depression, anxiety and eating disorder inspired "Praying."
I know that I was never abandoned by my fans, my animals, or my family, but when you are depressed — really, truly depressed — you feel like you have nothing. Even having my kitties sleeping next to me in my darkest of hours couldn't bring me light. It is in these moments when even the most cynical among us are forced to turn to something other than ourselves — we turn to prayer, or something like it. You look past your shame, past your desire to hide, and admit you need help.
6. Kehlani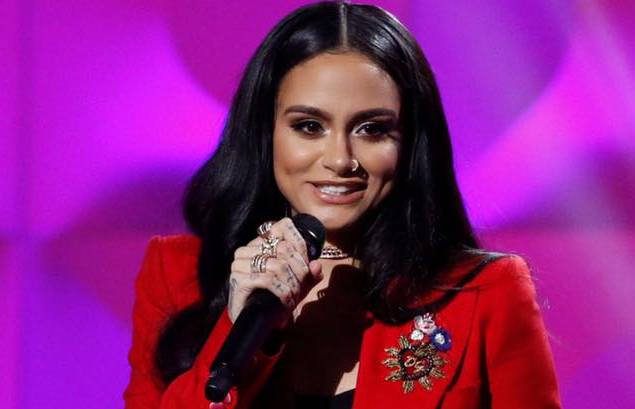 Kehlani is nominated for Best R&B Performance for her song "Distraction." In 2016, the singer shared a photo of an IV in her arm after an apparent suicide attempt, writing, "Today I wanted to leave this earth… as of today I had no single wish to see tomorrow. But God saved me for a reason, and for that… I must be grateful."
A few months later, she spoke about mental illness on a press tour.:"[Suicide] is something that so many young people are dealing with. And so many young people slip under the rug. Please don't try it. Don't do it."
Then, referencing her own suicide attempt, she said, "It wasn't a first time thing, and that's not OK…for anyone. Not for the people around you, not for the people that love you, not the people that care about you."
7. Kendrick Lamar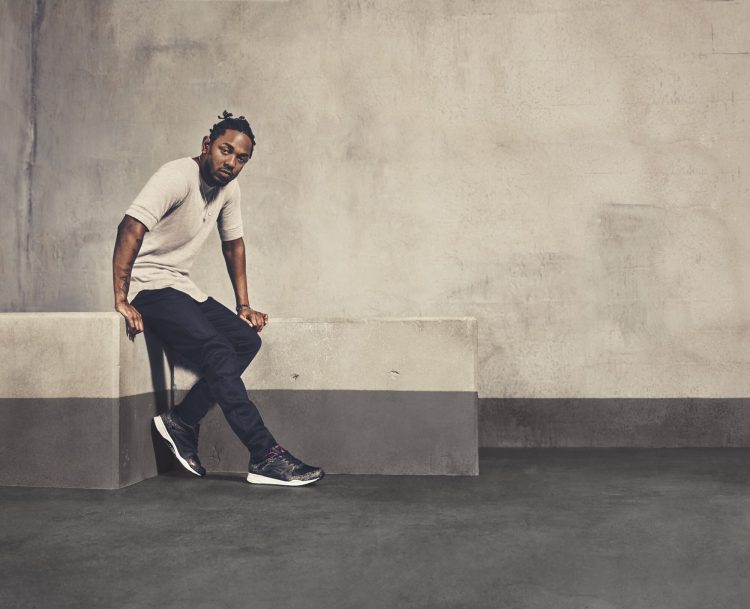 Kendrick Lamar is nominated for a whopping eight Grammys this year, including Album of the Year and Best Rap Album for "DAMN;" Record of the Year, Best Rap Song, Best Rap Performance and Best Music Video for "HUMBLE;" and Best Rap/Sung Collaboration for "Loyalty."
In his song "u," from his 2015 album "To Pimp a Butterfly," Lamar raps about having depression and suicidal thoughts: "I know your secrets… I know depression is restin' on your heart for two reasons… And if this bottle could talk I cry myself to sleep / Bitch everything is your fault… Shoulda killed yo ass a long time ago / You shoulda feeled that black revolver blast a long time ago / And if those mirrors could talk it would say 'you gotta go' / And if I told your secrets / The world'll know money can't stop a suicidal weakness."
Another song on that album, "i," was used in a Kaiser Permanente commercial that encourages people to talk more about depression. He said in an interview with MTV the album was inspired by challenges he's had throughout his life and coping with trouble back in his hometown of Compton, but he still wanted his songs to be a positive force for others.
The overall theme for me personally for this album is really leadership, how can I use it for better or for worse. With money and with my celebrity, how can I use it, how can I pimp it. Can I pimp it negatively or can I pimp it in a positive way. Positive for me is showing what I go through, showing what I've been through with you and coming all the way back to I and saying I still love myself at the end of the day.
8. Julia Michaels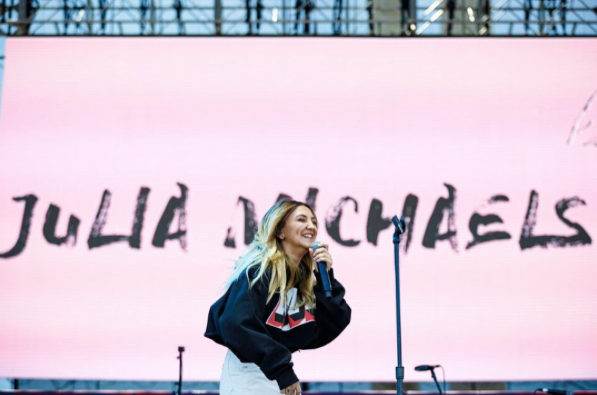 Julia Michaels' nominations include Song of the Year for "Issues" and Best New Artist. As she explained in an essay for Glamour magazine, she started experiencing anxiety when she was 18 and got to a point where she was having panic attacks every day.
She said she started seeing a therapist and for the first few sessions, all she did was "cry and panic."
"People with anxiety often don't talk to others because they think they're are burdening them with their problems. But all it takes is one person to listen. To care," she wrote, adding:
Anxiety feels like an earthquake shaking your entire body and can last for minutes, hours, or sometimes days. It makes you feel like you were just in sunny California and teleported to winter in Chicago. It's a lot like that friend who says they're happy for you but secretly roots for you to fail. It's always waiting to ruin you and make you feel small. It's like you're in a prison with yourself, like there are a thousand bricks weighing your body down.
9. The Blind Boys of Alabama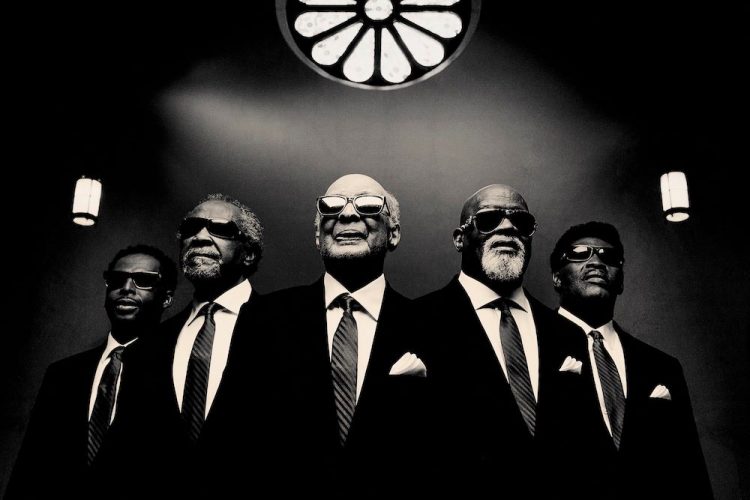 The Blind Boys of Alabama, a gospel group that consists of four blind singers, is nominated for Best American Roots Performance for "Let My Mother Live." The group (which has changed its lineup of singers and musicians over the years) met at a school for the blind, released their first single in 1948 and and have since won five Grammy awards. Jimmy Carter, one of the founding members of the group, has also revealed that he and two other members of the group have diabetes.
Carter told The Guardian in 2014 that he didn't think being blind influenced their music.
"I don't think blind has got nothing to do with it. If you're musically inclined, then it comes naturally to you whether or not you're blind or sighted. It just comes naturally. We've had some great blind musicians: Stevie Wonder, Ray Charles, Ronnie Milsap," he said.
10. Logic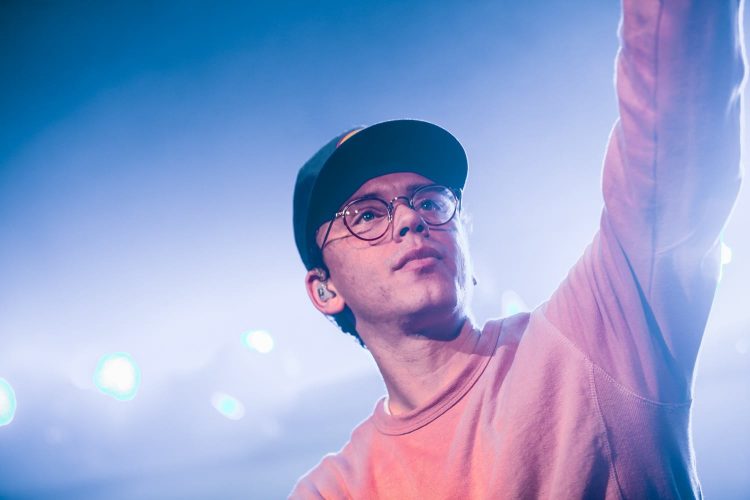 Logic's song "1-800-273-8255" is nominated for Song of the Year and Best Music Video. His performance of the song, which is named after the suicide hotline, at the MTV Video Music Awards featured suicide survivors wearing the hotline number on T-shirts.
He's also spoken about his own struggle with anxiety. He told the New York Post that he had an anxiety attack while in line to see a movie, was eventually hospitalized and diagnosed with derealization. He also deals with depression. "I was on a tour bus crying, saying 'I can't do this anymore,'" he said.
At the VMAs, he gave a powerful speech about his platform of talking about big issues like mental health and sexual assault.
I just want to take a moment right now and thank you all so much for giving me a platform to talk about something that mainstream media doesn't want to talk about. Mental health, anxiety, suicide, depression and so much more that I talk about on this album. From racism, discrimination, sexism, domestic violence, sexual assault and so much more… We must fight for the equality of every man, woman and child regardless of race, religion, color, creed and sexual orientation. So I say here and now if you believe in this message and my message of peace, love and positivity and equality for all, then I demand that you rise to your feet and applaud not only for yourselves but for the foundation we are laying for our children.
11. Brittany Howard of Alabama Shakes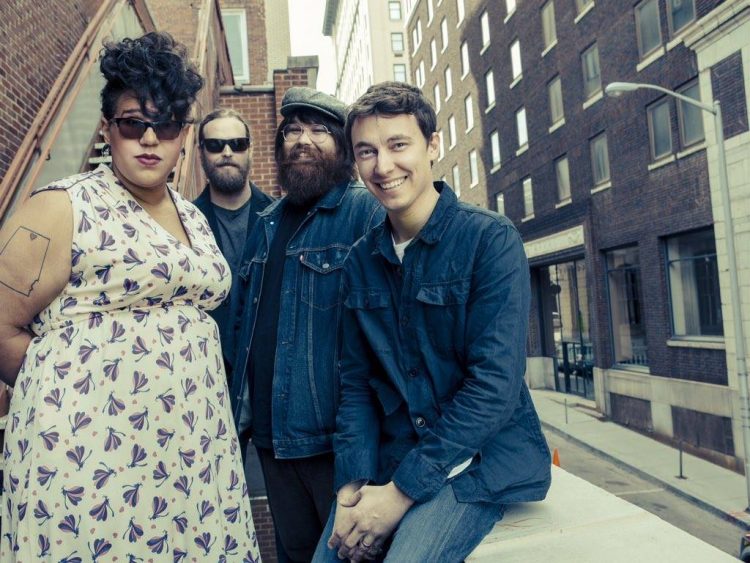 Alabama Shakes is nominated for Best American Roots Performance for "Killer Diller Blues." Lead singer Brittany Howard had retinoblastoma as a baby and is now partially blind in one eye. She told NPR it's like having "tiny tumors inside your eye" that were frozen with a laser, which scarred her retina. Her older sister died of the same disease when Howard was 9.
"I'd say I could probably see about 10 percent out of [my eye]," she said. "I was fortunate enough that the tumors didn't grow back. And I've been, you know – I go every year, but I'm absolutely 100 percent fine, you know?"
Originally published: January 26, 2018