7 Things Hurricane Ida Taught Me About Evacuation and Chronic Illness
---
After 15 days on the road, the solace I feel as I write, snuggled cozily in my bed, blackout curtains pulled and soft, gentle comfort cocooning me, is impossible to put into words. I feel visceral gratitude for my home and space, a gentle hum enveloping my being and flooding me with soul-deep relief.
Hurricane Ida was the first major hurricane I've been through, and I know I will be processing the layers of this experience for a while. As an uptown New Orleans resident for nearly eight years, I've seen my fair share of tropical storms and a handful of low-grade hurricanes. Now, on the other side of Ida, I realize how deeply unaware I was of the depth of the trauma and disruption a force of nature this strong can cause.
In the two weeks of absolute groundlessness while we were evacuated, I learned and laughed and cried and shattered and put myself back together again more times than I can count. I felt an entire city spin into fight-or-flight mode nearly overnight. I witnessed more gas stations run out of fuel than I ever thought possible, hundreds of miles of downed trees, countless snapped power line poles, and a sea of blue roofs along the interstate covered in tarps to prevent further water intrusion after sustaining significant damage.
It's my deepest hope that these words and reflections whisper some comfort into the heart of anyone else impacted by Ida, or any other natural disaster. I am full of gratitude that after two weeks away, we are safe and sound at home and cleaning up very minimal damage.
At the same time, I know that pain is pain — and no matter its size — it is always valid. I know the devastation from this storm runs deeper than I can fathom, and to all affected, please know you're in my heart.
Here are some of the lessons that Ida taught and reinforced for me:
1. You are allowed to make decisions for yourself that others might not understand or support.
Throughout our two-week evacuation, this was one of the lessons that felt like it washed through me day after day. Each morning, afternoon and hour my husband and I made the best decision we could at the time, with the information available to us. We were working with data that was shifting at a rapid pace and trying to manage my chronic illness symptoms which often were changing with similar unpredictability and speed. In retrospect, there are certain choices we could have made that would have simplified our evacuation and minimized the exhausting toll it took on my physical body.
For example, we initially drove 45 minutes north to stay with family, because the proposition of a multi-hour car ride felt utterly impossible given the prior symptom week I'd experienced. Overnight, the hurricane escalated in intensity, and we had to make a last-minute call at 6 am to evacuate even farther north in order to stay safe.
Was an early morning mad dash to Jackson, Mississippi easy for me? Not one bit! It was adrenaline-fueled and fraught with uncertainty about what the next few days would look like. However, in each moment, we evaluated our options with immense care, and I'm able to look back upon them with love and compassion.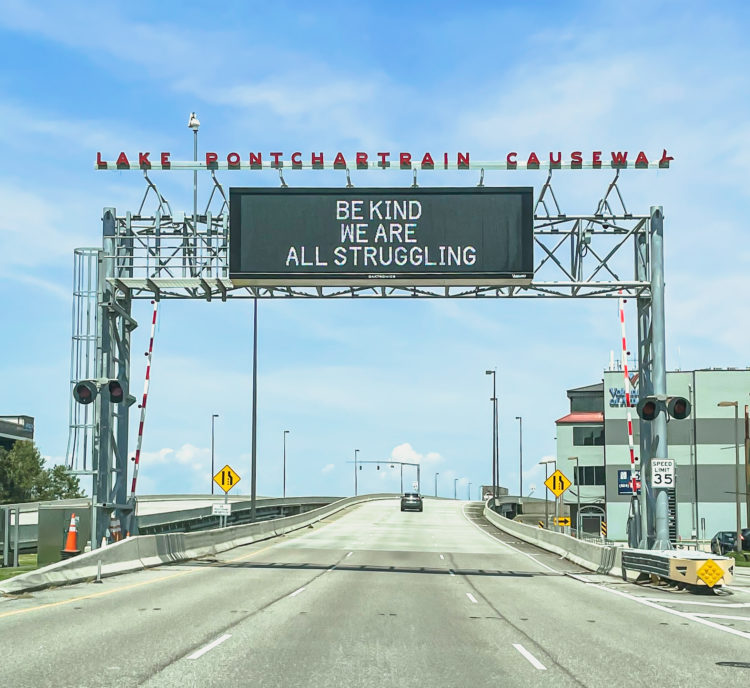 We moved one step at a time, in the direction of what "felt right for right now." We did this even when others didn't fully understand the myriad of factors and circumstances and the constantly shifting terrain that we were navigating. Having a hard time while with a hard thing does not mean you are coping poorly.
2. Having a hard time while with a hard thing does not mean you are coping poorly.
Did you hear that? Maybe read the sentence a few more times while taking some long, slow, deep inhales and exhales. I've written multiple articles on this concept, and it's still something I cannot hear enough.
When I am at my lowest and struggling the most, I often slip into feeling like I must be doing something wrong if things feel so hard. Sometimes I forget that "coping" is not synonymous with "erasing pain." Coping is meant to soothe and ease our journey through challenging circumstances, not something that can wave a magic wand and make what is difficult disappear.
In my most difficult moments, I always try to remind myself that the best thing I can do is to take loving care of myself, and to do it just a little bit more gently. Sitting with whatever pain is making my heart and body ache and wrapping it in comforting warm love.
There are days where the pain is so enormous, there is nothing I can do but love my broken self through it and allow myself to feel the winds of hopelessness whip through me. On days like these, letting myself go to bed without fixing or labeling my exasperation as wrong is one of the most courageous coping skills I can deploy.
3. You are not in a chess match with your symptoms, sometimes pain happens for no clear reason.
There will be days where triggers may be high and yet you have low pain and other days where despite your best efforts to mitigate triggers, you find yourself in high, excruciating, unrelenting pain. It's imperative to remind yourself often that you're going through something that has a cumulative effect, and that what you feel today isn't necessarily about what you do on any particular day. As hard as it is, give yourself permission over and over again to surrender to the mystery of how and what contributes to pain peaking, especially when you're sprinting in survival mode.
This is one of the most challenging aspects of daily life with chronic illness for me, and it was only heightened during our evacuation. It is confusing to experience symptoms that can be so unpredictable and inconsistent even as you do your best to manage your energy with gentle care. On some days of our evacuation adventure, I was genuinely baffled by the physical and emotional resilience my body displayed.
On days that "should" have been absolutely horrendous symptom-wise, considering the severity or frequency of triggers I was exposed to, I sometimes found myself in low pain. In contrast, there were other days, full of restful downtime, and doing everything "right", that were absolutely, sheerly, brutally, agonizingly difficult. Reminding myself as gently as possible that escalating pain is not directly correlated to making "bad" or "wrong" decisions was one of the most important ways I softened the jagged edges of moving through hard things.
4. You are allowed to hold heartbreak, pain, and grief in one hand — and — joy, lightness, and gratitude in the other.
This is a permission slip I know I'll be giving myself for the rest of my life, and I hope that it's one you can begin to offer yourself, too. We are all dynamic beings, and we deserve to allow ourselves to experience the full spectrum of the human experience in every present, aware moment we are able to drop into.
When going through something challenging, it's often hard to "lean in" to joy. This is both because it feels unnatural and, especially when managing the symptoms of chronic illness, there is a fear that others will assume that we can't be struggling if we are also experiencing joy. For years, I was stuck in this limiting belief, as if putting boundaries around my joy was the price I had to pay for others to believe the depth of my pain. 
One of the most healing things that has happened to me since my chronic illness diagnosis has been learning to hold space for joy and pain to exist in the exact same breath. Navigating the Ida evacuation, this lesson came into play over and over again. Inside of stressful days, anxious evenings or symptoms flaring, I allowed joy to float through my experience like warm, golden dust particles in the air. Sometimes, the light would catch just the right way, and my husband and I would start laughing over something goofy. Other times, the gentle snore of my dog filled me with gratitude and love for his big presence in our chaotic journey. Giving myself permission to embrace moments of light no matter the size of the pain also present, not only transformed those two weeks — but has also illuminated the way I move through my life at large.
5. You are more resilient than you feel in your most broken moments.
You don't have to feel brave to be brave. One of my favorite mantras in moments that I feel like I am lost at sea clinging to a piece of driftwood while waves crash and thrash around me is, "courage rides on my inhales and exhales," whether I can feel it there or not.
I can't even begin to count how many moments during our evacuation experience I was afraid that my resilience had dried up and run out. On our seven-hour drive to Austin, TX I experienced a migraine attack that escalated with each passing mile despite me throwing every single tool and medication in my arsenal at it. During the subsequent two days, my pain stayed at a solid 9/10, only budging the smallest amount in the moments I sat in the shower to let the hot water run over my eyes. Some evenings, I felt gripped with anxiety about the number of tasks that lay ahead of us in a 36 hour period, requiring more energy and stamina than I normally expend in a whole week (or three!)
In these moments that felt utterly impossible, I reminded myself that I have made it through impossible pain before, and I could do it again. Very much like a storm, the emotional state of feeling like I was not resilient enough to withstand would blow through, and my courage would return. I just had to patiently wait it out and create space for what was happening to be.
6. Pain makes everything a little bit harder, so please make sure you are being a little bit more gentle with yourself than usual.
At times, I needed the gentle reminder that as a result of chronic illness and pain, I was navigating Ida evacuation with an extra level of complexity than many of our friends and family. Having to consider the way factors like my sensitivity to car rides, heat, stimuli, interaction with others and the outside world at large are inextricably linked with my physical pain experience more consideration and creates additional challenges.
Throughout our evacuation, how I might cope with factors like early mornings, multi-hour car rides, staying in a home with multiple people, or finding food that worked with my dietary restrictions were at the forefront of my mind, every single day.
Photos of friends and other families we knew making good use of their "hurrication" and turning it into a "vacation," while I spent days holed up in hotel rooms breathing myself through high pain, were poignant reminders that I was having a very different experience than many of the people I know, love and care deeply for. There were moments where I felt guilty for not being able to keep up with everyone else, or make the same choices other family members made in terms of where to evacuate. When those times felt overwhelming, I would return to the truth that I was living a different experience than theirs because of my chronic illness, which helped me to gently whisper a dialogue of self-kindness back into my thoughts.
7. You can endure things you are certain that you cannot endure. 
This is a lesson I repeatedly return to in my daily life, but is especially apropos to a life with chronic illness. There are some mountains I face that seem utterly unsurvivable. Standing at the base of one and looking up fills me with dread and a feeling that there is no way I can make it all the way to the top, back down the other side, returning finally to the peace of a gentle, smooth valley. And yet, every single time, I somehow manage to do just that; I learn there is a life force inside me that can do the things I am certain I cannot do, even when I feel too tired to conceptualize what that might look like or believe it to be true.
It's so healing to get to share and connect with you in this way. Thank you to every single person who has taken the time to send notes of encouragement, support, love and compassion. And thank you to all who have taken the time to read this story! I deeply appreciate the fact that in a landscape where we have infinite options for entertainment and finite hours in a day, you have chosen to spend some time here with me.
All my love,
Natalie
Originally published: October 1, 2021