I Have a Skin Condition — but Please Don't Be Afraid of Me
---
When you live with a chronic illness, many symptoms such as pain or fatigue tend to be "invisible." Skin issues, on the other hand… well, usually, not so much.
Chronic skin conditions can develop independently and exist on their own, or they may result from another illness or medication you take. Skin issues are numerous and diverse, and may affect people in countless ways.
Unfortunately, one experience many have in common is being judged or treated disrespectfully because of their skin condition. Depending on your condition, the part of the body it affects and the climate where you live, the affected skin may be very visible some days. And it can be incredibly hurtful for someone to keep their distance, or make a comment about how you look "contagious" when you're simply trying to live your life with an illness you might not have much control over.
Of course, some skin diseases (such as bacterial or fungal infections) certainly can be contagious – in which case the person with the condition has a responsibility to ensure they are taking appropriate measures to try to prevent further spread of the disease. But either way, the people with these conditions are still people and deserve to be treated as such: with respect and compassion.
The first step towards being more understanding and inclusive of those with skin conditions is by raising awareness of what they can look like, and normalizing the concept that "skin issue" does not necessarily equal "contagious" or "scary."
We asked our Mighty community to share a photo that shows what it looks like to have a chronic skin condition, and what they wish others understood. If you know or come across someone in your own life with skin issues, extend kindness rather than judgment.
Here's what our community shared with us:
1. "I get random rashes on my skin from things just brushing against me. And they can last for hours at a time. It's not hives or an allergic reaction, usually it doesn't itch, and I don't know it's there unless someone says something." – Krystina K.F.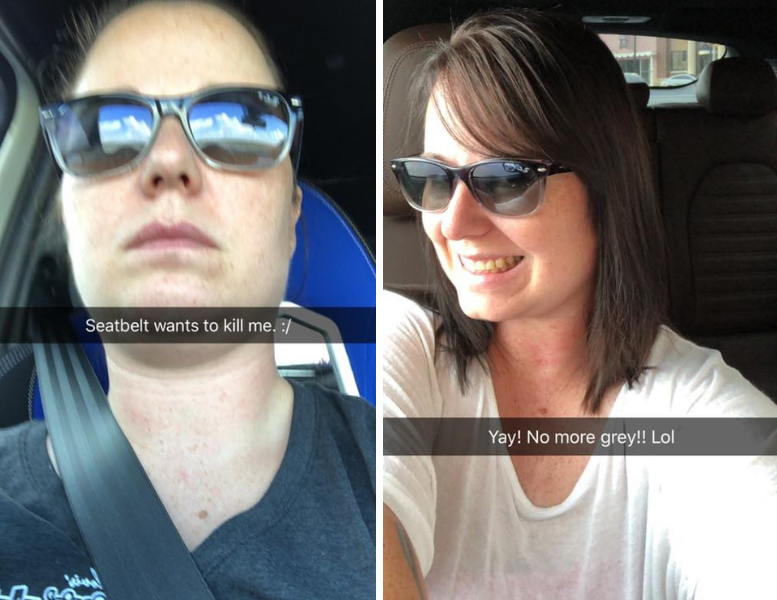 2. "Hidradenitis suppurativa. It is a skin condition with no cure that tends to get worse with time and can affect multiple parts of the body at once and often leads to disability. It's not from improper hygiene or environmental causes, it's an autoimmune condition with very little known about it. It's painful, it smells, it prevents self-care like shaving (a lot of us just trim), it can interfere with work and relationships and the worst part is that they know so little about it." – Elisabeth M.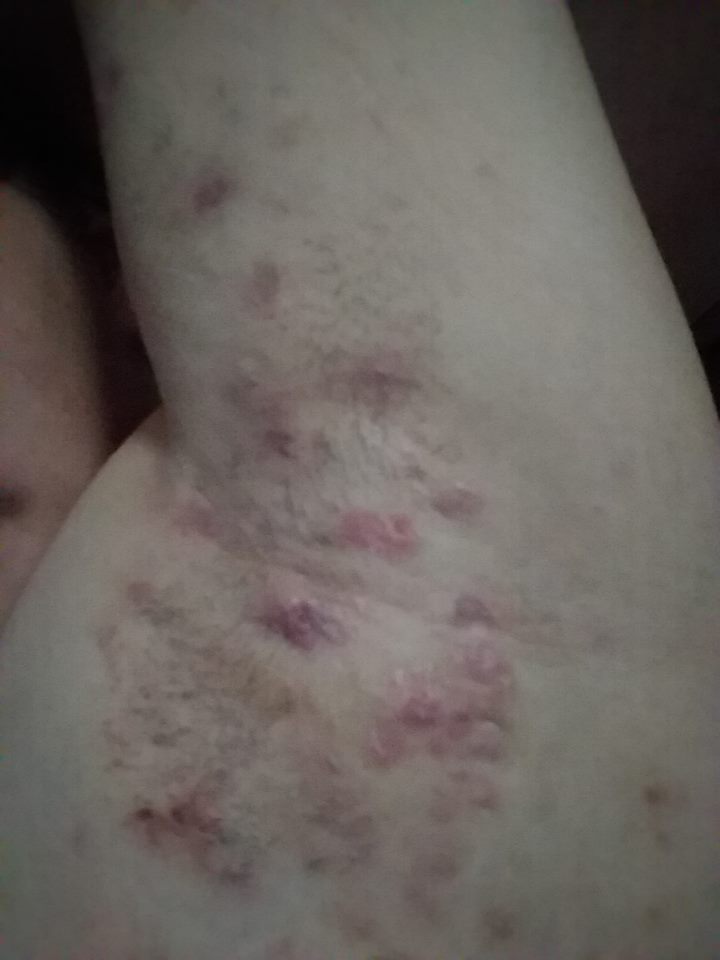 3. "Pink salmon colored rash all over! I get it when I flare up or have a slight fever. I have adult-onset Still's disease. The rash doesn't itch for me. I've heard others can be itchy. Mine will start at my chest and just continues down my body. My husband will point it out like, 'Hey, hun, are you feeling OK? Because your rash is coming back?' And usually I'm feeling pretty crappy but I'm not contagious." – Ember G.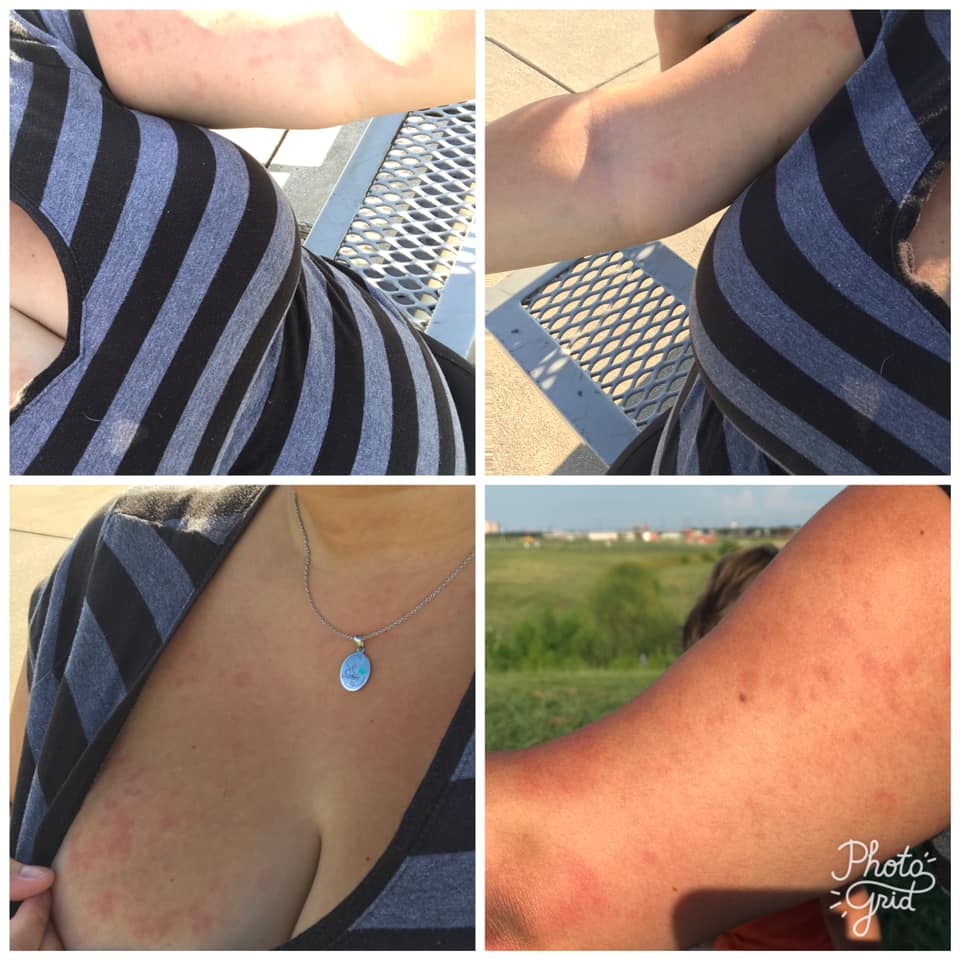 4. "Scalp and ear psoriasis. It's painful, flaky and itchy. Sometimes it looks like I have a deep cut behind my ear when it flares up (feels like it too). It's not contagious and it's not dandruff. Dandruff shampoo will not always make it go away. Psoriasis is super itchy and it's difficult not to scratch it which can result in 'snowy' shoulders. What people don't realize is while they can be afraid of catching it (even though that won't ever happen) I'm more afraid of catching things from them due to my compromised immune system." – Mandy S.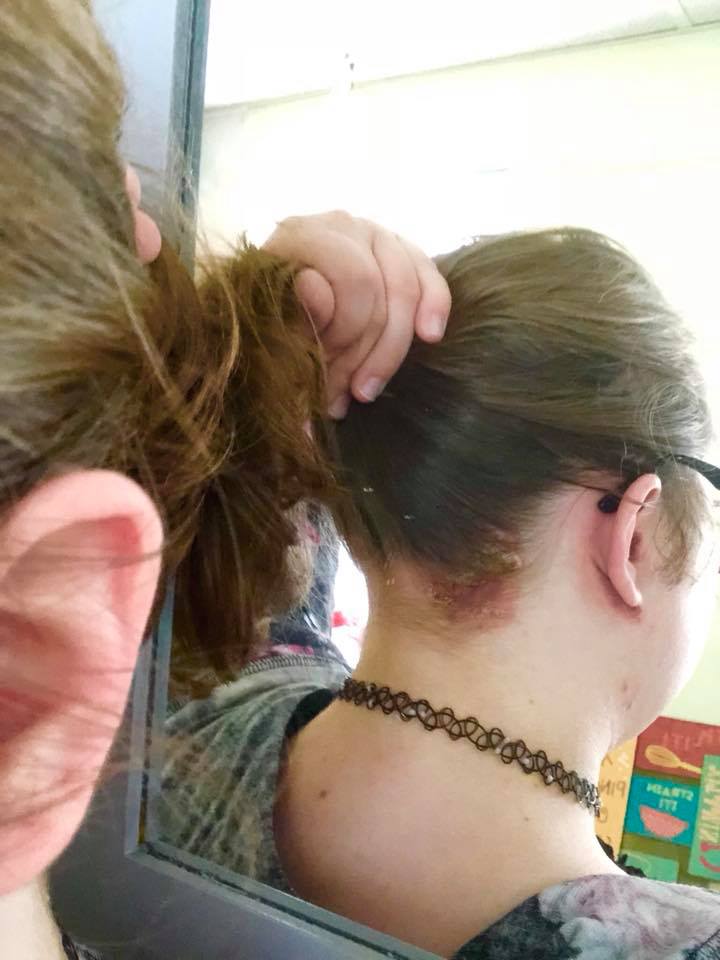 5. "I have had psoriasis for more than 50 years and psoriatic arthritis for 20 years but was not diagnosed with psoriatic arthritis until 10 years ago. I am a blogger and an advocate for psoriasis while educating others about this disease. Since my younger years, the struggle has continued, but I've learned how to better manage my condition. This battle has taken on a life of its own and I have made it my mission to help other psoriasis and psoriatic disease patients know that they can come out fighting. The ultimate goal is to stop the stigma associated with this disease and ultimately find a cure." – Diane T.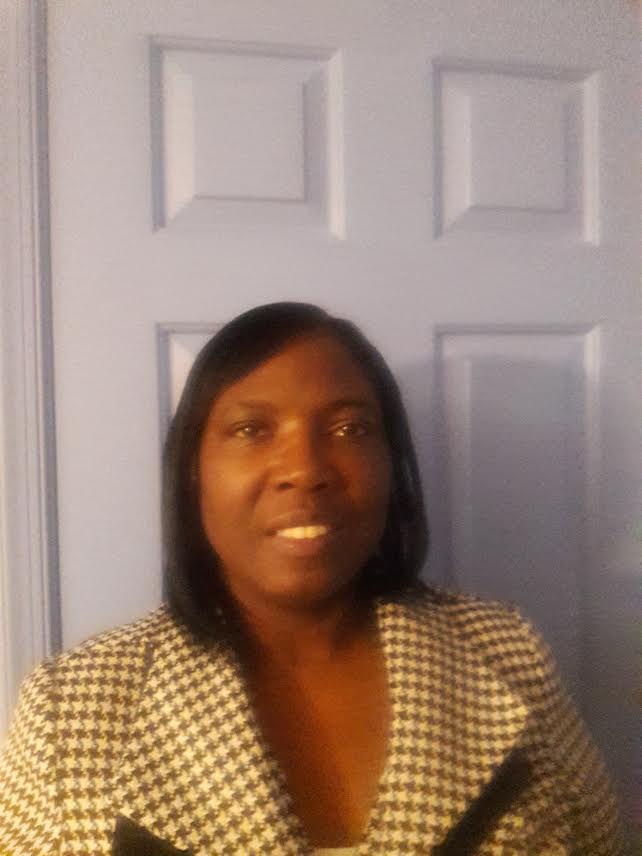 6. "This is my livedo reticularis rash which is caused by my autoimmune disease. It's always there but comes out more vividly like this when my disease is flaring or I'm feeling crappier than usual. It's caused by the inflammation of the tiny blood vessels in my skin. I get it on my arms and legs and trunk. It's not contagious but is unsightly on bad days." – Janey G.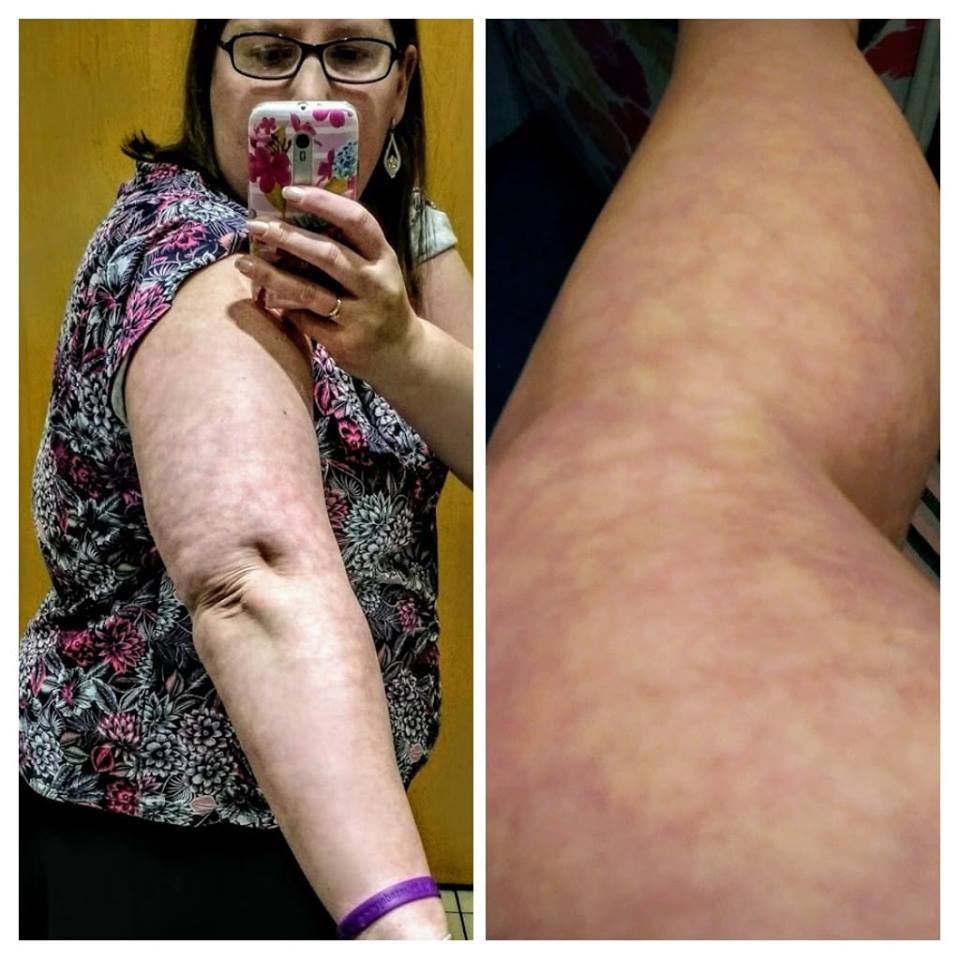 7. "When you're allergic to everything and still have to function like a normal human being and you go out and some obnoxious teenage-adult points and says, 'you have leprosy, get away from me.' My legs were covered in bug bites which I was allergic to, joys of MCAS [mast cell activation syndrome]." – Charmane S.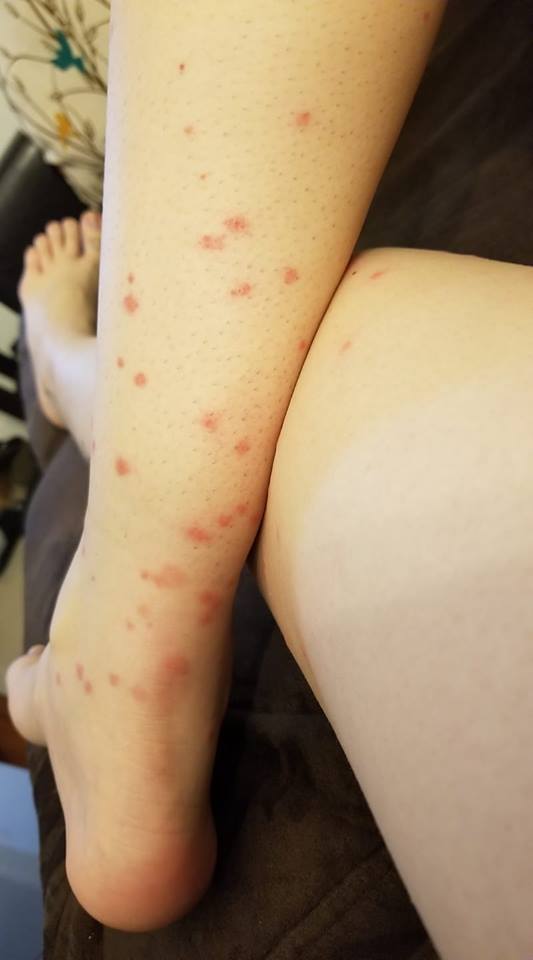 8. "I have eczema. The worst is on my hands, but I also have it on my scalp, chest, abdomen and hips. I work in food and customer service, so I'm always very paranoid of what customers think when they see my hands. I always want to shout 'I'm not contagious!' any time I catch someone looking at my hands. The only way I've ever been able to control it is with topical steroids, but once I stop using them after it clears up, it flares right back up. The top three images are more recent. The bottom three are from when I was in the midst of a major flare. I had minor issues with it as a kid, but once my Sjögren's became prominent, I started having bigger issues with it." – Karen M.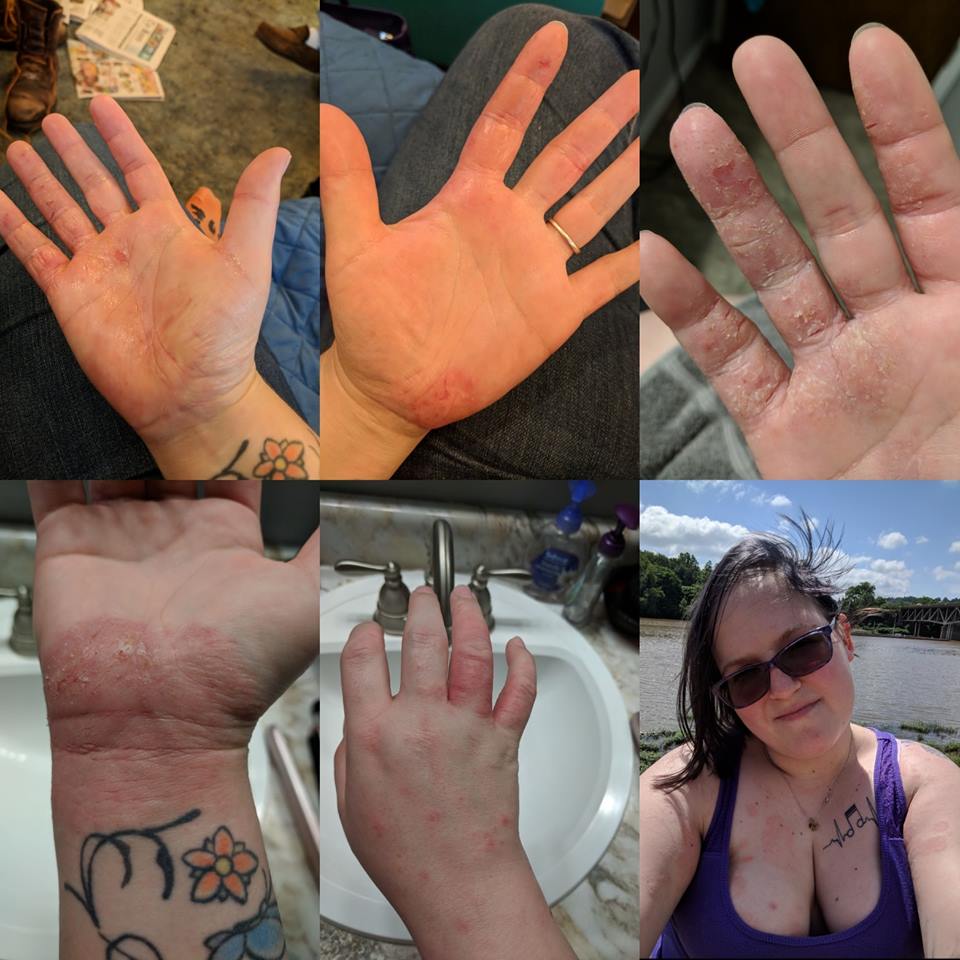 9. "I'm a keloid scar-er, which means that my body over produces scar tissue. That, in turn, makes my scars turn into giant, hard lumps called keloids. I want people to know that they aren't anything funky, they aren't zits, they aren't contagious. They are just scars!" – Liz Ann T.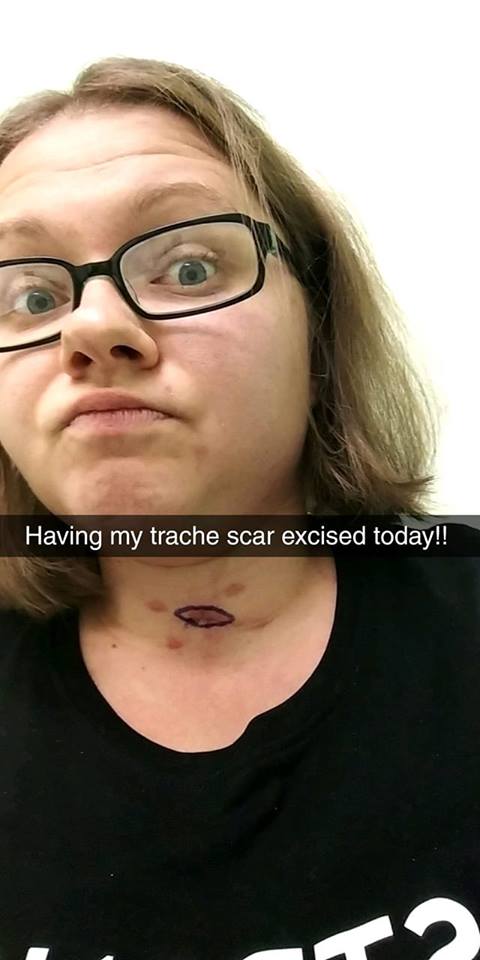 10. "I have dermatomyositis, it's an autoimmune disease. I get a rash on my skin when I've pushed my limits too far. Sometimes it itches a little but usually it doesn't. It is not contagious!" – Pennie D.N.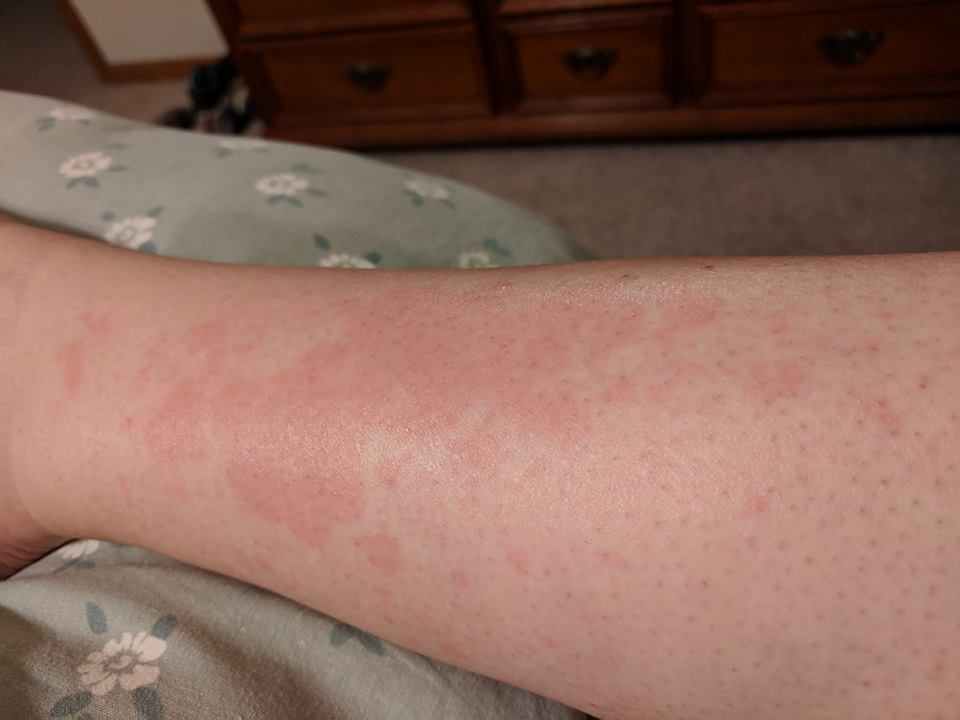 11. "Hidradentitis suppurativa. It's not just what you see. It's dermatological but it causes pain like rheumatoid arthritis. Full body, bone, joint and body pain. The 'eruptions' are like having a marble inside the tissue and they tend to pop up right on nerves I have a problem with. There are two on my face (one is raw on the chin) right at the ends of two branches of the trigeminal nerve and I have bad trigeminal neuralgia so an outbreak agitates it awfully. This picture is actually rather pretty compared to how it looked a few days before and after. [HS is] under-diagnosed because of stigmas, it also can be mistaken for severe acne even by doctors. If you have sores that seem like acne or something I have described, large raw spots, etc., talk to your doctor. It's good to be careful with skin conditions but it is not contagious (unless something else is added like an infection which can happen)." – Arie K.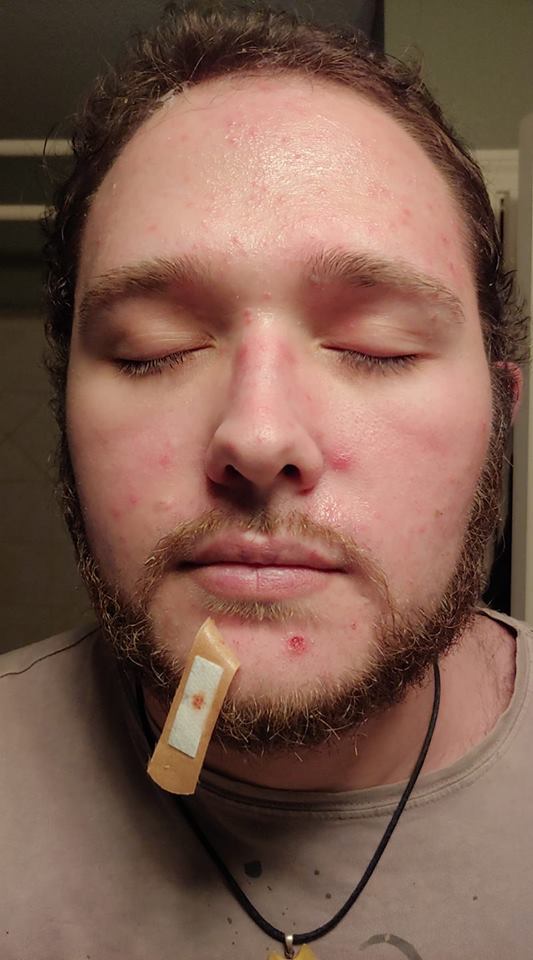 12. "I get flare-ups occasionally on my skin as rashes from my fibromyalgia. I also get blotching on my neck and chest no matter what I do." – Victoria C.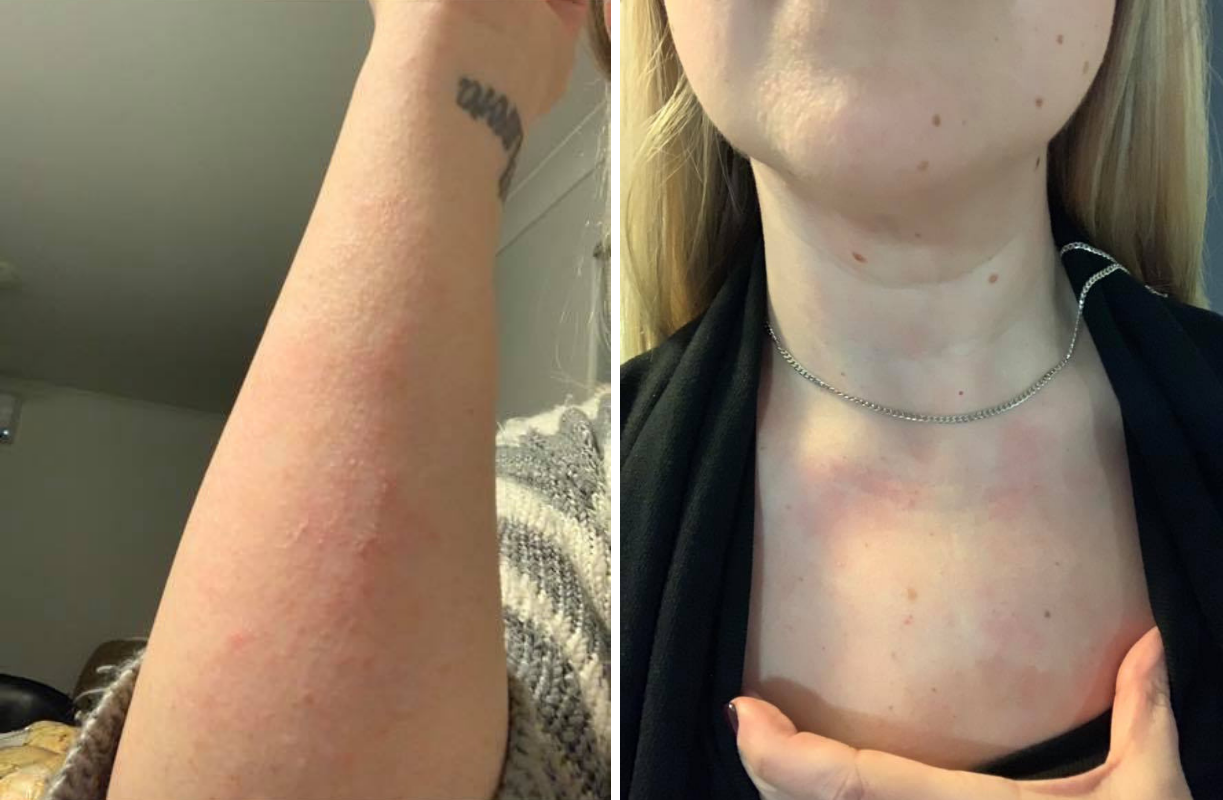 13. "I know that my eczema looks bad. Yes, it does hurt, and no, you can't catch it from me. I'm more worried about catching something from you. Having eczema and multiple autoimmune diseases makes it much easier for me to get skin infections and honestly, I can't afford to get sick. Sometimes I have to take nightly bleach baths just to make sure I don't catch anything." – Brittany A.
14. "Dermatographia – known as skin writing. It's a form of urticaria. Some people don't experience pain when they draw on their skin and the marks fade within 30 minutes. Unfortunately I do experience a burning pain and can feel heat coming off these marks. They can stay put for hours. I've also found that my skin becomes inflamed from the slightest brush against it during hot weather. Corn is one of my mast cell activation syndrome triggers. I'm also allergic to corn and can be an ingested, airborne and on contact reactor. One of my more unusual reactions was when the skin of my wrist became inflamed after split second contact with a few sheets of toilet roll that I was going to use as a tissue because I'd forgotten my cotton handkerchief. I reacted to the corn starch on them. Corn can be hard to avoid because it's in nearly everything." – Pam M.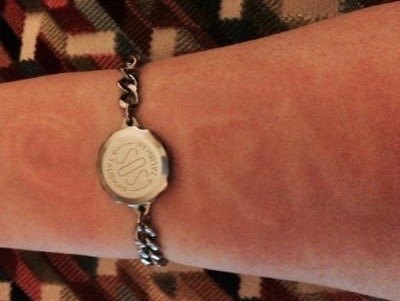 15. "[Left:] Hidradenitis suppurativa under left arm. My left armpit has been a little bit better. During a period of two years I had them constantly but then it has been more seldom. [Right:] HS, under right arm. This is how it looks after eight years of constantly having active boils and having had pads with medical alcohol on to dry them out one after one after one. I still get them, but not every day, maybe once a month now." – Annette R.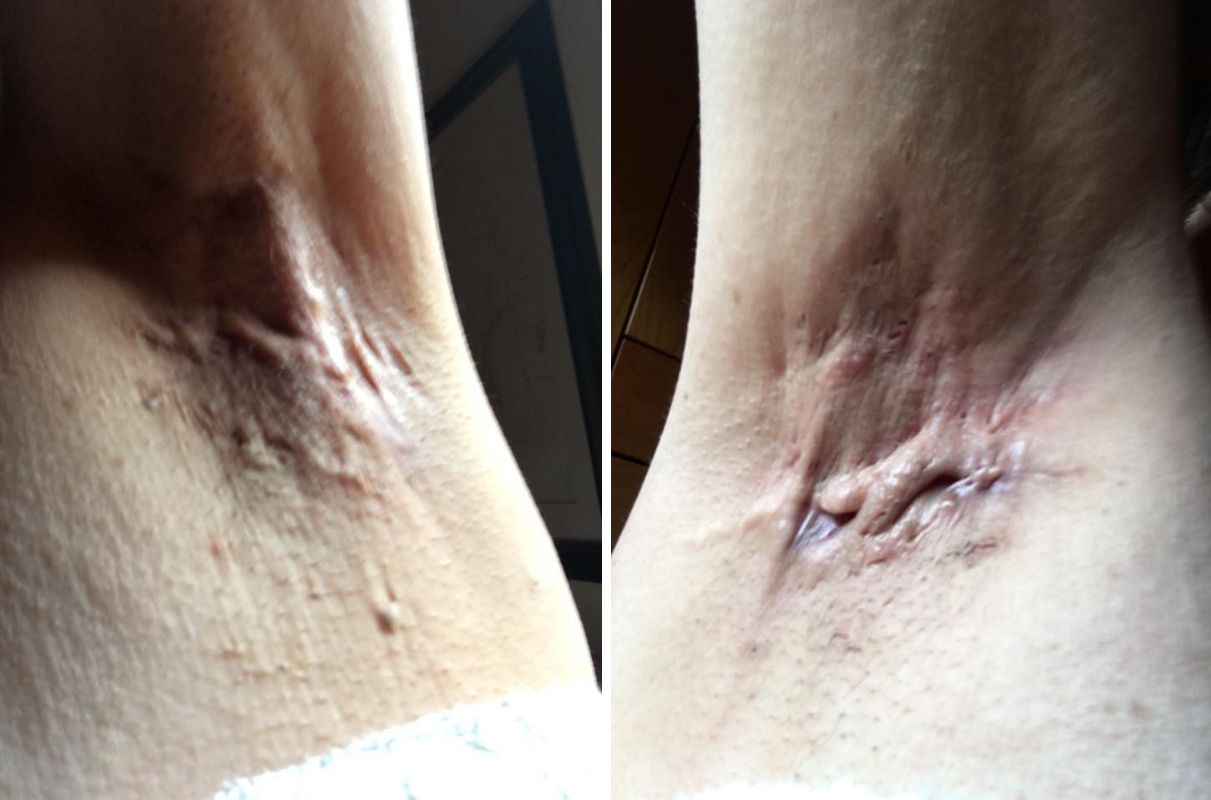 16. "'Toasted skin syndrome.' It's from overuse of my heating pad because I'm always in so much pain. You can also see on the right side where kinesio tape ripped my skin off because it's so fragile from EDS [Ehlers-Danlos syndrome]." – Sarah B.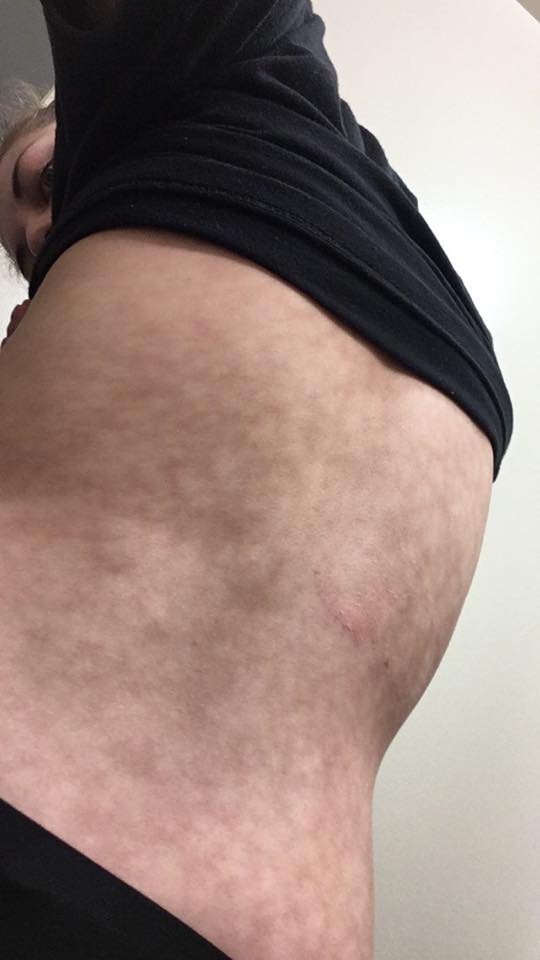 17. "That small spot on my arm is psoriasis. This picture was taken last year and in a year this spot has grown to almost cover my entire arm. I once made a lady leave the swimming pool in disgust after I entered. With time you learn how to live with the looks." – Malina M.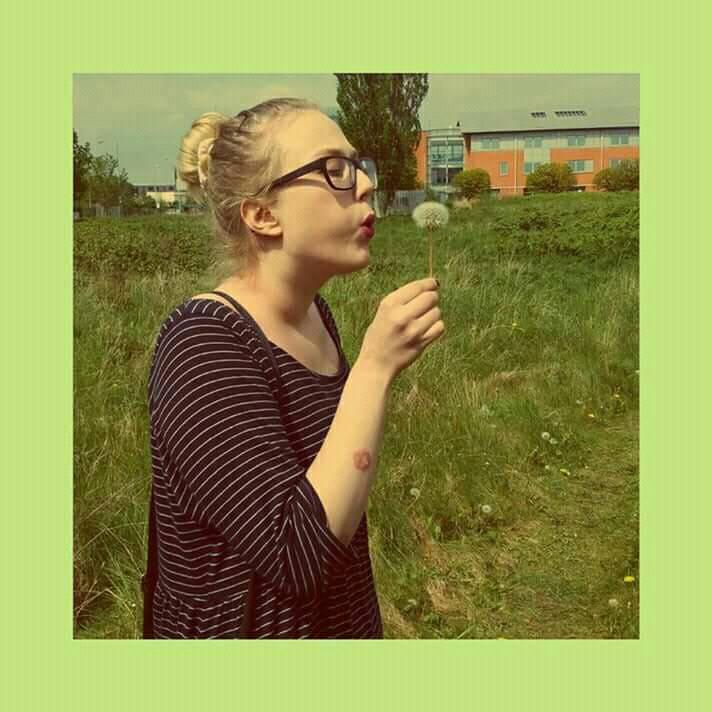 18. "Because of my hEDS I have very sensitive skin and adhesives cause me to get rashes, and I also don't heal well and my scars look pretty scary. I've had people comment on how prominent my scars are, and how scary they look. I wish people would know that the rashes I get from adhesives aren't contagious, you don't have to be afraid, and my scars aren't 'infected' or in a bad way just because they are prominent, and there is absolutely nothing I can do about it! I try to cover them up as often as I can to not draw attention." – Amanda L.E.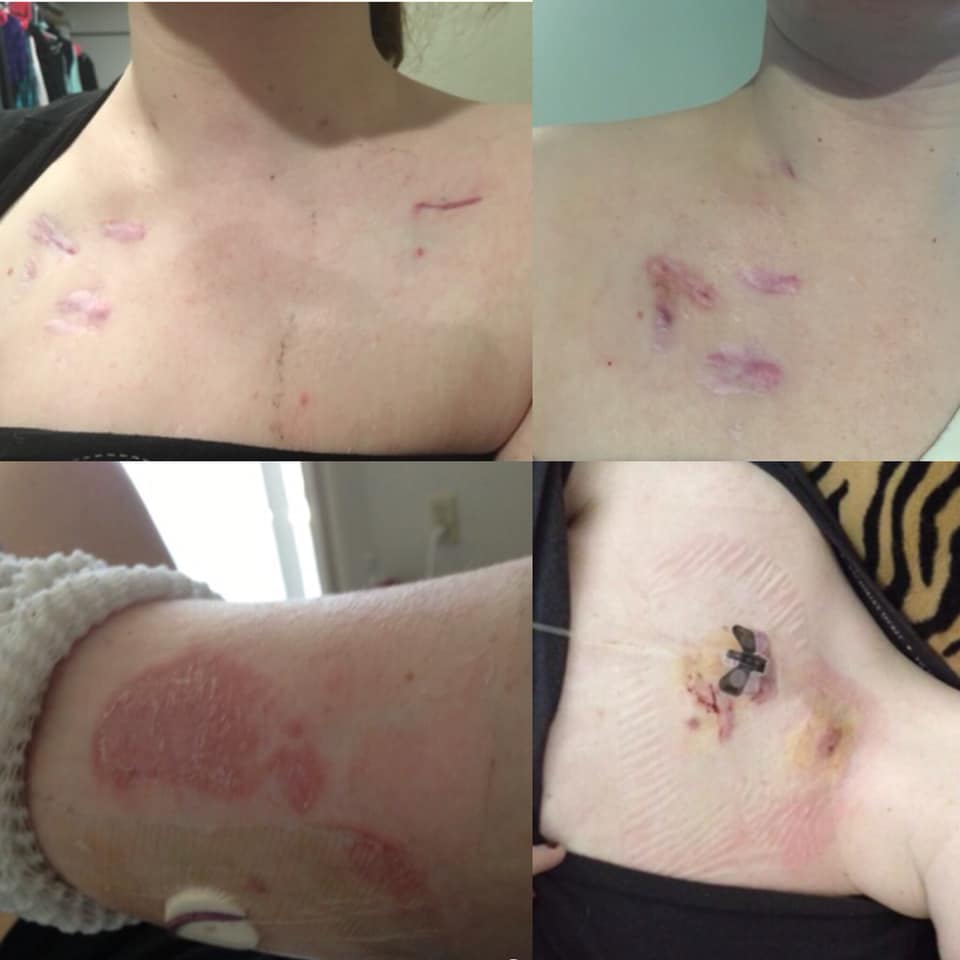 19. "I've had PLC (pityriasis lichenoides chronica) for over 20 years. While I spent much of my adolescence covered up in large part due to insensitive comments (read: a dermatologist that asked, 'Is it always this bad?!'), becoming a mother helped shift my perspective. While it may not be pleasant to look at, PLC does not hurt or itch, and it is not contagious. Most importantly, it does not define or limit me. PLC does humble me and help me connect with others. This is a great privilege, as situations are always about people. Remember that, and walk proudly." – Giana H.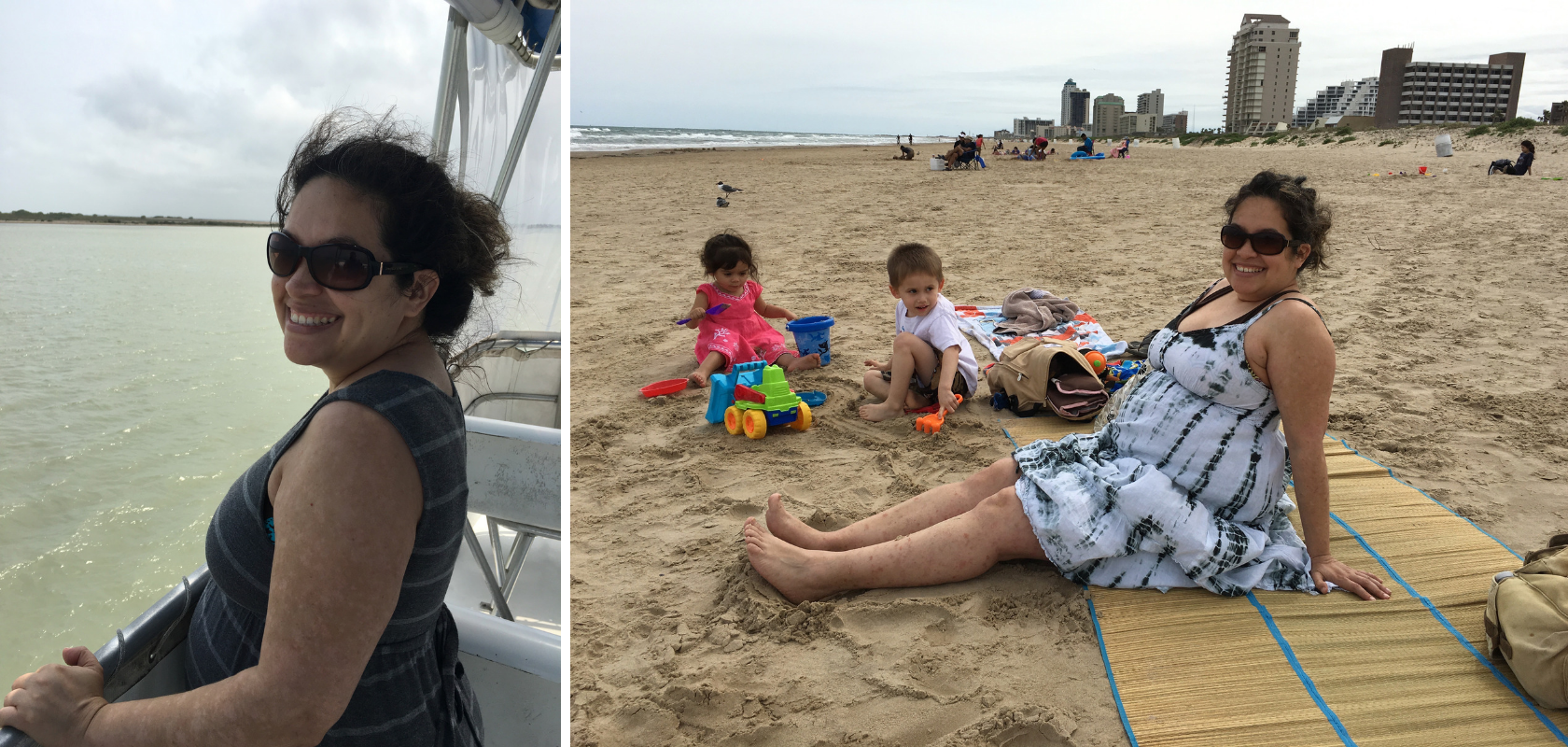 Originally published: October 4, 2018