What I Hear When You Say I'm 'Too Young' to Have So Many Health Issues
---
If I had a dollar for all the times people have told me that I'm "too young" to have so many health issues, I wouldn't be worrying about my mountain of student loan debt or medical bills. My default response to those people? Illness doesn't discriminate. That's the truth, and sometimes it feels like I'm the only one on earth who gets it.
I almost always give people the benefit of the doubt, but every time I hear that statement it makes the pain worse. I hear it from strangers, friends, family and even medical professionals. When people say I'm "too young" to hurt so much or to have so many health issues, what I really hear is, "Your pain can't be real." My age immediately discounts my experience with chronic illness, and I'm left feeling like I have to pretend to feel "good." What hurts me even more in those moments is that I don't even remember a time I felt "good."
For those of you who haven't experienced chronic illness firsthand, it's hard to imagine what it's like, but I'd urge you to at least try. You might not think much of it, but when you tell someone they "shouldn't hurt" or they "shouldn't feel" a certain way, it can have devastating effects. A few simple words can feel like a tidal wave to someone else. I truly believe most people don't intend their comments to come across as hurtful or insensitive, but that doesn't make it hurt any less.
Over the years I've learned to struggle in silence. There are, however, people I couldn't ever hide from even if I tried, like my closest friends, family and partners. A handful of them know my history, my struggles and how to tell when things get really bad. Between the age of 18 and 22 my migraines were so bad that a few of my friends carried around painkillers just in case I didn't have any with me. I had three to four migraines a week that didn't respond to medication, and they seemed to be triggered by everything. I couldn't go to events, I couldn't go to the movies, I couldn't go to bars and a lot of the time I couldn't do anything other than lay down and wish my life was different. The only reason I was even able to go to work or school (or both) through most of my migraines is because miraculously I rarely ever throw up. I called out sick and skipped classes a few times because of the migraines, but most of the time I had to find a way to deal with it until I could go home and collapse. At that point I knew  only sleep would help, and that was another challenge in itself.
Looking back now on an eight-year career in retail with chronic pain, chronic migraines, fibromyalgia and constant exhaustion, I have no idea how I did it. I struggled daily with widespread pain, muscle stiffness, swollen joints, numbness, pins and needles sensations, exhaustion and dizziness. Lifting or reaching triggered immediate muscle stiffness in my neck and back that would turn into a full-blown migraine shortly after. Standing in one place for more than 15 minutes or so would cause my knees to start burning to the point that I'd have to find any excuse to use the bathroom so I could sit down for a minute. Designing at a standing workstation also triggered my carpal tunnel symptom, which lead to yet another form of pain and neurological symptoms. Sitting at a computer would cause numbness in my knees and immediate shoulder and neck pain that would then cause numbness in my lips and hands. I dreaded lifting anything because I knew it would take days to recover, but it couldn't be avoided. I loved my job, and I was one of our leaders, so I tried to hide my pain and desperation.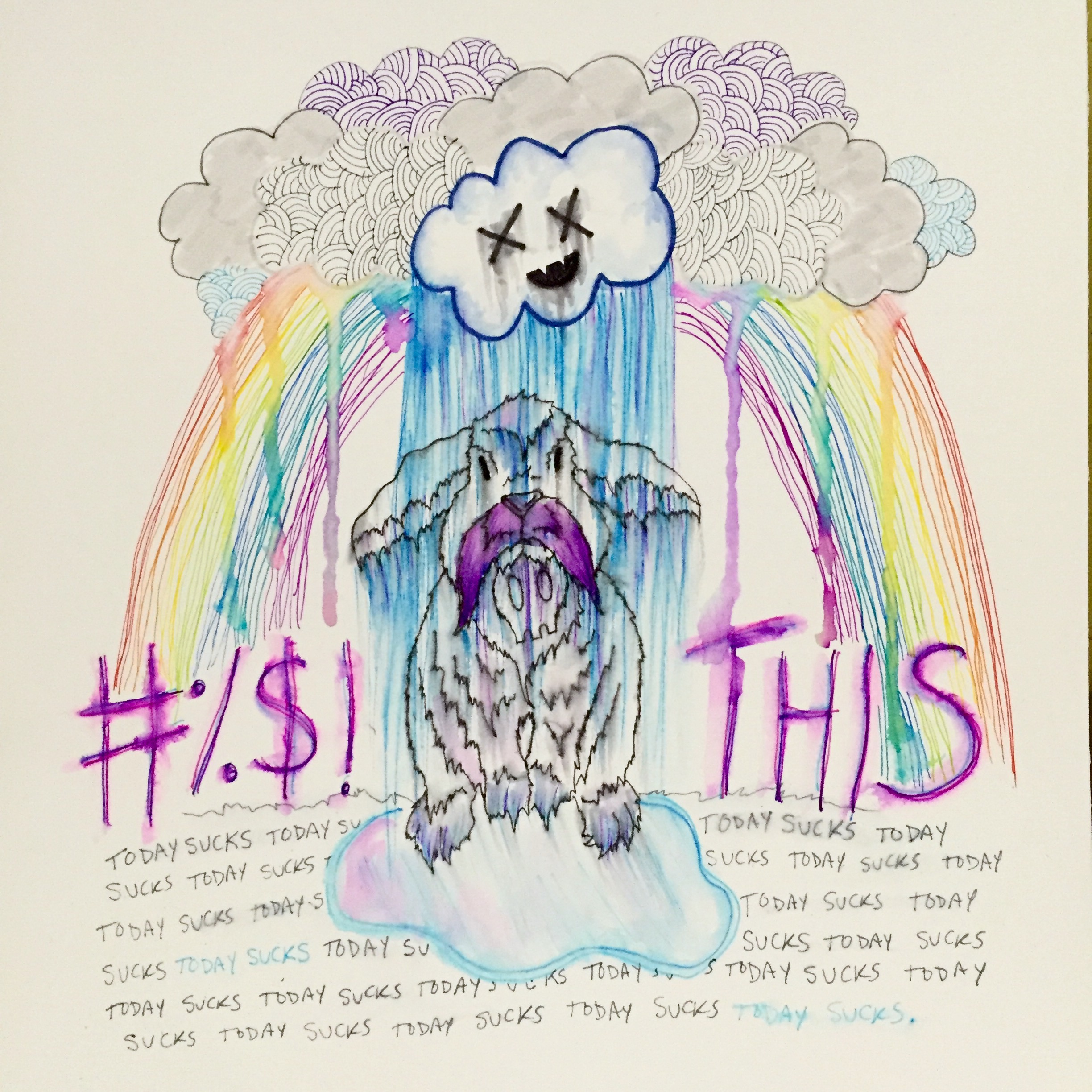 Over the years, the word "hiding" has shifted a lot for me. I've been dealing with chronic illness and chronic pain since I was 15 years old, and hiding was easier at first. I probably should have seen more doctors earlier on in life, but I hid everything too well to the point that no one was all that worried. I already had a lot of weight on my shoulders with depression, anxiety, sexuality, being bullied and dealing with awful body image issues. I didn't want anyone to judge me any more than it felt like they already were. Over the last few years my "hiding" has been far more visible. I was known for having a small pharmacy in my locker at work, I constantly smelled like toothpaste from the menthol rubs I used daily for pain, I wore knees braces, wrist braces and shoulder braces, and I had very strict dietary restrictions from food allergies. My hands were always rubbing my shoulders and neck, I was frequently caught steadying myself on something and I had a lot less energy to put into pretending I was OK. My doctors told me to sit more, lift less and considered restricted activities, but everything needed to be tailored to my needs for it to help. I knew I had rights, but the nature of my job just wasn't compatible with my health needs. I modified activities wherever I could, but I ultimately left it at that. I had too much pride and too much anxiety that prevented me from admitting I couldn't keep it up much longer.
My struggling became more and more apparent, especially after an unexpected ambulance ride from work due to anaphylaxis and multiple occasions where I left early to go to the doctor or ER because I thought I was having a stroke, a heart attack or some other nightmare. People often reminded me not to lift things, they offered to help whenever possible and they offered hugs from time to time. As the years went on, the people I couldn't hide from started to see that my age hadn't done me any good. If anything, my age only allowed me to hide my illness for as long as I did.
A sudden and unexpected change in my life this past year caused me to give up my career, my apartment, my pets and my life as I knew it to move in with my parents after almost a decade on my own. Having to rely on anyone again terrified me, and I feared it would trigger a whole layer of anxiety I had tried to leave behind in childhood. I didn't have many options, and my worsening health really sealed the deal for me. A huge part of my support system had unexpectedly disappeared overnight, leaving me with a huge emotional and financial burden I just couldn't bear on my own. I moved in with my parents, and that has turned out to be one of the best decisions I could have ever made.
I wish I could say my health is better now, but I can't really. Some things have improved, many are the same, some have gotten worse and a few things have been added to the list of symptoms. I see my doctor every couple of weeks now, and I've undergone a new wave of tests and seen a handful of specialists. Just about anyone with chronic pain and chronic illness will tell you it is a horribly slow process that often results in more questions than answers.
After over 12 years of dealing with constant pain, illness and anxiety, I can honestly say it's hard to imagine what life will be like 10, 20 or 30 years from now. I want to imagine being healthy and happy, but I'm tired of being disappointed. After a while, disappointment turns into desperation and desperation turns into despair. I do my best, I try to live within my limits and I stay positive as best I can. As I get older, people tend to react less to my ailments, but it hasn't disappeared. I don't want to be sick and in pain, but time has taught me I have to live with what I've been given. The future is uncertain, but I'm still hopeful I'll feel even a little bit better in time.
If you live with chronic pain, chronic illness, migraines, neurological issues or any type of invisible illness, please know you're not alone. I know many of you are hiding just as I am and many of you are at a point where you can't even hide. We shouldn't have to hide. We should be able to exist in a world where we can spend whatever energy we have trying to feel better, instead of spending more energy than we have pretending to feel better.
To anyone reading this who doesn't live with an invisible disability or chronic health issues, please reflect on how the words you use can have an impact on those around you. No one is guaranteed a long, healthy life, and illness does not discriminate based on age, sex, gender, ethnicity or religion. It's OK to express concern, but telling someone they "shouldn't" feel a certain way doesn't help. In reality, it often makes it worse.
Maybe if we didn't have to hide so much there would be more access to healing. Just a thought.
We want to hear your story. Become a Mighty contributor here.
Top image by Silmairel
Originally published: October 25, 2016