12 Clothing Brands With Pain-Free Seams That Won't Hurt Your Skin
---
When the average person goes shopping for clothes, there may be several things to consider: your budget, items you need, how comfortable the garment is, how well it matches with other pieces in your wardrobe, maybe even the current trends, if you're into that sort of thing. But for many of those with illnesses, disabilities and chronic pain conditions, shopping for new clothes can involve even more considerations.
A number of different health conditions, ranging from fibromyalgia to autism spectrum disorder, can cause various fabrics and textures to feel anywhere from uncomfortable to downright excruciating on your skin. While the average person may find certain materials to feel soft and cozy, someone with painful, sensitive skin could find them to be quite the opposite.
One of the biggest culprits of pain and discomfort in our community is seams, which tend to exist in a large majority of clothing produced today. That's why we turned to our Mighty chronic pain community to ask which clothing brands they love that provide seamless options (or options with minimal seams) that don't aggravate their pain or sensitivities.
Here are their recommendations: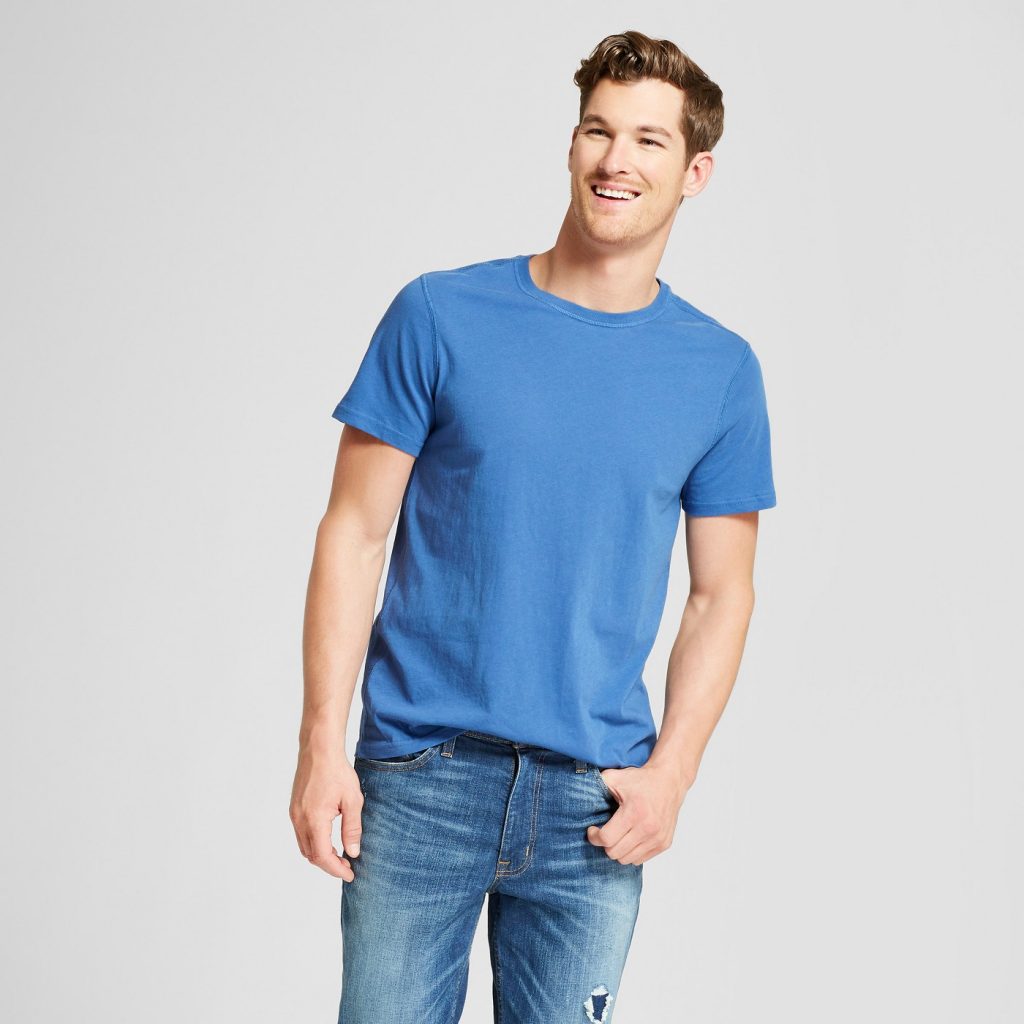 Target offers adaptive and sensory-friendly apparel for men, women and children with disabilities and sensory-sensitivities. The men's shirt featured above is tagless, made with 100 percent cotton and features flat seams for a gentler feel against the skin. Check out more of Target's adaptive clothing options here.
Buy the shirt above for $7.99 from Target.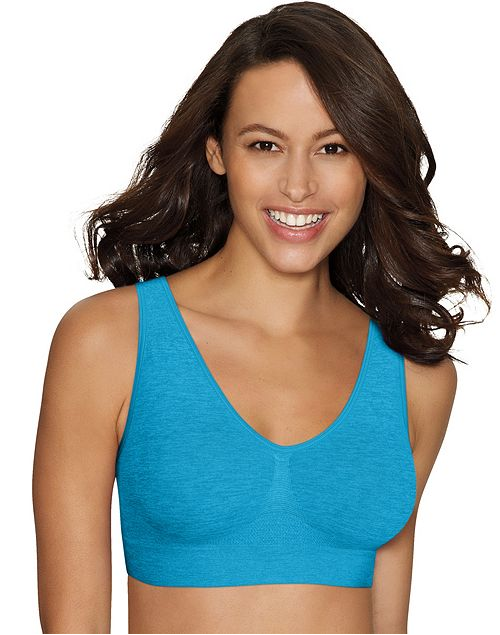 Hanes offers several seamless clothing options for women and girls, including underwear, bras, bodysuits/bodywear, leggings and capris. The bra above features seamless support, stretchy fabric, wide straps and a tag-free bottom band.
"Hanes Cozy seamless bras," recommended Patricia Andresen. "When my costochondritis flares up the chest pain is so bad that I can't stand regular underwire bras. These are a lifesaver. They are basically a soft sports bra but with enough support and separation to prevent uni-boob."
Buy the bra above for $12 from Hanes.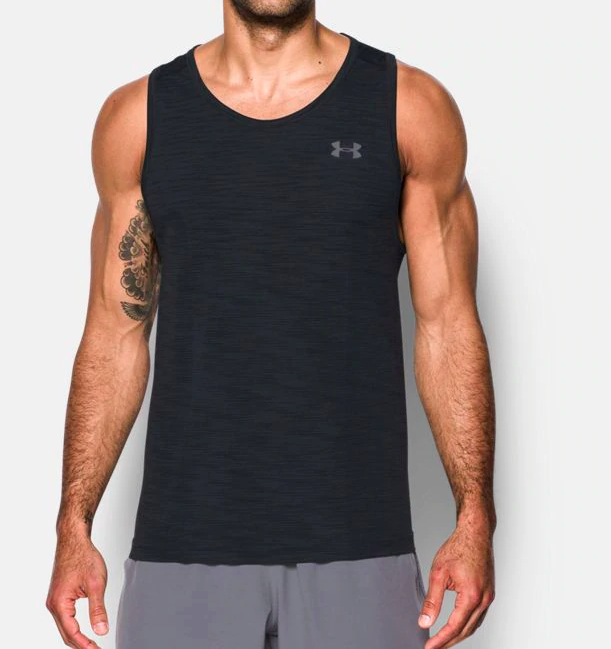 You don't have to be an athlete to enjoy the benefits of athletic apparel. Under Armour carries seamless tanks, shirts, shorts and leggings for both men and women. Their smooth, soft knit fabric is designed to help reduce chafing, encourage ventilation and wick away sweat to help you stay dry.
Virginia Rubley Kain told us, "I wear a lot of Under Armour for this exact reason. The shirts and hoodies are extremely soft and don't get that pilling over time like most clothing. I usually cut the tags out of the pants or shorts, which are also very soft. It can be pricey, but I try to shop off the clearance rack or at outlets. They last so long though, that I'm willing to spend $30 on a shirt that lasts me for years and stays comfy the whole time."
Buy the men's tank top above for $40 from Under Armour.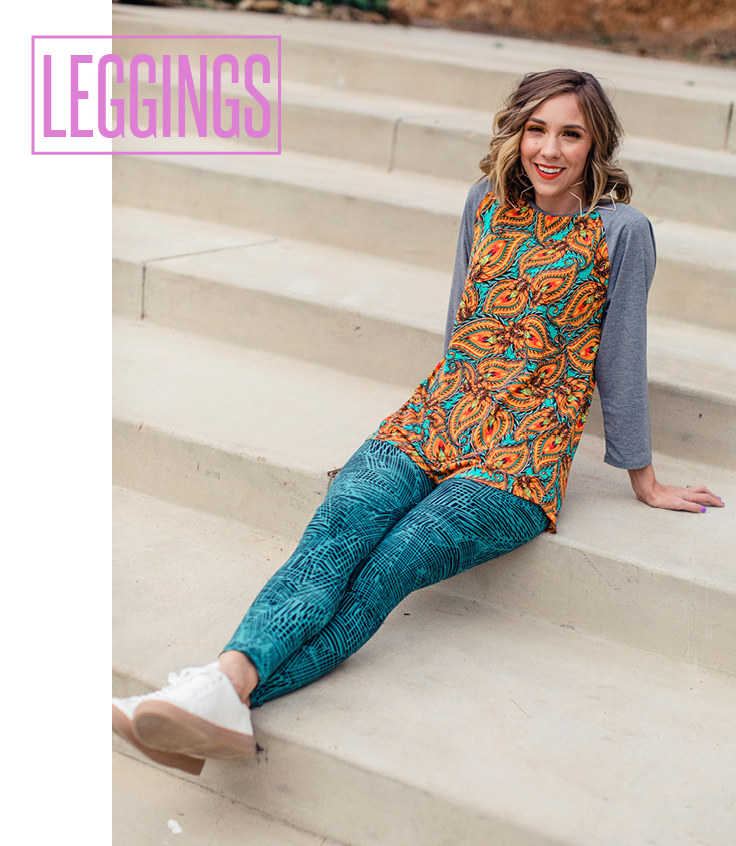 LuLaRoe is known for their soft, comfy styles and vibrant colors and patterns. They carry dresses, skirts, tops and bottoms for men, women and kids, but one of their most popular items tends to be their leggings, which usually retail for around $25 a pair.
"Technically LulaRoe has some seams, but they are literally the only thing I can wear now because of how awful my CRPS [complex regional pain syndrome] has gotten. I've heard several people bash them for poor quality, but I have never had a piece that does that. Yes, they can be a bit pricey, but when you are always in pain, you pay the price for comfort when you find it!" said Shannon Kelly Pryor.
Joan Wzontek Alba added, "It's not seamless, but the LuLaRoe leggings are so comfortable. I wear them most of the time with my lower back and leg/knee pain. Like wearing nothing. So soft with minimal seams."
LuLaRoe is only sold through independent consultants. Check out the collection and find a retailer here.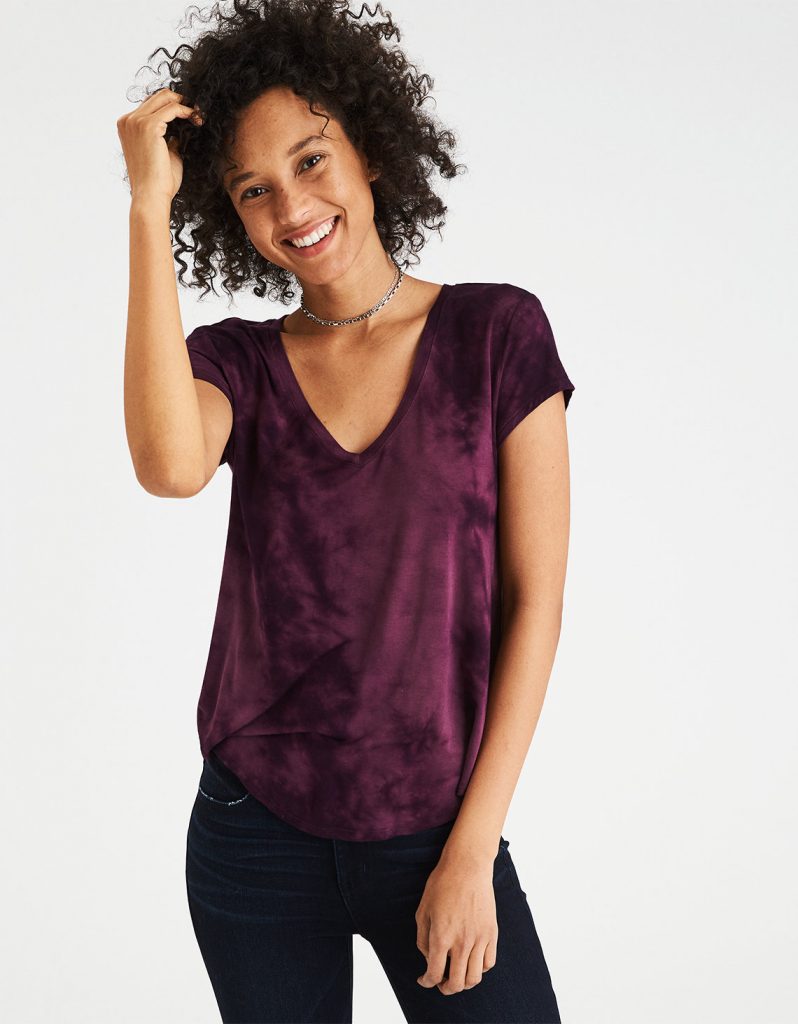 American Eagle's Soft & Sexy line isn't seamless, but it is tagless and has been washed and treated to be super soft. The line includes a variety of shirts and tanks for women.
"For shirts I like the Soft & Sexy line at American Eagle Outfitters. The material is so soft that a new shirt feels like an old worn in shirt!" recommended Elizabeth Altmann.
Buy the T-shirt above for $12.47 from American Eagle.
Fruit of the Loom carries all the essentials: underwear, bras, activewear and basic T-shirts/undershirts for men and women. The men's T-shirt above is seamless and lightweight, and comes in a wide range of colors.
Buy the T-shirt above for $3.99-$20.77 (prices vary by size) from Amazon.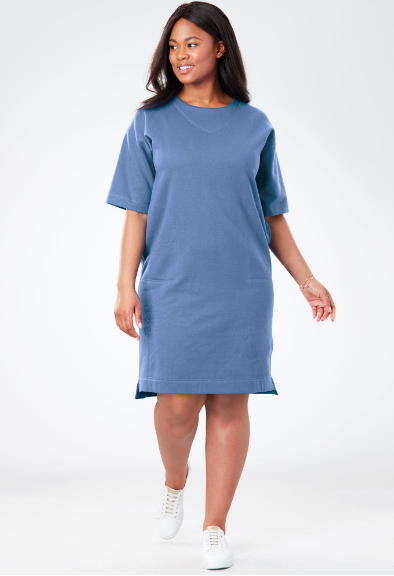 Woman Within offers a wide range of apparel and accessories for women, including lots of plus-size options. The short-sleeve dress above is made of fleece and has a relaxed fit with dropped shoulders so, even though there are seams, they loosely circle your arms and shouldn't put pressure on your back, neck or shoulders.
"Woman Within," said Tifney Schoenfeld. "Plus-sized clothes, very comfy, mostly tagless. I have everything from pajamas to pretty dresses that I bought through them. Good quality as well. Third summer on most of my short pajamas and skorts. Everything still in good shape."
"Longer Dresses from Kohl's or Woman Within," added Kathy Bishop Larkin. "Light, comfy and cool."
Buy the dress above for $22.11-26.92 (prices vary by size) from Woman Within.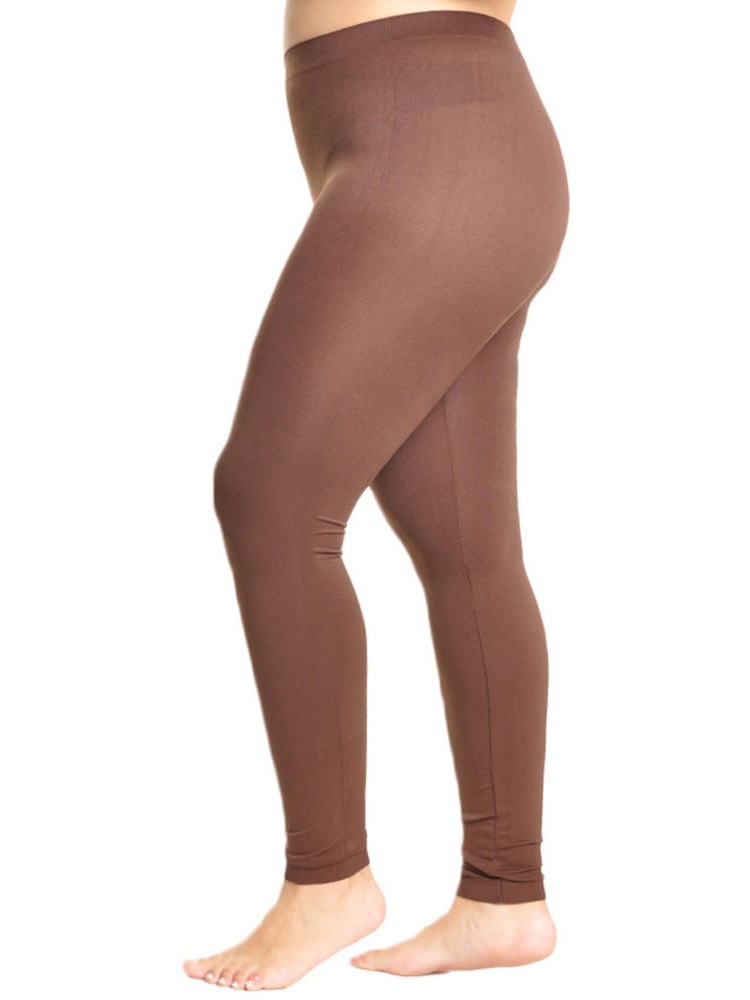 These versatile leggings from Walmart are made of seamless microfiber, and are said to provide excellent stretch and coverage. Walmart also carries an array of seamless bras and underwear options for men and women.
Buy the leggings above for $10.99 from Walmart.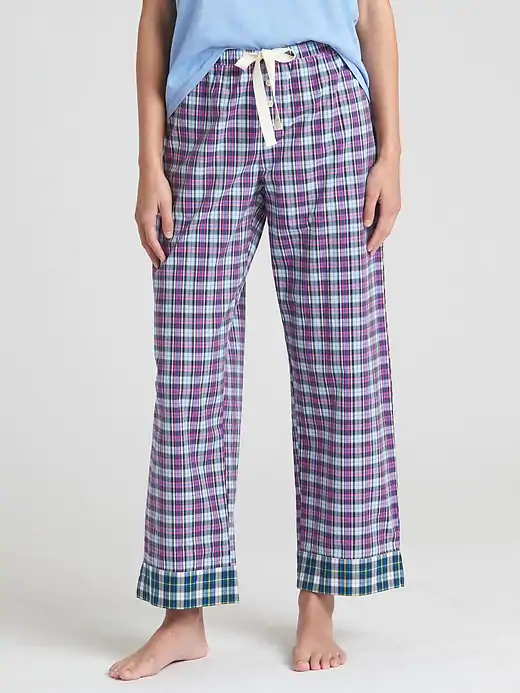 The Gap's sleepwear collection comes with lots of soft, lightweight tops and bottoms to keep you comfortable, whether you're sleeping or resting at home. The pajama pants above are 100 percent cotton, while other sleepwear items are made with a silky, satin weave.
"I really, really like sleepwear by the Gap. It's a super soft cotton, almost silky," Susy Castillo Ceja told us.
Buy the pajama pants above for $34.95 from Gap.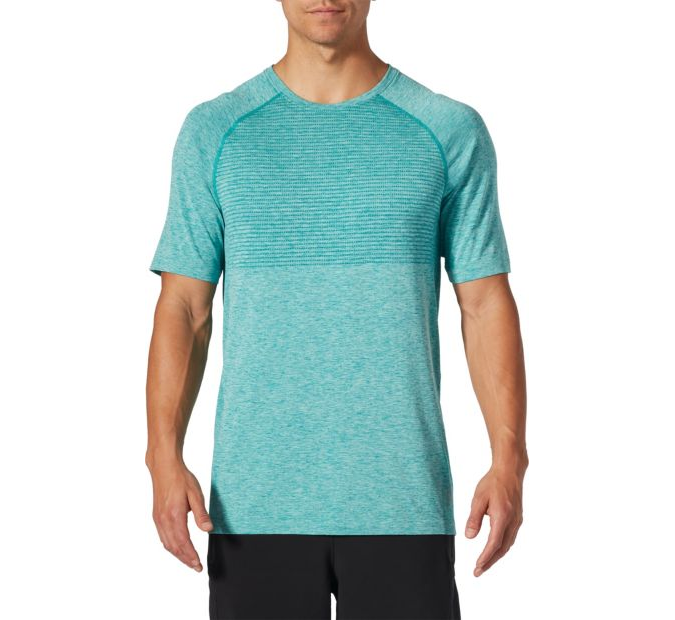 Dick's offers a range of athletic apparel for men and women. The T-shirt above is made with seamless knit construction to feel soft and smooth against your skin and minimize chafing.
Buy the T-shirt above for $14 from Dick's.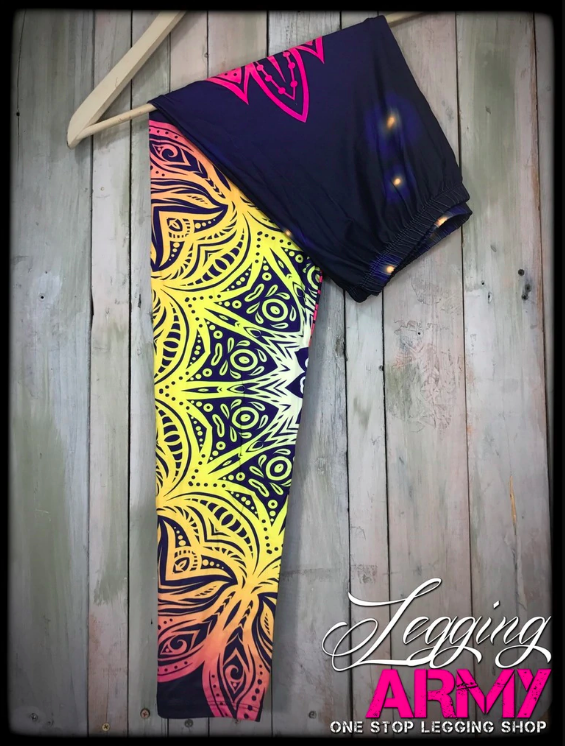 Legging Army offers a wide variety of styles, colors and patterns of leggings. They have a Classic Collection that's made to be "buttery soft," which also comes with a yoga waist band for added comfort. The Sublimation Series features lighter material, an elastic waistband and more vivid prints.
Shayla Fortner-Watrous wrote, "I get leggings from Legging Army's Sublimation line [featured above], I'm also about to try some harem pants. I haven't found any other cheap clothes that work but the leggings are soft and don't hurt so much."
"I was a LuLaRoe addict [for] years for its comfort. I had to give it up due to the price. I highly recommend Legging Army as a LLR dupe. Same quality, better price and patterns," explained Sammi Kretschmar.
Buy the leggings above for $12 from Legging Army.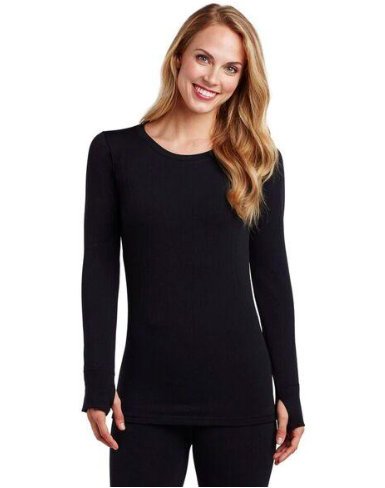 Cuddl Duds designs their clothing to be super soft, cozy and comfortable. Their styles include SoftKnit leggings, Fleecewear that's stretchy and ComfortWear hoodies. The long sleeve shirt above is seamless and has a plush, brushed inside for maximum comfort.
Buy the long sleeve shirt above for $20.95 from Cuddl Duds.
Originally published: August 9, 2018