Why My Family Is Still Staying Home After Lockdown Was Lifted
---
My kids were on Spring Break when news broke that schools were closing due to COVID-19. Three more weeks of Spring Break! Woohoo! But everything else was closed too, and then the governor issued a stay-at-home order.
My family has pretty well adjusted to reduced activities because of my chronic illness, so the stay-at-home order was not as big an adjustment for our family as it has been for others. In some ways, it was a nice break from managing the difficulties of social activities with my chronic illness. I do so much analysis of whether or not I can handle something, then wrestling with disappointment if I can't, or being extra careful if I can and managing others' expectations to boot.
I did not, however, anticipate the energy drain of having two school-aged kids home all day. One of my symptoms is extreme tiredness or fatigue. While the kids were at home, I would have quiet and rest. When the kids came home and never left, I, like many others, struggled to manage. I confess there were days when I did not manage. In fact, one day, my children asked me what perfume I was wearing. I looked at them, surprised. Then I realized… the scent they had noticed was soap. Let's just say we had a talk about personal hygiene in a pandemic that night.
While my energy is extremely limited, it seems my kids' energy is limitless. One memorable evening, my husband was running a meal over to a family across the city. After much "encouragement," we were able to tear the kids from their screens and they went on a drive with Dad. When they got home, my daughter was hoarse, and my son's hair was sticking straight up. They both looked happy, tired and awfully pleased with themselves. Apparently, once they hit the highway, the kids rolled down the window, stuck their heads out and yelled at the top of their lungs. They were out on the town, coronavirus style, and they let loose! All that energy had to go somewhere.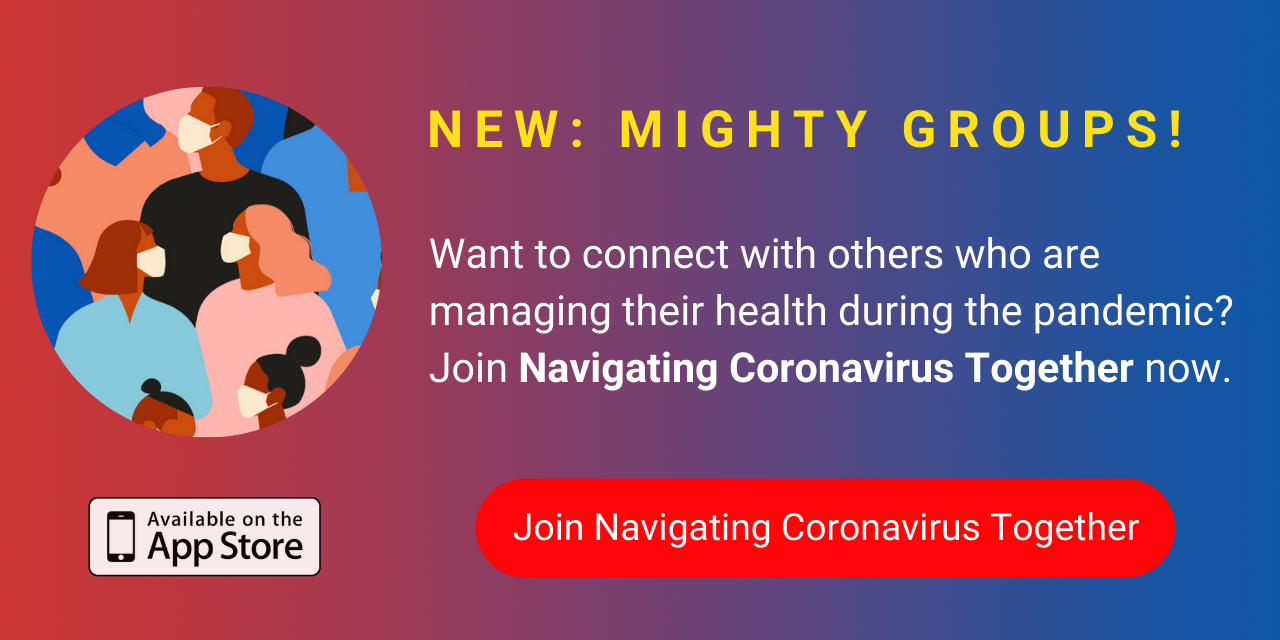 Now, with the stay-at-home orders relaxing, things are easier and more difficult at the same time. My illness puts me in a high-risk category and we have already had more than enough health events in the past two years. We're hoping to avoid another one. So we're being cautious and continuing to social distance. Remember how I said navigating social situations with a chronic illness during normal times is challenging? With COVID-19, these decisions are made even more confusing and anxiety-ridden.
Facing these decisions for myself is one thing, but it also impacts the decisions about activities my husband and kids participate in, too. Any one of them could bring the virus home to me. So we are cautious. Unfortunately, this means in-person visits with friends are limited for my kids, too — much more so than for some of their friends.
One afternoon, some friends invited my son to hang out to do an activity we saw as high risk. When they dropped by, my son just looked out the window at his friends, shook his head "no" and waved goodbye. Later, my husband asked him how he felt about it. He said simply, "It's not her fault she's sick." While I'm grateful he handled the situation with grace and maturity, it pains my heart that I am the reason he cannot hang out with his friends.
As a parent, you always worry about your kids and want to protect them from the worst the world has to offer. Unfortunately, there is no way to protect our kids from all the consequences of a worldwide pandemic or a parent's chronic illness. But I'm learning that our kids are much more resilient than we think and that perhaps my illness and this pandemic are teaching my children things they cannot learn in any classroom.
My daughter's teacher gave her a free-writing assignment with this writing prompt: "If you could have one superpower, what would it be?" She could have written about super strength or invisibility or laser eyes, but instead my 11-year-old daughter wrote, "I think the best superpower would be healing. Not just wounds, but illness and hurt in people. Not just physical but mental too."
The media keeps saying our world will be changed forever by this pandemic. None of us knows how. I know illness has certainly changed my family forever. But with the worry and confusion that comes with change, I have hope. This crisis is showing us our weaknesses, but also our strength and resilience. It has meant sacrifices and loss, but it is building hope, compassion and empathy in our lives, too. I know. I see it in my children.
For more on parenting during quarantine, check out the following stories from our community:
Originally published: June 22, 2020