Quarantine Comics: A Day in the Life of Someone With Mental Illness
---
Last semester, I took a class titled "Teaching Creative Writing" at my local university and learned about professor and cartoonist, Lynda Barry. As a visual learner, I absolutely fell in love with her visual syllabi. They're full of color. They're funny. And it actually made me want to read the syllabus.
And so, I started creating cartoons for my own classes. And then just because it was fun. It felt like a meditation. Since the start of COVID-19 social distancing and self-quarantine, I started creating comics for my blog, Stereotype Life to break up the routine. After that, I started creating comics on The Mighty for #CheckInWithMe. To see my work on The Mighty, check out my page.
Below is a series I created called: "A Day in #QuarantineLife" with me, your friendly host, Amanda! I created these comics to share what my life with mental illness looks like while in quarantine. If you can relate, let me know in the comments!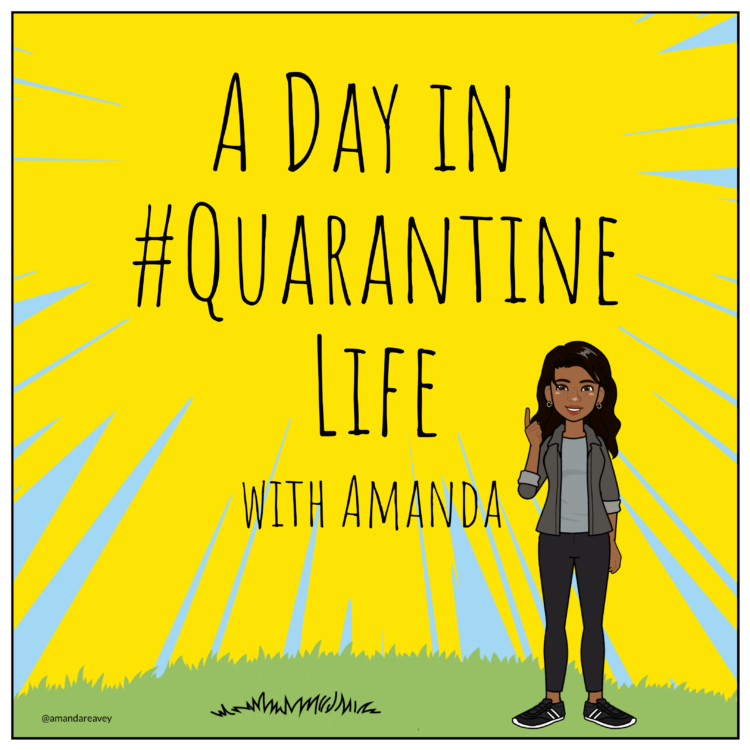 9:00 a.m. 
— 
Wake Up! 
I'm hard of hearing and instead of the alarm clock making sound, it shakes the bed. Despite knowing this, it still catches me by surprise. Why do I do this to myself?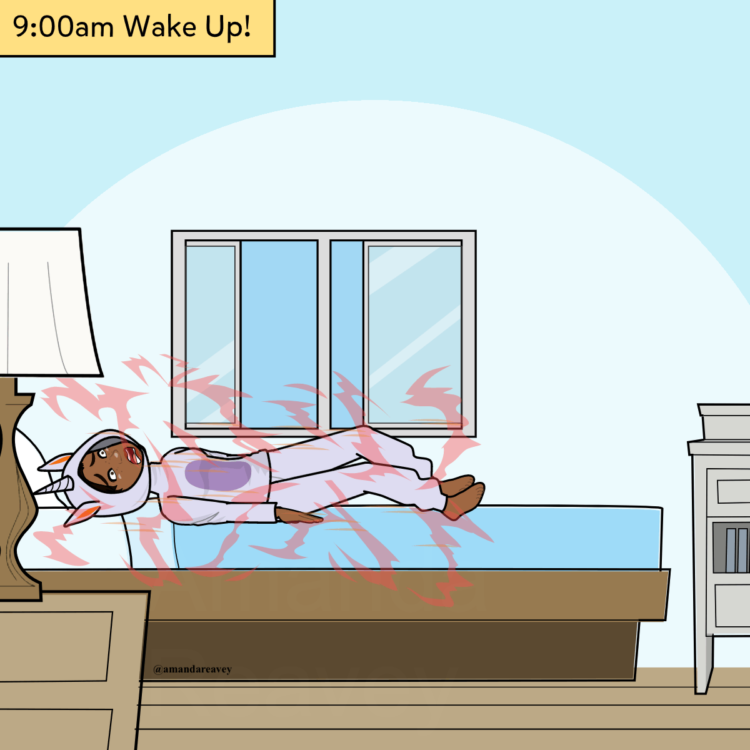 Morning Coffee. Seriously, don't talk to me.
During quarantine, I'm staying with my parents because I don't want to stay in my apartment alone. Plus, I have bipolar disorder and we're still trying to figure out the right combination of medication. This way my parents can help keep me in check. Feeling some serious #gratitude for them.
9:30 a.m. 
— 

Seize the Day!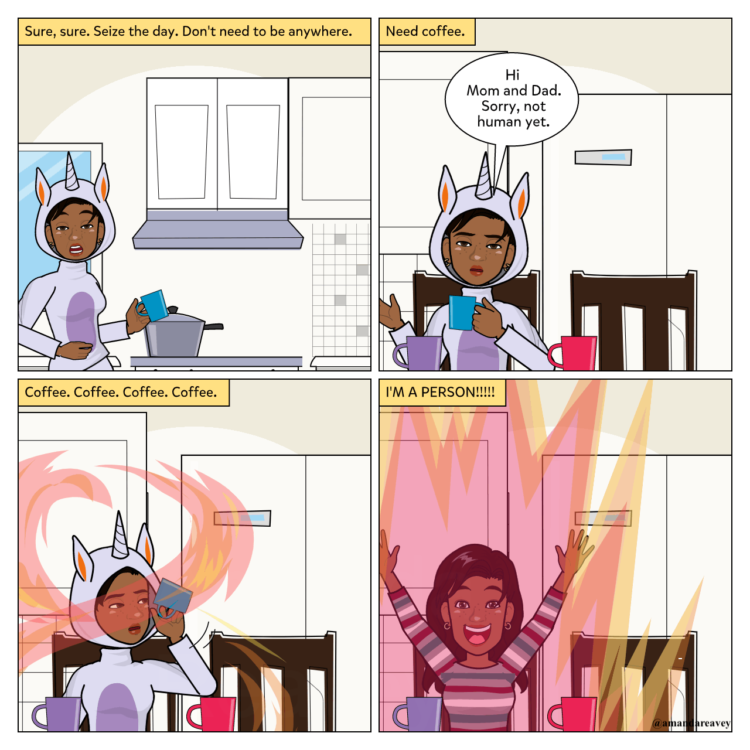 10:00 a.m. 
— 

Emails and School Work

As an introvert, I actually love being home. During quarantine, you can catch me emailing, tweeting, blogging and working on school work.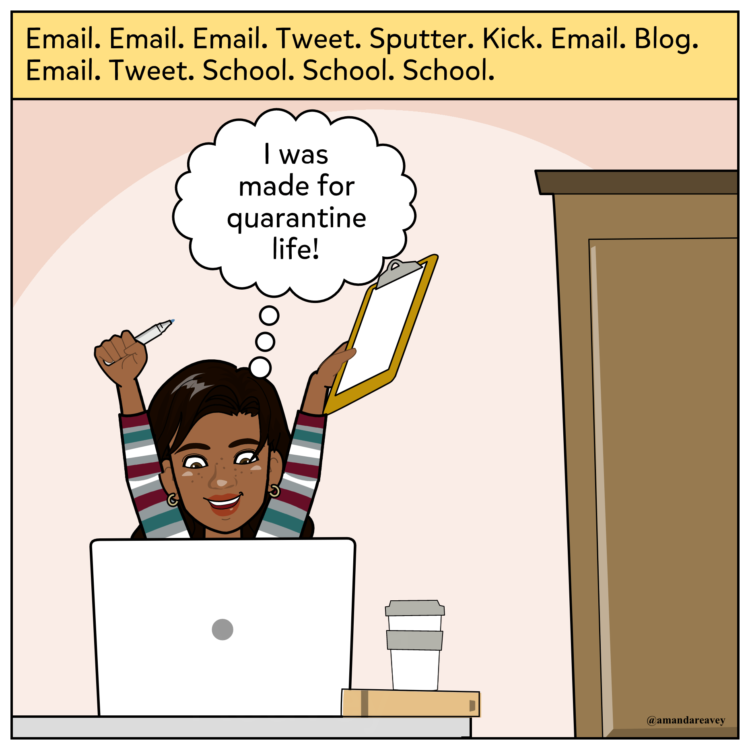 12:00 p.m. 
— Figure Out How to Teach Online Courses
However, the last few days have been difficult. I'm a Ph.D. student studying creative writing and also teach undergraduate courses. Due to COVID-19, all of my classes are going online.
Unfortunately, I am not an online learner and have never taught an online class, so my anxiety is a bit of a roller coaster. When my anxiety is high, I have trouble processing information. As a perfectionist, this is a problem.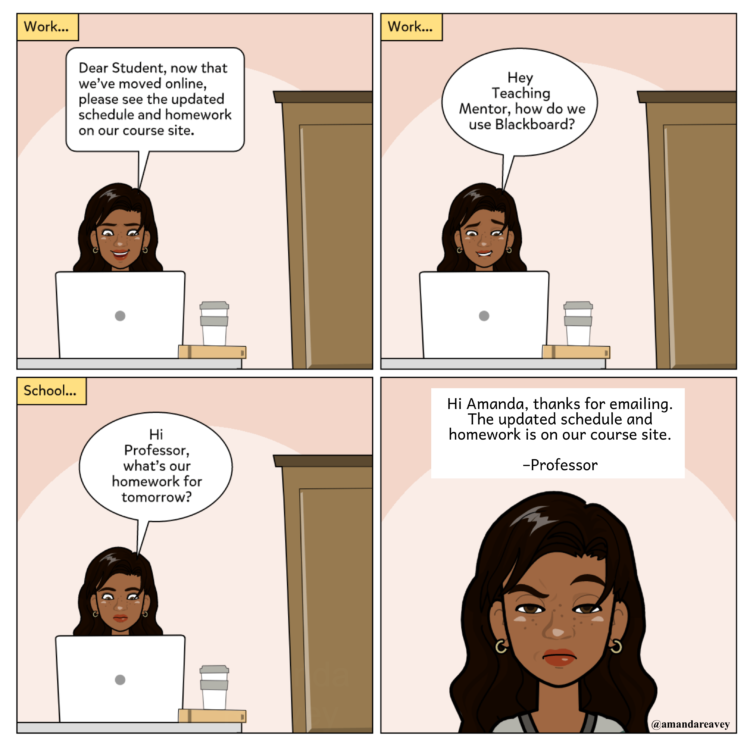 1:00 p.m. 
— 
Time to Eat 
Remember how I said I was staying with my parents? Well, they feed me. Yup, more #gratitude.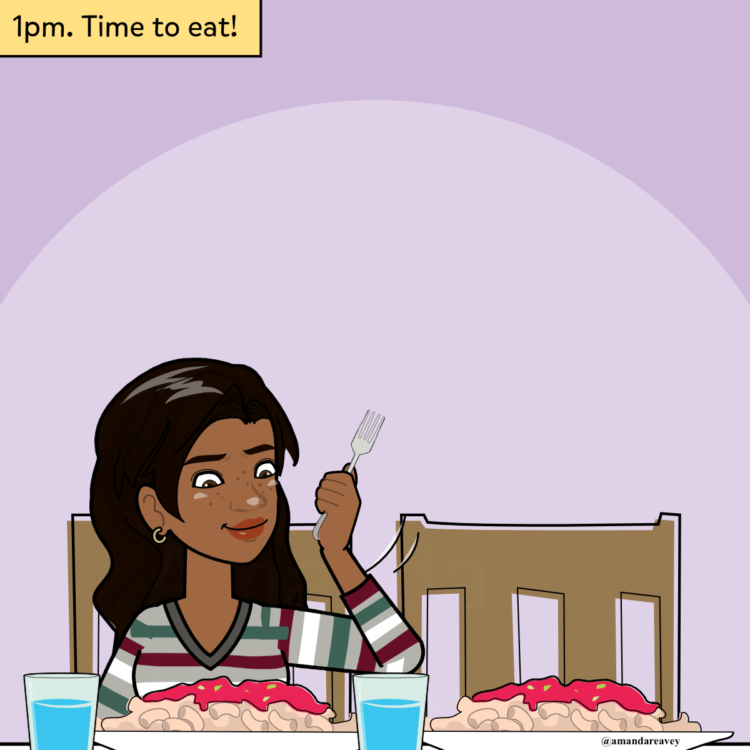 3:00 p.m. 
— 
Think About Leaving the House
Even introverts need to get out and about.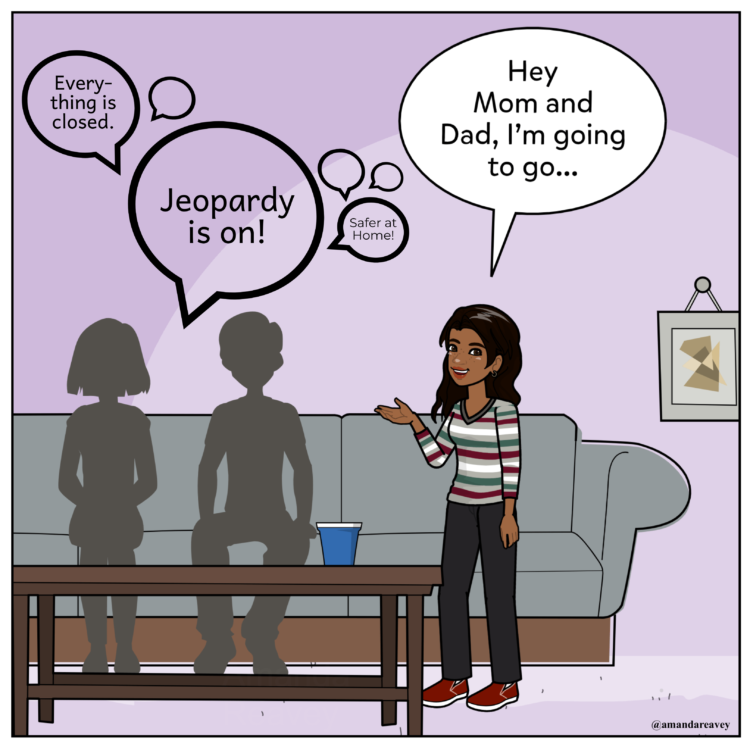 3:01 p.m. 
— But…
Then I remember I can't go to a coffee shop, I can't teach or attend my classes in person, restaurants and bars are closed — I can't even go to Mars!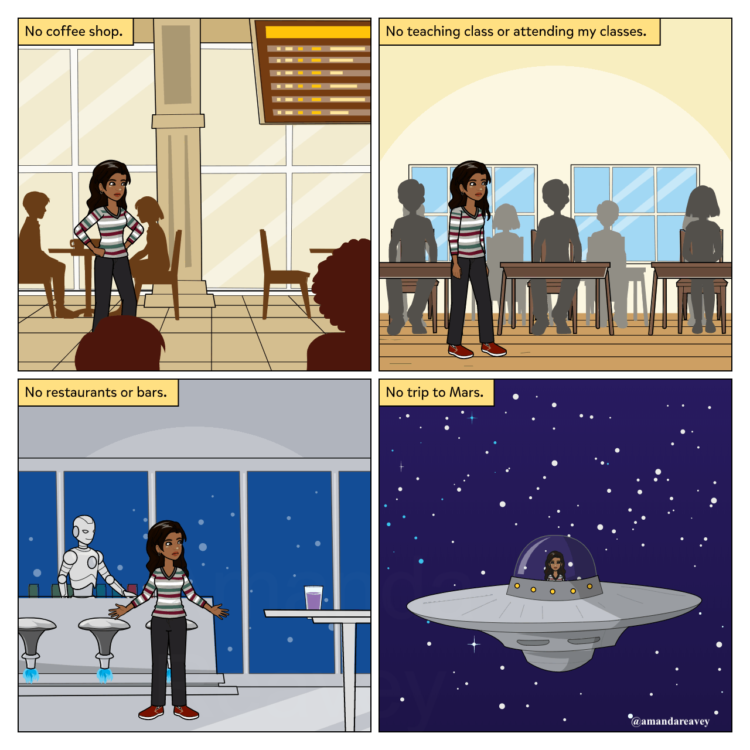 3:02 …Then I Remember the World Is Closed
Squeak. Ee-erh. Squeak. Ee-erh. Squeak. Ee-erh. Squeak.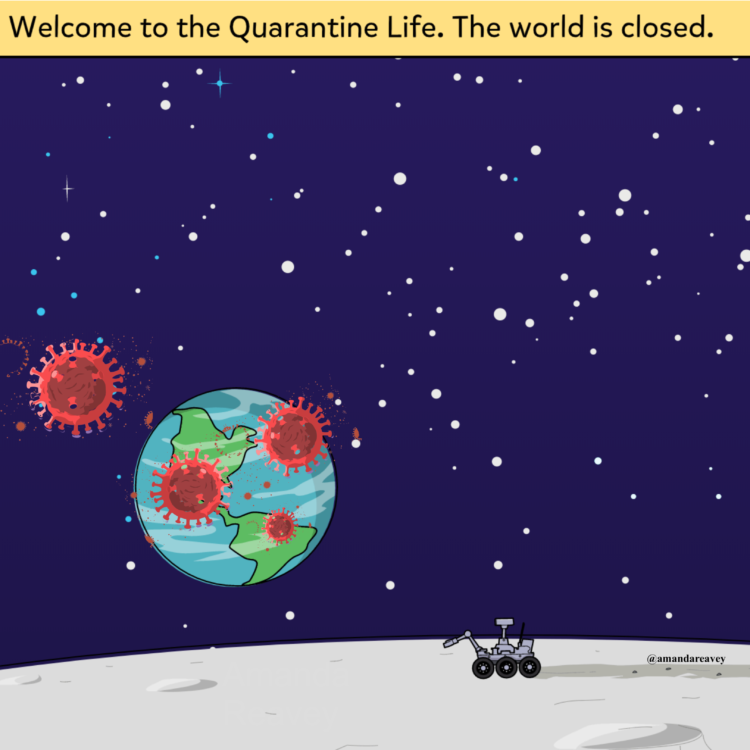 Honestly, I'm a worrywart. I worry for my family, my friends, my colleagues, my students…. Every time someone coughs or sneezes or blows their nose, my nervous system shakes like my alarm clock.
So, I try not to spend too much time reading or watching the news. Instead, I imagine a version of "Wall-E" cleaning up our germs while we stay cooped up inside.
Thank goodness for The Mighty community. I only joined a couple weeks ago and I'm so glad I did. If you want to connect with other Mighties in this difficult time, head over to #CheckInWithMe where you can give and get support. For anyone who is struggling right now, I hope you'll stop by to say hello. The Mighty community cares about how you're doing.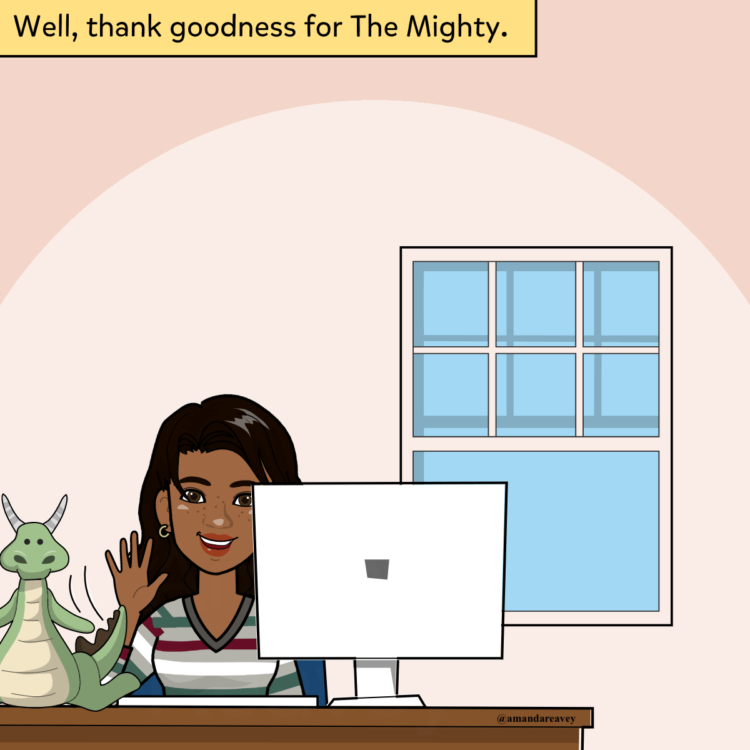 Concerned about coronavirus? Stay safe using the tips from these articles: