A Message to Those Spring Breakers Still Partying Despite the Coronavirus
---
I have to be honest.
For the first few weeks of the coronavirus (COVID-19) outbreak, I thought it was being blown out of proportion. I thought people were unjustifiably scared.
I am happy now to admit I was wrong.
They say only the elderly and those with underlying health issues are at risk. Only "the vulnerable," if you will. I think it's supposed to be reassuring. But what if you are "the vulnerable"? Then what? I challenge you to look and think outside of the box. I promise you, you know more "vulnerable" people than you think you do. And it's high time you act as if you care enough to want to protect them.
I continue to see many taking the social distancing precautions lightly, blatantly ignoring pleas from our government and our healthcare system. In a video that's been circulating of young adults on spring break in Miami, person after person shares their thoughts about the virus being "overblown." One gentleman even says, "At the end of the day, I'm not going to let it stop me from partying."
"If I get corona, I get corona"

US students on Spring Break continue to party, despite warnings about coronavirus https://t.co/fwURJxjg1P pic.twitter.com/oZjaO1ubuE

— BBC News (World) (@BBCWorld) March 20, 2020
For those young people and others: I see you refusing to give up your nights out with friends and your favorite weekend bar visits, your house parties. I see you. And I sympathize with you. But quite frankly, I'm fed up.
I get it, you don't want to give up your life and all semblance of normal. You are scrambling to make sense of what life looks like right now, and you're desperately searching for a sign that this will be over soon. The reason I know this? I've done this before. We all have. The "vulnerable," I mean.
We've cancelled social plans at the last minute more times than we could ever count. We've stopped eating our favorite foods because they make us sick. We've missed birthday parties, bridal showers, nights out and yes, even spring break, because we were too sick to make it there. Some of us have even stopped getting invited to such events because people just assume we won't feel up to coming. We've missed work because of procedures and appointments. We've had huge financial strain because of loss of wages and insane medical bills. We've been there for so long, which means we really do know how hard this is for you right now.
I see you, but I want you to see me too. I bet you hear "the vulnerable" and it sounds like a nameless, faceless, abstract group of people. But we are none of these. We are real people, with real stories worth telling, and real lives worth living. And these are our stories.
So picture this: in addition to giving up daily activities, social relationships and fun outings, I'm also at risk of having to give up access to the medical care that keeps me functional; the medical care I've fought for years to have access to.
I am thanking my lucky stars that so far, my infusion appointments have not been cancelled. I can't say the same for many of my friends around the country.
I have an upcoming IR procedure that I need to continue to seal my CSF leak. Every time the phone rings, I worry it's them calling to cancel indefinitely. It seems almost inevitable at this point. My records sit on the desk of a world renowned surgeon in California who, for the time being, is not performing surgeries nor reviewing new cases. To perform even the most basic of necessary care for my central line safely, I need gloves, masks, alcohol wipes and other medical supplies that are now completely unavailable in many parts of our country. My life is on hold, my health is on hold, and my suffering drags on — with no known end in sight.
Let me be clear about one thing. I am in no way meaning to make myself a martyr. I am "lucky" in that my health will not become life-threatening if I go without these procedures. But my friends? I can't say the same. Seventy-eight percent of the sample I polled said they have already seen changes in their access to care. Of the rest — 95 percent said they anticipate changes in the very near future.
So far, they've been denied access to getting dressing changes for their central lines (needed to prevent sepsis). They've had their TPN deliveries suspended, meaning their bodies aren't even getting basic nutrition or calories. Their infusion centers have completely shut their doors. Some home health companies are refusing to send supplies and nurses to their patients. Their primary care doctors and specialists are refusing to see them until August at the earliest. Other appointments that they've been waiting for since 2018 have been cancelled with no rescheduling in sight. This puts them at risk of losing their daily home medications, too. We are the vulnerable. And we matter.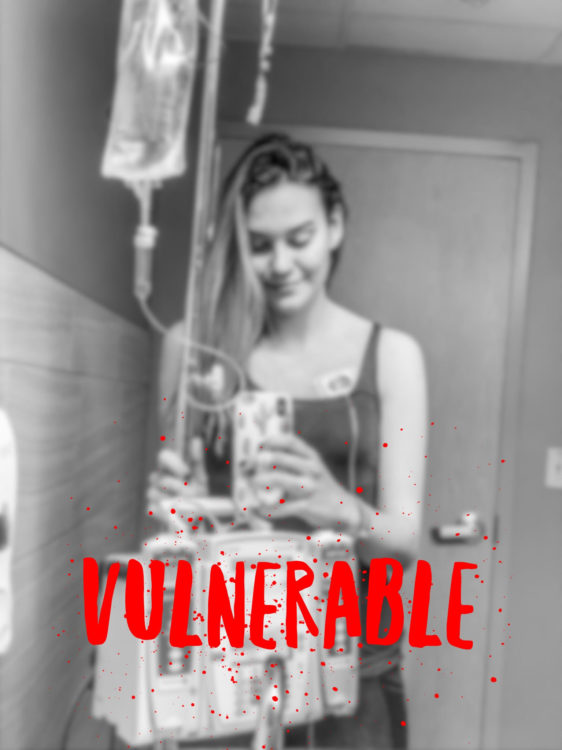 I hope I still have your attention by this point. I don't need your pity or your apologies. I just need you to think of me and my friends every time you have a thought that social distancing is being overhyped, or that it isn't worth it. It may not be worth it for you, the healthy millennial, but I sure as hell hope it's worth it to protect me and so many others.
Trust me, I want this to be over as much as you do. That's why I'm begging you. To the people in the video and those who share their attitude — listen now. Distance now. Stay home! Make the sacrifices now so that this can be over quickly.
Because I promise you, if we don't get ahead of it, it will get ahead of us. And I think we can both agree that we don't want to see what that would look like.
Concerned about coronavirus? Stay safe using the tips from these articles:
Originally published: March 20, 2020