Finding Comfortable and Fun Clothing as a Fibromyalgia Fashionista
---
Editor's Note
We hope the products below help you or a loved one in your health journeys. Just so you know, The Mighty may collect a share of sales from the Amazon links on this page. Prices and product availability are accurate as of publication.
If you're anything like me, not long after you were diagnosed with fibromyalgia, you searched for answers about everything from diet to treatment, to bras to footwear. You soon discovered that your body was ultra-sensitive to fabrics and you've probably ditched a bra by this point. I'm here to share some Holy Grail products of mine that I've found work like a charm.
The products below are enough to give you an entire wardrobe of comfort – I even included a bra! All of the items included come in multiple colors and patterns, so you can order multiple and mix and match for instant Spoonie Style, my Fibromyalgia Fashionistas.
1. Old Navy Jersey Knit Swing Dress for Women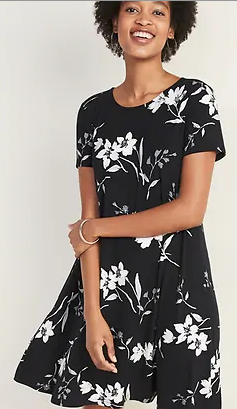 This essential T-Shirt dress comes in 10 different patterns and colors. When I was first diagnosed with fibromyalgia, my mom took me to Old Navy and gifted me three. I later thrifted one. These are comfortable enough to wear without a bra. This is my favorite Fibromyalgia Fashionista find on this list.
My Pick: Old Navy Jersey Swing Dress for Women
2. Old Navy High-Waisted Leggings 2-Pack for Women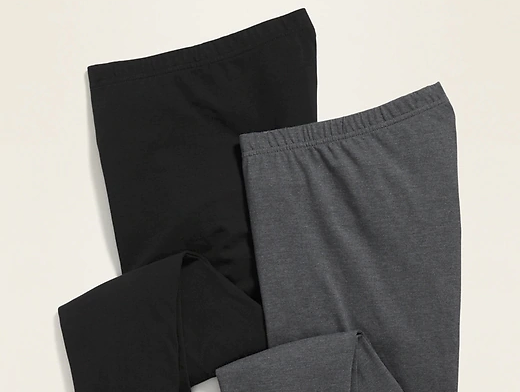 These are my favorite pair of leggings – a pack of one black and one gray, and there's a plus-size version too! My weight fluctuates with fibromyalgia and I am bottom-heavy, so finding leggings to keep up is difficult. I find these are the Elastigirl of leggings at a great price.
My Picks: Old Navy High-Waisted Leggings 2-Pack for Women
3. Juniors' Joe B Paperbag Waist Wide Leg Pants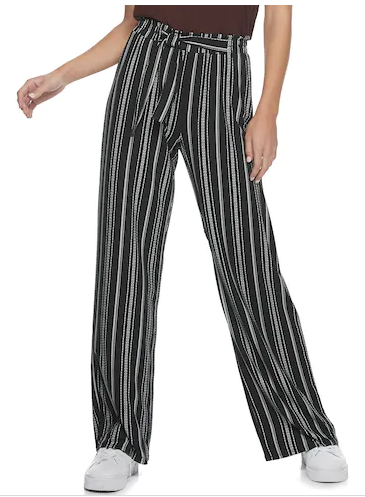 Now I will admit, these Paperbag Waist Wide Leg pants aren't for everyone, but they will snazz up an outfit. These are for real Fashionista Spoonies looking for Spoonie Style! They're fresh, they're funky, and they're soft as yoga pants with more breathing room and style. The Paperbag pants come in multiple colors and patterns from Kohl's.
My Pick: Juniors' Joe B Paperbag Waist Wide Leg Pants
4. Amazon Brand Daily Ritual Women's Jersey Short Sleeve Open Crewneck Tunic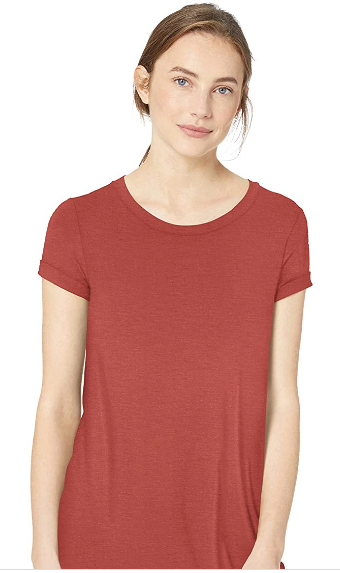 This soft tunic available in multiple colors is long enough to be a dress on some people — if you're under 5'4″ — but also makes an extremely comfortable shirt. Comfort like this is perfect for Fibromyalgia Fashionistas. Nothing scratches against your chest and it makes excellent street clothes or pajamas.
My Pick: Amazon Brand Daily Ritual Women's Jersey Short Sleeve Open Crewneck Tunic
5. The Genie Bra 3-Pack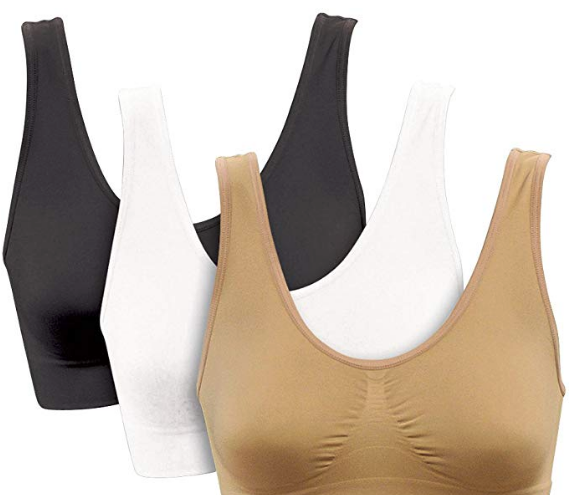 For those of you with fibromyalgia who cannot go without a bra, this is for you. The Genie Bra is comfortable, breathable, and supportive. However, use the sizing chart and order one size up as it runs small in the band, which is a no-no for costochondritis and rib cage pain. As long as you order one size up, you will have perfect fibromyalgia fashionista comfort. The Genie Bra is a type of sports bra and you will have to pull it over your head, which I can still do. Unlike many sports bras, it is a low V-neck, making wearing low-cut shirts possible.
My Pick: The Genie Bra 3-Pack
On Footwear
Your mileage may vary depending on what your symptoms are. If your fibromyalgia involves swelling like me, you may find yourself living in boots all the time. I always wear high-quality Chelsea boots; right now my brand of choice is Franco Sarto. Others have fallen arches and must wear orthotic shoes — I used to do this until my feet became too swollen. For most Spoonie Fashionistas, I would recommend something soft with arch support, like a running shoe specifically fitted to your foot at a running store, or high-quality boots that are expensive. Spend at least 30 minutes in the store trying on the boots. The boots should have a low heel, low height and have a zipper. If you're in Texas, cowboy boots could work fine — take it from a Texan. However, your leg could get stuck in the boot if you swell while wearing the cowboy boots.
Mix and Match to Build Your Wardrobe
Have some cardigans laying around pre-chronic illness? Pair it with a tunic and some leggings for some cute laid back street style. Add a beanie or beret for some artistry. Pair the tunic of a corresponding color with the Paperbag pants for an instant Fibromyalgia Fashionista "wow!" The little knit dresses go with everything, especially the solid color ones, so have fun with those, Spoonie Styler!
Getty image by Digital Skillet.
Originally published: November 27, 2020