COVID-19 Reporting Shows How Psychiatric Patients and People With Developmental Disabilities Are Left Behind
---
What happened: The American Civil Liberties Union (ACLU) released startling new statistics that demonstrate gross disparities when it comes to COVID-19 case reporting for residents of psychiatric treatment facilities and facilities for people with developmental disabilities. According to the ACLU, only eight states plus the District of Columbia are reporting both cases and deaths at psychiatric treatment facilities, and only 10 at institutions for people with developmental disabilities. These numbers compare to 24 of states accounting for resident cases and deaths at nursing homes.
Make no mistake, this is a policy failure stemming from mismanagement, systemic ableism, and a deeply troubling lack of transparency. — ACLU (Instagram)
The Frontlines: Multiple studies show people with intellectual and developmental disabilities have a higher risk of contracting COVID-19 and dying from the virus, yet as the ACLU pointed out, there's a lack of accountability tracking
According to one study, disabled people are twice as likely to die from the virus and also four times more likely to get it.
The CDC explains the risk may be higher for those who may not be able to practice recommendations like social distancing and people with developmental disabilities are also less likely to be able to communicate symptoms.
Psychiatric facility workers reported a lack of COVID-19 precautions early in the pandemic that put patients at risk and led to major outbreaks at inpatient psychiatric units
Get more on disability: Sign up for our weekly disability newsletter.
A Mighty Voice: Our contributors, Kim Sanders and Pam Martin, shared that caregivers can support those with developmental disorders or mental health conditions during the pandemic by mirroring a confident attitude.
"It's a challenging time for everyone, but individuals with autism and other developmental or mental health challenges may experience a heightened sense of fear and anxiety. Be prepared with a positive attitude and a resolve to be kind." You can submit your first-person story, too.
From Our Community:
Add your voice: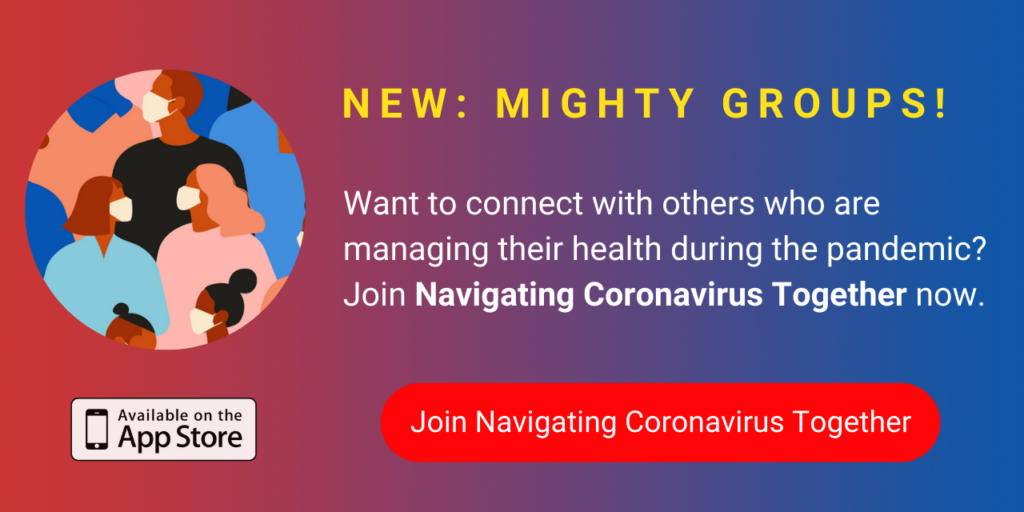 Other things to know: Offering support can help close the differences in how disabled people are affected by the pandemic compared to those living without disabilities. These resources can help:
How to take action: You can learn more about how COVID-19 disproportionately affects people with disabilities and the dangers of ableism by reading the following resources: