8 Online Alternatives That Are Cheaper Than Traditional In-Person Therapy
---
Often, one of the best things you can do for your mental health is speak to a mental health professional, but sometimes in-person care can be expensive or inaccessible.
According to therapist listing site Goodtherapy.org, most therapists charge between $75 to $150 per session with some charging as much as $200. Since most therapists recommend you see them once a week, therapy, while worth it, can quickly get expensive, ranging from $300 to $600 per month — although the cost may be less if you have insurance.
But luckily, a growing number of online platforms offer therapy that can be more affordable and just as affective for people looking for someone to talk to.
We asked our community what online therapy services they recommend. Here are eight online options that can cost less than traditional in-person care. 
7 Cups of Tea is an app and online service focused on emotional health and well-being. You can anonymously connect with trained "active listeners" for free or pay to work with a licensed professional. Those interested in helping others can become a listener by completing an online training course designed by Glen Moriarty, a licensed psychologist and the founder of 7 Cups of Tea.
"They're always there to help and you can sign up to also help others which is nice because making someone else feel better makes me feel better," community member Polina C. said.
You can chat with a listener for free or with a licensed professional for $150 per month. Download 7 Cups of Tea for iOS or Android.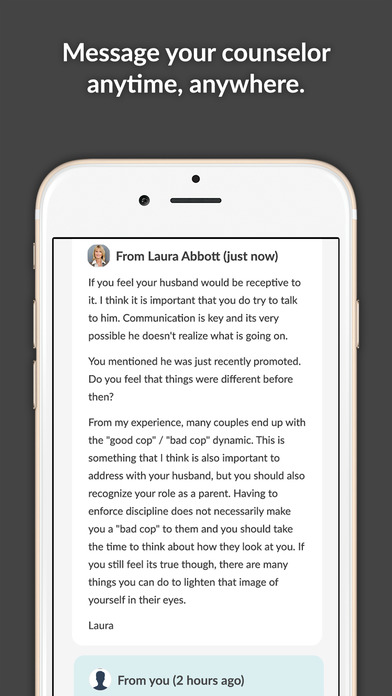 BetterHelp wants to make counseling accessible, affordable and convenient, allowing you to get help anywhere at anytime. Within 24 hours of signing up, you are matched with a trained, licensed counselor who you can instant message, speak with over the phone or video conference. All methods are included in your membership at no additional cost.
Community member Rebecca R. told The Mighty, "I used it for six months before transitioning to traditional face-to-face counseling and it helped me so much through my mental illness, especially since I couldn't drive or accommodate around my work hours during that time."
BetterHelp ranges from $35 to $70 per week. Download BetterHelp for iOS or Android.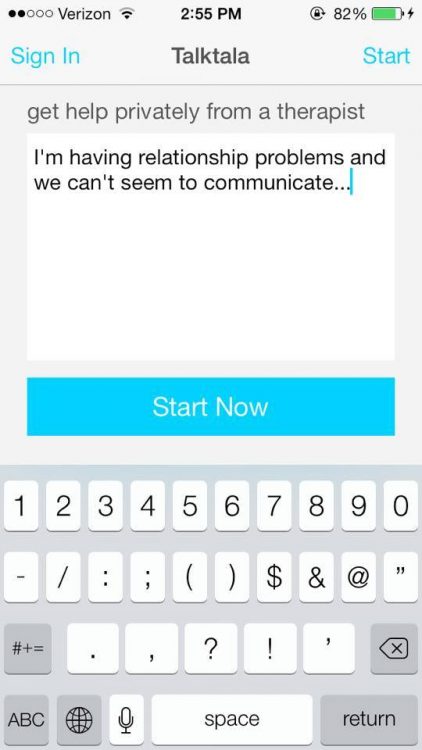 Talkspace is a website and app that allows you to connect with licensed therapists in an affordable, anonymous and virtual way. You begin by chatting with a therapist to identify your needs and then, based on those results, are matched with a long-term therapist. You can message your therapist and expect to hear back from them a couple of times a day. Several therapists will also schedule appointments where you can instant message them.
Kristen B. told The Mighty, "I used it for over a year and loved my counselor. They offer different and affordable payment plans and different ways of talking with your counselor. I found being able to write to my counselor in the moment was effective at letting her see how I actually am when dysregulated versus telling a counselor about it days later like you do in in-person therapy."
Talkspace's basic messaging plan is $32 per week, and allows one check-in per day. Download Talkspace for iOS or Android.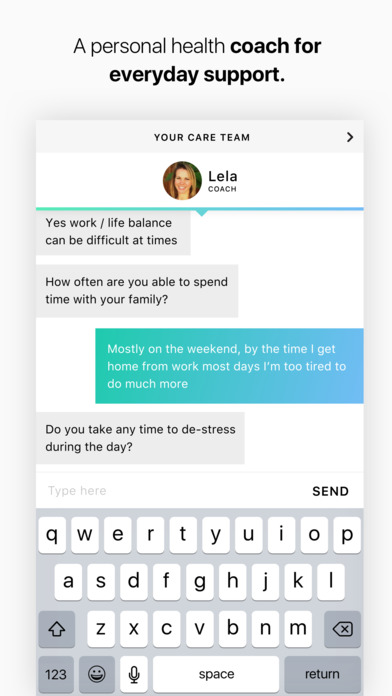 Ginger.io offers individual plans based on your needs, and regularly monitors your progress. As part of the app, you can work with licensed professionals who offer chat times, therapy video sessions and psychiatric help, depending on which plan you sign up for.
"It's great," community member Katie A. said. "I can talk to my regular coach during the day, and there are always backup coaches available, 24/7. It's a paid app, but it's helped me so much. They are called 'health coaches' and they're all masters-level trained helpers"
Ginger.io begins at $129 per month. Download Ginger.io for iOS or Android

Woebot is a Facebook Messenger chatbot that delivers cognitive behavioral therapy (CBT). Woebot checks in with you daily and creates a chart based on your logged moods. Woebot builds a relationship with you over time by evaluating your behavior and thought patterns, developer Allison Darcy, PhD, previously told The Mighty.

You can try Woebot for free for up to two weeks, after which, Woebot will cost $39 per month. You can begin messaging Woebot through its Facebook page.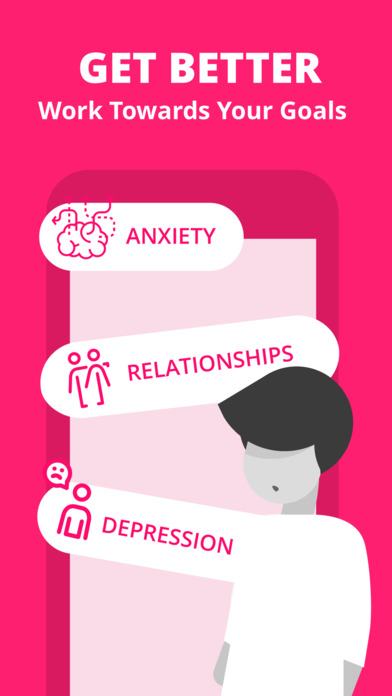 Sibly is a messaging platform that aims to help you achieve your goals through active listening, insightful questions, cognitive-behavioral exercises and other strategies. After an initial inventory, you are matched with a team of four to six Sibly coaches who are trained in active reflective listening and motivational interviewing. The structure of the Sibly team allows them to be available 24/7 and respond promptly.
Sibly costs $12.45 per week. Download Sibly for iOS or Android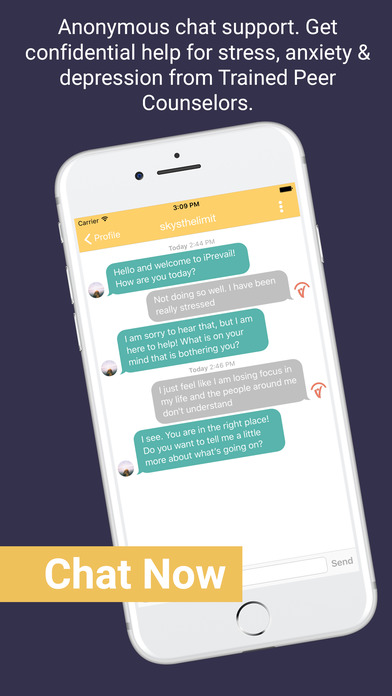 iPrevail is an anonymous online and peer counseling service where you can anonymously message trained listeners. iPrevail begins by asking you a series of questions about your behavior, thoughts, and feelings surrounding depression and anxiety. Once completed, you are then assigned a customized path and connected with trained peer listeners.
Speaking with trained listeners is free. Paid subscriptions are available for $9.99 per month for those who wish to speak with a licensed professional. Download iPrevail for iOS or Android.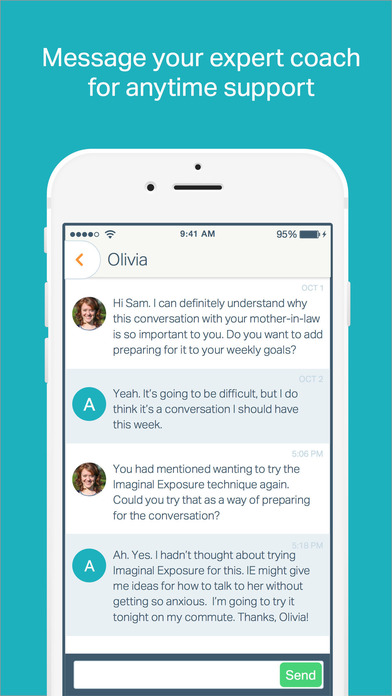 Lantern is a web platform designed based on cognitive-behavioral therapy. You can take a preliminary quiz to determine which program will suit you best, after which you are paired with a coach for one-on-one messaging.
Lantern costs $49 per month and you can cancel at any time. Download Lantern for iOS or Android.
Bonus: The Mighty's App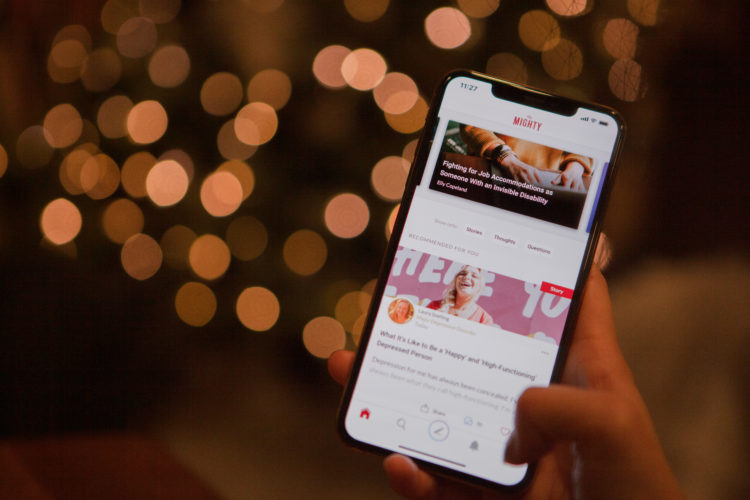 Did you know The Mighty has an app? You can use it to connect with people who understand what you're going through.
What services would you recommend? Let us know in the comments below. 
If you or someone you know needs help, visit our suicide prevention resources page.
If you need support right now, call the National Suicide Prevention Lifeline at 1-800-273-8255, the Trevor Project at 1-866-488-7386 or text "START" to 741-741.
Originally published: August 18, 2017