Woman's Post About Life Insurance Denial for Mental Health History Goes Viral
---
On April 10, photographer and stay-at-home mom Melissa Hays received a denial letter in response to her application for $10,000 of life insurance from Securian Financial/Minnesota Life Insurance. Hays had applied for life insurance through her husband's job. She was "declined due to [her] medical history including depression and anxiety."
Hays told The Mighty she was diagnosed with obsessive-compulsive disorder (OCD) and struggled with depression and anxiety starting in high school. She started exposure therapy and was put on an antidepressant to help manage her symptoms. Now Hays said in combination with quarterly medication check-ups with her psychiatrist and bimonthly appointments with a psychologist, her mental health is well-managed.
When Hays filled out the life insurance application, she said the questions about her medical history were brief. This included asking if she had been hospitalized (only when she gave birth to her children), the list of medications she is on (prescriptions to manage her mental health) and the name and contact information of her psychiatrist and psychologist in response to doctors she sees regularly. Hays said she has never been hospitalized for her mental health and has never attempted suicide.
The denial letter from Securian Financial came months later, citing her mental health as the reason her application was denied. While Hays said she later discovered a voicemail from Securian Financial calling about her life insurance application before she received a denial, a subsequent call indicated the company only intended to let her know they would be denying the $10,000 policy.
"I called Securian/Minnesota Life Insurance," Hays said. "I asked the person on the other line if the reason they called in February was to ask me questions about my history or just to alert me that they would be declining the coverage. I was told it was a call to let me know they would be declining coverage."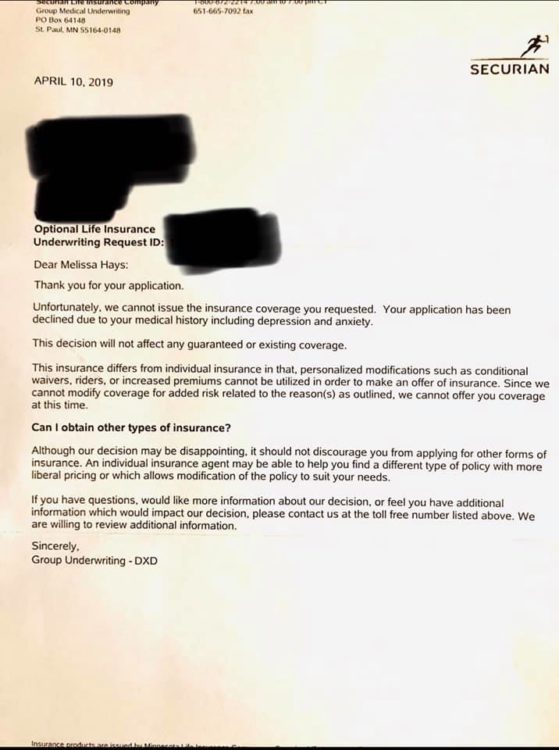 Instead of throwing away the denial letter and staying quiet, Hays posted about her experience in a large closed Facebook group. It was important to her to speak up about the stigma of mental illness and how it can show up when we least expect it. Hays told The Mighty:
I received my denial for $10,000 worth of life insurance. I was upset and actually had the thought, 'I'm obviously not going to fight this because it will cause me a great amount of anxiety and what's the point in fighting something with insurance? They know I won't embarrass them because who actually would make a huge deal out of having a mental illness?!' I then thought about ripping it up and throwing it away but something held me back. I started thinking that I was about to do what most people probably do. We don't talk about this sort of thing because we've been trained to feel shame.
Her Facebook post went viral, and soon Securian Life was calling Hays to further discuss her situation. Hays said the company representative she spoke with, Kathy, told her the insurance company hadn't followed up with Hays' mental health treatment providers. Hays confirmed the company had not reached out to her psychologist with her psychologist.
When reached for comment about Securian Financial's process of making decisions about life insurance applications based on a person's history of mental health, Jeff Bakken, Securian Financial spokesperson, told The Mighty in a statement:
We regret our letter to Ms. Hays left an incorrect impression about life insurance and mental illness. Securian Financial insures many people with anxiety and depression. Our risk-based underwriting decisions are based on a number of factors and are consistent with industry standards. We cannot comment on the specific elements of a person's medical history or the role it plays in decisions. As we did with Ms. Hays, Securian Financial takes the opportunity to discuss with applicants any questions or concerns they have about their circumstances.
Bakken declined to answer specific questions about Securian Financial's policies around mental health and underwriting, "as doing so would disclose proprietary information." According to Steve Burgess, president of the Center for Life Insurance Disputes, most insurance companies use a rating system to categorize mental illness as mild, medium or severe to make decisions about who to insure.
Burgess said that generally when an insurance company determines your condition is "mild," it will have little effect on your application approval. "Medium" risk usually comes with a higher price tag, while "severe" mental illness is more likely to lead to a complete denial.
"The industry seems to have a much clearer and more measured understanding of chronic physical ailments," Burgess told The Mighty. "Unfortunately, mental illness conditions are treated much differently in the industry. Where one insurer may have no concerns about mild depression, another may consider it to be very undesirable and punish the applicant in the form of higher premiums."
Two mental health conditions that life insurance companies consider the highest risk include depression and post-traumatic stress disorder (PTSD). Companies especially look for suicide risk, including past hospitalizations that indicate an attempt and your prescription medication history. If life insurance underwriters discover mental health red flags on your record, Burgess said insurance companies will often search your prescription medication history, but they may not actually look at your medical records.
Insurance companies seem to connect depression with suicide risk, but often do not have a good grasp of PTSD risk, and may air on the side of caution when deciding about issuing an insurance policy. "Unfortunately with PTSD many insurers are uncertain about exactly what this is, how it's diagnosed and how to categorize it when considering an applicant for a policy," Burgess said.
Depending on the type of policy you apply for, any of these mental health risk factors may impact your chance of approval. Hays, for example, applied for coverage through her partner's employer's group policy. According to what a Securian Financial representative told Hays, a group life insurance policy doesn't allow the insurance company flexibility to charge higher premiums or add conditional waivers or clauses on a case-by-case basis, the primary way insurance companies mitigate risk. Purchasing an individual life insurance plan independently might have resulted in a different outcome.
Since Hays' post garnered significant attention on social media, she said several life insurance companies, including Securian Financial, reached out to her. Only then did the company go above and beyond to reevaluate her case. Likely not everyone denied life insurance based on their mental health history will receive such follow-up from a life insurance company to consider an application in-depth.  
If you're considering purchasing life insurance for you or your family and you're worried about mental health-related denials, Burgess had a few suggestions. First, he said to meet a life insurance agent face-to-face when you're ready to buy. Agents know the insurance landscape and will be able to help you find a policy that works for you and your history. Plus, it doesn't cost anything extra to meet an insurance agent in-person.
Burgess also recommended if you're asked to explain or provide additional information about your health history during the application process (or at any time), always do so in writing. A life insurance company can't as easily challenge information you have provided about your history in writing as opposed to verbally over the phone. And never sign your life insurance application until you've double-checked your answers are correct.
"Most people are under-insured," Burgess added. "If the only reason someone doesn't have life insurance to provide for their family is because they 'think' they'll be denied, they should get with an agent and get started applying. Mental health conditions are insurable."
Hays said she hopes speaking out about her experience with Securian Financial and its initial denial of her life insurance application will raise awareness about mental health stigma and the many ways it can still impact our lives. She also wants young people especially to realize adults live (and thrive) with mental health conditions — that they're not alone.
"I started thinking about the rise in suicides for young adults and realized that maybe one problem is that these poor babies think they are fucked up in the head," Hays said. "They don't know that it's normal to feel the way they do. Because adults don't talk about it. These kids don't know that we are here! We are their lifelines."
Header image via Melissa Hays
Originally published: May 14, 2019