7 Easy But Important Ways to Get Involved in Mental Health Awareness Month
---
May is Mental Health Awareness Month and if you're wondering what you can do to raise awareness, you're not alone.
If you're able to donate money to important causes, great. If you can give your time and energy, awesome. If you can dedicate yourself to your own mental health recovery, that's amazing and we're so proud of you.
The point is, mental health awareness can look a little different for everyone. Because we know everyone has different ways of participating, we wanted to pull together a list of things you can do this May to give you some ideas. This list is by no means exhaustive, so please let us know what you're doing to raise awareness in the comments!
Here are seven things you can do this May to raise awareness about mental health:
1. Ask for Support on Your Mental Health Journey From Your "Mighty" Family (and Support Others!)
When you live with any kind of health challenge, it's important to celebrate accomplishments, milestones and wins — no matter how big or small. This can be especially true when you live with a mental health challenge.
That's why we created #CheerMeOn, a place where you can ask for encouragement in your health journey and offer support to others in theirs. All you have to do is download The Mighty's free iOs app and post a Thought or Question with the hashtag #CheerMeOn. Let's root for each other this May!
Join the conversation by clicking on the image below.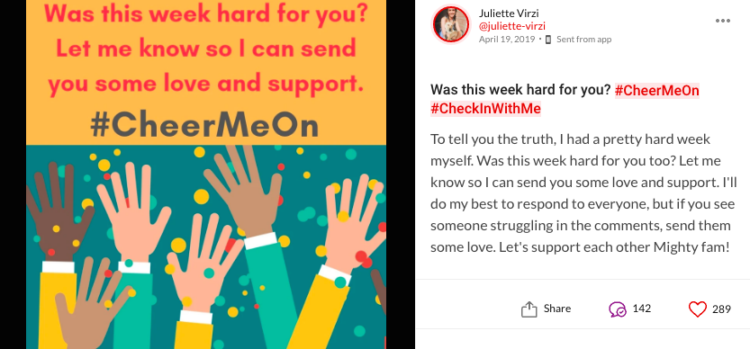 2. Donate to Teen Mental Health First Aid
Lady Gaga and her mother Cynthia Germanotta founded Born This Way Foundation (BTWF) in 2012 to create a kinder and braver world for young people.
This Mental Health Awareness Month, BTWF teamed up with the National Council for Behavioral Health (NCBH) to bring the evidence-based program, Mental Health First Aid, to teens in the U.S. Mental Health First Aid training will be given to high-schoolers grades 10 through 12. Those participating get to learn the skills they need to support peers who are struggling with issues like anxiety, depression, substance use or eating disorders.
BTWF needs your help to expand this important training. To donate and support giving young people more access to mental health resources, click the donate button below.
May is Mental Health Awareness Month — but did you know it's also Borderline Personality Disorder Awareness Month?
For those who aren't familiar with the condition, borderline personality disorder (BPD) is a mental illness characterized largely by trouble regulating emotions, which can cause someone with BPD to have unstable relationships. It's a mental illness that is highly stigmatized by professionals and laypeople alike.
A great way to be involved this mental health awareness month is to learn about BPD and advocate for folks living with it. Below we've included a graphic showing the nine "classic" symptoms of BPD, so you can better understand what it's like to live with this condition. Feel free to share the image to your Facebook by clicking here!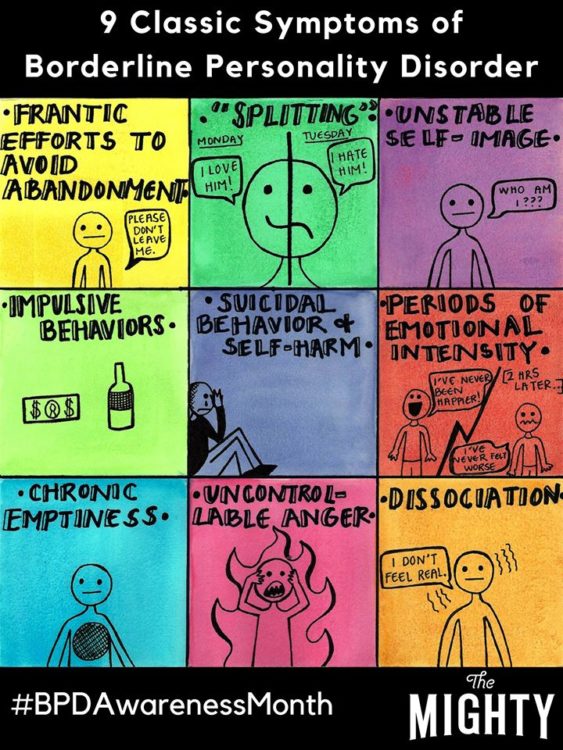 Related Resources:
4. Host a Mental Health Yard Sale
In honor of Mental Health Awareness Month, a local Kansas chapter of COMCARE Community Partners organized a yard sale to raise money for suicide prevention education.
If you don't live in Kansas, have no fear! You can have your own yard sale. Find a free weekend, clean out your closet and pick a mental health charity to support. Nothing better than raising money for a good cause while cleaning out your closet!
5. Sign Up for One of the American Foundation for Suicide Prevention's "Out of the Darkness" Walks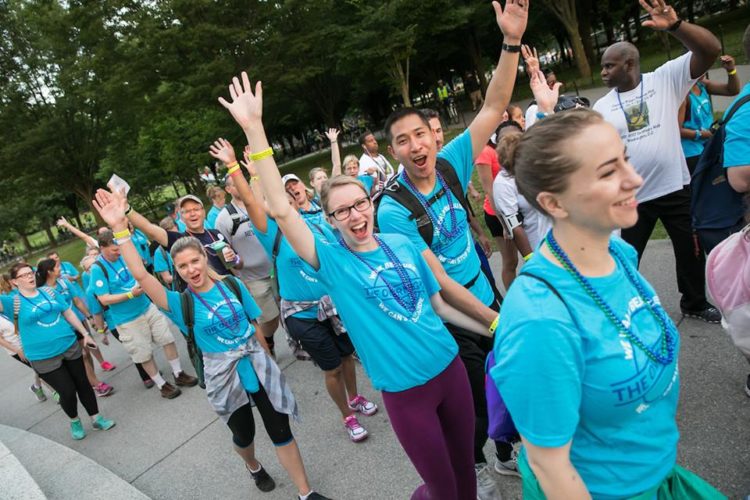 The American Foundation for Suicide Prevention (AFSP) is a nonprofit dedicated to raising awareness, funding research and providing resources to those affected by suicide.
AFSP's "Out of the Darkness" walks are one of the organizations biggest awareness initiatives. If you participate, you would be joining a group of a quarter of a million people across all 50 states to raise awareness and funds for suicide prevention. Sign up here to find a walk in your area.
6. Purchase Mental Health Swag from To Write Love on Her Arms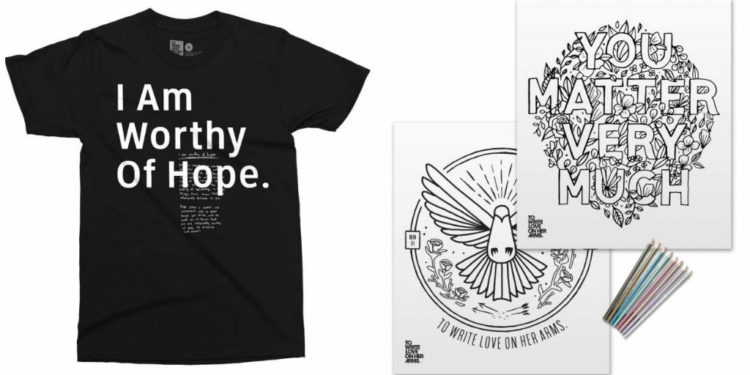 To Write Love on Her Arms (TWLOHA) is a nonprofit devoted to helping people struggling with depression, addiction, self-injury and suicide. Founded by Jamie Tworkowski, the movement exists to let people know they aren't alone and invest in mental health treatment and recovery.
One great way to support the work TWLOHA does is to purchase mental health swag from their online store. To purchase the "I am worthy of hope" T-shirt pictured above, click here. To purchase the featured coloring poster pages above, click here.
7. Attend a Mighty Mental Health Event in Your Area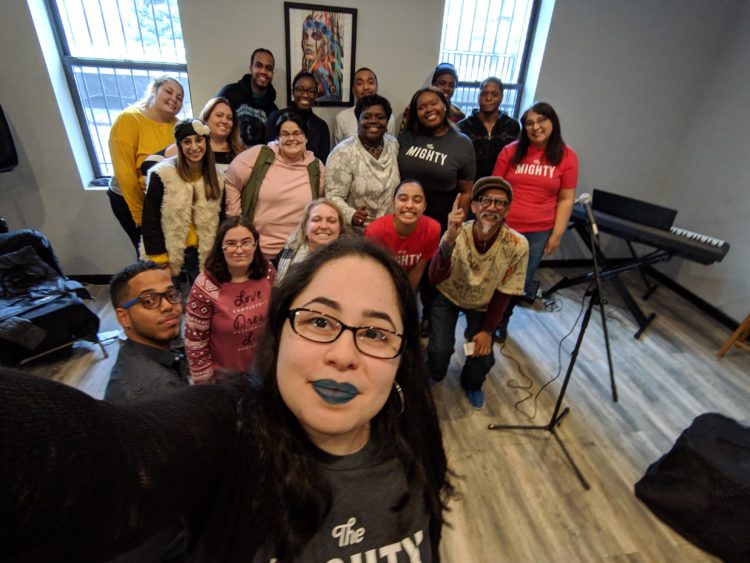 Did you know The Mighty has events every month? Now you can attend events in person and meet your Mighty family IRL (in real life)! Below we've listed some mental health events you can attend this May. For a full list of our events, head here.
What: Sound Mind will take place at Rough Trade NYC and feature performances by Langhorne Slim, Torres, Aparna Nacherla and Rosie Carney – these performers present a few outspoken voices advocating for the cause. Much like Farm Aid has done for food and family farmers, our mission is to catalyze social change on mental health, reducing stigma with the power of music.
Where: Rough Trade NYC 64 N 9th Street Brooklyn, 11249
When: May 13th, 2019 at 7 p.m. (EST)
What: In Our Stride Melbourne is a monthly 30 to 45 min walk around one of Melbourne's inner-city parks and is open to trauma survivors (emotional abuse, sexual assault, childhood abuse, domestic violence and PTSD). Joy us for the May walk; the first walk of 2019!
Where: Treasury + Fitzroy Gardens 20 Spring St Melbourne, 3000
When: May 26th, 2019 at 10 a.m.
What:  Mighty member Julia Dank is hosting a night for all of us who can't get enough sleep! The purpose is to share practical skills and practices on how to combat insomnia and its effects on the body/mind, and to hold space to connect, swap stories, hangout and above all relax with like-minded people who also live with insomnia. There will be light snacks and a few activities throughout the night! This is planned to be an ongoing event and meant to build a community to set up future events, so feel free to get involved and chime in!
Where: Bedford, New York
When: May 26th, 2019 at 6 p.m. (EST)
How are you participating in Mental Health Awareness Month? Let us know in the comments!
Header image via Born This Way Foundation and TWLOHA Facebook pages
Originally published: May 9, 2019