Fictional Character Face Off: Who Represented Mental Health Best?
---
As you may know, May is Mental Health Awareness Month. The pandemic has been pretty exhausting for a lot of us, so this May, we wanted to host a fun, mental health-related activity you can participate in from the comfort of your couch! As a bonus, it'll get you thinking about the representation of mental illness in pop culture.
Chances are, you've been watching a lot of TV and movies during the pandemic. Because of this, we're doing a "Fictional Character Face Off" to determine which TV/movie character represented mental health the best. For all you basketball fans out there, it'll be "March Madness" style with a tournament bracket and everything.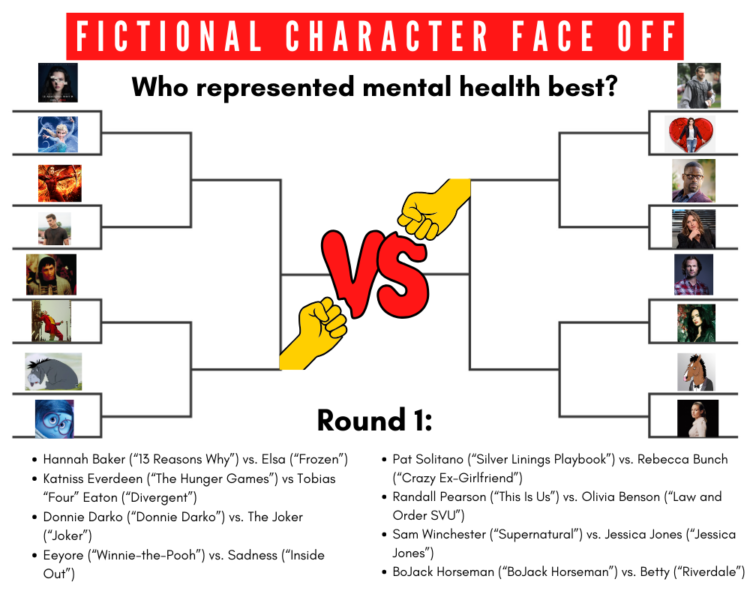 Here's how it works. During the month of May, We'll be posting pairings for you to vote on (For example, Hannah Baker from "13 Reasons Why" vs. Elsa from "Frozen"). Once we tally the votes, the winning character will move on to the next round, and the other will be knocked out of the running. We will keep going throughout the month until we whittle our list down to the ultimate mental health champion!
To participate, all you have to do is download our Mighty app (if you haven't done so already) and join our group "Watch With The Mighty." Excited to see who you vote for Mighty family!
Round 1:
Hannah Baker
("13 Reasons Why")
vs.
Queen 
Elsa
("Frozen")
Stories to help you choose:
Pat Solitano ("Silver Linings Playbook") vs. 
Rebecca Bunch ("Crazy Ex-Girlfriend")
Stories to help you choose:
Katniss Everdeen ("The Hunger Games") vs. 
Tobias "Four" Eaton ("Divergent")
Stories to help you choose:
Randall Pearson ("This Is Us") vs. Olivia Benson ("Law and Order SVU")
Stories to help you choose:
Donnie Darko ("Donnie Darko") vs. The Joker ("Joker")
Stories to help you choose:
Sam Winchester ("Supernatural") vs. Jessica Jones ("Jessica Jones")
Stories to help you choose:
Eeyore ("Winnie-the-Pooh") vs. Sadness ("Inside Out")
Stories to help you choose:
BoJack Horseman ("BoJack Horseman") vs. Betty ("Riverdale")
Stories to help you choose:
Round 2: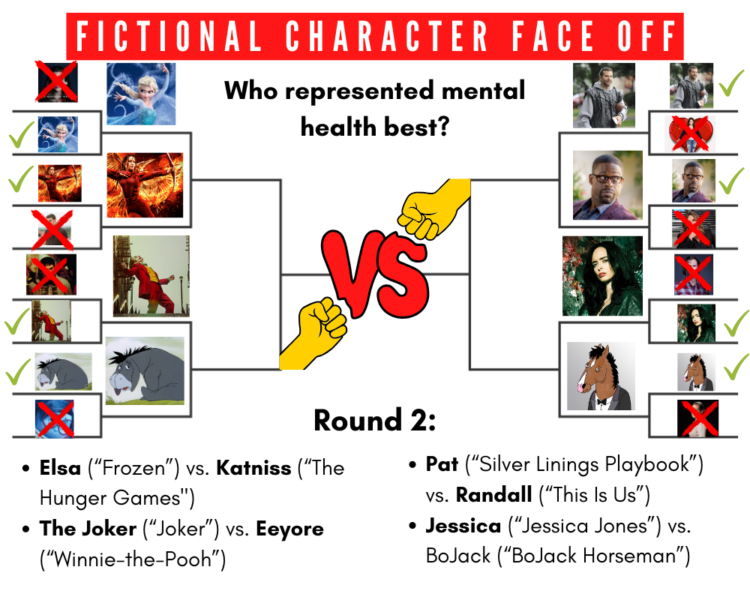 You voted and the results from round one of the fictional character face off are in! Here's who is moving on to the next round:
Elsa ("Frozen")
Katniss ("The Hunger Games")
Pat ("Silver Linings Playbook")
Randall ("This Is Us")
The Joker ("Joker")
Eeyore ("Winnie the Pooh")
Jessica ("Jessica Jones")
BoJack ("BoJack Horseman")