17 'Pocket-Sized' Items to Have on Hand for a Mental Health Crisis
---
Editor's Note
We hope the products below, all recommended by our Mighty community members, help you or a loved one in your health journeys. Just so you know, The Mighty may collect a share of sales from the Amazon links on this page. Prices and product availability are accurate as of publication.
When you live with a mental illness, oftentimes you can't know when you'll find yourself struggling next. Sometimes, you'll be in line at the grocery store and have an unexpected panic attack. Other times, you might see a stranger who looks like a former flame and find yourself struggling to get through the day.
Whether you have a full-on mental health crisis kit, or just a few pocket-sized items on hand, comforting items can really help when things get tough mentally. While many choose to carry these pocket-sized items with them, others may prefer to have a box at home — or even just have a few calming objects stashed in their car.
We asked our mental health community to share one pocket-sized item they use to get through tough mental health moments. We compiled their answers below — and added a few suggestions of our own.
Here's what they had to say:
1. Fidget Toy
"I always need something to fidget with. If I don't have my fidget cube (that invention has been so incredibly helpful), I'm known to play with my necklace or click a pen nonstop which tends to annoy people. The fidget cube is so helpful because it's small enough to put in a jacket pocket and play with without anybody really noticing." — Lucy S.
"My fidget spinner. Yes, I get asked why as an adult I carry one. I say, 'Why not?' It definitely is comforting to me, and an easy, convenient distraction when I need it. That spinner has carried me (or spun me haha) through so many nerve-wracking school presentations." — Kierstyn P.
Our picks: Fidget Cube ($10) and Rose Gold Fidget Spinner ($13)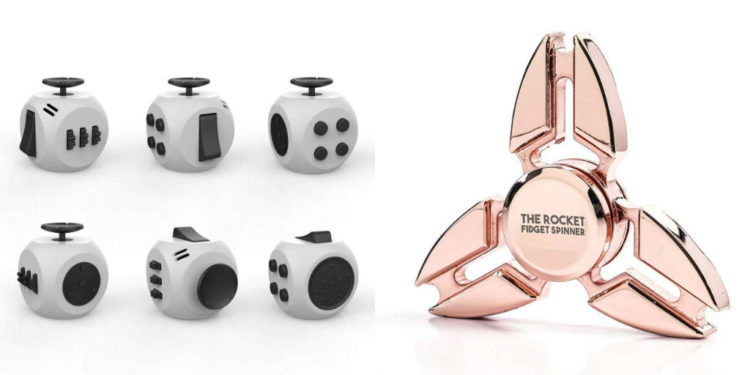 2. Phone
"Honestly, my phone. It's a lifeline for me, it has a few anti-anxiety/panic attack apps on it and acts as a great distraction tool for me. Another is my chain necklaces/rings — they give me something textured to fixate on and give an illusion of pain which helps in worst-case scenarios." — Izzie G.
"My phone. I'm usually not even actually doing anything on it, but it serves as a distraction to take my attention from whatever may be causing anxiety." — Heather G.
3. Essential Oils
"I have one of those essential oil necklaces that I'll smell when things get bad. It probably looks super weird seeing a girl sniffing a necklace, but it really helps calm and anchor me, especially if I'm dissociating. It can also help with the nausea that comes with anxiety. I like to keep peppermint oil in mine." — Mary N.
"I always keep a roller bottle with me of different essential oils I have mixed together that help my anxiety, lift my mood and help me to center myself. When needed, I will apply them to various points on my body and also just taking the lid off and smelling them can help me tremendously. When I'm trying to ground myself to come out of a flashback, I try to engage all my senses and smelling the roller bottle helps me focus my sense of smell on the here and now. That little bottle is often my life line." — Holly N.
Our picks: Essential Oil Locket ($13) and Essential Oil Rollerball Blends ($19)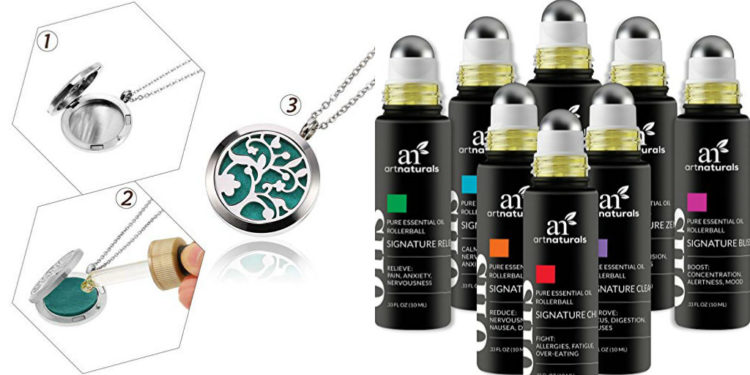 4. Rubber Bands or Hair Ties
"I wear rubber bands on my wrist. I rub them for texture, keeping me in the present moment. Also I use them for moments of crisis and self-harm. Popping the rubber bands have helped me through when the anxiety becomes too much." — Angie R.
"It might sound weird but a scrunchie. Either just having it around my wrist or in my hand. I had it with me during a tough time in my life, so it's become important to me. It's definitely a comfort thing." — Jackie A.
Our picks: Rubber Band Ball ($6) and Scrunchie 10-Pack ($11)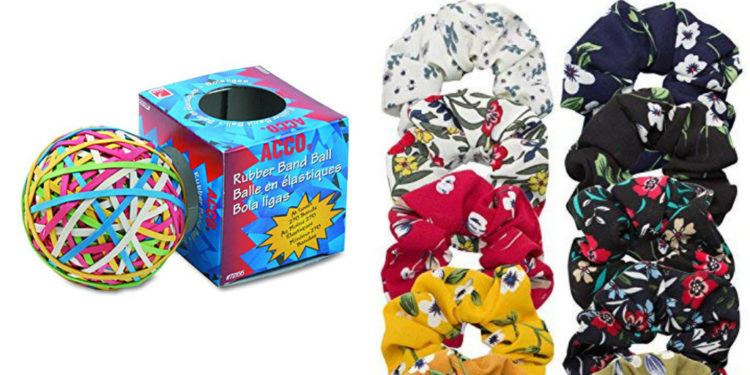 5. Spinning Ring
"My spinning ring! The chain spins… I use my thumb to spin the ring and it calms me down a lot!" — Tristan K.
"I spin my wedding ring around my finger when I'm anxious. My husband handcrafted it for me and it gives me good memories to focus on." — Samantha C.
Our pick: Steel Spinning Ring ($13) and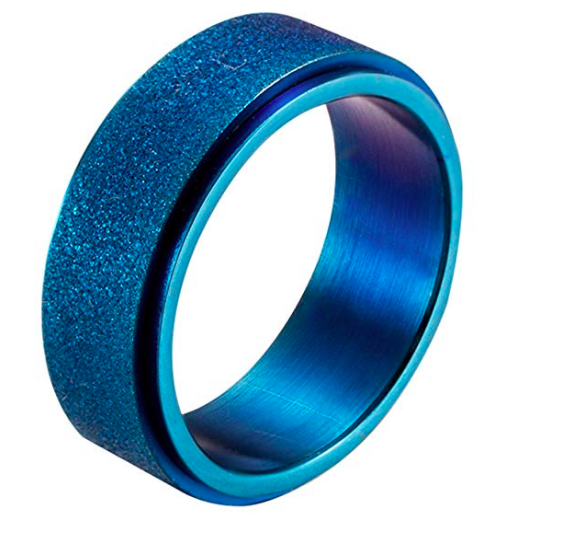 6. Worry Stone or Crystal
"My worry stone! It's smooth and comforting!" — Liz T.
"I have a small smooth rock that has 'Courage' etched in it. I keep it with me every day. My life quote: 'Courage doesn't always roar, sometimes it's just a quiet whisper at the end of the day that says — I'll try again tomorrow.'" — Amanda S.
"One of my crystals. Not only are they pretty, they do have calming attributes." — Schelley C.
Our picks: Worry Stone Set ($9) and Purple Geode Decoration ($16)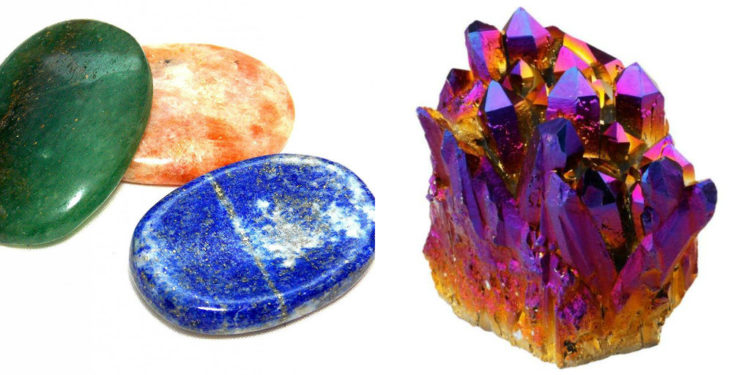 7. Sticky Tack
"Sticky tack. I play with it constantly. I steal it off of posters, buy it in packs at the dollar store — blue, white, any color. I color it with gel pens to make cool colors and designs. It's been a calm down of mine since about fourth grade when the harder bullying started." — Juniper R.
Our pick: Elmer's Tac 'N Stik ($4)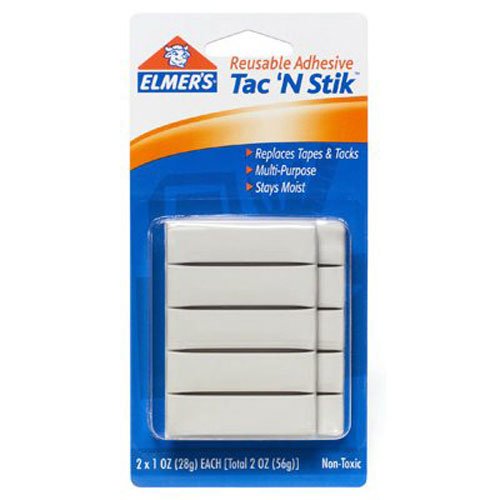 8. Mini Stuffed Animal
"My stuffed platypus. It provides me something to mess with and feel comforted by. Being squishy definitely helps." — Nova T.
"I have a small plush elephant I keep with me most of the time. I bought it for one dollar at the dollar store. The soft fur is soothing to run my fingers over and I can squeeze it when I'm feeling really anxious. I chose an elephant because it reminds me of my grandma who passed away two years ago." — Amanda H.
Our pick: Two-inch Husky Beanie Boo ($6)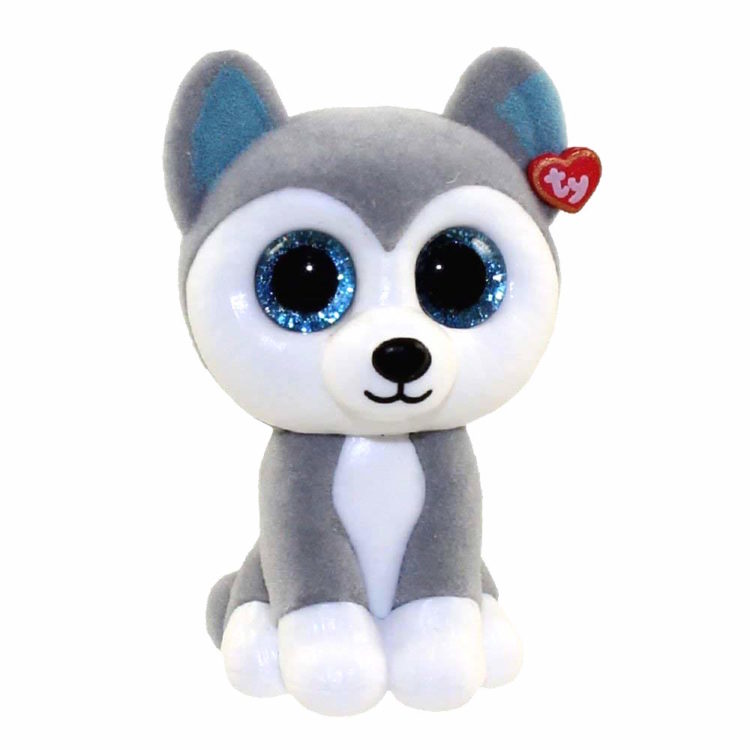 9. Headphones
"My phone and headphones to listen to music and block out the sounds of the world, for when I'm feeling triggered and dissociative, and in sensory overload." — Lulu B.
Our pick: Rose Gold Earbuds ($8)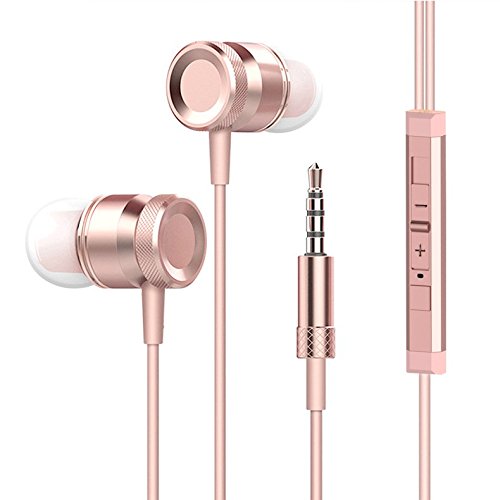 10. Notes of Encouragement
"Index cards that I have written helpful and comforting scripture verses on." — Alicia B.
11. Phone Stylus
"The more intense the moment, the more my touch screen doesn't respond appropriately to my fingertips. The stylus helps as that screen not working with my fingers doesn't help the already intense moment; especially if I have to use my phone." — Tessa S.
Our pick: Colorful Phone Stylus 10-Pack ($6)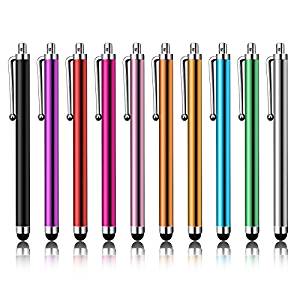 12. Puffy Stickers
"I put puffy stickers on the back of my phone. They are something I can touch when I'm feeling overwhelmed." — Katherine E.
Our pick: Puffy Sticker 1500-Pack ($9)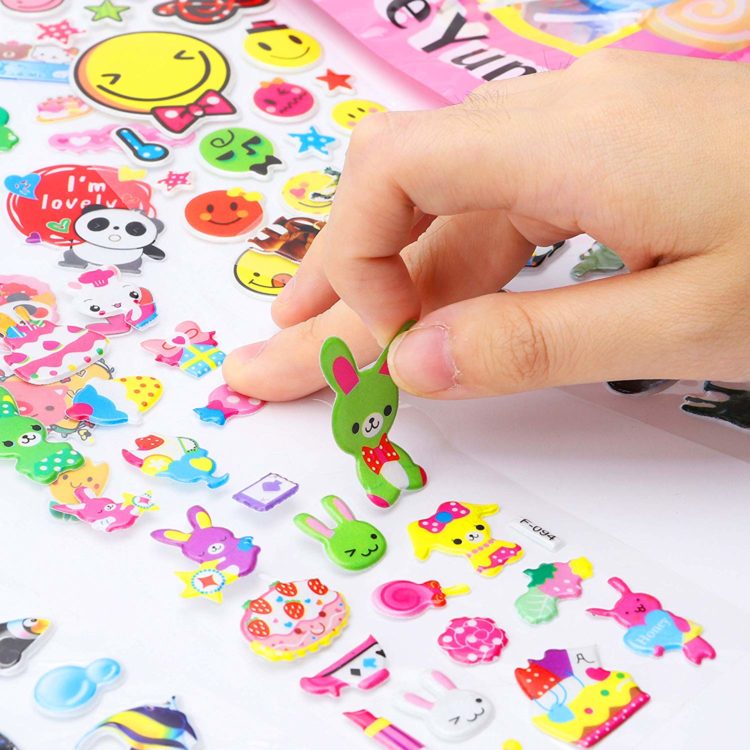 13. Hard Candy or Mints
"Definitely hard candies. It keeps my mouth occupied and I'm not picking at my lips or biting my nails." — Abby C.
"Some hard candy like Tic Tacs or mints." — Kimberly G.
Our picks: 24-Pack of Tic Tacs ($20) and Bag of Jolly Ranchers ($11)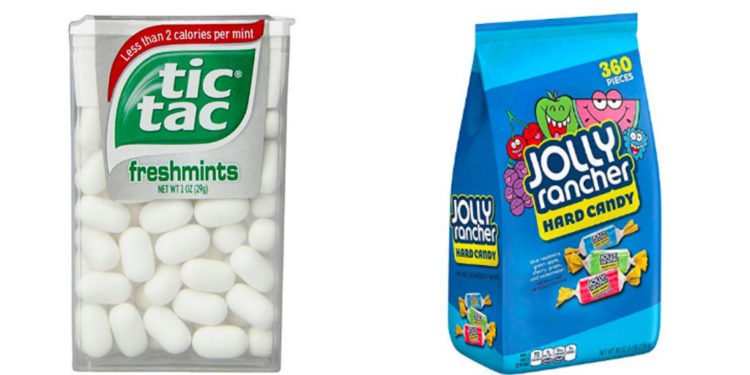 14. Backup Medication
"A tiny pillbox with backup medications that I carry in my purse at all times." — Megan S.
Our pick: Lemon Pillbox ($6)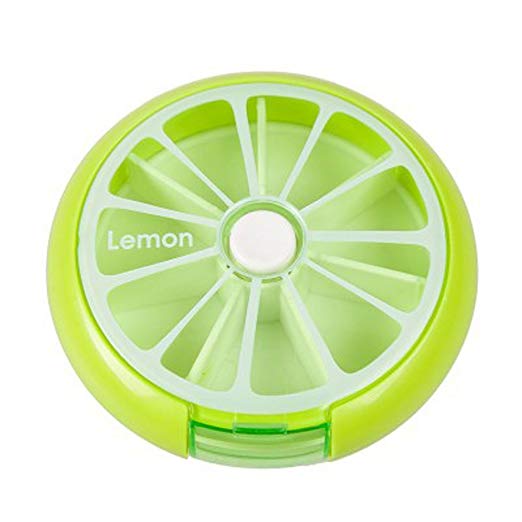 15. Bracelet
"My bracelet and fidget ring! I look at my bracelet when I need a reminder that whatever I'm going through won't last forever. My fidget ring allows me to keep my hands busy during class or stressful situations." — Andrea K.
Our pick: "I Kept Living" Bracelet ($4)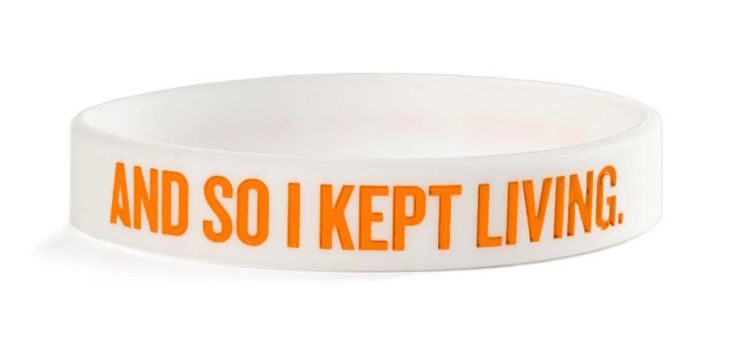 16. Keychain
"I have a fuzzy round keychain I hang from my purse and hold it in my hand when I feel anxious, especially in the supermarket. Feels like I am petting my dog who calms me down at home." — Donna S.
Our pick: Watermelon Fuzzy Keychain ($2)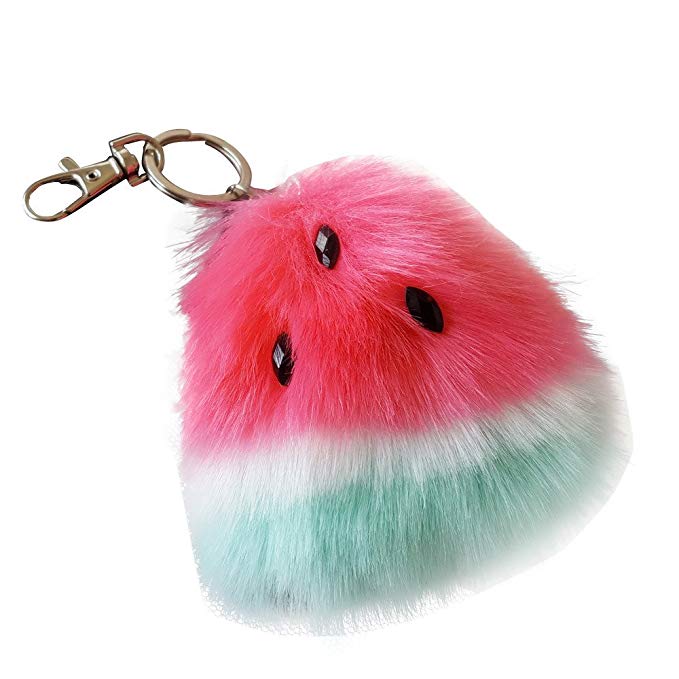 17. Numbers of People or Organizations You Can Contact
"I also always carry my primary care doctor's business card with me. He truly saved my life and I feel safe in the office and his business card reminds me and grounds me." — Caitlin M.
It might also be helpful to have these numbers on hand:
National Suicide Prevention Lifeline: 1-800-273-8255
Crisis Text Line: Text "START" to 741741.
What pocked-sized item helps you in a time of mental crisis? Let us know in the comments.