8 Ways to Cope If Sex Is Triggering Because of Past Trauma
---
Intimacy, at times, can feel daunting. The idea of baring all — physically and otherwise — for another person can be terrifying and even a little embarrassing, especially if this person is a new face.
This is especially true for those who deal with trauma relating to sex and intimacy. On top of the mystery of an unfamiliar person — or even a close significant other — those with trauma have to consider how the mystery of how their brain might react to sex tonight. It may be fine, but it may trigger you. It may spur a panic attack.
Because of the difficulty that comes with navigating intimacy and sex with past trauma, we asked our mental health community to give us some advice on how to work through it successfully.
Do you have any advice or coping mechanisms for someone dealing with sex-related trauma? Click on the photo to join the conversation!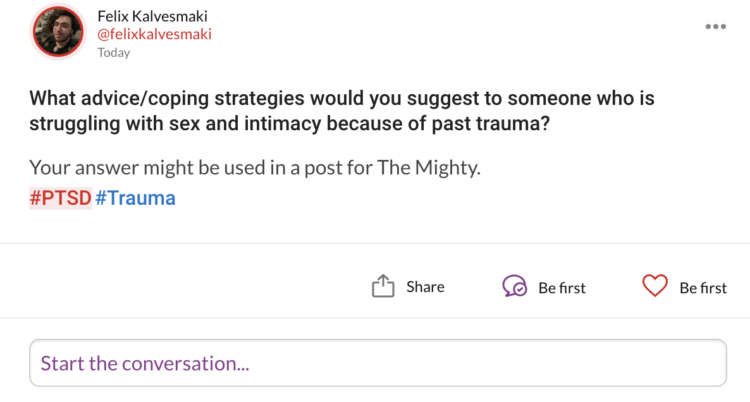 This is what our community had to say:
1. Don't push yourself.
"Take it slow and talk to your partner. If you're not comfortable, tell them. It will only get worse if you don't." — Rachel L.
"Do not rush yourself or 'jump in at the deep end.' All you are gonna do is slingshot your progress backwards. Take your time, and make sure you feel safe and comfortable. Honestly, I tried to rush myself and it led to everything getting worse. It's not worth trying to rush or jump ahead, all you are doing is putting your mental health and relationship in danger." — Callum C.
2. Find ways to distract yourself if you're feeling overwhelmed.
"Drawing and photography (no porn), fidget [tools] and exercise, to express your feelings and to distract yourself." — Abbey D.
3. Use "safe words" or actions with your partner.
"Me and my boyfriend have a code. If it's too much for me, I tap him on the shoulder three times and he immediately stops whatever's going on." — Ellie K.
4. Ask to be held/cuddled.
"Don't tell yourself it's something you have to do. Ask your partner to show you respect and when you start to realize it's you that's in control it might start to get a bit easier. If you start reliving trauma or dissociating then you need to stop and ask to be cuddled. Then you still feel close to your partner and most of all you will be in control." — Lynn T.
5. If physicality makes you nervous, connect to the emotional aspect of sex.
"Instead of sex or it being 'intercourse,' what about seeing that person as a soul. A ball of energy or light. Not a sexual connection. But a deeper connection with the mind and soul." — Patrick G.
6. Start small.
"I work in therapeutic recreation and when someone has a problem with intimacy we encourage them to do the smaller things first, like laying in bed together, fully clothed or not, or start off by doing things you and your partner are comfortable with!" — Jessica P.
"Don't ever let your head get out of control. Start slowly. Talk about it. Start hugging. Start kissing. Start touching. Slowly. Always just go as far as you can control your head." — Saraya V.
7. Accept the fact that you're healing.
"I have learned that I made peace with everything and accept my illness with open arms. Once I learned peace within myself, everything has started to fall into place." — Heather L.
8. Communicate with your partner, and yourself.
"Communication is key — talk to your partner, let them know your triggers and how they can help you deal with them." — Beth H.
"Be transparent about your thoughts, emotions and the lived experiences of having trauma resurface in intimacy with your partner. Be patient with yourself as you continue to heal and manage the symptoms caused by your trauma. Be kind to yourself as it isn't your fault and you are doing the best you can." — Brent L.
Sex is a tricky thing to navigate, and it's OK if you're not comfortable with it just yet. What's most important is that you navigate it at your own pace, and only when you're comfortable with doing so. If you need a place to connect with Mighty community members who've been there, download our free app and post with the hashtag #TraumaSurvivors.
Photo credit: Getty Images