14 Things You Need to Know When You Start Psychiatric Medication
---
Editor's Note
Please see a doctor before starting or stopping a medication.
When you first start psychiatric meds, you honestly don't know what you're doing. I wish there was a class on how to be a good and helpful patient that anyone could take for free when they get their first script, but instead, I will write out the things I believe are crucial to make significant progress aided by meds.
Although I am not a doctor or any sort of health professional, I do consider myself a "professional patient" due to the past 13 years of dealing with bipolar disorder, major depressive disorder (MDD) and generalized anxiety disorder (GAD). All that time, I have been in treatment with psychiatrists, psychologists, therapists, general practitioners and specialists in various fields. The following is what I've learned.
1. One medication does not work the same on everyone.
And, if you're already telling other people about your meds (what works for you and what doesn't), then please read the disclaimer that needs to come before any advice you hand out.
2. Medication can have side effects.
Sometimes a medication has the effect of causing health problems, making things worse or affecting you in a way opposite to its intended purpose. An example is that, for some people, some antidepressants can cause suicidal ideation, and some antipsychotics can cause hallucinations. These effects happen to a small minority of people, so this doesn't mean you shouldn't try them. Because…
3. Medication can save your life.
Meds can bring you back from the brink. Meds can improve you enough to be able to use coping skills, which is difficult in a nonfunctional place.
4. Doctors are stabbing in the dark when you begin treatment.
This means you will probably have to try more than one medication before you find one that works. Once you find one that works, then you will need to…
5. Adjust your dosage and time of the dose with the guidance of your doctor.
Often, a medication that works for you a little bit can work for you a lot after you figure out what time(s) of the day make you feel best. This is often called "tweaking the dose."
6. To learn how the dose needs to be tweaked, you will need to keep notes.
Print out a mood chart from the internet (search "mood chart" — it's easy). Go to a FedEx store or the library if you don't have access to a printer. I know some apps do the same thing, so look for those instead if you're inclined. Or just keep a notebook. It doesn't matter how you do it as long as you have the following information in an easy-to-read way:
Your daily mood status.
What you are taking, what time and how much. (You don't need to write down the things that don't change every day.)
Your mental illness symptoms, especially anything severe or unusual for you.
Other health problems.
Any problem behaviors or events (like self-harm or episodes).
Any insight you notice about how you are being affected.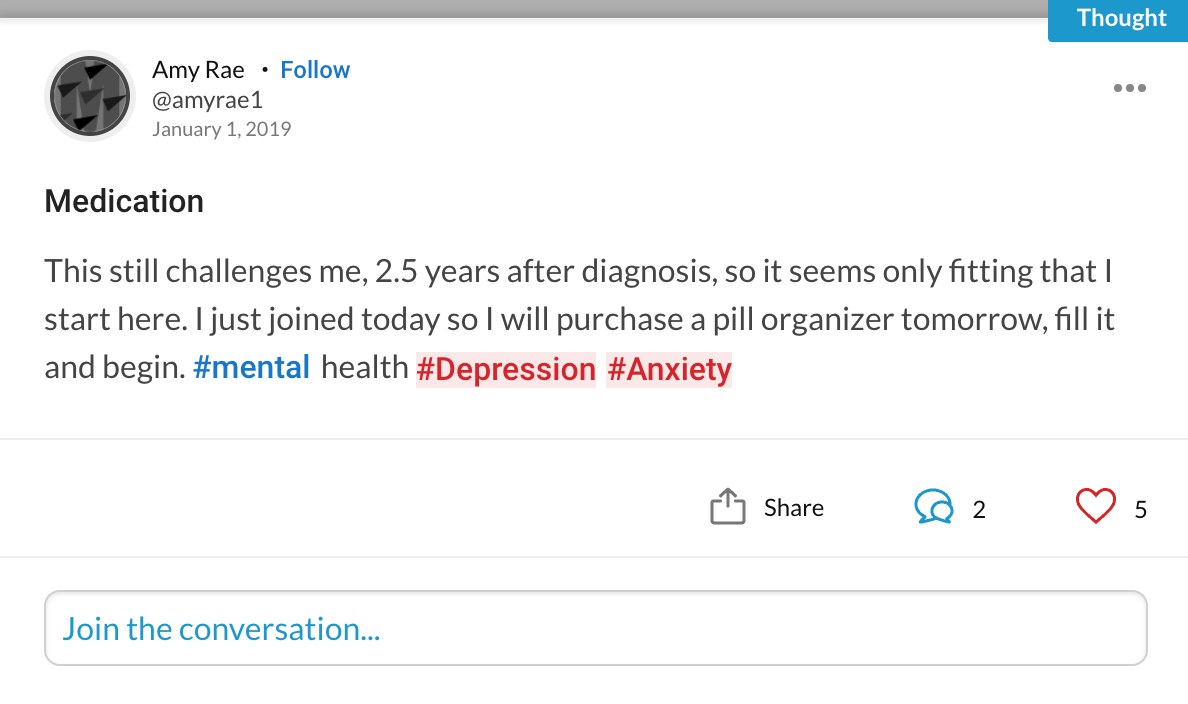 7. Bring your notes with you to the doctor.
Some doctors' appointments are as short as 10 minutes, so every sentence counts. Having all the information on hand eliminates the need for telling long, rambling stories full of irrelevant details. This is probably the most important thing to do in your relationship with your psychiatrist.
8. If you are prescribed more than one medication, only change your regimen one way at a time, for a trial period of a week or more.
Ask your doctor what adjustments are appropriate for you to try if you feel you have an insight about your medicine. My doctor allows me to do trial-and-error testing with the timing of my six daily doses because he now trusts my judgment. The reason you should only make one change at a time is that if you're making multiple changes at once, you cannot clearly determine what is helping or hurting you.
9. You will probably have to try multiple medications and multiple mixes of meds before you find what works.
This process sucks, because the ones that don't help leave you feeling hopeless of getting better, and sometimes they even make you worse. This is why note keeping is so vitally important; it allows you to limit the amount of suckage you experience with a med and move on to the next trial, instead of waiting around forever on something that is not right for you.
10. If your doctor's office has an online service, learn it and use it.
11. Pick a pharmacy that is open late hours, seven days a week.
Walgreens and CVS have many stores that fit this bill. Walgreens also has a website and app, and you can put your prescriptions on auto-refill so that you don't forget to refill them (this does not work with controlled substances like benzodiazepines, which are restricted). If you do not have an auto-refill option online, you can request one in person or over the phone, directly from a pharmacy technician.
12. Find ways to set reminders to refill your medication.
This seems simple and is not. Phone alarms and calendars are options for reminders. Take this very seriously. Missing a dose can send you spiraling.
13. Ask your doctor if you can get three-month prescriptions so that you don't have to go to the pharmacy as often.
This is a good practice for preventing missed doses and late prescriptions.
14. Set alarms on your phone to remind you to take your medication.
If this doesn't work, then set another alarm for ten minutes later. No joke, this is still a paramount practice for me, even after 13 years.
Congrats! You survived the bulk of this course. This advice largely applies to other medications, prescriptions and doctor visits. This is helpful for anyone with a serious illness, not just mental health. This is how you become a "professional patient."
I hope you gained something from this course written by a totally unqualified stranger. All I can say is that these are things I've fought to learn over the past 13 years, and this was not easy knowledge to acquire. Now, these practices are an enormous part of how I stay functional. I do have bad times sometimes, but I also have times when I am in partial remission and feel genuinely OK or even well. Feeling well is a goal worth working for.
My disclaimer:
I am not a professional, and this is not professional help. I wrote this to help people, and these are my opinions on how to succeed with medication. I am not trained. I believe my methods are helpful and will not cause harm, but again, I am not a doctor.
Follow this journey on the author's blog.
Originally published: February 1, 2019