My Job Makes Me Cry Every Day
---
I cry every day at work.
Sometimes I walk to the bathroom to do it. Sometimes I take a lap around our office building. Sometimes I just let it out at my desk.
I don't sob or wail. It's a silent cry — a head-feels-clogged, vision-slowly-blurs, cheeks-get-warm kind of cry.
It feels good.
I cried when I read The Mighty's first original blog post, "My Daughter Was Alive for 23 Minutes, and Every Second Was Beautiful," written by Michelle Nagel, who I'd only met via email. I cried because she found beauty in tragedy.
I cried when I watched 40 boys put on suits to stand up for their friend, Danny, a dapper 6-year-old bullied for his Frank Sinatra style and severe apraxia of speech. I cried when his mother later told me how kids now only call Danny out for being on TV.
I cried after an interview with a woman named Hope Cross, whose now husband, Steve Dezember, told her she didn't have to stay with him when he was diagnosed with ALS early in their relationship. She stayed. I cried because she chose love over a seemingly easier life. And she didn't have to think twice about it.
I cried when professional wrestler John Cena noticed a fan with Down syndrome standing ringside and made this happen: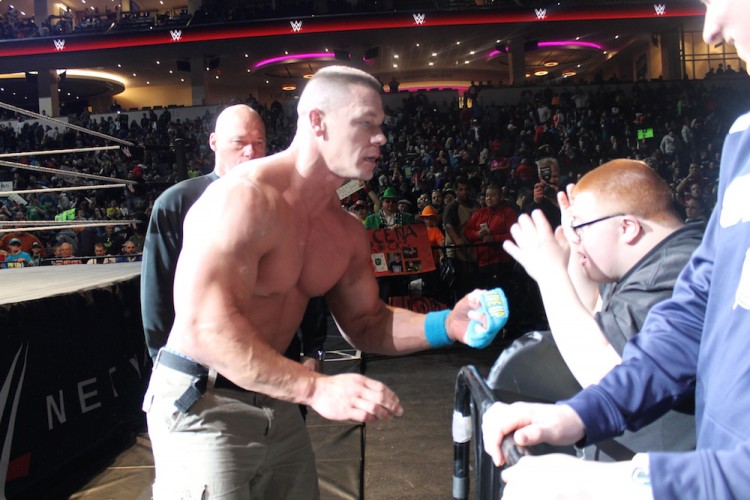 I cried because little moments like this matter.
In the last year I cried when a little girl noticed a boy with autism swimming without any friends and when a breast cancer survivor bared it all in a John Legend music video and when a friend of mine wrote openly about going to a mental health counseling center for the first time. I cried when a woman wrote a letter to a stranger on the other side of a hospital curtain and when a stranger helped a woman in a wheelchair deal with a broken elevator and when a lady in a bathroom let her kids say hello to a boy who looked different than them.
Happy tears, sad tears, I've-been-there tears, I've-never-thought-about-it-that-way tears, I-couldn't-tell-you-why-I'm-crying tears. Even maybe-I'm-just-a-sap tears. I've cried them all. Hell, I'm choked up right now.
When we started The Mighty a year ago, we hoped it'd be a place where people could come to feel less alone and find beauty in their challenges. We pictured this website as an uplifting, inspirational hotbed of news stories. I didn't know so many people would lend us their voices. To date we've had nearly 900 guest bloggers. These people let us share their stories. They let us read about their darkest moments and their highest points. They were honest and heartfelt and vulnerable. They've driven me to tears.
Our founder, Mike Porath, likes sports references, so I'll make one here. In his famed ESPYs speech, the late Jimmy V said we should all do three things every day:
Number one is laugh. You should laugh every day. Number two is think. You should spend some time in thought. Number three is, you should have your emotions moved to tears, could be happiness or joy. But think about it. If you laugh, you think, and you cry, that's a full day. That's a heck of a day. You do that seven days a week, you're going to have something special.
So to our readers, to our contributors, to the people who volunteered for an interview in the last year while we've tried to grow this thing, I want to personally thank you. You've made me cry every day. Seven days a week. That's something special.
Want to celebrate the human spirit? Like us on Facebook.
And sign up for what we hope will be your favorite thing to read at night.
Originally published: April 14, 2015