How Kids, Art and Storytelling Helped Build a Parkinson's Community
---
My Parkinson's story began like most others. I hoped I had essential tremor but thought I probably had Parkinson's. My family doctor referred me to a local neurologist who confirmed the latter and the rest, they say, is history.
What is Parkinson's Disease?
How best to live with Parkinson's? I fully believe in the benefits of a positive outlook, exercise, community, and creativity. Self-care is critical for everyone, but especially so with a chronic disease. The difference between living well from day to day or not calls on self-efficacy and building a strong community.
Both community and creativity are found in a wonderful intergenerational program called Sidekicks, which I learned about through the Davis Phinney Foundation for Parkinson's. Earlier this year I was fortunate to be involved in Sidekicks and love how this program pairs kids with adults with Parkinson's for a smattering of education and a whole lot of creative fun. I was impressed by the wonderful materials (free to us!).
First, you get to complete an art project called Story Prints that calls for tracing your hands and then writing/drawing things for which you're grateful on one hand and things you hope for on the other. While doing this, the kids tended to naturally help if an adult's hands were too shaky to draw and they chattered about their day, which lightened the mood of everyone there. A sense of community began building within the group as both conversation and ink flowed.
The second meeting included learning some Parkinson's facts and time to paint an Ideascape. I would describe that as an opportunity to paint your idea of a perfect world. Bullying can occur in many forms for all ages. Neglect can isolate someone, anyone. Sharing what is important, even if seemingly silly, allowed participants to listen, truly listen, to each other. You want musical notes and superheroes dropping from clouds in the sky? Draw it! You envision people living in harmony? Show us what that looks like. While painting a scene from her youth in a west Texas town, one person with Parkinson's remarked that Sidekicks was igniting her creativity, and this seemed true for others as well. Everyone drew and painted and talked and laughed. I loved seeing the kids hover over the work of the adults and hear tales from years past or a funny event from as recent as yesterday. I was moved almost to tears one day by the gentle, but huge hug one girl gave her adult partner with these words, "I can't wait until next week!"
There was more art in the third session and then a final event that showcased all the art pieces that had been made during Sidekicks. Family and friends who attended witnessed the awarding of certificates and visiting with the artists to learn about their creative story and as one boy told his mom while dragging her to the other side of the room, "Come on, Mom, you need to meet my new friend."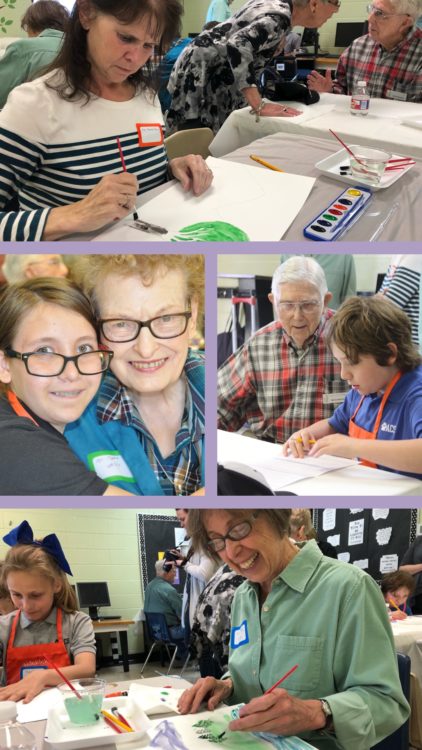 Sidekicks definitely enhanced my ability to focus on the positive and try something new and creative. I witnessed how it supported a new type of community with rewards for young and old. If you have Parkinson's, I urge you to participate in Sidekicks if it is offered near you or encourage you to see how it can be brought to your city.
Nothing much has changed about my Parkinson's, but I have new friends of all ages from this small but mighty (one of my favorite phrases) Sidekicks group and we're planning to do it again next spring. Now, that's something to look forward to! Thank you to Davis Phinney Foundation for Parkinson's. A huge virtual hug and thank you to the participants!
Sidekicks is made possible through support from Lundbeck.
Photos courtesy of Lorraine Wilson
Originally published: September 10, 2019