Ariana Grande Shares Her Brain Scan to Show What PTSD 'Looks Like'
---
Ariana Grande has never shied away from talking about her mental health — especially since the traumatic 2017 bombing at her concert in Manchester, England, that left her with anxiety and post-traumatic stress disorder (PTSD).
On Thursday, the "thank u, next" singer posted a screenshot of a text conversation that showed images of brain scans. One image showed a side-by-side comparison between a "healthy" brain scan and a "PTSD" brain. The PTSD brain scan has more areas highlighted, indicating the differences in brain activity in PTSD patients.
Underneath this image Grande wrote "my brain" followed by an image of what is presumably her own brain scan, with even more areas "lit up" likely due to increased brain activity. She commented on the comparison of the photos by writing, "hilarious and terrifying" and "not a joke." You can view the image below.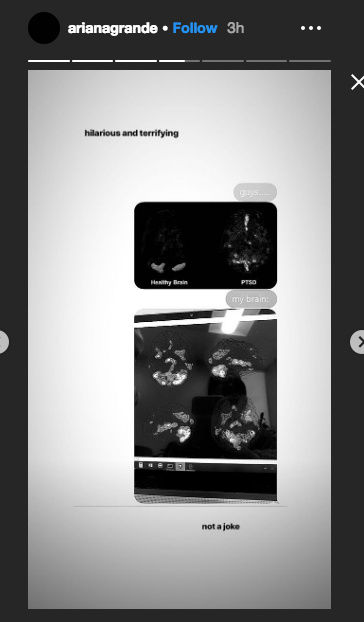 Though Grande doesn't give further context for the photos, research has made it clear traumatic stress and PTSD can alter the brain.
In a paper on traumatic stress, J. Douglas Bremner, M.D., notes the parts of the brain implicated in the stress response include the amygdala, hippocampus and prefrontal cortex. He wrote traumatic stress can make lasting changes to these brain areas.
One of the most common stress responses people with PTSD experience is hypervigilance, a state of perpetual alertness from the brain being in a state of hyperarousal. This is something Mighty contributor Joan R. wrote about in her piece, "Speaking the Language of PTSD." She said:
There are so many things that feel virtually impossible to explain to someone without PTSD. For example, hypervigilance. It's noticing everything and constantly scanning my environment; being alert even when I'm trying to sleep — it's depleting and it never stops. Or trying to explain how noisy the world is to me… How do I explain the pain in my body from reliving trauma?
If you live with PTSD, you're not alone. Check out the following resources for support. If you don't feel like you have supportive people in your life, you can always reach out on The Mighty by posting a Thought or Question with the hashtag #PTSD.
Image via Creative Commons/Cosmopolitan UK