The Graphic I Made to Reveal 9 Major Misconceptions About Mental Illness
---
Editor's Note
Any medical information included is based on a personal experience. For questions or concerns regarding health, please consult a doctor or medical professional.
Please see a doctor before starting or stopping a medication.
Every day I see or hear misconceptions about mental illness: in the media, on social media and from people around me.
Sometimes I hear the weirdest questions or statements, and if I ask how they know this, it sounds mostly something like, "the media said it," or "I read it on social media."
Well, not everything you read or hear is true, and especially with sensitive subjects like mental illness, it's essential to know the facts, because there is already so much stigma involved.
Here are a few of the biggest misconceptions I hear about mental illness.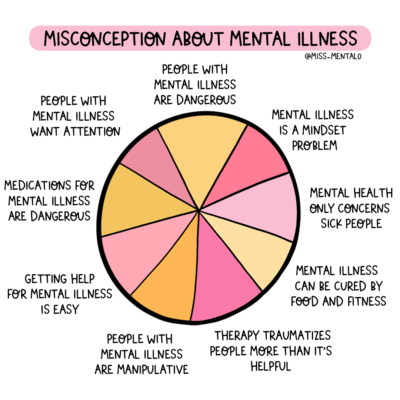 1. People with mental illness are dangerous.
There are more crimes committed by people without mental illness. The media often sensationalizes news items involving confused people, so it looks like people with mental illness are dangerous, but the reality isn't so black and white.
Sometimes there can be a dangerous situation when someone is experiencing psychosis or a post-traumatic stress disorder (PTSD) flashback, but this doesn't mean they are dangerous people, or that all people with mental illness are dangerous.
2. Mental illness is a mindset problem.
Mindset does help, but when you have a mental illness, it's more than that. It involves genetics, coping, personality, social network, childhood, trauma, hormones, etc. A great mindset will not make up for everything else that's missing. It's also hard to have a good mindset when it feels like everything around you is tumbling down.
3. Mental health only concerns "sick" people.
We all have mental health, and we should take care of it. A lot of people aren't aware they have certain patterns that hurt them, and they can be changed if they want to change them.
4. Mental illness can be cured by food and fitness.
Again, a good diet and sports can help you feel better in your body, but it doesn't make up for all the other things you need for a stable life, and it's definitely not a magic cure. 
5. Therapy traumatizes more than it's helpful.
Therapy requires you to look at yourself, your coping and your possible trauma. It's not easy, and your symptoms might get worse at first, but with a good therapist, it shouldn't be traumatizing.
If you feel your therapy is traumatizing you more than it's helpful, it's wise to look for another therapist or treatment that suits you better.
6. People with mental illness are manipulative.
Everyone has needs, sometimes it's hard to communicate these needs. People with mental illness might have a bigger "ask," but it's because it's needed to heal and feel safe. It's not meant to be manipulative. That said, most people are (unconsciously) manipulative at times.
7. Getting help for mental illness is easy.
It's not. You have to be ready, waiting lists are long and therapy can be expensive. It's also hard to find the right treatment and therapist — it's a process that might take years.
8. Medications for mental illnesses are dangerous.
All medications have side effects. Medication shouldn't be prescribed without reason, but it can be an excellent tool to help people heal, especially when there is a hormonal imbalance involved. If someone takes medication, it's typically for a good reason.
9. People with mental illness want attention.
People in general want attention, that's a fact, but people with mental illness are often ashamed. For them to speak about it is brave, it's not attention-seeking. Talking about mental illness should be applauded, not shamed.
What's the biggest misconception you hear about mental illness? What would you like to tell people?
Original graphic by author.
Originally published: November 15, 2019