13 Photos That Show How Service Dogs Help People With PTSD Symptoms
---
It's no secret having a pet can be beneficial for your health. Cuddling with and walking your pet can be instant mood boosters. But for many people who live with post-traumatic stress disorder (PTSD), having not just a pet, but a service dog, can radically improve day-to-day functioning and help them on their journey with PTSD.
We wanted to know how service dogs specifically help people with PTSD, so we asked our Mighty community to share a photo of their dog and how it helps them cope with PTSD symptoms.
Here are some wonderful service doggos in our community:
1. 
Kiah p

rovides deep pressure therapy for her owner.

"Kiah does deep pressure therapy (DPT), which calms the nerves in my body. She'll alert [me] to my rising anxiety based off my visual body cues, guide me to a place to sit down and then perform DPT until I tell her I'm OK." — Skyleigh B.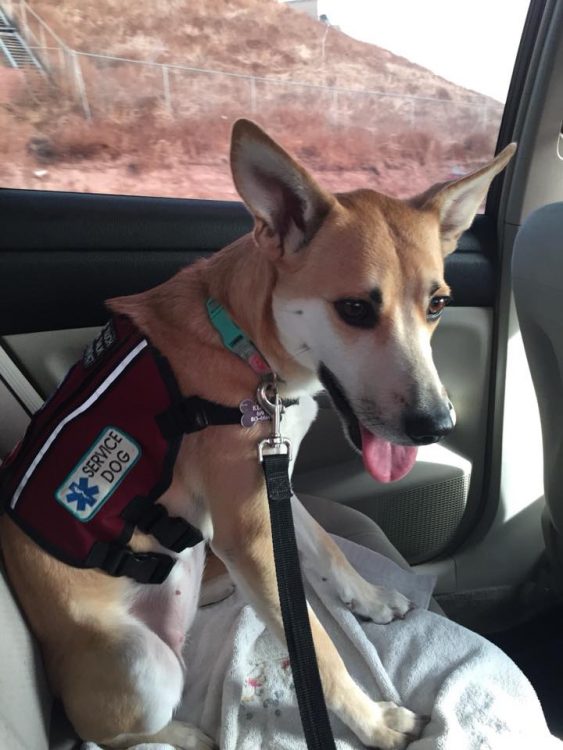 2. 
Fred

 gets his owner to a safe place when she's having a panic attack in public.

"Fred alerts me to episodes before they get me. He also interrupts them if they do. He wakes me from night terrors and helps me get to a safe place if I start having a panic attack in public. He also is trained to interrupt self-harm behaviors and get help if needed. He's my best friend." — Danielle B.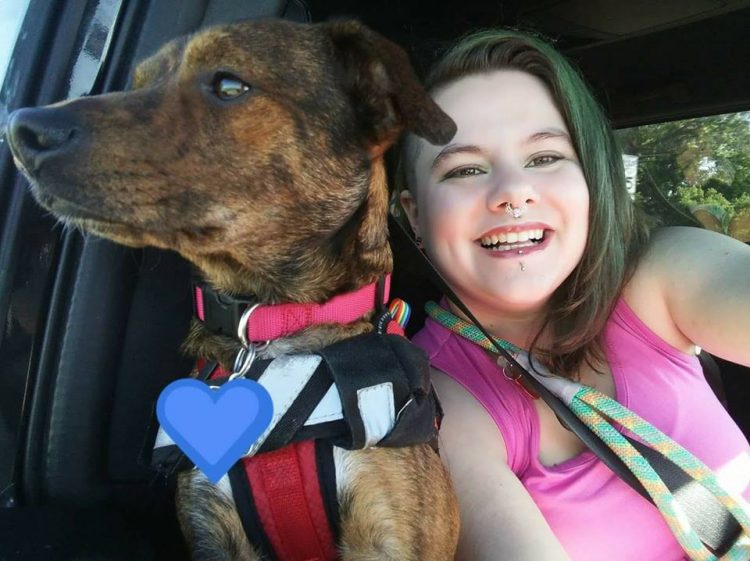 3. This dog pulls her owner out of dissociation.
"She's still in training, but oh my God, she helps me in ways she'll never know. When I have panic attacks, she comes up and sits between my legs and leans against me. Sometimes she'll wrap her arms around my neck and lay her head on my shoulder. She makes me feel so safe. She makes me get out of bed, and pulls me out of dissociation. She wakes me from night terrors. She is my savior." — Alyssa W.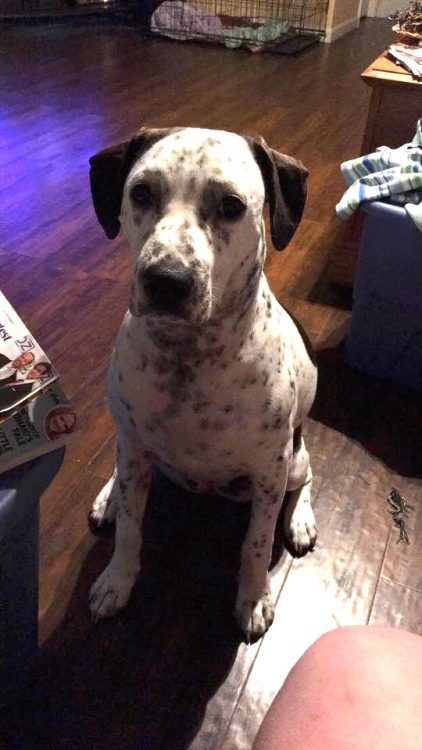 4. Paw is learning how to bring medication to his owner.
"This is Paw 'Printze' Charming… He's trained to interrupt bouts of crying and nightmares. He alerts me to people close to the house, he knows all basic commands plus 'leave it,' and we continue to work on block, cover, take meds (grab my meds and hand them to me) and walking without a leash. As an agoraphobic (in addition to PTSD), it's difficult (next to impossible) to get him out on a leash regularly. We're working on continued training, though." — Tazz M.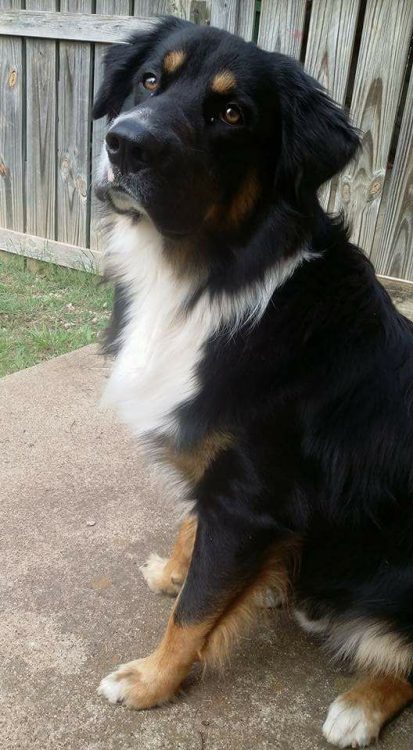 5. Daisy helps her owner feel grounded.
"Daisy keeps me grounded when I'm dissociating from flashbacks and my panic disorder with agoraphobia." — Sabrina M.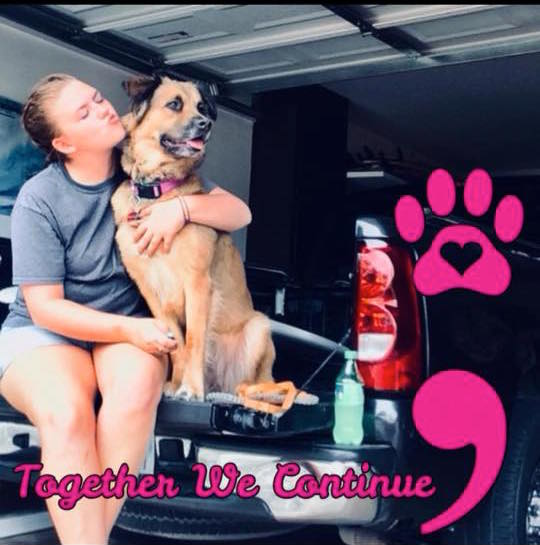 6. Vicky wakes her owner up from night terrors.
"This is my service dog Vicky. She is really good at waking me from nightmares." — Kindra L.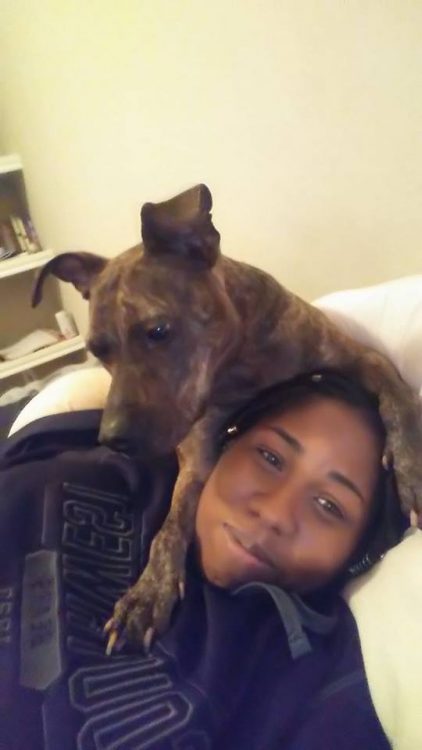 7. 
Koira a

lerts her owner when his blood pressure is high.

"Koira alerts me if my blood sugar is getting too high. I've ended up in the ER twice because she alerted me." — Russ T.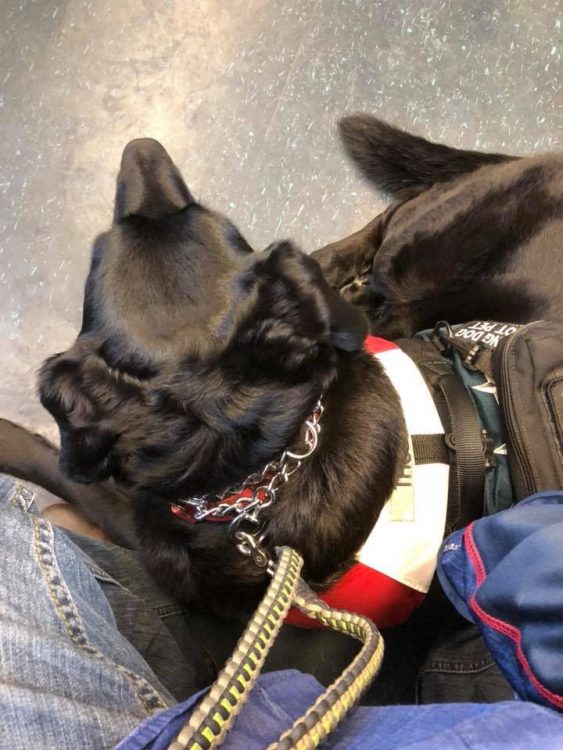 8. Cody helps his owner feel grounded during her exams.
"Cody alerts me to oncoming episodes so I can try and stop them and he interrupts them if they do occur so they don't develop. I also use his him as a weighted lap pad to help ground me, which is especially helpful during exams. I wouldn't be back in university if it weren't for him." — Madeleine C.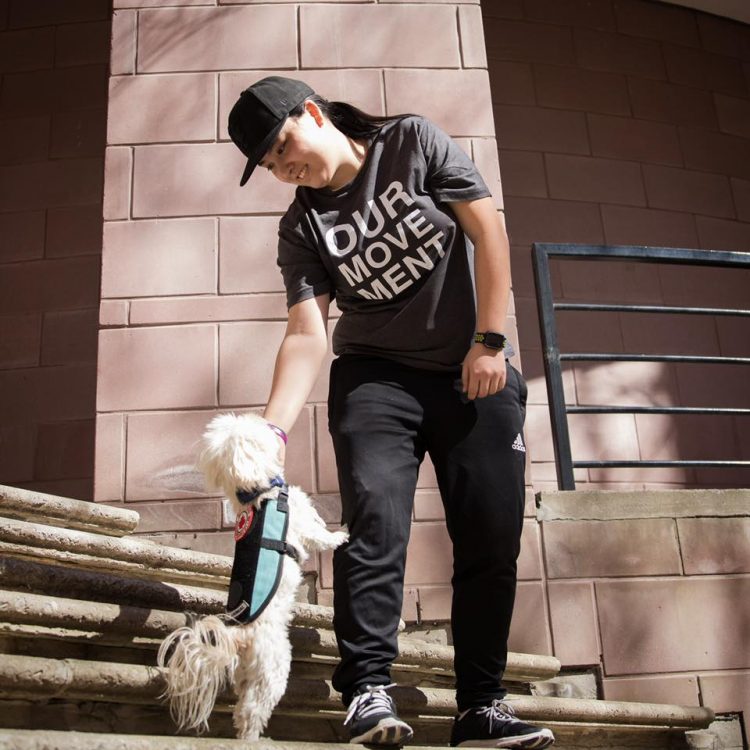 9. Johnny helps calm his owner down when her anxiety comes out as anger.
"This is my Johnny… He sleeps against my back every night, helping me feel secure enough to fall asleep. He purposely puts himself between me and people he doesn't know, has been known to push my husband and brother away from me if I was struggling with anxiety. He gives me a safe place — room to breathe — if you will. My anxiety sometimes comes across as anger, and if he hears my voice raising, he will bring his toy and annoy me until I play with him, which distracts me and gives me time to calm down. John has literally saved my life. I truly do not know what I would do without him." — Heather M.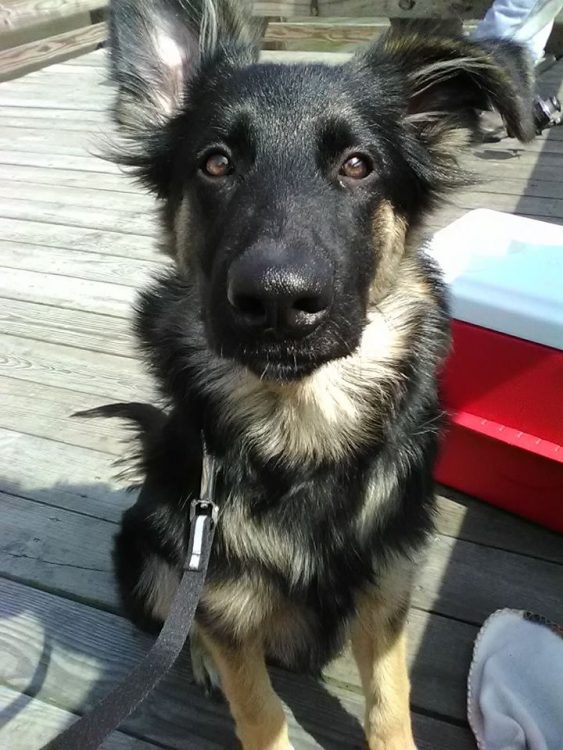 10. Frankie alerts his owner when strangers are approaching.
"This is my service dog, Frankie, and he's my lifeline to the world outside of the walls of my home. He alerts me when people are approaching from behind and blocks them from getting in my space. He also alerts me to triggers which affect my anxiety. He will also lie on me if I need deep pressure, he slows my breathing and heart rate, which helps me [avoid] dissociation. He enters and exits my home before me so I know it's clear for me to enter (he also does this with blind corners in public). And he's just an all around cool dude!" — Bridget F.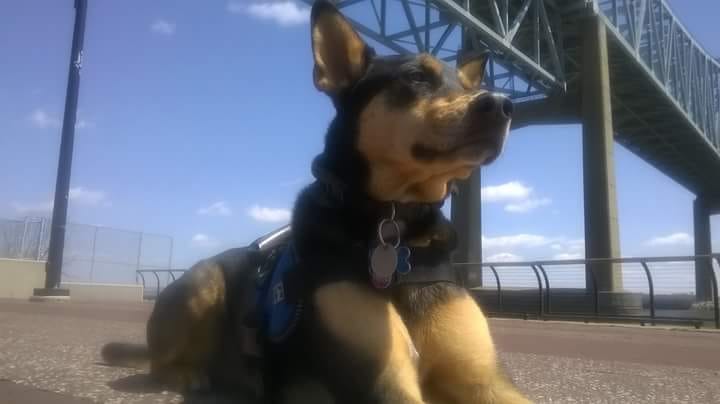 11. Junie keeps her owner from self-harming.
"My service dog Junie helps me by being an anchor when stuff gets too intense and I can't stay focused on what's happening in the present during flashbacks. She also helps stop me from doing bad habits such as self-harming or nail biting. She's pretty rad and my absolute best friend."— Lizzie H.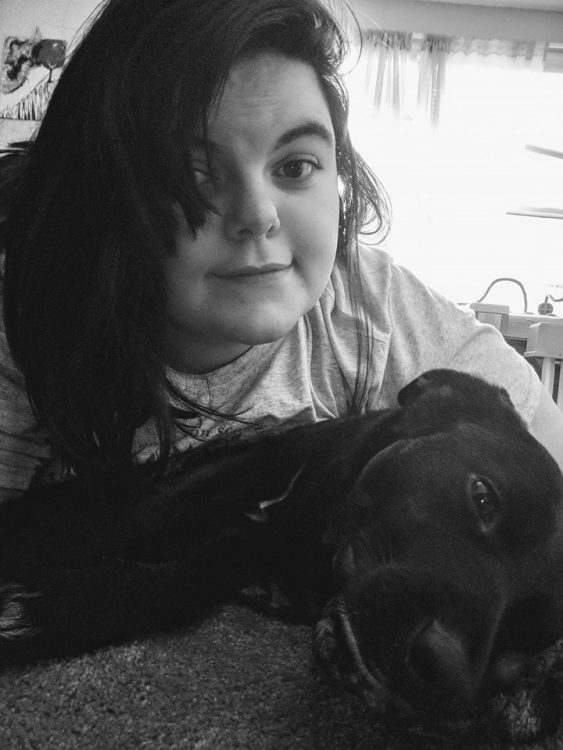 12. Oz helps his owner feel safe enough to sleep.
"My loving dog Oz is in the process of becoming my service dog and he helps me to sleep. He helps my comfort level around people and noise, as well as getting out of the house. He keeps me calm when interacting with other people… He is the best." — Suwanda B.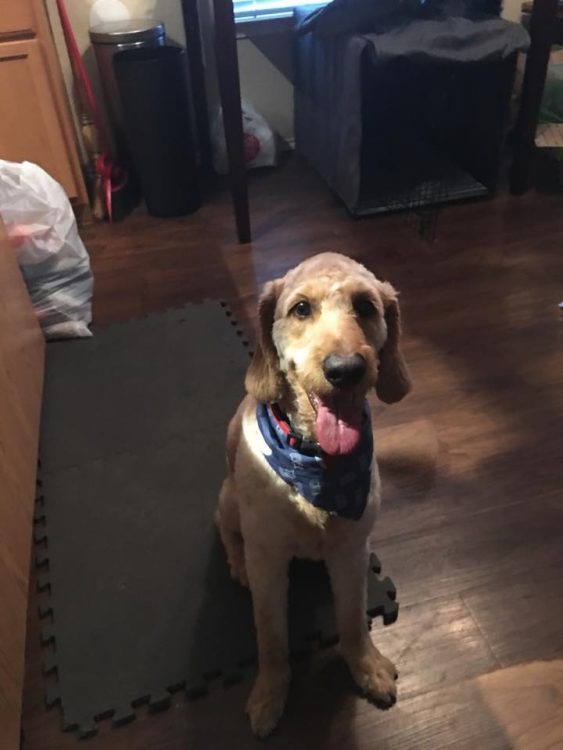 13. This dog is always there for her owner.
"My service dog in training is currently doing obedience. She helps me a lot already just by being there for me. She's going to help me so much in the future." —Sydney T.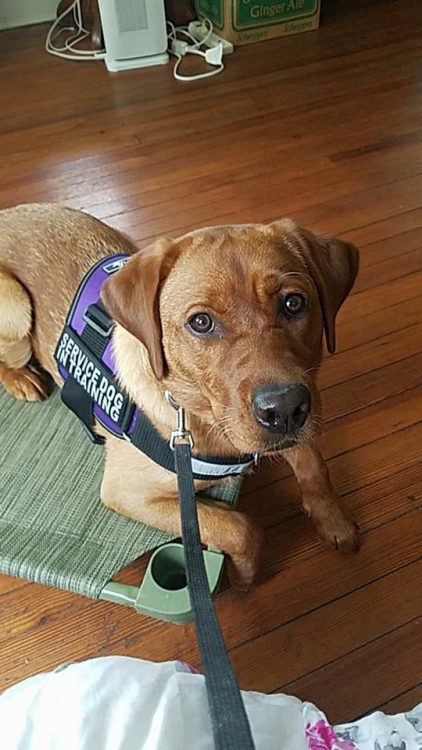 How does your pet help you? Tell us in the comments below.
Originally published: June 11, 2018