10 Items to Make Van Life With Chronic Illness Easier
---
My husband and I have been inspired to share our story about living in a van, while managing my chronic illnesses (POTS and Ehlers Danlos Syndrome) because we haven't come across anyone who is documenting a similar one. Though exploration has always been a major part of my identity, there was a time in my early 20s when I was hesitant to travel because I didn't want to exacerbate my symptoms. It took me nearly a decade to work up enough courage to live our current adventure of full-time van life with chronic illness.
I wish I had a resource when I was first diagnosed that told me travel was possible with chronic illness. Difficult, but possible. I wish I had a voice that encouraged me to do the things that fed my spirit even if they challenged my body. I wish that voice would have told me that meticulous planning, learning my body well, and a willingness to deal with the bodily consequences of beautiful adventures, would make a life of travel worth it for me.
Instead, I got well-intended and loving advice to "never return to China," the country where I contracted several infectious diseases that likely triggered my chronic illnesses. I was told that travel was unnecessary. Instead of listening to my gut, I took the sound advice. It was practical, but it wasn't right for me. It took me several years to learn that no matter how hard I tried, I couldn't let go of that gnawing feeling that my life was intended to be a bit more fluid. I'm a slow learner, but I'm here now. As cheesy as this sounds, I hope sharing the realities of van life with chronic illness can be the resource I needed 10 years ago.
Traveling with chronic illness is often difficult, and I am not advocating that anyone should be irresponsible with their bodies. Some conditions may be more limiting than others in terms of travel, but I do believe there is a way to modify activities to safely satisfy that lust for exploration for anyone. This requires a delicate blend of creativity, with a willingness to take a calculated risk and a very strong understanding of your own needs.
Van Life With Chronic Illness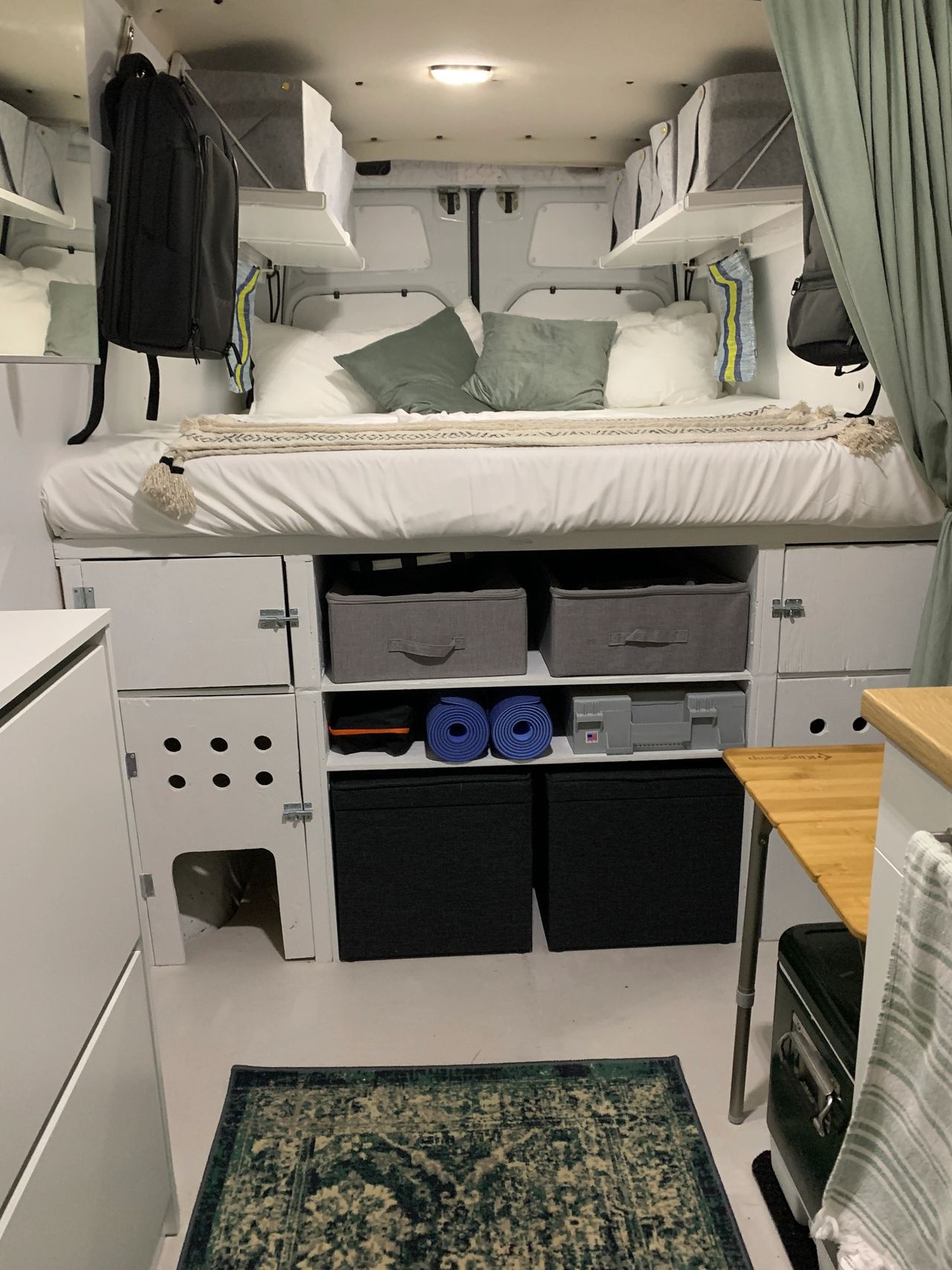 For me, these 10 items make traveling and living in a van much easier:
1. Zero Gravity Outdoor Chair

This is the camper's recliner. Do I need to say more? OK, a little. One of the major symptoms of POTS is dizziness upon being upright. For me, this means that my vision goes blurry, I feel lightheaded, and my brain gets foggy after about an hour of sitting or standing up. For comparison, it's similar to that woozy feeling you get when you get out of bed too quickly in the morning, it's just sustained longer. The zero gravity chair gives me the opportunity to recline and reduce dizziness while outdoors. It also extends the time I can sit and work before I need to lay fully flat. Don't worry, my husband got one too.
My Pick: Zero Gravity Outdoor Chair
2. Compression Socks

This is not a novel item in the POTS community. Part of the reason we feel dizzy is because our blood vessels don't constrict properly upon standing, leading to pooling in the lower extremities. Compression socks compensate, to some degree, for our blood vessels. They extend the amount of time I can be upright and are especially helpful at night when my feet are swollen and painful from long hikes.
My Pick: SB SOX Compression Socks
3. Reusable Silicone Bags

We originally purchased these to cut down on our disposable food storage, but they have become multi-use little goddesses in our van. In addition to storing food, I use them as ice packs and heating pads. They are completely leak-proof and can be frozen, microwaved and boiled. They take up less space than plastic containers, making them a must-have for van life with chronic illness.
My Pick: KeepBag Silicone Bags
4. Bamboo Sheets

The. best. sheets. ever: Seriously. I have been on a decade long hunt for the perfect sheets. I have tried every material, and have been willing to pay any price. These bad boys were around $50 and far outperform the Egyptian cotton ones that I dropped an entire paycheck on. I am a light sleeper because my symptoms like to come out and play at night. Sometimes this means I overheat. Other times, I am chilled to my bones. I have neuropathy that causes burning pain in my feet most nights. Occasionally, my reflux wakes me up with fits of coughing and vomiting. You get the gist — every night is a party, and every night is different. Needless to say, I do absolutely anything I can to encourage restful sleep. These little bamboo beauties are silky, wick away sweat in the heat, and hold in warmth in the cold. Winners.
My Pick: Hotel Direct Sheets
5. Sleep Headphones
Reference above — I suck at sleeping. Lucky me, my husband, dog and cat are all very good at snoring. Earplugs fall out, my husband blames his snoring on the dog when I kindly scream at him to stop, and this side sleeper struggles to get comfortable with earphones. These headphones, however, are soft felt embedded in an elastic headband. I adjust the felt piece to fit right over my ear, turn on some soothing rain sounds, and pull the headband over my eyes (not sure if that is how this is supposed to work, but it's a win for multi-use). I prepare to drift off onto my own little tranquil planet of rain, darkness and a strict ban on snoring.
The only issue I have with my headphones is that I can't plug them in and charge my iPhone simultaneously. I have had them for years, so I may upgrade to the wireless ones!
My Picks: CozyPhones Sleep Headphones, Lavince Wireless Sleep Headphones
6. Doggie Bags
We're about to get personal on this one. Dogs poop. We pick it up with these bags. People with gastrointestinal motility issues vomit. These bags are good for that too. In all seriousness, vomiting has been one of the most troublesome symptoms of my chronic illness to date. It can be simultaneously terrifying and mortifying when I feel vomit surging up my throat at inconvenient times. I don't know why I didn't think of this earlier, but I started carrying a roll of dog bags with me at all times. I leave some in the glove compartment of the van, and there are some next to the bed. This way, I am never frantically searching for the nearest trash can, and I don't have the fear of vomiting all over the server's shoes. It always sucks to vomit, especially with people around, but these baggies help me be more discreet. Sometimes I can just go around a corner, tie up the bag, and dispose of it as soon as possible. We do, in fact, use these for dog poo too.
My Pick: Earth Rated Dog Poop Bags
7. Car Essential Oil Diffuser
I love my essential oils. I use them to make most of my bath products and find them to be really soothing. I am also very sensitive to smells and prone to vomiting. Winning combo, I know. These oils help the van smell as spa-like as possible. This diffuser is made for a car, and is powerful enough to infuse our entire van. It charges on USB and holds its power for quite some time. It also does not require water, which is ideal because vans are prone to mold. We are always cognizant of keeping the moisture levels low.
My Pick: Waterless Essential Oil Diffuser
8. Humidity Gauge
Minimizing moisture is especially important because I have a hypersensitivity to mold (and pretty much everything else, but that's for another day). This gives us peace of mind when we are doing anything in the van that creates wet mold-loving conditions, like making coffee and breakfast on our propane stove.
My Pick: Indoor Thermometer and Hygrometer
9. Berkey Water Filter
We went back and forth on this one for quite some time due to the cost, but ultimately decided to splurge on the Royal Berkey. It gives us the flexibility to fill up water virtually anywhere without worrying if it is safe to drink, a real plus for van life with chronic illness as we may sometimes camp in places where fresh water is hard to come by. It also encourages me to stay hydrated because it is honestly some of the cleanest-tasting water I have ever had. We did save about $100 by purchasing one that was factory blemished, meaning it has cosmetic (but not functional) damage. We still haven't identified the cosmetic blemish.
I will own one of these for the rest of my life, no matter the type of dwelling I live in.
My Pick: Travel Berkey Water Filter
10. My Animals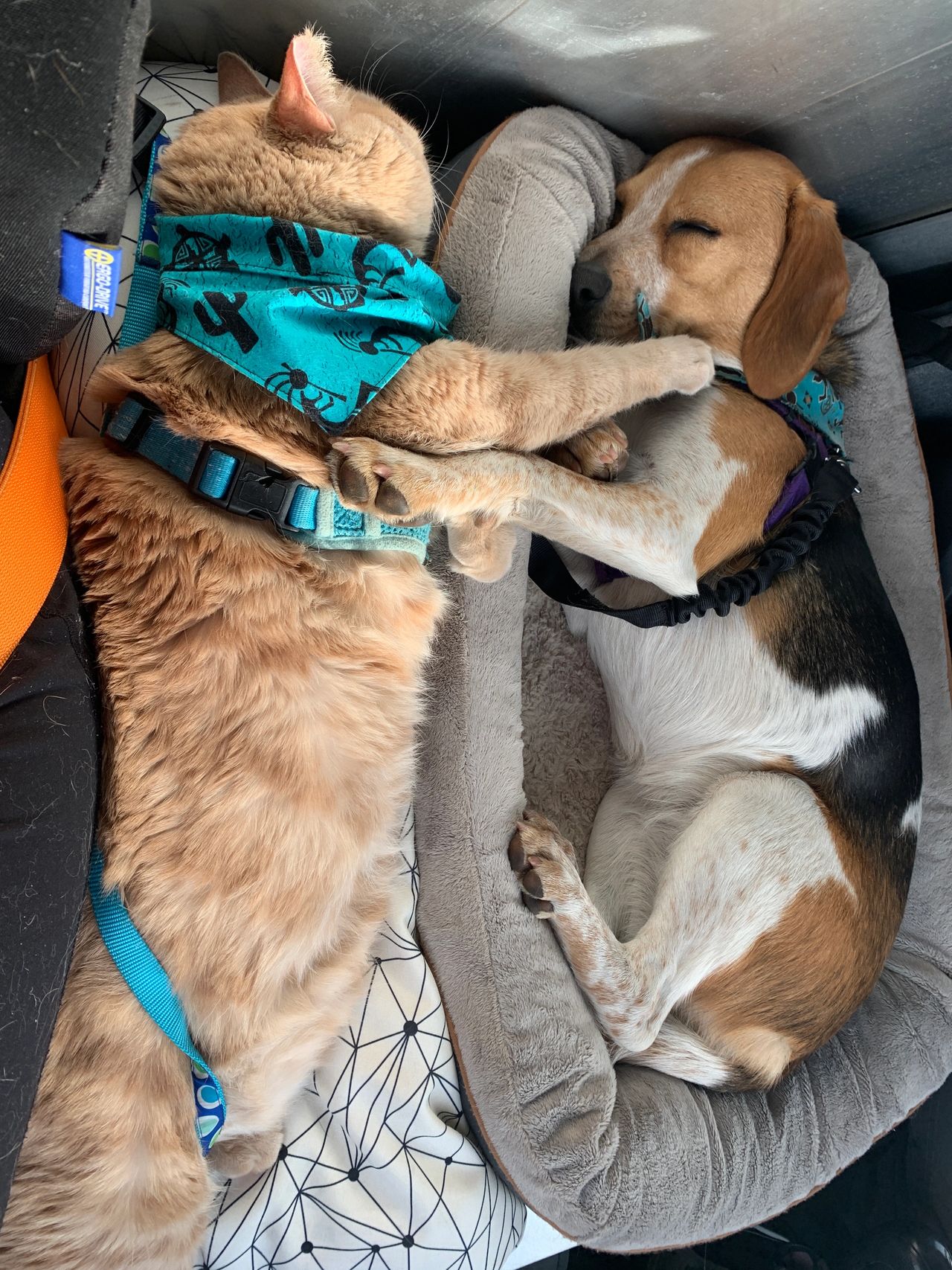 There is not a bad day that my sweet dog and cat can't fix. Yes, they require work. Yes, they can be aggravating sometimes. And, yes, at least once a day their hilarious and adorable antics remind me to live in the present and enjoy every second of this opportunity no matter how bad I feel. Sorry, not for sale.
My Pick: Petfinder