'13 Reasons Why' Season 2 Episode 3 Recap: 'The Drunk Slut'
---
"13 Reasons Why" was one of the most talked-about shows of 2017. This season, we're analyzing what each episode means for the mental health community.
Editor's Note
This post is a review of season two, episode three of "13 Reasons Why" and contains spoilers. 
Content warnings: This episode of "13 Reasons Why" contains references to rape, suicide, self-harm and illicit drug use.
Episode three begins with Clay attempting to visit Skye the night she was hospitalized. We find out he's been there for hours and the orderly tells him to go home. The song that plays in the background references being a "savior," highlighting Clay's savior complex in his relationship with Skye. He eventually decides to leave the hospital and while biking home, a black Range Rover tries to drive into him. He's able to avoid being hit, but when he comes home he wakes up his parents and angrily insists he needs a car.
The next morning he visits Skye in the hospital, where she tells him she knows he wants to save her and loves him for it, but he can't. This is a markedly different attitude than Hannah's last season. While Hannah placed blamed on everyone for her suicide, Skye seems to understand that only she can save herself. Skye breaks up with Clay and is transferred to another hospital. Throughout the episode, Clay calls her over and over, but Skye doesn't pick up.
Back at Liberty High, Jessica walks into class on the day she is set to give her testimony in court and finds a series of pictures posted to the whiteboard. The photos are of her from a dance she attended with Justin and have the words, "Who would believe a drunk slut?" written on them. Jessica brings the photos to court and holds them up while testifying. In her testimony, we learn that Alex, Hannah and Jessica all kiss each other one night when they are hanging out. This is Hannah's first kiss. Alex and Jessica begin to date after that night. Despite the pressure Alex and Clay put on Jessica to talk about Bryce raping both her and Hannah, Jessica doesn't disclose her rape. She does, however, experience flashbacks of the assault while on the stand.
Perhaps the most important part of this episode is when Jessica articulates the reasons why she's afraid of opening up about her rape. She comments that Hannah was a white woman and was still treated as she was, and that, as a black woman, Jessica would be treated even worse. "I'm not the right kind of victim," she says, highlighting how we tend to dismiss sexual assault stories from non-white folks. A major criticism of the #MeToo movement, in fact, was that it only elevated survivor accounts from privileged white women. When Jessica's parents refer to her as a "survivor," she recoils from the term, saying "I'm just me." This is important to note because people who have experienced sexual assault need to heal in whatever way feels best to them — whether that means calling themselves "survivors," "victims" or nothing at all. We must allow people to self-identify when it comes to their assault because they may still be trying to regain agency that was taken away from them.
When Mrs. Baker leaves the courthouse after Jessica's testimony, she is swarmed by reporters. One reporter implies she wasn't there for her daughter when she needed her, which reflects a common judgment people make about parents who lose their children to suicide. The reality is, suicide is complex and there are many factors involved. It's unfair to place complete blame on parents when there are other factors (like biology, for example) to consider.
In order to help Jessica, Clay and Tony go looking for Justin. They find that he has been living on the streets and is doing drugs. Because Justin cannot return home (he stole money from his mother's abusive boyfriend), Clay keeps him in his room.
Stray Observations and Future Questions
Jessica comments on looking for clothing she can "hide in." It's very common for survivors of sexual assault to try to hide their bodies or "desexualize" them by losing or gaining weight.
We learn Bryce has been called to testify. How will this change the trial?
Clay gets a car at the end of this episode, and his parents hope that this will encourage more trust between them. But Clay is keeping Justin in his room, so he's already broken their trust. When will they find out, and what will that mean for Clay?
At the end of the episode, we see Justin steal a gun from Clay (why does Clay have a gun?) and do what appears to be heroin. The number of teenage kids in this show who are packing heat is alarming.
We also see Tyler and his new friend Cyrus start building a detonator.
Someone sets fire to the campaign sign outside of Marcus's house. Is this an indication that the show is going to dive into the topic of racism?
Our rating:
I gave this episode four stars, not because I think the show is perfect, but because I appreciate the conversations it's started about sexual assault through Jessica's storyline. It's so important to talk about sexual assault in terms of intersectionality, impact on the survivor and what it's like to be pressured to disclose your experience before you're ready.
What would you rate this episode? You can vote in our Twitter poll below or in the comments section at the end of this article. 
We're reviewing "13 Reasons Why" season two and what each episode means for the mental health community. On a scale of one to four stars, how would you rate episode three? #WatchWithTheMighty

— The Mighty (@TheMightySite) May 19, 2018
You can follow along with the rest of our "13 Reasons Why" reviews here.
Want to watch "13 Reasons Why" with us? Use the hashtag #WatchWithTheMighty when you post your thoughts on social media or let us know what you think in the comments below.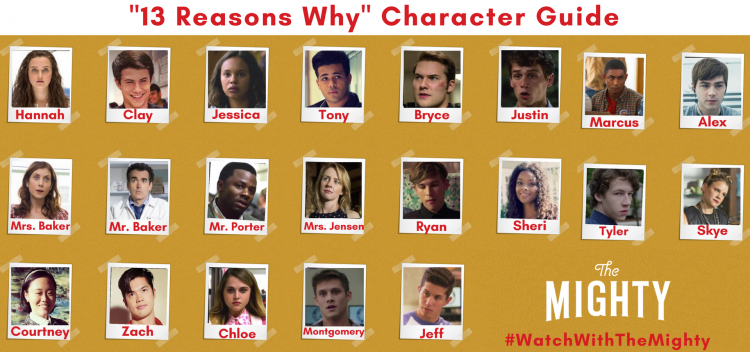 Discussion Questions:
What are some things survivors of sexual assault need in order to heal?
What do you think about a teen drama covering the topic of school shooting when it's such a present reality in the U.S. right now? Does it start an important discussion, or is it irresponsible?
Header image via Netflix.