'13 Reasons Why' Season 2 Episode 5 Recap: 'The Chalk Machine'
---
"13 Reasons Why" was one of the most talked-about shows of 2017. This season, we're analyzing what each episode means for the mental health community.
Editor's Note
This post is a review of season two, episode five of "13 Reasons Why" and contains spoilers. 
Content warnings: This episode of "13 Reasons Why" references rape, suicide and illicit drug use. One scene shows physical assault.
Episode five of season two focused on a mental struggle most of us have experienced in our lives at one point or another — loneliness.
In Ryan's deposition, the lawyer defending Liberty High continues to go after Hannah's "obsession with boys" by pointing to examples in her poetry. Ryan, who worked with Hannah on her writing, explains her writing about boys is not about the boys, but her experience of deep isolation.
She wasn't happy. She was extremely upset and hurting. She wrote about Justin and other boys because she was lonely. It's not about them, it's about what they represented.
But Hannah isn't the only one in the show who has experienced loneliness. Episode five serves as a catalog of the ways each character moves through their loneliness.
Mrs. Baker, who lost her only daughter to suicide, also lost her marriage. In this episode we see her look on from afar as Mr. Baker kisses his new girlfriend and greets her daughter. This is significant because from where Mrs. Baker sits, it looks as if her husband found a replacement wife and daughter.
It's not a stretch to argue that Clay is coping with the loneliness of living without Hannah by continuing to have conversations with a hallucination of Hannah.
Alex opens up to Zach about being unable to experience physical arousal. He says he tried porn and was hoping that when he kissed Jessica he would feel something again because she's a real person, but still felt nothing. At the end of the episode, he goes on a video cam girl website and tries to masturbate while talking to a cam girl who takes off her clothes. He is angry when he is unable to get an erection.
After chatting with Mrs. Baker after the deposition, Ryan opens up his phone to Grindr, a gay dating app, and receives a proposition — "Looking for a friend?" Ryan replies, "Yes I am," as he narrates what it's like to crave human connection. Unfortunately for Ryan, he gets stood up and it looks like Cyrus, Tyler and their new friend have something to do with it.
The only character who seems to find some relief from her loneliness is Jessica, who attends group therapy (Hallelujah! Finally one of the characters takes a step toward mental health treatment!). She connects with Nina at group therapy, the girl who has been watching her from afar.
Stray Observations and Future Questions:
I still don't understand the significance of the chalk machine. Why was it so important to Clay?
Hallucination Hannah is pretty demanding and is getting more and more alarming. Also, does anyone ever witness Clay talking to hallucination Hannah?
The baseball coach is the worst. He knows and is OK with his players using steroids, and offers them what Bryce calls "synthetic pee" to pass their drug tests. Are any teachers/administrators at Liberty High not morally bankrupt or completely unreliable? I have yet to see a positive adult role model.
Chloe is the worst. Stop talking to Jessica about your relationship with Bryce. How insensitive can you be?
Mr. Porter, adopting his usual loose definition of "guidance counselor" goes to Justin's mom's house to essentially ask her to care about her son. He then gets arrested for beating up Justin's mom's drug dealer boyfriend while he's there.
Why does "13 Reasons Why" seem to glorify "vigilante" behavior. It's also Clay's M.O. when getting justice for Hannah.
Our rating: 

I gave this episode three out of four stars because I thought it did a good job addressing how Hannah relied on boys to cope with intense loneliness — something I think is very common in teenage years. I didn't give it full marks because I am getting increasingly alarmed at the Hannah hallucination plotline. When someone dies by suicide in real life, they don't get to "come back" and help their loved ones get through the confusion and pain and trauma of their loss. This season is glorifying suicide in a different way than last season, and while it's not as overt, it's perhaps more harmful.
What would you rate this episode? You can vote in our Twitter poll below or in the comments section at the end of this article. 
We're reviewing "13 Reasons Why" season two and what each episode means for the mental health community. On a scale of one to four stars, how would you rate episode five? #WatchWithTheMighty

— The Mighty (@TheMightySite) May 19, 2018
You can follow along with the rest of our "13 Reasons Why" reviews here.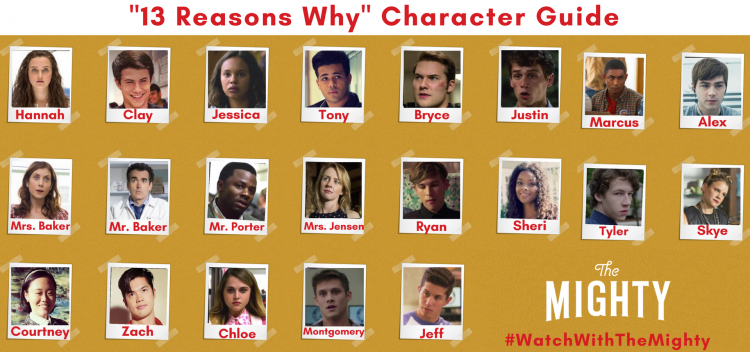 Want to watch "13 Reasons Why" with us? Use the hashtag #WatchWithTheMighty when you post your thoughts on social media or let us know what you think in the comments below.
Discussion Questions:
Were there other ways this episode showed experiences of loneliness that we didn't discuss?
How can loneliness affect mental health and functioning?
Header image via Netflix.
Originally published: May 19, 2018