Petition Starts After Advocates Discover 'Suicide Scar' Costume Sold on Walmart.com
---
Editor's note: This piece contains potentially upsetting graphic images for someone affected by self-harm or suicide. You can reach the Crisis Text Line by texting "START" to 741-741.
Update Oct. 22 6:42 p.m. PST: Since the publishing of this article, the "Razor Blade Suicide Scar Wound Latex Costume Make Up" has been removed from Walmart's site. Walmart said in a statement to The Mighty: "This costume is appalling and it was unacceptable for a third-party seller to list it on our marketplace. It clearly violated our prohibited items policy and we removed it when it was brought to our attention."
Update Oct. 27  8:35 a.m. PST: Rubie's, the company that manufactures the "suicide scar" costume makeup and other "slashed wrist" products, has discontinued the item and others like it. Howard Beige, the Executive Vice President, told The Mighty in an email, "The 'slashed' prosthetics were introduced into the line when gore was more prevalent in Halloween. At the time sensibilities were very different than today. In retrospect, the items should have been removed from the line some time ago.  Unfortunately, it was simply overlooked. An honest mistake. Upon learning of the recent outcry these items have caused, upper management immediately had the items removed from our website. Management also decided to stop the manufacturing and sale of these products. We apologize to all that may have been offended by these items. And are hopeful our actions help restore everyones faith in Rubie's Costume Co."
Costume makeup being sold on Walmart's online store has sparked outrage from mental health advocates — and for good reason. The makeup set, which is actually called, "Razor Blade Suicide Scar Wound Latex Costume Make Up," simulates self-harm scars that look like the person has attempted to take his or her life. The description reads: "Hollywood quality pre-painted latex suicide razor wrist."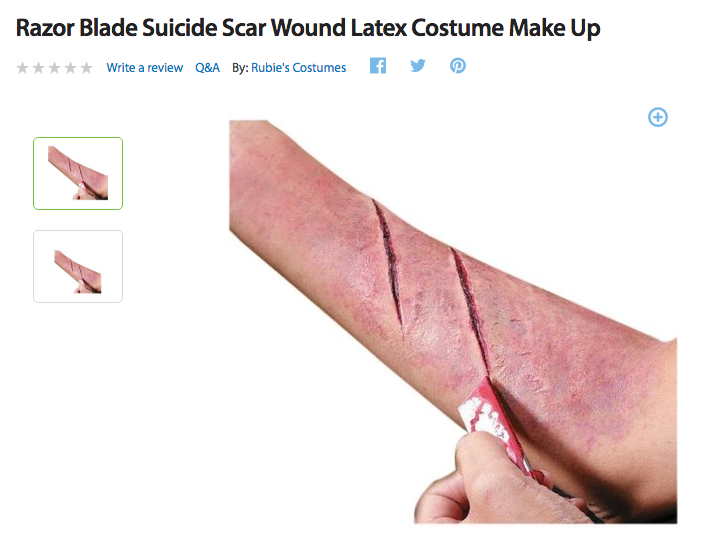 In response, Zee Malvern, CEO of Revolving of Doors, a mental health advocacy site, started a petition to remove the item from Walmart's online store.
The petition reads:
"This is not just a disgrace to the sensitivity to those who suffer from self-harm, but a shame on Walmart for making light of the situation. This 'costume' is real life for many people, many people who are contemplating volumes higher than self-harm. Suicide is not a joke, not a costume, and not funny. Many people who have 'suicide' or as I would call it 'survivor' scar wounds wish they could make them disappear."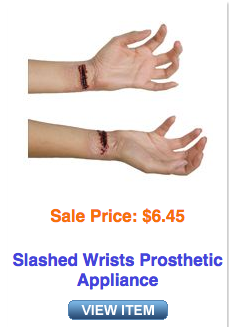 The makeup, although sold on Walmart.com, is produced by retailer Totally Costumes, which sells more self-harm/suicide costume items on its site.
Update Oct. 22 11:45 a.m. PST: Totally Costumes responded to The Mighty's request for comment with the following: "Upon inspection we see that Walmart has listed the item incorrectly, making it highly offensive; but rest assured, the product is not listed this way on our direct site, or any other channel we use. We have put in a ticket with the Walmart Catalog team to have the item name and description of the listing modified right away. We are not sure why Walmart has it titled the way they do."
But an item on its site, called "Slashed Wrists Prosthetic Appliance," is described as the following: "Give your costume a look so realistic that it seems suicidal."
"We are huge Halloween fans in this house, and my daughters are often dressed as some of the goriest little things imaginable, but never in my mind will it be OK for a corporation, that prides itself on family values, to brand and market a product clearly pushing self-harm and/or suicide," Nicole Lyons, who co-wrote a letter to Walmart with Stephanie Bennett-Henry, told The Mighty in an email. Lyons, who lives with bipolar disorder, said protesting an item that makes light of suicide isn't about being politically correct.
"This is about common decency, it's just gross to me," she said. "It's the branding, the marketing, the complete lack of respect shown to victims of suicide, their family members and to suicide survivors. It's an egregious attempt to cash in on the suffering of others, and a complete disregard to mental illness in general. You want to sell latex wounds? Fly at it, but why must they call it self-harm or suicide wounds? That's just disgusting and shows how far we still have to go to educate people on the issues surrounding mental health and how we talk about those issues."
If you or someone you know needs help, visit our suicide prevention resources page.
If you need support right now, call the Suicide Prevention Lifeline at 1-800-273-8255. You can reach the Crisis Text Line by texting "START" to 741-741.
Originally published: October 22, 2016