Advocates Concerned AFSP's Partnership With Gun Group NSSF Affects Its Stance on Gun Policy
---
Editor's note: This piece discusses suicide means. If you experience suicidal thoughts or have lost someone to suicide, the following post could be potentially triggering. You can contact the Crisis Text Line by texting "START" to 741-741.
When Khary Penebaker first heard the American Foundation for Suicide Prevention (AFSP) was partnering with the National Shooting Sports Foundation (NSSF), he was pleased. In fact, in August 2016 when the partnership was announced, he was running for Congress in Wisconsin and formally applauded the suicide prevention nonprofit for reaching out to the gun-owning community. His mom died by suicide using a gun when he was 20 months old, so gun violence and suicide prevention are both issues that hit close to home.
Im doing the Out Of The Darkness Wall to fight suicide & for my mom. Pls donate to this worthy cause https://t.co/XuzhfbwzMC @AFSPWIChapter pic.twitter.com/YjsUHdCtsg

— Khary Penebaker, Fx (@kharyp) October 8, 2017
That opinion was soured this year, when as he was raising money to participate in an Out of the Darkness Walk, an AFSP fundraiser, he started hearing concerning stories from fellow gun violence prevention advocates. While the NSSF fights for the interests of the firearm industry, Penebaker works with groups that focus on gun violence prevention. He is currently the Survivor Fellow for Everytown, a gun safety nonprofit, and works with Moms Demand Action for Gun Sense in America, a group started in response to the shooting at Sandy Hook Elementary School. A woman from Maine told him their gun safety group that was participating in an Out of the Darkness Walk had been disinvited only a few days before the event.
Despite these allegations, which troubled Penebaker, he still participated in his local walk. He had raised the money, after all, and the walk fell one month after the anniversary of his mom's passing 38 years ago. "I didn't want to protest that," he told The Mighty. "I wanted to walk for my mom. That felt like the right thing to do, to walk for the broader perspective."
Penebaker and his teammates wore bright red Moms Demand Action shirts, and they weren't given any trouble — they even got a few compliments.
But afterwards, he heard a similar story from someone in San Diego: A fellow Moms Demand Action member told him AFSP wasn't allowing them to wear Moms Demand Action shirts to their local Out of the Darkness Walk.
Reflecting on what he's heard, he's worried AFSP's relationship with the NSSF — which lobbies for the interests of the gun-owning community, often butting heads with Moms Demand Action and other groups that advocate for gun violence prevention — is limiting how they approach suicide and guns, calling the policies NSSF supports antithetical to suicide prevention.
"When you can put aside your ideology and work for a common goal, I think that's a good thing. The issue here is, if you're only going to allow one voice at that table, and that voice has a clear agenda, you're not only not helping the problem, you're exacerbating it," Penebaker said.
That connection between gun violence and suicide is indisputable. Although gun control often gets attention after a mass shooting, most gun-related deaths are suicides — more than 60 percent. Out of the Americans who do die by suicide, a staggering 50 percent die using a gun.
While gun violence prevention advocates like Penebaker understand why a suicide prevention nonprofit would work with a gun trade association like NSSF — and though AFSP says this partnership does not affect their views on gun control — some express concern the organization is leaving an important part of the gun suicide problem out of the conversation.
Where 'Gun Control' Fits in the Suicide Prevention Conversation
Dr. Michael Anestis, a clinical psychologist and associate professor of psychology at the University of Southern Mississippi, knows how tricky it can be to talk about suicide and gun policy. As someone who lives in the south and researches gun violence and suicide, he's gotten hung up on for not "using the right words" while talking about his work.
A 2015 study authored by Anestis found that in 11 states with waiting periods, the longer the waiting period, the lower the gun suicide rate. Background checks for purchase or licensing were also associated with lower rates of suicide, a 53 percent lower gun suicide rate than states without it. States that required gun-owners to have gun locks had a 68 percent lower suicide rate, and restrictions on open carrying, a 42 percent lower rate.
After a law required residents to apply for a permit with local law enforcement and take eight hours of gun safety training before they can buy a firearm was passed in Connecticut, the suicide rate was 15 percent lower than what researchers predicted it would have been without the law. Similarly, around the same time, Missouri repealed a law that required people to apply with the local police to buy a gun. Its suicide rate rose 16 percent.
"When you make a highly lethal method of suicide harder to access, you're going to lower the suicide rate," Anestis told the New York Times.
The research also disputes the idea that people who are suicidal will just "find another way to kill themselves." Even if they will still attempt to take their lives using another method, their chances of surviving that attempt increases greatly if they don't have access to a gun. This matters. About 85 percent of attempts with a firearm are fatal, but the fatality rate is much lower with other means. Ninety percent of people who attempt suicide do not go on to die by suicide later.
The suicide rates in the United States have been rising and recently reached a 30-year high. To counter this, AFSP has an ambitious goal to reduce the suicide rate 20 percent by 2025. They knew reaching guns owners had to be part of that strategy. Across the U.S., in states where gun ownership is high, so is the suicide rate, and vice versa: where gun ownership is less common, suicide rates are lower.
"We knew we had to try to figure something out, so the [AFSP] board ended up saying, we should work with and try to engage the firearms owning community to try to have a more robust conversation about suicide," Robert Gebbia, CEO of AFSP, told The Mighty. "In essence, if you're going to own a gun, you should be educated about suicide prevention. With that energy, we came across NSSF."
Gebbia said the partnership is a limited arrangement and purely for creating collaborative educational materials and programs. NSSF already has gun safety programs, and when AFSP reached out, agreed they could play a large part in helping reduce the gun suicide rate.
"They didn't know the suicide field, and we didn't know the firearms field, so we said, 'gee, if we can work together that would be great,'" Gebbia said.
AFSP's partnership with NSSF means they can get suicide prevention information in front of gun owners, which Anestis said is an important part of the puzzle. But his research has shown that gun policy is another piece which can't be ignored.
"Most people are going to die with guns they've had for a long time, so it's an important component," Anestis said. "But background checks and longer waiting periods, these are not controversial bills at all."
Despite work Anestis and other researchers are doing, research on gun violence, including gun suicide, is limited. Since 1996, there's been a ban on federal funding for gun violence research, a measure that was enacted by Congress and championed by the National Rifle Association (NRA). Because of the power that groups like the NRA and NSSF (which gun violence reduction activists call the "cousin" of the NRA), Anestis appreciates how hard creating change can be.
"When two very different groups speaking to one another, that's a difficult dance, and not everyone is going to be happy with it," he said. "One side probably compromises more than the other sometimes."
It's Like Telling a Drowning Advocate Not to Talk About Pools
Erin Dunkerly had been co-chair for the Pasadena Out of the Darkness Walk since 2013, and in 2014 became the co-chair for AFSP's Los Angeles Board of Directors. Her father died by suicide using a gun he found in his friend's bedroom, making both gun safety and suicide prevention intertwined in her advocacy work.
Although she always knew AFSP was "neutral" about the topic of gun ownership, she noticed shifts in how AFSP reacted to any gun policy as they were developing the partnership with NSSF.
In June of 2016, a month before the partnership was publicly announced, Dunkerly was invited to speak at California Congresswoman Judy Chu's office on the National Day of Action on Gun Violence to give a suicide perspective on gun violence. When she ran her talking points by the Los Angeles director, they were passed them along to AFSP National. She was told if she was planning on speaking at this event, she should do so as a private citizen, not as an AFSP representative, according to emails given to The Mighty. She was also told to not bring Out of the Darkness Walk flyer to the event to "avoid confusion."
In an email chain discussing the presentation, AFSP's Chief Medical Officer Christine Moutier explained they "needed to be extra careful" about matters discussing any form of gun control to protect "the new and still developing relationship we have been building with the firearm owning community and industry leaders." AFSP volunteers talking about gun control could "jeopardize our plan for how we can save lives through collaborative gun safety education."
Dunkerly explained there would be both people from both sides of the gun control issue at this event and that she needed further clarification about the kinds of interactions she was able to have with elected officials as an AFSP volunteer. She wrote:
For me personally this is a tough area to navigate. A clumsy analogy would be if my loved-one died by drowning in a pool. And most drownings are in pools. But as a volunteer, I'm not supposed to talk about pools. Could we develop a talking points handout for AFSP volunteers?
Then, after the official announcement of the partnership in August 2016, Dunkerly was told by AFSP National that three groups were no longer able to co-sponsor the upcoming walk in Pasadena: the All Saints Episcopal Church's Gun Violence Task Force, Violence Prevention Coalition of Greater Los Angeles and Women Against Gun Violence.
Dunkerly wrote an email appealing the decision on behalf of All Saints Episcopal Church. The group was able to co-sponsor and table at the walk in both 2014 and 2015. But days later, the LA director called Dunkerly to say AFSP wasn't going to change their minds about All Saints, and it was on this call, Dunkerly said, that she was told to resign if she didn't agree with AFSP's decisions.
Dunkerly didn't resign — the upcoming walk was in November, and she wanted to finish her work.
"Over the next few weeks it just continued to dissolve," Dunkerly said. Two sponsors of the walk, Moving Image Technologies and Valta Management, pulled out after hearing of the exclusion of All Saints Episcopal Church. These are companies Dunkerly's brother-in-law and sister work for, and according to Dunkerly, gun violence prevention was an important subject for them as well.
After informing the LA Board of D irectors about the lost sponsors, she was removed as Walk Chair, with "conflict of interest" stated as the reasoning. This was almost exactly one month before the walk. In an email Dunkerly shared with The Mighty, she responded:
This is strange, because I do not have a conflict of interest. I know that you and several of the board members have the same views as I do on gun control in other areas of life, but we all agree to move forward with the AFSP's mission and goals. AFSP's gun safety program with the NSSF is indeed aligned with my views and I have not expressed my own beliefs on the topic since August when you and I had our conversation and I agreed to move forward with the AFSP.
A few days later, she was also removed from the Board of Directors.
When she reached out to AFSP National to get a better grasp on the situation, she said was told in a phone call with a member of AFSP National Board of Directors that she had not performed her duties, a claim which offended Dunkerly. She was also told she had distributed gun violence prevention materials to volunteers, which Dunkerly also denied, and that the general appearance of a conflict was a hindrance to AFSP's overall goals.
"It's infuriating. It's so hurtful," Dunkerly said. "When I went to the first walk, it was a pleasant experience. Then, I was recruited to be on their board. I gave a lot of money, and a lot of time, and from day one I said this is my story, this is what I'm passionate about. I'm passionate about suicide prevention and gun control. I don't know if you've ever personally witnessed gun violence, but it's horrible."
When she when asked what to do with the AFSP and Out of the Darkness supplies she had in her home, like brochures and raffle prizes, she was told she could throw them all away.
"Being Neutral Is Not Easy"
For the AFSP to meet its goal of reducing the suicide rate 20 percent by 2025, Gebbia said the organization must remain neutral:
For us to achieve what we want to achieve in terms of suicide reduction using firearm, we want to be neutral. Now that's a tough thing in today's politically divided world. I know this is an area where there are extreme feelings, and so being neutral is not easy, but if we get caught up in either "pro-" or "anti-" gun lobbying, we've lost this. We're trying to walk a fine line, work with this industry because we have to. It's the only way to reach the firearms owners with our suicide prevention message, and not get caught up in any kind of legislative agendas.
A pilot of the AFSP and NSSF's joint program has been ongoing in four states — Alabama, Kentucky, Missouri and New Mexico — since August 2016. The program expanded in January of this year.
NSSF has not responded to The Mighty's request for comment, but in a joint press release, the president and CEO of NSSF, Steve Sanetti, said:
Our partnership with AFSP allows us to expand our decades-long firearms safety efforts to include suicide prevention education. As the industry's trade association with more than 12,000 members, we want to help. By making gun owners and the public more aware of suicide and responsible firearm storage, we are confident that we will help save lives.
Because of this partnership, Gebbia said, they've been able to create educational materials specifically for gun owners, including information about what to do if you own a firearm and someone is at risk for suicide, safe storage, best practices for temporarily removing a firearm from the home when someone is at risk, and even more basic suicide prevention education information, like how to have a conversation with somebody who might be at risk.
Although it hasn't been released, they just finished filming an educational video that could be played at retail stores and also want to develop material for trainings so people taking gun safety courses are provided with information about suicide prevention. Gebbia said being able to put the NSSF logo on these materials gives them credibility they would not have had otherwise.
"I don't think without the involvement of NSSF, we would have gotten the language right, the messages right. They've been very helpful in how to shape this," he said.
AFSP has begun collecting baseline data to see how much NSSF members know about suicide prevention now, so they can see if this knowledge increases over time. But of course, the ultimate test will be looking at what happens to the suicide rate. Gebbia said the program is still in its infancy.
There was no money exchanged in the development of this partnership, and AFSP is not involved in NSSF's legislative agenda, which fights against policies like universal background checks. The ultimate goal is a simple one: save lives. On whether or not the partnership effects how AFSP talks about gun control, Gebbia said AFSP is walking a "fine line," but their official position is to stay neutral on matters of gun policy and always has been.
"The walks have nothing to do with NSSF," he said. "We don't discuss our walks with them, they have no involvement in our walks, they're not tabling at our walks. They're not there. Any decision we make on who else to partner with is totally AFSP's decision."
"We Want Everyone to Feel Welcome"
The Out of the Darkness Walks are AFSP's signature event and largest fundraiser. Along with raising money for suicide prevention programs, these walks are known to be a place where suicide loss survivors can connect, heal and have conversations with people who "get it."
In a statement given to AFSP staff that was shared with The Mighty, Gebbia said there is no connection between the partnership with NSSF and these Out of the Darkness Walks, and reiterated this in a call with The Mighty, adding:
If you've been touched by suicide, if you lost someone, if you're someone who struggles yourself, if you're a clinician, if you just care about this issue, if you had a friend who struggles, this is the walk for you. We want people to come whatever your politics, whatever your position is on firearms, you're welcome at our walks. As participants, we want everyone to feel welcome. If there was any messages that you're not welcome, that's just not right.
There isn't a policy stating Out of the Darkness walkers can't wear gun violence reduction shirts or other policy-related shirts. But gun violence reduction advocates from both Moms Demand Action and the Brady Campaign  — both gun violence prevention groups — were told two days before the Out of the Darkness Walk in San Diego in Octob, after reaching out to AFSP, that they weren't able to wear shirts promoting their organizations. In emails shared with Voice of San Diego (which were also passed along to The Mighty) Che Hernandez, the AFSP San Diego Chapter chair, gave the following explanation:
Upon consulting with our National leadership we still are unable to have the Brady Campaign / Moms Demand Action promote itself at our community events. We value the work you are doing to create awareness around the effects of firearms in our communities as it relates to suicide means. And you rightly point to the possibility of our walker guests being negatively affected by any depiction of guns, printed word, etc.
Hernandez echoed his concerns that "gun talk" could be triggering for people participating in the event. "We can't have depictions of guns, this is a healing event for suicide survivors," he told The Mighty on a call. "It's not the venue for doing that kind of advocacy against guns."
He referenced suicide reporting guidelines that discourage people from including "means" in their stories, meaning the method the person used to take their own life. "It never brings value to the story," Hernandez explained, "It only brings potential hurt to people who are still tender."
Wendy Wheatcroft, head of San Diego's chapter of Moms Demand Action, rebutted the idea the group's shirts are in any way triggering — as did all the gun violence reduction advocates interviewed for this piece. The only reason they had reached out to AFSP to ask about the shirts was because she had heard from other gun violence prevention groups it might be a problem. Wheatcroft said when her team signed up for the walk, she knew the focus of the event wasn't about policy.
"We'll wear our shirts, and if people ask us about it we'll talk about it, but we weren't going to be there lobbying for bills or telling people what to vote for. We want to be there for other families," she told The Mighty.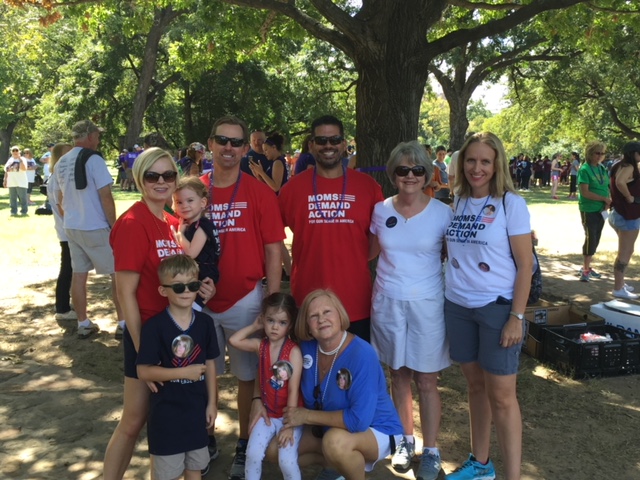 Amanda Johnson, who participated in an Out of the Darkness Walk in Texas last year, shared pictures with The Mighty of her team walking in their Moms Demand Action shirts. Johnson lost her sister to suicide by gun in 2012.
"I personally talked to 21 different families, and 20 out of 21 had lost a loved one to gun suicide. It was higher than even I would have guessed," Johnson told The Mighty about her experience walking. "They were all thrilled to hear about our presence, it was a totally positive interaction overall."
Johnson said in her experience, suicide loss survivor do want to talk about topics like means reduction. They're at the walk because they want to connect with other survivors but also because they want to prevent suicide.
"Once you've lived through this, the rest of your life is a sea of guilt, and someone talking about a gun, or talking about safe storage, doesn't make a difference," she said. "People who have lost a loved one to suicide are screaming at the top of our lungs, trying to prevent this happening to another family."
Similarly, Judi Richardson, a board member for the Maine Gun Safety Coalition, was told three days before an Out of the Darkness Walk this September that Nick Wilson, director of the Maine Gun Safety Coalition, was no longer able to speak.
This was after the Maine Gun Safety Coalition and Maine's AFSP chapter had decided to join forces when they were both interested in booking the same choral group. The Maine Gun Safety Coalition was going to table at the walk, and Wilson, the director of the Maine Gun Safety Coalition, was invited to be a featured speaker. The Facebook invitation read: "This year, the concert is co-hosted by the Maine Gun Safety Coalition and Sea Change Chorale, and will be held in conjunction with the Out of the Darkness Community Walk, sponsored by the Maine Chapter of the American Foundation for Suicide Prevention (AFSP)."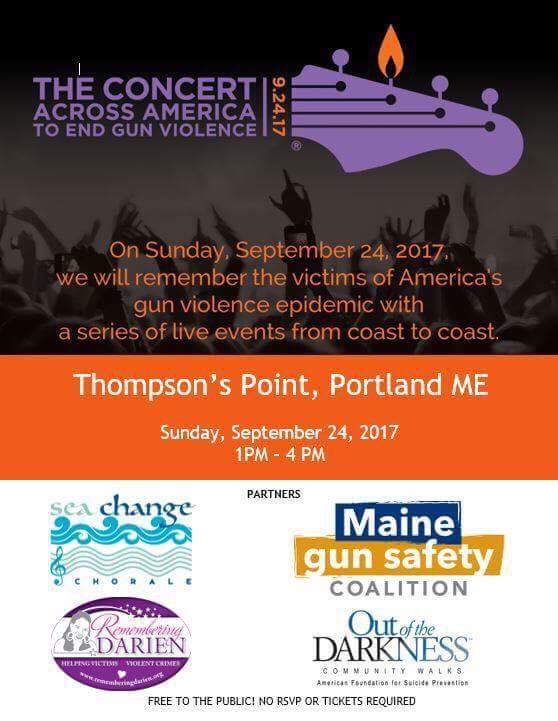 But days before the event, a local AFSP volunteer told Richardson that when people at AFSP National saw the program, they didn't want Wilson to speak, fearing the content would seem too "anti-gun" after looking at the Maine Gun Safety Coalition's website.
On its website, the Maine Gun Safety Coalition shares information about how to safely store guns, including a page of advice for parents who have guns in their homes. It also provides details about their Trigger Locks Program, which has so far distributed over 25,000 free trigger locks throughout Maine.
"No one is anti-gun and anti-second amendment," Richardson said. "It's all about gun safety and preventing gun violence. Gun suicide is a huge problem in our country, and easy access is part of the problem."
She said groups like hers actually don't use the phrase "gun control," but prefer "gun violence prevention." "To be honest, 'gun control' is how the NRA frames it, that's NRA talk," she said.
This sentiment was echoed by many gun violence prevention advocates interviewed by The Mighty. Johnson, the woman who walked in the Out of the Darkness Walk in Texas with Moms Demand Gun Sense, said living in Texas, she's surrounded by people who own guns. Her husband owns guns, and her brother is a hunter. Moms Demand Action, as well as all gun violence prevention groups mentioned in this piece, are non-partisan groups. She said to think otherwise is buying into the misconception that you're either "anti-gun" or "pro-gun," a narrative, she says, promoted by the hardcore right.
"I don't have a problem with guns, I have a problem with gaslighting coming from the NRA and NSSF," she said.
While Gebbia said walkers should be able to wear whatever shirt they want — and that guidelines to make this clear are in the works — tabling as an organization or speaking at the walk, is different. Any decisions made about the Out of the Darkness Walks are about AFSP's decision to remain neutral about gun control, an internal decision Gebbia said has nothing to do with its NSSF partnership.
The False Narrative of "Us" Against "Them"
None of the gun violence prevention advocates dismissed the importance of ASFP's initiatives. Many just feel misunderstood, like they are being treated as the opposite end of an extreme "pro-" vs "anti-" gun debate; when in reality the conversation is about more than protecting the right to bear arms vs. doing away with the second amendment. Groups like Moms Demand Action, although not "neutral" about legislative issues, do include initiatives like safe storage as part of their agenda. 
Although NSSF gives AFSP incredible access to gun owners, because of NSSF's ultimate agenda of lobbying for gun manufacturers and against "gun control," including things like background checks and longer waiting periods, even advocates like Johnson, who lives in a part of the country where gun ownership is the norm, are afraid working with them only goes so far.
In the past few weeks, Gebbia said AFSP has already started to implement some changes. First, they plan to look at their policies around who can co-sponsor and table at the Out of the Darkness Walks to make sure their messaging is consistent and clear. While the walks will continue to be about healing — and not about policy — Gebbia understands to make the walks welcoming, people can't feel like they're being turned away. This means letting participants know that AFSP's decision to stay neutral does not extend to the shirts people wear at the walk. "Wearing a shirt is a personal statement," Gebbia said. However, the organization wants its mostly volunteer staff who run these walks to have some clearer guidelines when looking for co-sponsors and speakers.
AFSP has also been opening up conversations with groups like Moms Demand Action and Everytown to get their perspectives on suicide prevention. Gebbia said he wants to understand their point of view — and knows that policies like longer waiting periods can have an influence on the suicide rate. Gebbia defends AFSP's decision to work with gun owners and hopes their approach will have a more immediate effect on people who already own guns by expanding the conversation about suicide in places that perhaps need it most.
"One of the things we've learned a lot about in the past year is that lots of gun owners have lost a loved one, or they have family members who struggle," Gebbia said. "As a country, we're losing too many people and too many families are just devastated. Too many individuals struggle needlessly when we can get them help, if we can just get them help in time. We have to come together as a country and do more."
If you or someone you know needs help, visit our suicide prevention resources page.
If you need support right now, call the National Suicide Prevention Lifeline at 1-800-273-8255, the Trevor Project at 1-866-488-7386 or reach the Crisis Text Line by texting "START" to 741-741.
Disclosure: The American Foundation for Suicide Prevention (AFSP) is part of The Mighty's partnership program. This is a non-financial agreement, but AFSP's resources do appear on our site. 
Lead photo provided by Amanda Johnson