Life in Shambles? Ready to Call it Quits? Have You Tried Playing Pretend Instead?
---
Editor's Note
If you experience suicidal thoughts, the following post could be potentially triggering. You can contact the Crisis Text Line by texting "START" to 741741.
Do you remember playing pretend?
When we were younger we would get all of our friends together and put on our capes and dresses and pretend that we were somewhere else other than where we were. We were royalty, merpeople, super heroes, and firefighters. The sky wasn't the limit, rather a starting point.
Then we got older and reality called. Pretend sessions with friends turned to exams and that shifted into nine to fives where we can barely get through the work day without some cataclysmic event shifting our global landscape. Who has time to play pretend in a world as devastatingly traumatic as the one that we currently live in?
What's the harm in taking a trip into your imagination to remind yourself that life is still worth living
I can't speak for anyone else, but it's because of that I doubled down into my game of "pretend," and let my imagination roam free as a means of escapism and a resilience tool. 
 Instead of getting a group together and figuring out who would be the queen and who would be the king, it morphed into scrolling house listings thinking about my dream home that I'd have when my life was finally together. It was going to bridal boutiques and trying on dresses, lying and saying that I was a debutante, when in reality I was picturing a day when I was loved truly for who I was inside and fully accepted as who I am. Every insecurity and fear that I had, I turned around and used as fuel for this giant game that only I was playing. 
Some would say all these excursions would do more harm than good as it's distracting us from now. Little do they know these trips into my own imagination is what was giving me a reason to live.
Have you turned on the news lately? Have you looked at how bad the world is at the moment? Inalienable rights are being taken from us, global conflicts and wars are happening at a scary rate, our coral reefs are damn near gone, and more is happening all around us. 
Our reality is scary at the moment and it's hard to imagine a better tomorrow when with one scroll you see nothing but hate crimes, violence, fear, fascism, and authoritarianism ruining our world. It's so easy to get caught up in what is going wrong, and it's so much harder to remember that things that can still go right. Maybe they won't. There's always the chance that things don't get better, but there's still the chance that it will. If I only pay attention to the news then it's harder to believe that, but when I go into a flower market and think of all the beautiful bouquets that my future home could have– no, will have, or the arrangements a significant other will one day create for me as a simple way to say "I love you," I get a reprieve from all the things that bring me down. It gives me a reason to hope, to fight.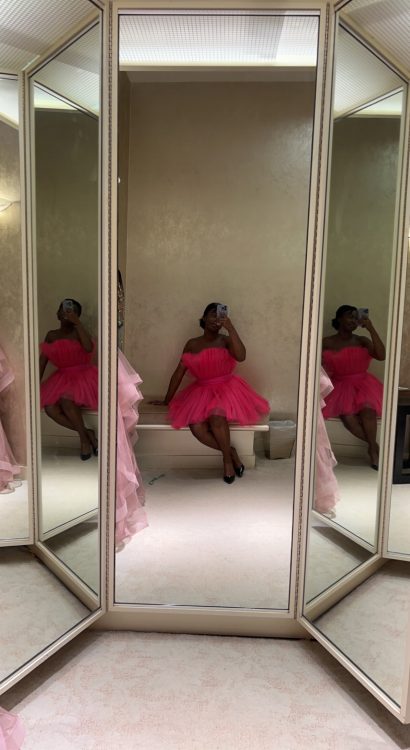 I live with chronic suicidal ideation. There isn't a single day that I don't think about what it would be like to simply not exist. Every time I turn on the news, or when I open up a bills I can't pay the list of reasons to end it all just adds up. Lost in a storm of my own thoughts, it's easy to slip back into suicidality. That's why escapism is so needed in these times. It's why once a week I go to the closest luxury department store and put on the most expensive dress that I can find and I prance around as if I'm a princess in a fairytale. I deserve these little moments of calm that remind me that I'm still valid, worthy, and that I have reasons to fight for a better tomorrow.
Yes, escapism can be bad if it's actually stopping you from dealing with your life's problems, but what's the harm in taking a trip into your imagination to remind yourself that life is still worth living?
Lead image courtesy of contributor.
Originally published: July 8, 2022