Evan Rachel Wood Shares She Voluntarily Checked Herself Into Psychiatric Hospital
---
Editor's Note
If you experience suicidal thoughts or have lost someone to suicide, the following post could be potentially triggering. You can contact the Crisis Text Line by texting "START" to 741741.
In a piece for Nylon, "Westworld" star Evan Rachel Wood wrote about voluntarily checking herself into a psychiatric hospital following a suicide attempt at age 22.
The actress, who has been open about her sexual assault and PTSD, wrote about a feeling folks who have felt suicidal might relate to. Describing a conversation with her mother, she wrote:
Two burgers, two tacos, and a quesadilla later, at a truck stop, [my mom] finally asked, "Why? Why did you feel like you needed to do that?" After a moment I said, "I just wanted some peace."
If this is a feeling familiar to you, you're not alone. Feeling like suicide is the only option is unfortunately a common experience for people struggling with suicidal ideation.
Mighty contributor Jennifer Wilson wrote about her own experience with feeling like suicide was the answer in her piece, "The Difference Between Wanting to Die and Wanting the Pain to Stop."
I didn't want to die.

I only wanted the pain to stop: the pain that encircled and squeezed my ribcage, the heaviness that wrapped my brain in shadow, the agony that turned the whole world dark. I needed it to cease…

I didn't want to die.

I only wanted the pain to stop.

And it did.

Slowly but surely, with therapy and time, it did.

I am here today to plead with you: Don't give up.
Wood described getting psychiatric treatment as the "worst, best thing that ever happened to [her]."
"The beautiful thing about being at the bottom is there is nowhere to go but up," she wrote. "For the first time in my entire life, I asked for help. I admitted I could not go on without someone intervening."
If you have ever felt like suicide is the answer, you're not alone. If you need encouragement because you are currently struggling, check out The Mighty Thought below to get support from people in our community.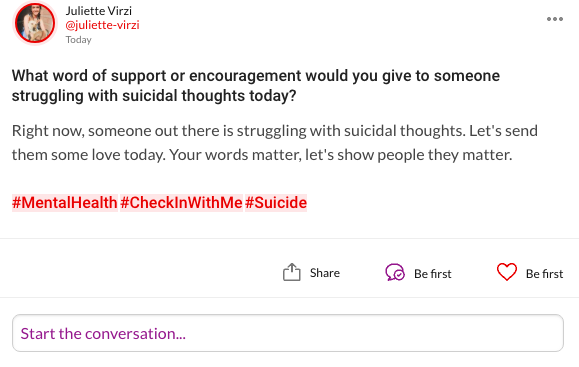 If you or someone you know needs help, visit our suicide prevention resources. If you need support right now, call the National Suicide Prevention Lifeline at 1-800-273-8255, the Trevor Project at 1-866-488-7386 or reach the Crisis Text Line by texting "START" to 741741.
Image via Creative Commons/Gage Skidmore
Originally published: February 1, 2019