Facebook Creates New Support Tool to Help People Who Are Suicidal
---
Update Jun. 14: According to the New York Times, on Tuesday Facebook officially announced it introduced new suicide prevention tools that are now available globally. Facebook also said posts flagged as potential self-harm or suicide notes will be expedited and reviewed more quickly by community operations team members who are given special training.
People across the world can now flag a message as one that could raise concern about suicide or self-harm; those posts will then come to the attention of Facebook's global community operations team, a group of hundreds of people around the world who monitor flagged posts 24 hours a day, seven days a week.
Posts flagged as potential self-harm notes are to be expedited and reviewed more quickly by the team members, who also examine posts that Facebook users have reported as objectionable. Community operations team members who evaluate potentially suicidal content are given special training, Facebook said.
start with a drop-down menu that lets people report posts, a feature that was previously available only to some English-speaking users.
Seeing a friend post a cry for help on Facebook can be scary — especially if you're unsure of what to do. But now, instead of just reporting the post to Facebook and hoping for the best, Facebook has created a new suicide prevention support tool to help those who may be feeling suicidal.
The new tool aims to give friends and family more resources when they think a loved one needs help. Facebook partnered with the National Suicide Prevention Lifeline, Suicide Awareness Voices of Education and Forefront to develop the initiative.
"One of the best ways to prevent suicides is to promote caring connections between people," John Draper, executive director of the National Suicide Prevention Lifeline, says in a video explaining the new tool. "With its newest initiative, we can leverage the Facebook community's biggest asset to preventing suicide — and that is each other, and the support we can all provide to our friends in crisis."
Here's how it works:
When you see a friend's post that seems concerning, you can click on the "click down" arrow, like you're reporting any other content: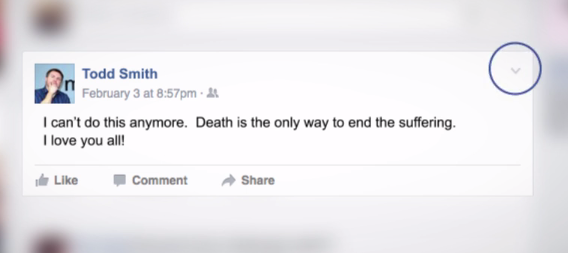 Then, select "report post."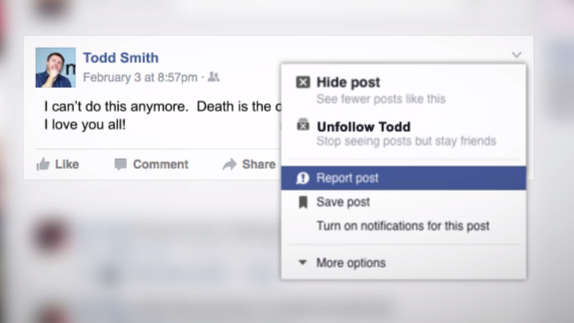 When prompted to choose a reason for reporting, select, "I think it shouldn't be on Facebook."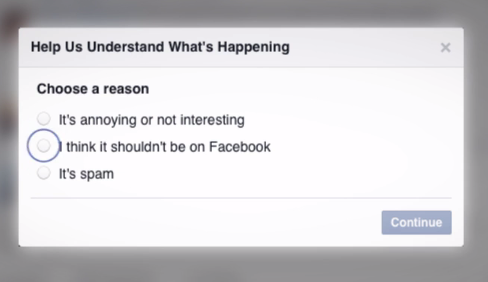 Next, choose "It's threatening, violent or suicidal."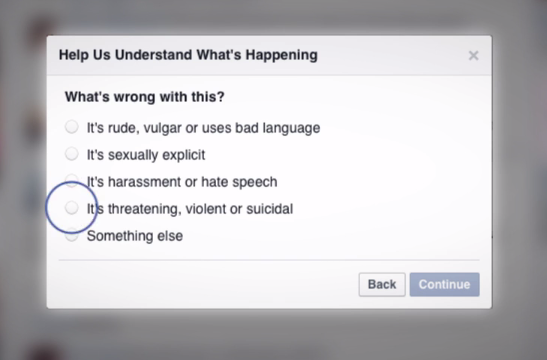 Then, choose "suicidal content."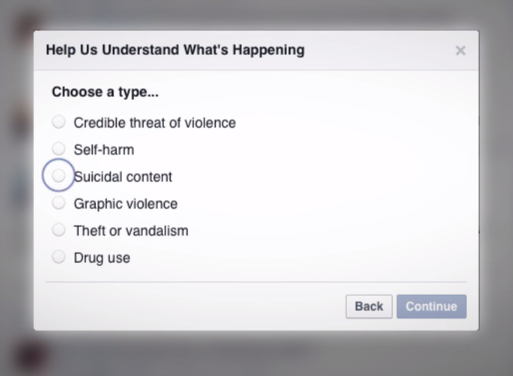 Now, a menu of support options will appear on your screen: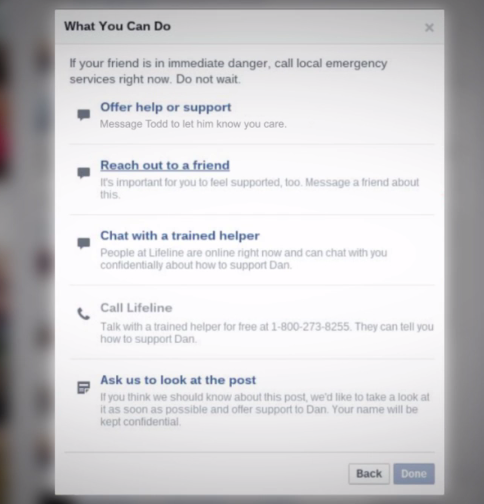 If your friend is in immediate danger, they suggest you call emergency services right away. If it's not an emergency, your options are:
Offer help and support: This option lets you message the person directly, with suggested text in case you're unsure of what to say. But, you can also write your own message.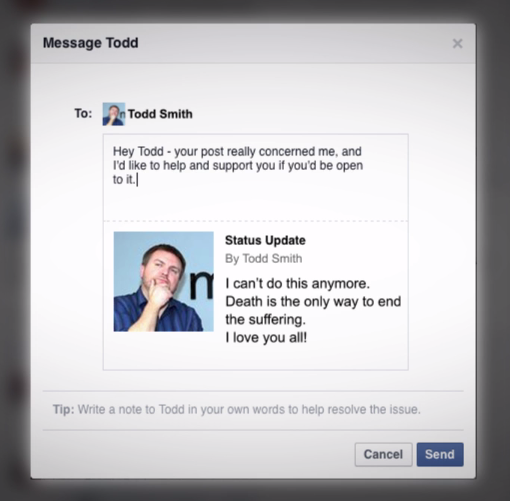 Reach out to a friend: This option prompts you to message a mutual friend or a friend who lives in your loved one's area.
Chat with a trained helper or Call lifeline: Both these options will bring you directly to the National Suicide Prevention Lifeline's services, where you can either chat or talk to someone on the phone about how to best support your friend.
Ask us to look at the post: Facebook will look at the post and offer resources to the person in need. Facebook will not reveal who reported the post.
Once you've reported a post, the friend you're concerned about will automatically receive a pop-up message with support options: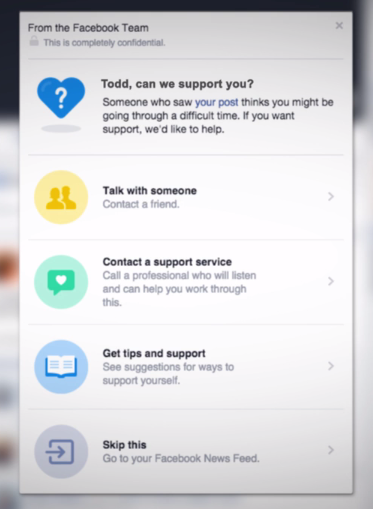 "In the past, our focus has been on helping Facebook members report friends… so Facebook could get their friends the help they need," said Draper. "This new approach is not just about reporting friends in a suicidal crisis, it's about supporting them."
Watch the full video explanation below: 
If you or someone you know needs help, see our suicide prevention resources.
If you need support right now, call the Suicide Prevention Lifeline at 1-800-273-8255.
Originally published: April 6, 2016