Breakthrough Ketamine Nasal Spray for Suicidal Thoughts and Severe Depression Closer to Approval
---
On Tuesday, a ketamine-based nasal spray moved one step closer to approval for use if you have severe depression or experience suicidal thoughts. If approved, it would be the first big medical breakthrough in mental health treatment in decades.
A U.S. Food and Drug Administration (FDA) advisory panel voted 14 to two with one abstention to recommend the use of Janssen Research & Development's new esketamine (brand name Spravato) nasal spray. The drug has been fast-tracked by the FDA with a "breakthrough therapy designation" because it shows signs of significantly improving available treatment options.
Ketamine was initially introduced as an analgesic for pain relief and is currently FDA approved for those purposes, according to UC San Diego Health. Per STAT News, by the 2000s, some studies showed ketamine may also be useful in treating depression. Researchers and drug companies have been chasing ketamine treatments ever since.
Join the conversation and answer this Mighty member's question: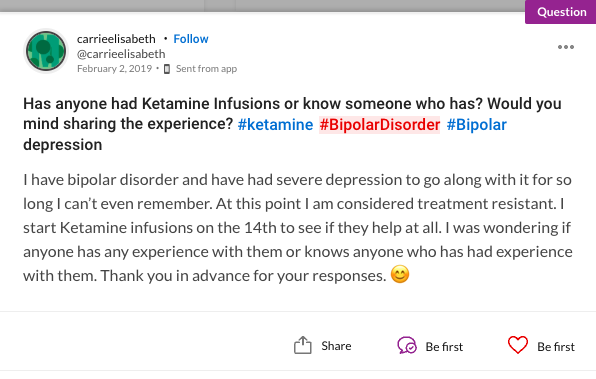 Ketamine, classified as a hallucinogen, blocks the NMDA receptor in your brain and activates glutamate neurotransmitters. This mechanism of increased cell communication in your brain bypasses the much slower process of increasing serotonin with current drugs like the brand name selective serotonin reuptake inhibitors (SSRIs) Prozac and Zoloft. Instead of weeks, ketamine acts almost immediately.
"The speediness of ketamine in producing an antidepressant effect occurs because this drug bypasses the traditional serotonin route and goes directly to activating glutamate," psychiatrist Alexander Papp, MD, told UC San Diego Health. "This is very different from traditional antidepressants, which first increase the activity of serotonin in multiple different areas of the brain, and then ultimately affect glutamate. This process usually takes two to four weeks to take effect, while ketamine yields an almost immediate effect."
Janssen — a Johnson & Johnson company — is the first to introduce a ketamine-based treatment for depression for approval. Esketamine, a "chemical cousin" of ketamine, was introduced in September 2018. The FDA fast-tracked its approval process for treatment-resistant depression, severe depression that doesn't get better after taking several medications at their highest available dose for two or more months. It is also fast-tracked as a possible treatment for those with serious suicidal thoughts.
Based on three phases of clinical trials, including studies that tracked esketamine use up to 52 weeks, Janssen's nasal spray was effective at treating depression in combination with a traditional antidepressant. The side effects were found to be minimal, including feeling disconnected, blurry or double vision, dizziness, nausea and increased blood pressure. Patients who received esketamine did so under the supervision of a medical professional to monitor their reactions and safety.
While ketamine has been available for at least 50 years, it became associated with recreational drug use and addiction, along with other hallucinogens like ecstasy and LSD. However, according to Bloomberg, a report provided to the FDA advisory panel called ketamine abuse "relatively uncommon," lower than ecstasy and LSD.
Ketamine is currently labeled as a schedule III drug by the U.S. Drug Enforcement Administration (DEA). The DEA classifies drugs in five schedules according to their abuse potential and medical benefit. Schedule III drugs generally have "a moderate to low potential for physical and psychological dependence." Anabolic steroids and testosterone are also schedule III substances. Cannabis and marijuana are classified in the highest-risk schedule I category.
The advisory panel did take the addiction risk of ketamine into account during its deliberations.
"Ketamine is a nasty drug," Steve Meisel, a panel member and system director of medication safety at Fairview Health Services in Minneapolis, said, according to Bloomberg. "It's been around for 50 years. Those of us who have seen it used know the adverse-event profile is large."
Like the 14 panel members who voted to recommend esketamine for FDA approval, Meisel noted the positive response in patient surveys. He said it was crucial to consider patients in the drug approval process.
Other panel members noted esketamine's potential benefit, particularly its fast-acting nature. Walter Dunn, a panel member and a psychiatrist at the West Los Angeles Veterans Administration Medical Center, highlighted this in his comment following the vote: 
I believe esketamine has the potential to be a game-changer in the treatment of depression. The rates of response in this treatment-resistant population is better than we've seen. The rapid timeline of response is better. There's nothing approved that gets patients better this fast.
Though the FDA does not have to follow the panel's recommendation, reviews of previous approvals show that the FDA most often sides with the panel's recommendations. The FDA is expected to make a decision on whether or not to approve esketamine by March 4.
Two other drug companies, Allergan and VistaGen, also have ketamine-based products in development for the treatment of depression.
Header image via MJ_Prototype/Getty Images.